FED-NKVD, aka FED-S, aka FED-Komandirsky. In the review - FED-NKVD with number # 146158.

Before I got my hands on the FED-NKVD, I had already done several reviews of the FED cameras.
And despite the external similarity with its more common counterparts, the FED-NKVD, nevertheless, has some fundamental differences regarding the internal equipment. For example, a standard set of shutter speeds (Leuke) - Z, 1/20, 1/30, 1/40, 1/60, 1/100, 1/200, 1/500, 1/1000... Reconfigured rangefinder, for the use of the lens FED 2/50 with an extended flange.
By catalog 1200 cameras of the USSR - the camera belongs to "FED-S Model Group II Issue 3".
on the upper cover of the range finder there is an engraving of the model group: "FED, NKVD-SCCR. Kharkiv Combine named after F. E. Dzerzhinsky ";
no brackets for attaching a shoulder strap
main fast lens type "FED" 2/50 mm.
It does not have fastenings for a belt, with the inscription "FED NKVD-USSR Kharkiv Combine named after FEDzerzhinsky ". Years of release - 1938-1941 and in 1942 in evacuation. The camera number is 146158, stamped on the top cover. Standard lens - FED 2/50 with the "Planar" scheme.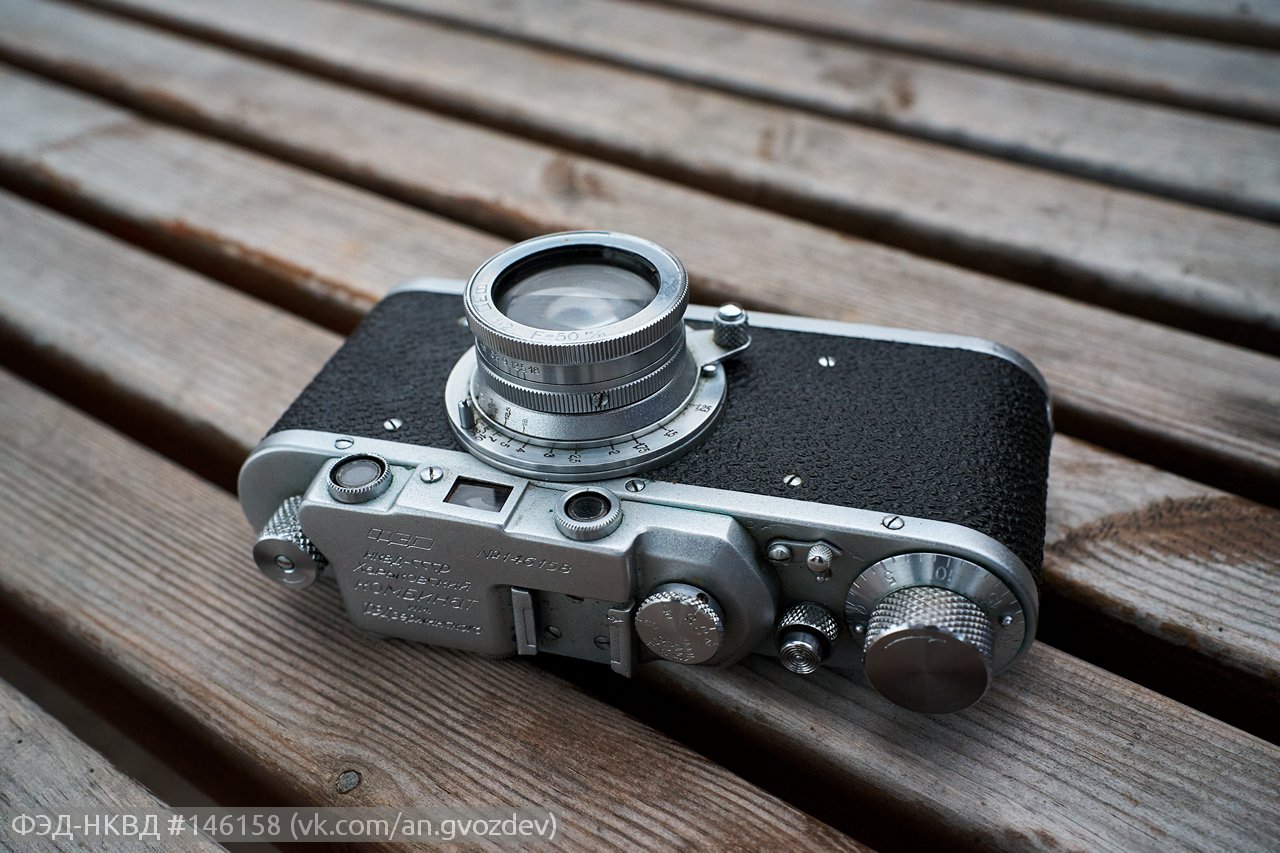 Judging by the optical schemes, the lens is a simplified copy of the Leitz lens (Leica was equipped at that time with Ernst Leitz Wetzlar Summar 2 \ 50). That the parent, that his "copy", do not have factory enlightenment, however, FED 2/50 over time, it became covered with oxides and shines with all the colors of the rainbow, so we can say that enlightenment has appeared).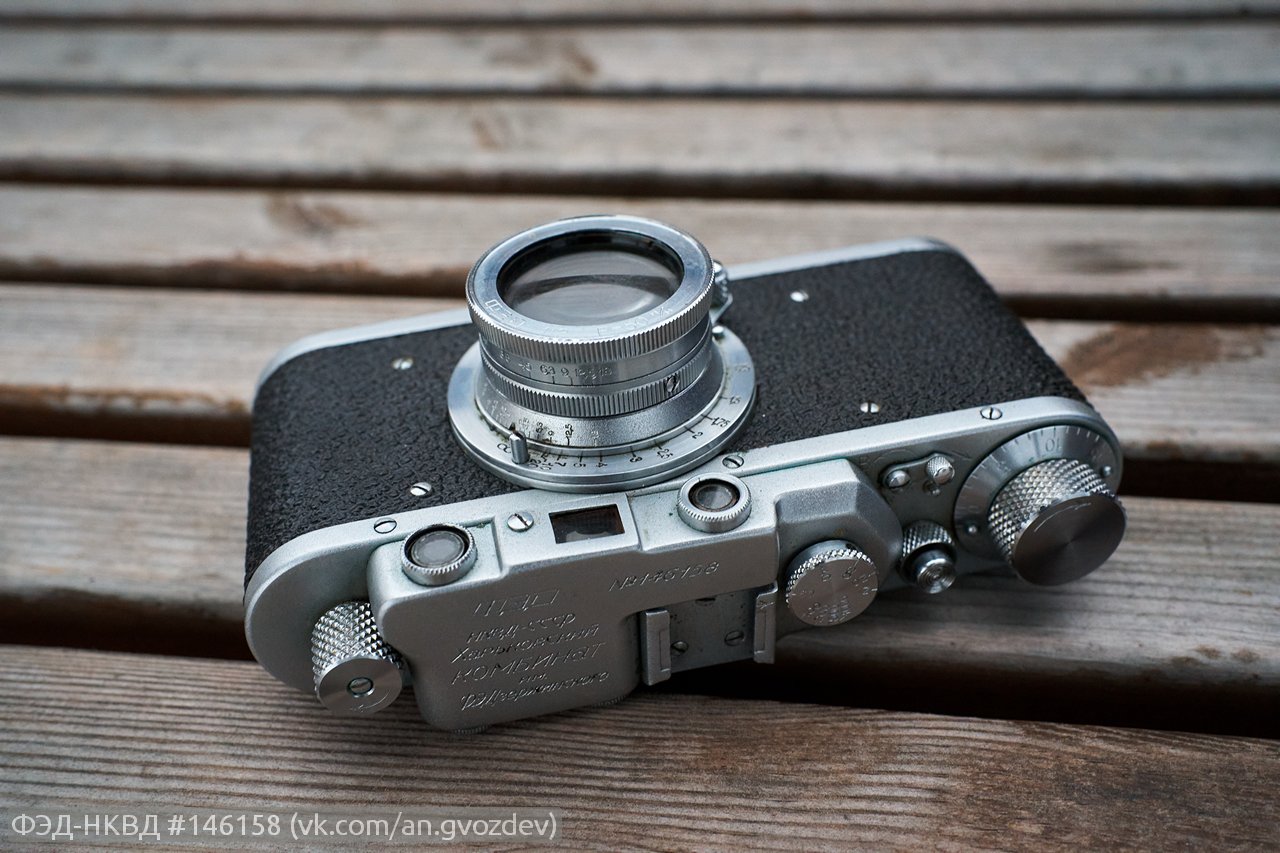 FED-NKVD # 146158
The body of the camera is made like all FED-Zorkie of the first models, with a removable bottom cover, under which the film is charged. With such a system, it takes considerable experience in film charging to be able to fit in at least five minutes.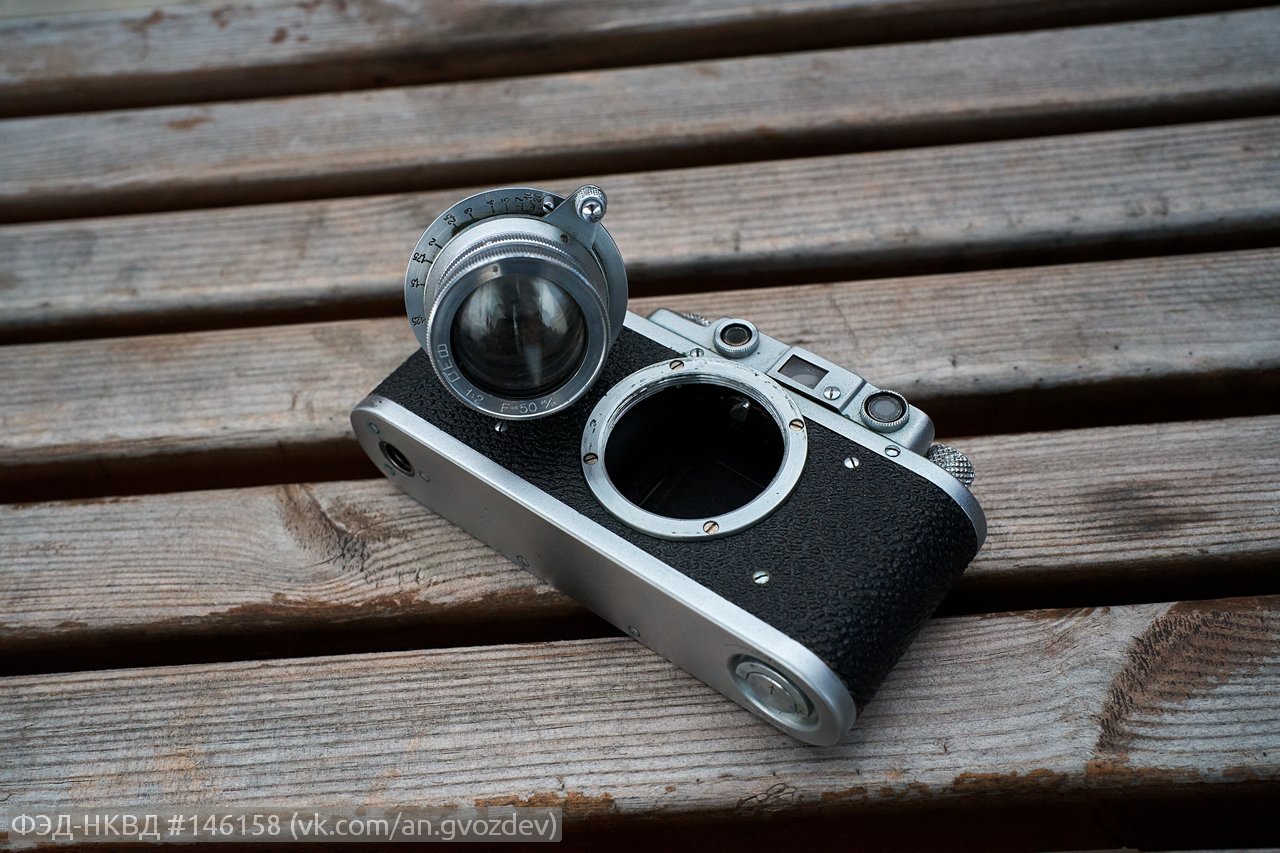 Flip-up rear panels will appear a little later. The controls are also identical to the FED-Zorky models:
Folding lens, focusing using lens handle
The film is rewound with a retractable handle
Spaced rangefinder and viewfinder
The shutter cocking head is paired with a frame counter
The shutter speed dial is installed on the top cover, next to the shoe for accessories
The shutter button has no latching
Body covered with black vulcanization
There are no lugs for the belt on the case (on some models they are)
The setting of the shutter speeds is carried out strictly when the shutter is cocked.
Collective value, of course, is. According to some reports, cameras with a standard lens FED 2/50 only about 20000 units were produced.
However, both lenses and cameras are sold separately. But if you see an "Industar-22" or FED 3,5 \ 50 installed on this camera, you need to clarify whether the rangefinder is adapted for this lens. On the FED-NKVD, it is impossible to install rangefinder lenses other than the standard one for operation, since lenses of a non-standard focal length were installed on it. If you install other lenses without adjusting the rangefinder, there will be soap and defocus on the film. If, of course, you are going to shoot with this camera.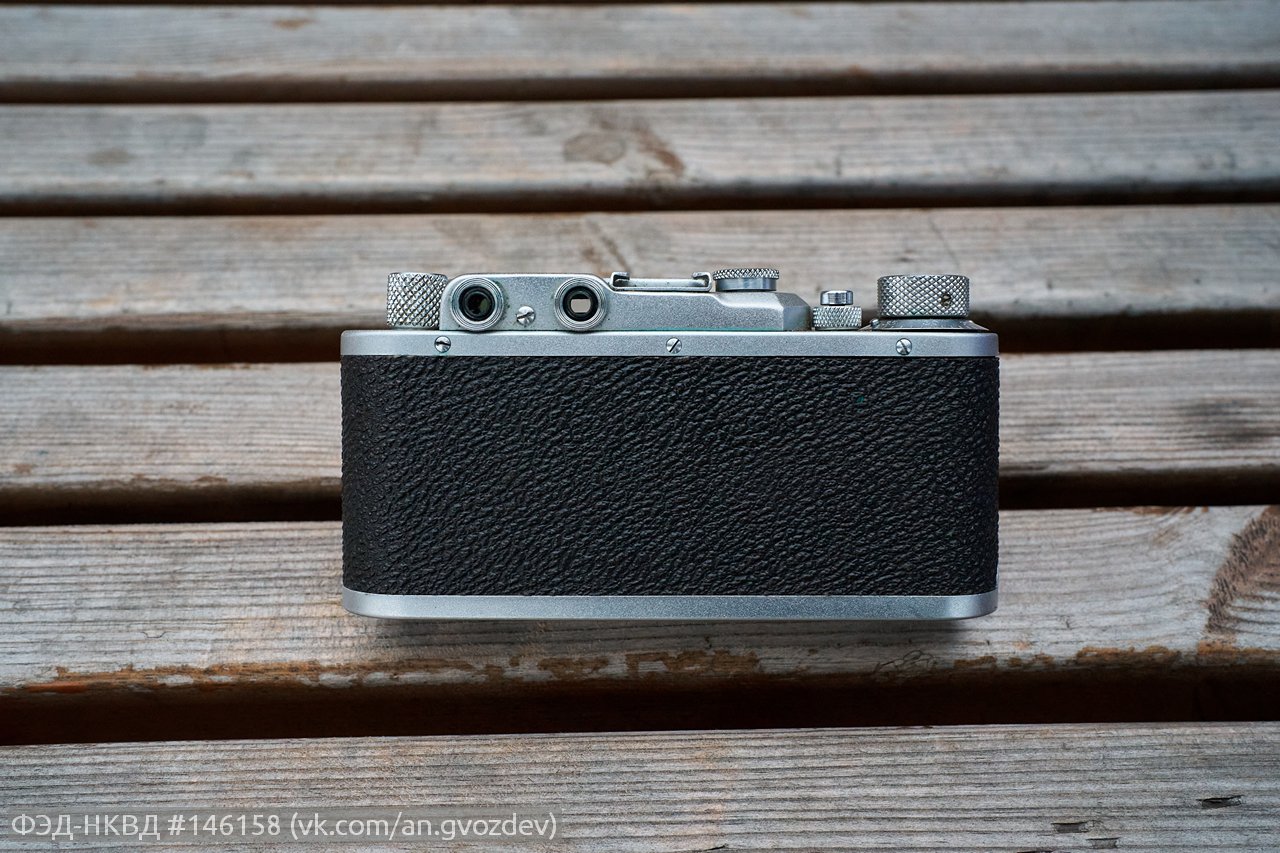 The specimen that fell into my hands required maintenance, since the lubricant in all mechanisms had dried out, and even the shutter cocking, not to mention its release, was difficult. The FED-NKVD uses a widespread, due to its simplicity, focal plane curtain shutter, which can be repaired on the knee using textbooks on repairing Soviet equipment. Spare parts can be taken from Zorkikh, FEDs and Zenits of a younger release (of which there are plenty).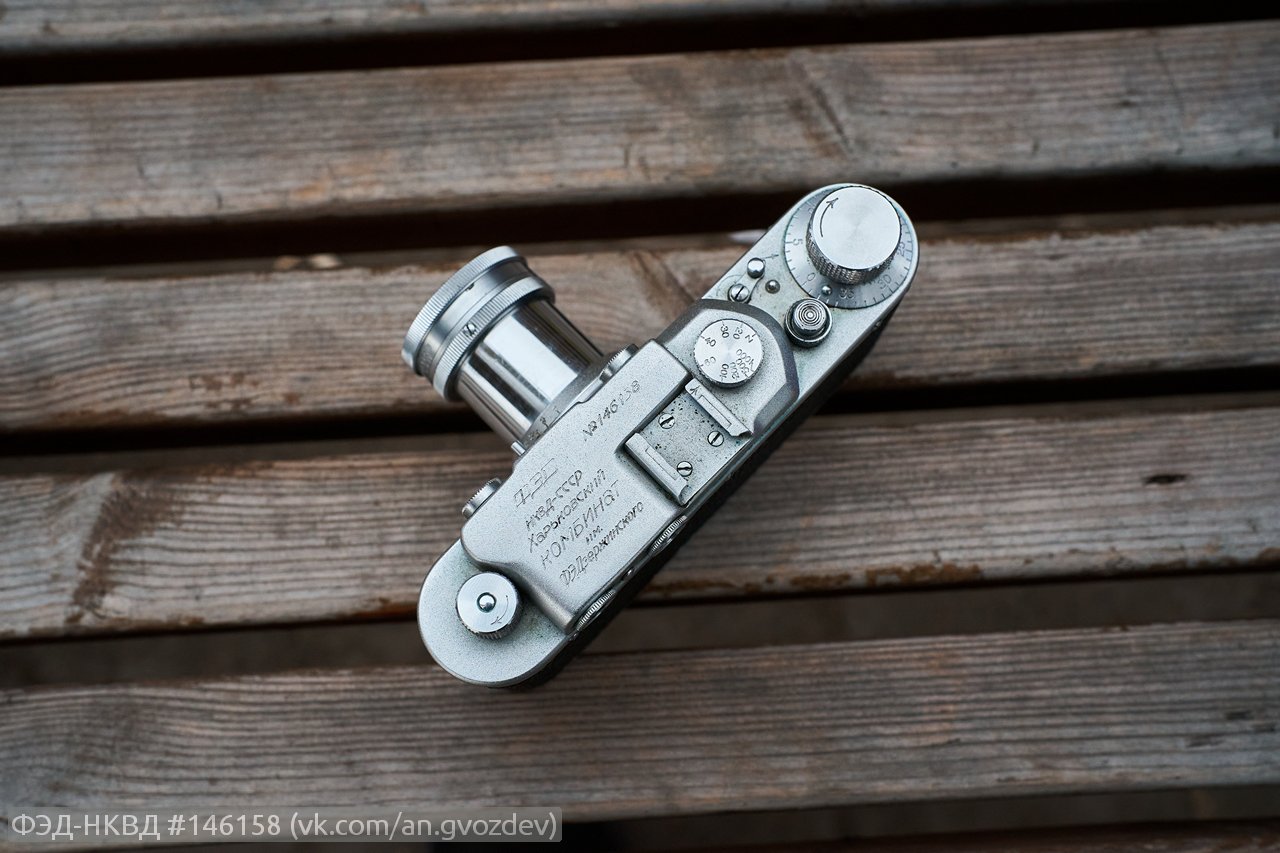 The camera is interesting for collectors. Most likely, it will be difficult to find in working and original condition. Still, 80 years have passed since the release. But the very fact that this technique can still be repaired and used is worthy of respect.
The inconvenience in working with this camera is as follows:
rangefinder and viewfinder separated
despite the fact that the viewfinder is bright, the viewing windows are very small, there is no diopter adjustment
loading a film without special cassettes causes mental pain
when focusing, you see only an approximate picture, and if, for example, a non-native lens is installed on the camera, you can take pictures of a marriage.
no exposure meter
The lens is very interesting. Gives good center sharpness, veils across the entire frame, and is low contrast in brightly lit scenes. Due to the lack of enlightenment, by modern standards it is suitable for some kind of artistic shooting, I think. Or, shooting using filters (yellow for example, and photographs on b / w film). There is a review of several lenses from FED, and cameras of a later release:
You can also read the review about camera "MIR" - further development of the FED-Zorky rangefinder camera line.
What kind of film is needed for a FED camera?
Any 135 type (35mm) film in standard spools is suitable for FED cameras. You can use both black and white and color, you can wind the film yourself. A budget hobbyist color film from Fujifilm or Kodak, black and white Tasma, works well. Films c
ISO
400 are suitable for low light conditions, and on films with
ISO
200 is best for shooting outdoors in clear or slightly cloudy weather. Examples of photos on film can be viewed
here
.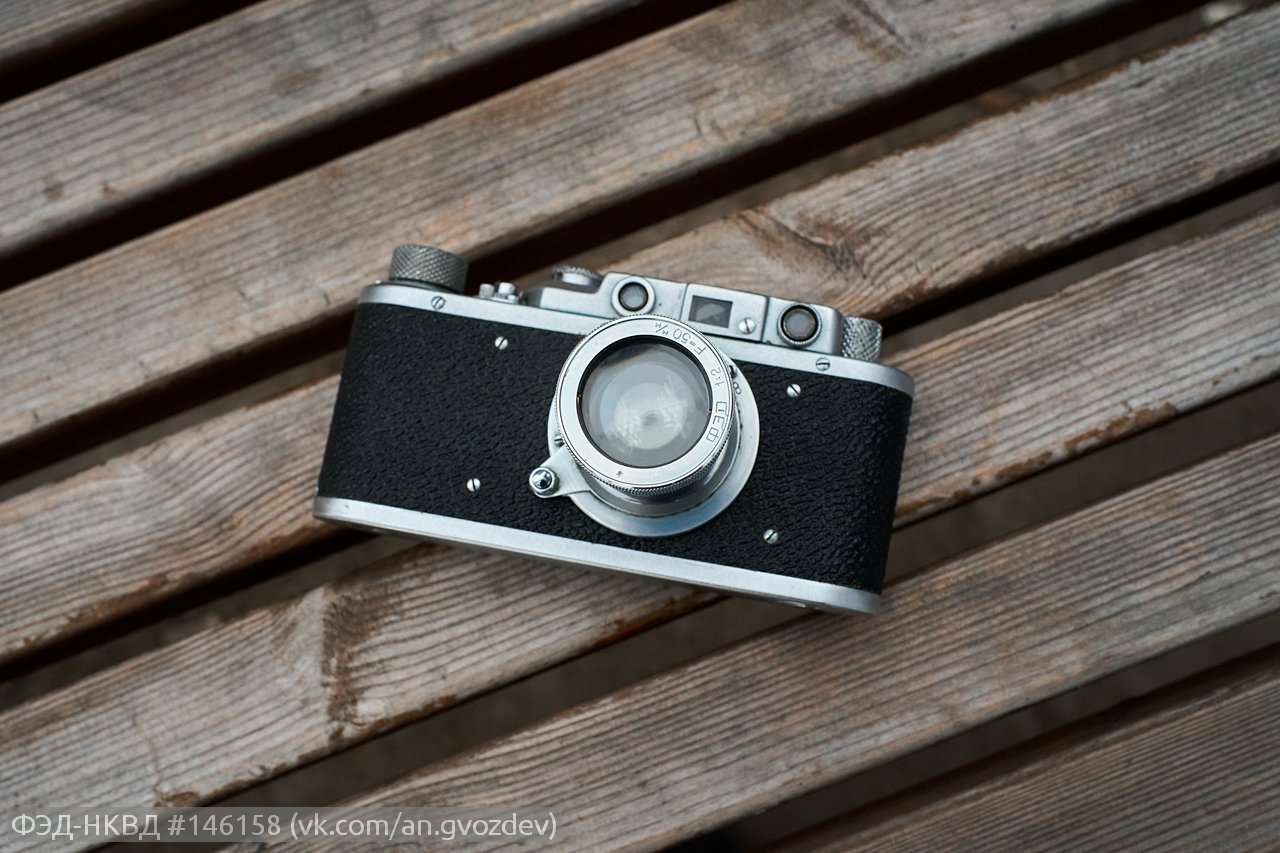 How to insert a film into FED-NKVD
How to remove the film from FED-NKVD
The procedure for working with the camera is as follows:
Frame composition is carried out through the viewfinder window

Focusing is done by moving the lever on the lens. When the image is aligned in the rangefinder window, focusing is complete. You can take a shot.
The threads on these cameras are for old tripods, and for installation on modern ones, you need to purchase an adapter. Self-timer would be nice. But no. Even under the release cable there is no notch.
FED technical characteristics
Camera type
35mm horizontal travel focal-plane shutter camera
Print size
24 x 36 mm
Lens included
FED 2/50
Mount lens
Unified threaded connection (M39)
Metering
External exposure meter sold separately
Shutter
Biaxial focal gate with fabric curtains.
Main shutter speed dial contains Z, 1/20, 1/30, 1/40, 1/60, 1/100, 1/200, 1/500, 1/1000 sec
Viewfinder
Distance viewfinder with rangefinder
Synchronization
outbreaks
no
Loading Film
Removable bottom cover, roll of film is inserted inside.
Frame counter
Manual entry from 0 to 36 on the top cover of the camera, aligned with the shutter cocking
Film rewind
Rewind knob on top cover
The weight
—
Summary
FED-NKVD is a very beautiful, expensive vintage camera. Very similar to the German parent, but less common than her lineup. Worthy of both use and collection. You can read about the types of FED cameras in the catalog "1200 cameras of the USSR":
The camera was provided by Edward, for which many thanks to him.