Industar-22 P 3.5 / 50 is a standard Industar-22 lens in a rare rigid frame for Zorky cameras.
Industar-22 P - from a series of common and popular in the USSR series "Industar". Industrials made in the USSR are so common that they are very cheap in our time. This lens is from the kit with the Zorkiy-FED camera of the first version. Produced at the Krasnogorsk Mechanical Plant, has an enlightenment with a deep blue tint. Marked in the German manner, in the name it has the letter "P", as a sign of enlightened optics. Industar-10, Industar-22, having the same scheme, are equipped with a lens coating of a less intense color.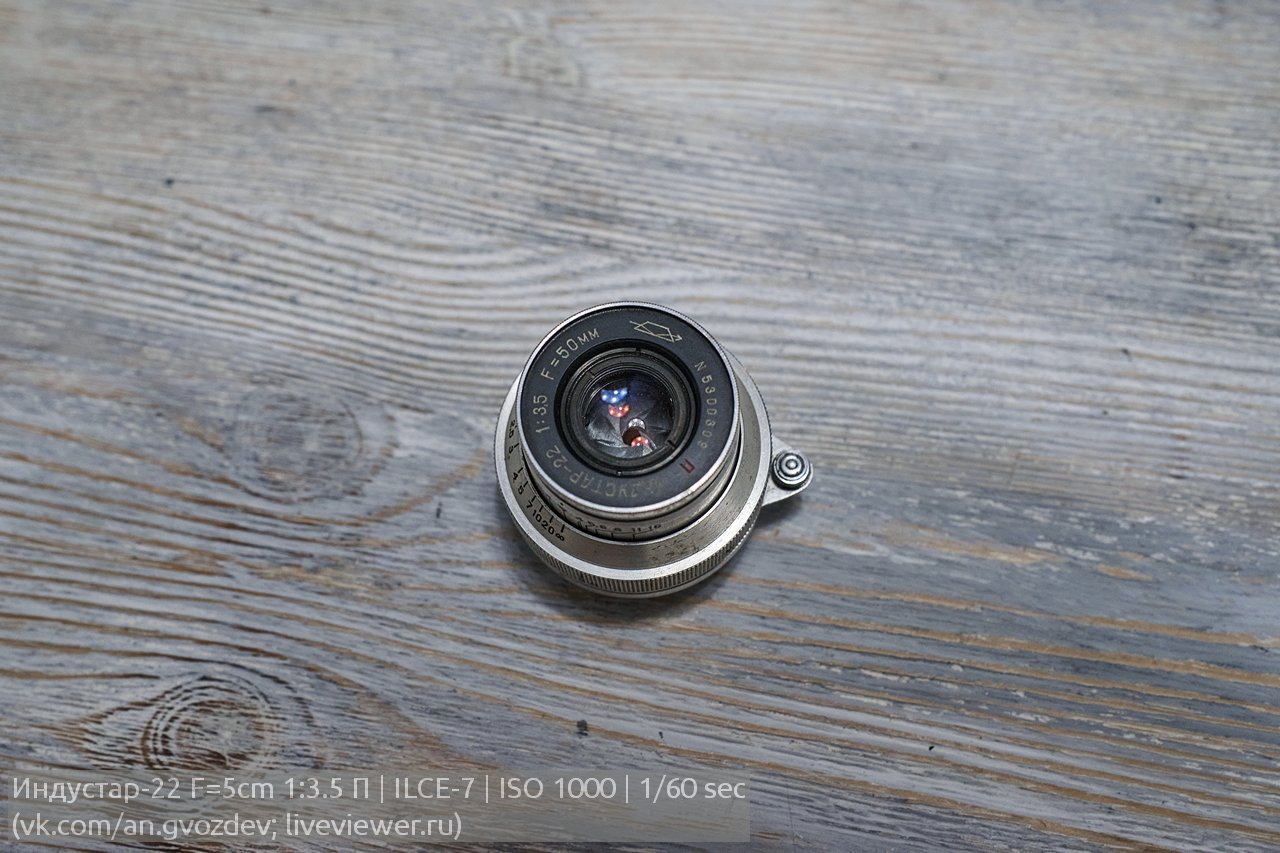 Industar-22 P has a focus drive (this protrusion on the side of the lens), it cannot be folded, unlike the most massive "tube" version. The focus ring is wide, the aperture is set by a ring on the body near the front lens. There is no preset. A rare specimen, and is found quite infrequently on Zorkiy cameras with a watering range of shutter speeds.
Varieties of Industar-22
More than 20 varieties of Industar-22 are known. All of them basically differ in the design of the case.
FED 3,5 / 50 (Industar-10) tube (folding) with an optical design changed from the GOI catalog version
Industar-22 1:3,5 F=5cm Leningrad - original from the 1963 GOI catalog
Industar-22 1:3.5 F=50mm MOSCOW 1948/1949 not enlightened
Industar-22 1:3.5 F=50mm Moscow 1948/1949 enlightened
P Industar-22 1:3.5 F=50mm 1948/1949 enlightened KMZ logo
P Industar-22 1:3.5 F=50mm Zorkiy 1949, less than 1000 units, coated without KMZ logo
Industar-22 1:3.5 F=50mm Moscow 1948/1949 enlightened, aperture ring
Industar-22 1:3.5 F=50mm KMZ logo, aperture control and focus knob shape changed
Industar-22 1:3.5 F=50mm Sharp-sighted, modified aperture control and focus knob shape
P Industar-22 1:3.5 F=50mm KMZ logo, no date in the serial number
P Industar-22 1:3.5 F=50mm KMZ logo, serial number on the back plate
P Industar-22 1:3.5 F=50mm KMZ logo, date in serial number
P Industar-22 1:3.5 F=50mm KOMZ logo, no date in the serial number on the rear panel
P Industar-22 1:3.5 F=50mm KOMZ logo, with the date in the serial number on the rear panel
P Industar-22 1:3.5 F=50mm in a rigid frame, FED or KOMZ, for photo enlargement work 1949-1950
P Industar-22U with a serial number on the rim, for KOMZ enlargers
P Industar-22 for rangefinder cameras "Zorkiy", FED, in a non-retractable frame (M39) with knurling on the aperture ring, completely light KMZ
P Industar-22 for rangefinder cameras "Zorkiy", FED, in a non-retractable frame (M39) with knurling on the diaphragm ring completely black KMZ
P Industar-22 for rangefinder cameras "Zorkiy", FED, in a non-retractable frame (M39) without knurling on the aperture ring, completely light KMZ
P Industar-22 for rangefinder cameras "Zorkiy", FED, in a non-retractable frame (M39) without knurling on the aperture ring black front panel, no KMZ filter thread
Industar-22 1: 3,5 F = 5cm P for Zenit SLR cameras in fixed frame (M39), body in the manner of the early "Tessars".
P Industar-22 for rangefinder cameras "Zorkiy", FED, in a non-retractable frame (M39) without knurling on the diaphragm ring black front panel, no filter thread, thickened KMZ rings
P Industar-22 for rangefinder cameras "Zorkiy", FED, in a non-retractable frame (M39) without knurling on the aperture ring black front panel, no filter thread, thickened rings, differences in several symbols on the KMZ panel
P Industar-22 for rangefinder cameras "Zorkiy", FED, in a non-retractable frame (M39) as the previous one, with a thickened KMZ focusing distance scale
P Industar-22 for rangefinder cameras "Zorkiy", FED, in a non-retractable frame (M39) as the previous one, white front panel, 1953 KMZ
Industar-22 1:3.5 F=50mm P for rangefinder cameras "Zorkiy" in a folding frame (M39), 1953 KMZ, serial number on the front panel
Industar-22 1:3.5 F=50mm P as the previous one, but with index "0" in the serial number, 1954-1955
Next




Sometimes I buy photographic equipment from the USSR and not only. You can offer your write me. Help the project: 5469 1200 1062 4624. Comments can be left without registration and SMS