There are many reviews on the Internet about the Tamron AF 200-400 mm f / 5.6 LD lens. However, I believe that my opinion will be useful to those who are considering buying it.
I took this glass for a specific task - photographing bears from a long distance and then cropping the resulting images. There is one place in the Sayan Mountains where I met four bears in three days. And if earlier I tried to leave immediately, now I want to conduct a full-fledged "photo-hunt", in which this telephoto will be my assistant.
So that's it. On the Internet, I have met very, very categorical reviews. The person wrote that the Tamron AF 200-400 mm f / 5.6 LD is the worst possible telephoto lens in this focal length range. But before I could get sad about this, another user succinctly replied: "Fully working lens" - and posted examples of pictures.
I will not prolong the intrigue - my pictures at focal 400mm showed that glass fully justifies itself for its price. The example below was taken at f / 8.0 with a shutter speed of 1/350, handheld (stub enabled on Sony A7 Mark II). The pedestrian crossing sign is exactly 100 meters away. Look at the crop - if we assume that there is a bear in the place of the sign, then the detail and contrast are good enough to fulfill my goals.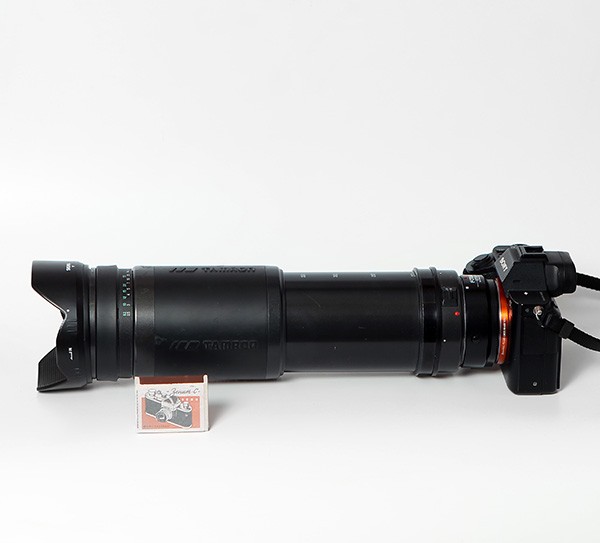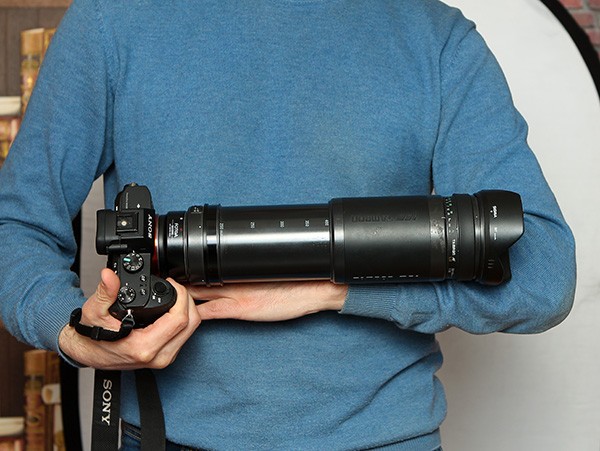 What else pleased me was the weight. I was prepared for the worst feeling, but the lens felt pretty light. But the size - yes, impressive (especially when extended)
Now about the cons. The main trouble with this lens - powerful chromatic aberrations, which, unfortunately, are visible even at f / 8.0 (not to mention f / 5.6). In principle, in clear weather, nothing prevents you from closing the aperture to f / 11. But in the evening, not everyone can afford it because of endurance or ISO... It's a little easier for me in this regard - the Sony A7 Mark II camera has a matrix stub.
The camera's autofocus is slow, but this is not critical for me - I still shoot in manual mode using a focusing magnifier. The picture is sharper at 200mm than at 400mm. The trunk moves out under its own weight. These are, perhaps, all the disadvantages.
As for ergonomics, the lens raises no objections - the focusing ring is tactile and very "tenacious" and grasping. Resolution lens is such that when shooting a house, standing 300 meters from the photographer, you can count the number of clothespins on the balcony.
And the last thing - when viewing the pictures below, keep in mind that they were taken with a lens that has a fungus :-) All pictures are at a focal length of 400mm and aperture f / 5.6
Tamron AF 200-400 mm f / 5.6 LD sample photo
Below is a video, some of the fragments in which (starting from the first frames) were shot by me with this telephoto lens.
And I didn't manage to take pictures of the bears that year with this lens - there weren't any! So I almost wasted a rather big Tamron 200-400 along a 60-kilometer route. However, in the same year I was invited to another trip and there the bear came out to us - moreover, at a distance of 30 meters. I shot it on Canon EF-S 18-135 and Sigma 24-135
Photographer, consultant, teacher, candidate of historical sciences
Tamron



Sometimes I buy photographic equipment from the USSR and not only. You can offer your write me. Help the project: 5469 1200 1062 4624. Comments can be left without registration and SMS