Komura Sankyo Kohki 135 mm f 2.8 immediately won over with his lightness - both physical and optical.
I would like to call the lens cheerful, light and perky. Moreover - I gave it the general name "positive lens". There is something in him from carelessness, good mood and positive attitude. The lens is sharp enough, but gives a slight soft effect, which is great for portraits. Komura Sankyo Kohki 135 mm f 2.8 features excellent, rich color reproduction and strong contrast. The lens is afraid of backlight, but as soon as the hood is screwed on, it immediately gratefully returns all the necessary parameters to the picture (see examples)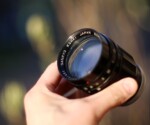 Separately, I will note the nature of the glare in the zone
hips
... The lens tries to turn them into circles, which again adds an element of play to the general atmosphere of the picture. I do not exclude that this lens can be used to photograph children well, as well as macro (in the presence of a colorful background). Number of diaphragm blades - 12, filter thread diameter - 55 mm, length - 90 mm
I would like to express my gratitude for the lens provided to Dmitry Terskov.
Komura Sankyo Kohki 135 mm f2.8 sample photo
Photographer, consultant, teacher