Helios-103 is a lens from the Kiev rangefinder camera. It has a rather complex bayonet design, which makes it difficult to install on a modern mirrorless camera.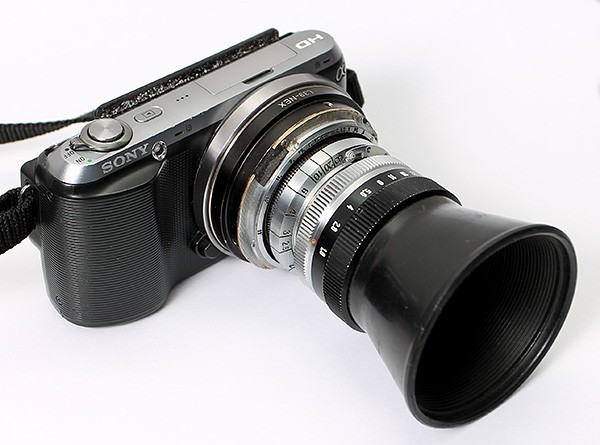 However, I was lucky enough to purchase an already converted version of Helios-103, and even with a native blend. At the same time I bought a rare Jupiter-3 lens, so my opinion about Helios-103 was formed by comparing these two glasses.
The first impression is that it really is a lens with a "masculine character". If "Jupiter-3" gives out a soft, slightly even pastel picture, then "Helios-103" draws more restrained, strict, laconic.
Second, the lens conveys volume very well for its time. The object photographed with its help is visibly, clearly felt in the frame.
Third - "Helios-103" is distinguished by good sharpness already at an open aperture of f / 1.8.
"Helios-103" with a hood and a homemade adapter
Reading a lot of negative reviews about Helios-103, at first I even thought about abandoning the purchase. But the seller offered such a good price that it was a sin not to buy. And when I put Helios-103 after Jupiter-3, I was ready for the saddest results. The greater was my surprise when I saw the picture!
At the same time, one cannot assume that I got some successful copy - on the contrary, the enlightenment is damaged, there is dust inside. But this has almost no effect on the final result. This glass has its own character, its own handwriting and drawing - that is, everything that is appreciated in a good lens.
Helios-103 sample photo
Below I present unprocessed images from Helios-103.
Some technical information
The lens is pleasantly weighty - 150 grams. Has an unusual faint enlightenment of a lilac shade. Nine diaphragm blades also have a somewhat unusual shape, and therefore form not a perfectly round, but somewhat "diamond-shaped" aperture. On character hips this does not affect - I did not notice any pronounced "rhombuses" in place of the glare.
The blades of the diaphragm are not matted and do not have blackening. Itself diaphragm changes with clicks, what videographers need to consider.
The front lens comes close to the frame, so a hood is highly recommended (thread diameter 40,5mm)
VERDICT
This glass should be tested by any photographer with a passion for manual optics photography. A lens with "character", with its own emotionally strict, straightforward design. Color reproduction, sharpness, contrast are at a very high level for the technology of those years.
Photographer, consultant, teacher, candidate of historical sciences



Sometimes I buy photographic equipment from the USSR and not only. You can offer your write me. Help the project: 5469 1200 1062 4624. Comments can be left without registration and SMS