Pentina is a line of cameras with a central gateohm, produced from 1961 to 1965 in Germany. In total, there were seven (3 test, 4 released on the market) models with a total of about 44 thousand units.
This film camera is of interest primarily because it was developed by student Jürgen Peters and his mentor, as a design and diploma work. The camera controls are "packed" deep into the body, the film is installed on the right side of the device and rewound to the left.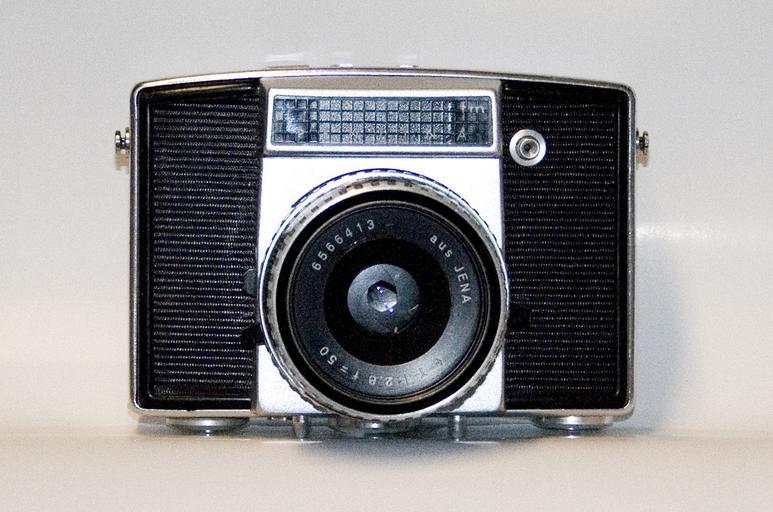 On the bottom of the device there are a tripod socket, a frame counter, and a rewind knob.
The lenses were mounted on bayonet mount, commercially available 30mm, 50mm, 85mm, 135mm lenses
Meyer Lydith 1: 3,5 / 30 mm,
Carl Zeiss Jena Tessar 1: 2,8 / 50 mm,
Carl Zeiss Jena Cardinar 1: 2,8 / 85 mm,
Meyer Domigor 1: 4/135 mm
The following models are known:
Pentina I (inexpensive, no exposure meter)
Pentina II (model with measuring system)
Pentina II M (with measuring system and rangefinder system in viewfinder)
Pentina (basic model with measuring system (formerly Pentina II))
Pentina M (base model with optional dual rangefinder image (formerly Pentina II M)
Pentina FM (base model with additional Fresnel lenses)
Pentina E (cheaper model without metering system (analogue of Pentina I))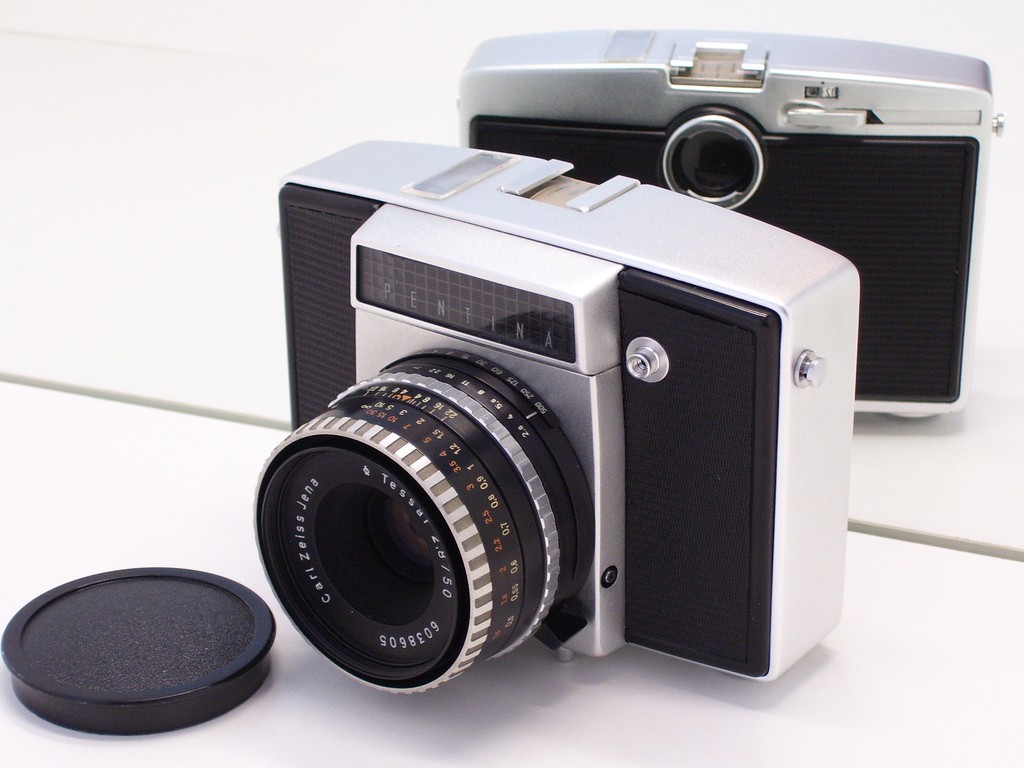 Cameras were produced with different types of finishes - silver, gold, brown and black leatherette.
The design of the film camera did not allow the use of lenses with a focal length of more than 135mm. Selenium photocells were used as a battery for exposure metering. Shutter priority mode was available for operation, diaphragm installed automatically. Synchronization with flashes took place at a speed shutter 1/50 sec. The hot shoe could be fitted with accessories such as an external viewfinder, angle viewfinder.
Camera Specifications
Camera type
35mm camera with center gateohm
Frame size
24 x 36 mm
Lens included
Carl Zeiss Jena Tessar 2.8 \ 50mm
Mount lens
Removable, bayonet
Shutter
Central gate—diaphragm electronically controlled.
Shutter speeds from 1 to 1 \ 500 sec, automatic aperture control
Exponometer
Exposure meter with selenium photocell
Viewfinder
Optical, automatic exposure compensation
Synchronization
outbreaks
For 1/50 sec.
Loading Film
The roll of film is loaded under the rear opening cover.
Frame counter
Automatic reset of the counter when the cover is opened.
Film rewind
Roulette type.
Dimensions and weight
n / A



Sometimes I buy photographic equipment from the USSR and not only. You can offer your write me. Help the project: 5469 1200 1062 4624. Comments can be left without registration and SMS