I have long wanted to make a comparison of lenses in work. finally the time has come. In the video, there are two Sony cameras, A7 and A7 mark II, the same video quality and size, the settings tried to set "all automatic", so that it was also clear how different generations of cameras with video recording work. In numbers, it looks like this:
Sony A7 - AutoISO, Aperture Priority, 1920 x 1080 50p 28M AVCHD, SteadyShot no, MF, FocusPeaking (Medium), Viewfinder
Sony A7 mark ii - AutoISO, Aperture Priority, 1920 x 1080 50p 28M AVCHD, SteadyShot = 60mm, MF, FocusPeaking (Medium), Monitor
Lenses
Helios 44M-4 on Sony A7 - Jupiter Plant, Valdai, 1986, # 86345485, 58mm focal length, aperture 2
Helios 44M on Sony A7 II - KMZ Plant, Krasnogorsk, production year ~ 1974-1975, # 054991, 58mm focal length, aperture 2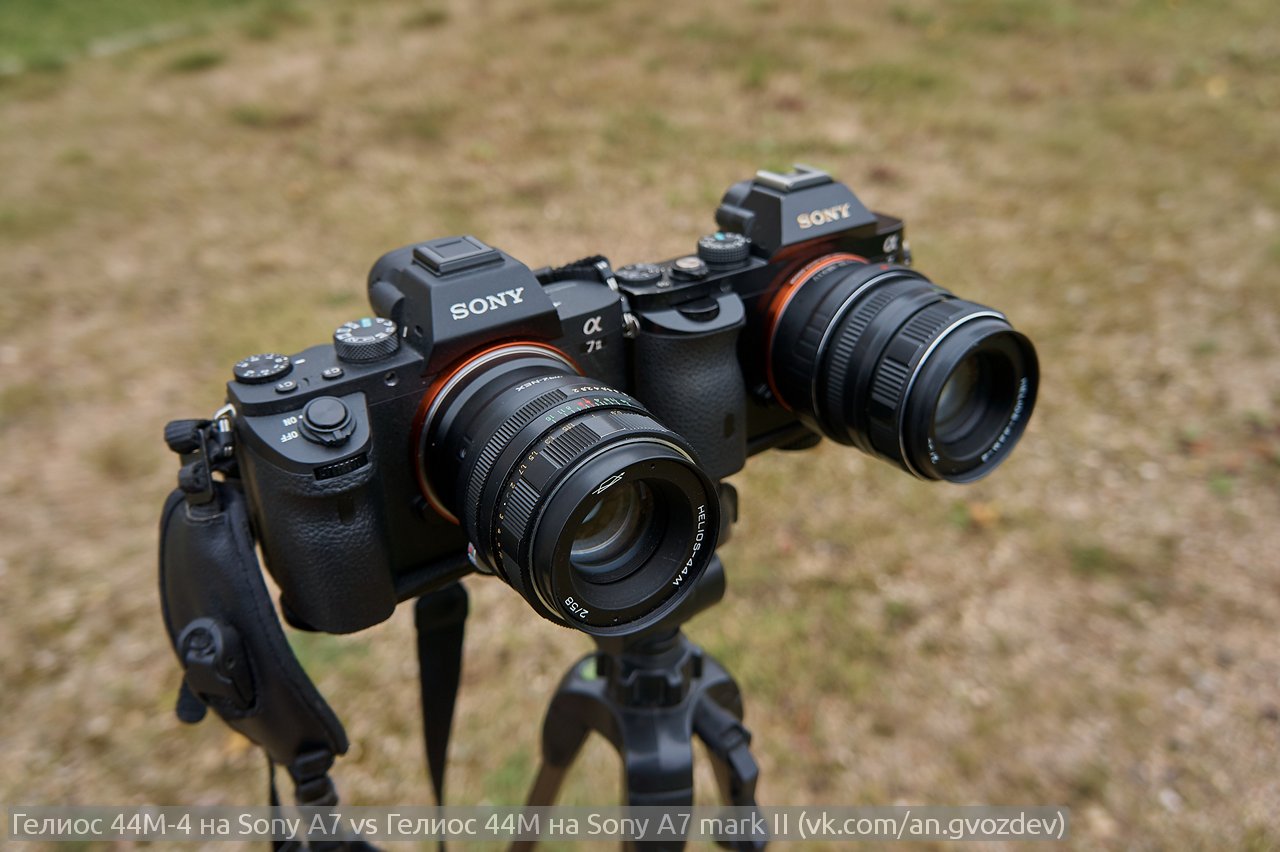 During the test, it was revealed that the logic of exposure metering during video shooting is better for the Sony A7II. Sony A7 constantly jerks ISO back and forth, and the display shows a deviation sometimes up to 400 units. At the same time, I had to introduce an exposure compensation of -0,7EV, since the picture on the display was strongly overexposed. This is very noticeable in the area of ​​recording from the square. Also, the Sony A7 has noticeably better wind noise reduction, Focus Peaking has been redesigned and it is much easier to focus on it even through the camera's viewfinder. In addition, the camera has a sensor stabilizer that eliminates fine shake.
The lenses proved to be worthy, despite the venerable years. Both have better center sharpness. But. In comparison of the two versions, the more recent, objectively, turned out to be sharper both in the center and at the edges. But this difference will not affect photography. Conversely, a less sharp lens has softer background blur and no itchy scales in bokeh.
There is not enough work in the back, but there, I think, there will not be much difference. Because optics does not have multilayer coating for both lenses.
Helios 44M-4 on Sony A7 vs Helios 44M on Sony A7 mark II video