The Meyer-Optik Gorlitz Telemegor 5.5/180 is a Meyer Görlitz telephoto lens with a focal length of 180mm and a maximum aperture of f/5.5. Meyer is one of the absolute pioneers of this particular type of lens.
A long time ago, in galaxy far, far away annals of history, Willy Merte (a man studied physics from Roentgen himself!), who during the First World War took over the further development of Ernst Wandersleb's Tessars, tortured, by 1919, the Zeiss Tele-Tessar. Additionally, in a patent dated May 1921, a design is presented with an increased maximum wide aperture to f / 5.5, due to the cementation of part of the lenses. The patent was valid until June 16, 1934, and it is not surprising that almost immediately after the expiration of its protection, several firms launched their own variations of the presented scheme on the market.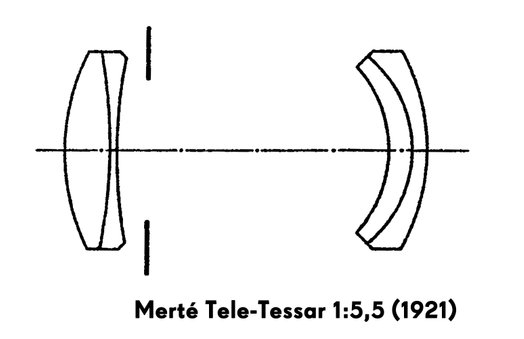 In addition to Schneider Kreuznach, Meyer-Optik presented its telephoto lenses, calling them simply and concisely - "Telemegor". In "abroad", usually everything revolves around the names and names of firms, so the new model was named, abbreviated "Telelens Meyer-Optik Gorlitz. This is better than the lens under the next "untitled" serial number in GOI USSR catalog, but still. Marketing, as such, probably did not exist then, so everyone "did the best they could".
In addition to the lens from the review, the f/5.5 Telemegors were produced with 150, 250, and 400 mm focal lengths. For narrow-film cameras for 16 and 8 mm film, Telemegors were presented with 75, 100 and 150 mm at f / 4. The history of "Telemegors" began with the entry into the market of 150 and 180mm versions.
With these lenses, Meyer-Optik has solidified its market position as a manufacturer of high quality interchangeable lenses for 35mm and medium format SLR cameras.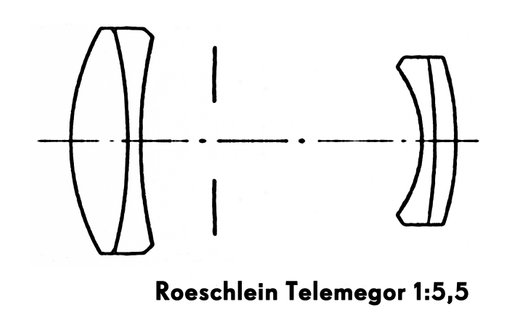 A comparison of the Tele-Tessar 1:5,5 lens scheme with Telemegor 1:5,5 shows that Röschlein, who calculated the Telemegor, moved away from the strongly curved meniscus-shaped lenses in the rear cemented part, simplifying their shapes. Four lenses in two groups is an undoubted advantage of the lens for the time when there was no anti-reflection coating. These lenses provided a huge leap forward in terms of weight: for the first time, it was possible to capture distant subjects with lightweight, transportable equipment, leaving large format cameras and the overhead associated with them to their less advanced counterparts.
Die Fotografie magazine once featured lenses as having the highest UV transmittance. Neither high-index special glass nor heavy crowns, which hardly transmit ultraviolet, were used in the design. However, it was this approach that provided Telemegors with a fairly long life - they could still be offered as inexpensive amateur lenses in the 50s of the XNUMXth century.
Telemegor 5.5/180 has been produced and delivered to the market for the longest time. By the way, later Telemegor 5,5 / 180 was equipped with an ultraviolet blocking filter. The filter appears to be part of the lens design, and at first glance it appears to be built into part of the body.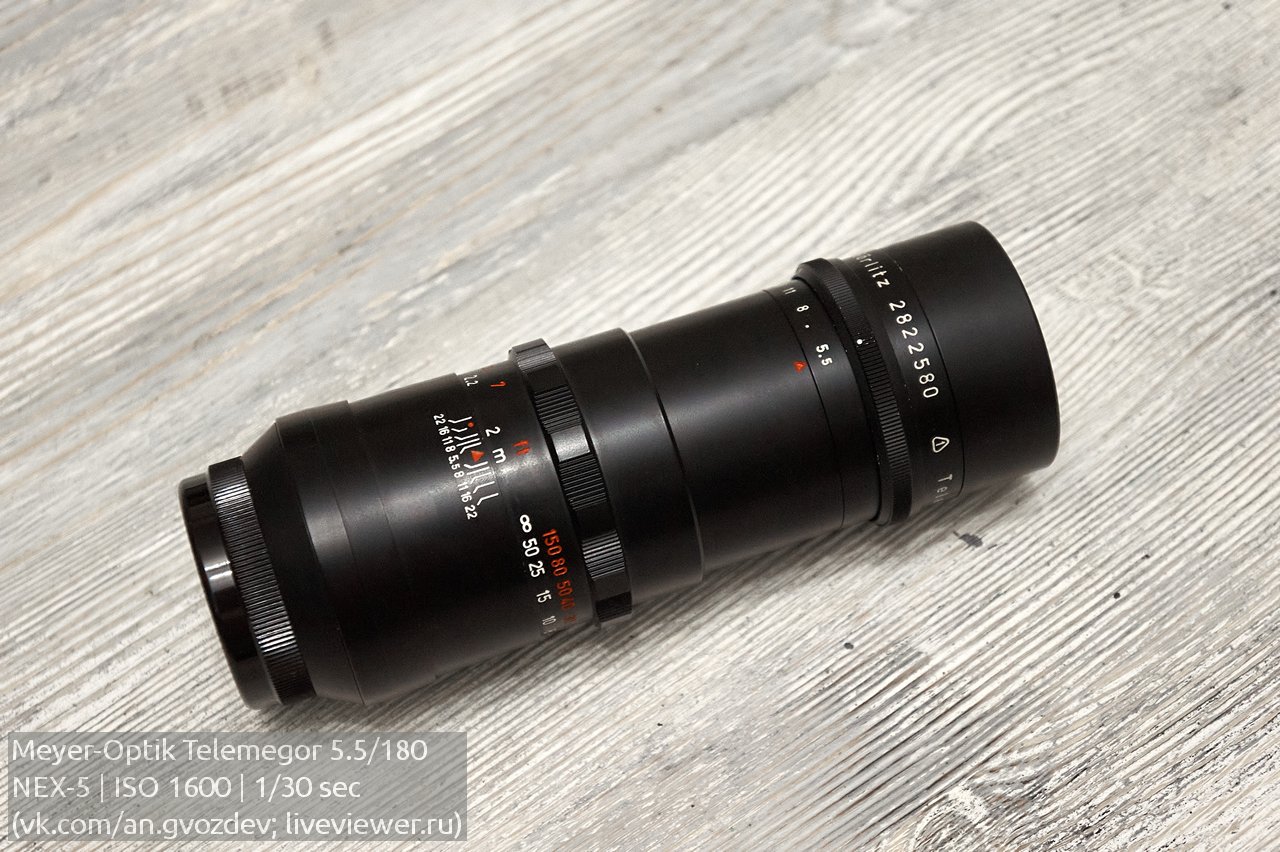 After the Second World War, the production of Telemegors and the improvement of the scheme continued - the lens acquired a different appearance, and also acquired a preset aperture. The ring, on which the values ​​are marked, rotates around its axis, and has a lock.
Today, of course, neither aperture nor image quality Meyer-Optik Gorlitz Telemegor 5.5 / 180 are not particularly impressive. Telemegor 5.5 / 180 from the review is made of aluminum, has a light (for a telephoto) weight, and was released for use with cameras that had an M42x1 thread. That is, despite the fact that this product was released in the middle of the 42th century, it can be easily put on both SLR and mirrorless digital cameras through an adapter from the MXNUMX to the system of interest (along with another zoo of optics from "Zeniths" and "Practitioner"). Pre-war Telemegoras could be found both for Contaxso for Exakta: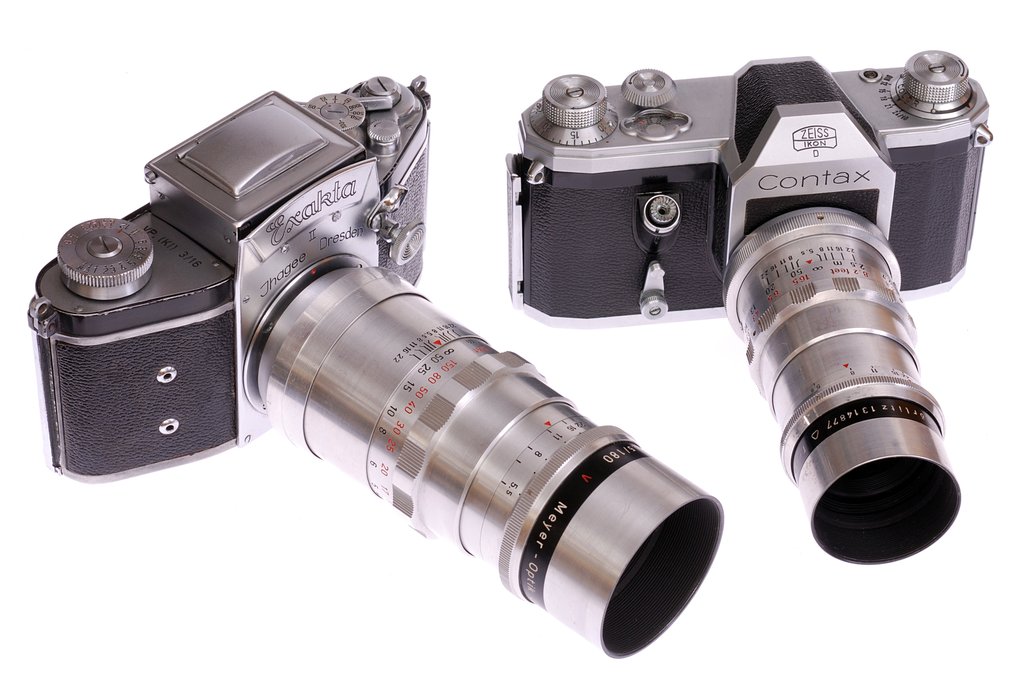 Telemegor 5.5 / 180 has a lot of petals in the aperture - as many as 15, which affects the character hips - it is airy in the old way, but the glare on the background turns into scales. A lot of highlights turn into a huge bubbling, fiery something.
Open Telemegor 5.5/180 is extremely soft, and it is very difficult to detect sharpness in a photo both before shooting and after, when viewing finished images. At the same time, through a small viewfinder, you will have confirmation of focus, and sharpness is displayed by focus peaking, and when focusing on the display, you can thoughtfully turn the focus ring back and forth for a long time in search of a less blurry image.
The picture, as expected, does not change, even if you remove the filter carefully wound by the factory. Despite the lack of contour sharpness, nevertheless, the details in the photo are quite distinguishable. Think if you clamp it up f / 11 on a bright sunny day, of course, you can get something. However, due to a combination of factors (age, "hello from the 30s" scheme and the presence of less ancient, but better optics), it is better for him to lie on a shelf, or participate in the shooting of any lomographic scenes (which, by the way, due to his manners to draw circles from all the highlights on the background, it will work well).
A distinctive feature of many Meyer lenses (and then, and Pentacon), by the way, as I noticed, this is a massive splitting of highlights into circles, or groups of circles. They seem to overlap each other, to the point and not quite.
The glass is low-contrast, and even in sunny weather it does not get rid of the gray coating throughout the frame. At the same time, the small aperture makes it necessary to keep the lens on the shelf in anticipation of some clear days. Therefore, if you want to purchase it on your digital camera with a small (other than 35mm frame) matrix, then the idea is obviously bad - small matrices are amateurs in and of themselves "make some noise"The lens is also so dark that on a bright sunny day you will have to run after the birds with a tripod until the very evening, returning home with a maximum of noisy video, but not a photograph.
Despite its rarity (and in Russia in 3 months I got only two such lenses on Avito), the cost ranges from 7 to 15 thousand rubles at a dollar exchange rate of 70. You can find it on ebay for both $50 and $120. Naturally, the early "silver" ones will cost many times more - most of them did not survive WWII, and in principle, an almost hundred-year-old thing cannot be cheap.
And so, if we consider a lens for shooting on an ongoing basis, it is better to look towards our more progressive contemporaries. Because even cheap Tamron 70-300, despite the fact that 300 is just for show on the case, it has more potential in comparison with Telemegor 5.5 / 180.
Photo examples Meyer-Optik Gorlitz Telemegor 5.5/180
Materials used zeissikonveb
(I'm not dumb to write where I got such a smart historian from, unlike some other portals)