The Praktica Super TL is a single-lens reflex camera manufactured by the East German VEB Pentacon.
M42 SLR camera, which has a threaded connection of the same name with contemporaneous lenses. The optics from this camera can be painlessly used on modern digital cameras through an adapter with an M42 thread. Read the article about adapters.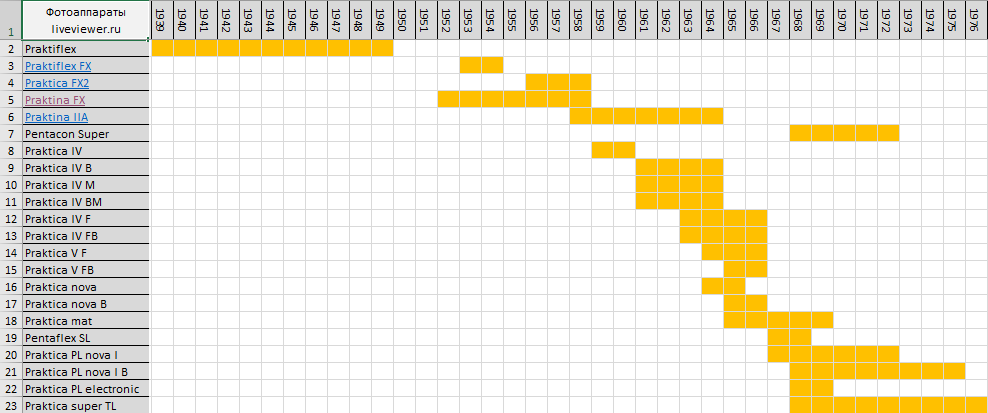 The Praktica Super TL film camera has TTL-exposure meter (photoresistor is installed under the top cover, after the pentaprism), metering is performed at the working aperture values ​​(the metering system is turned on, including by a remote button combined with the aperture drive). Curtain gate horizontal stroke works out shutter speeds from B to 1/500, there is a retarder. There is no self-timer, there is no shoe for connecting electronic flashes, but there are leads for connecting cable flash lamps.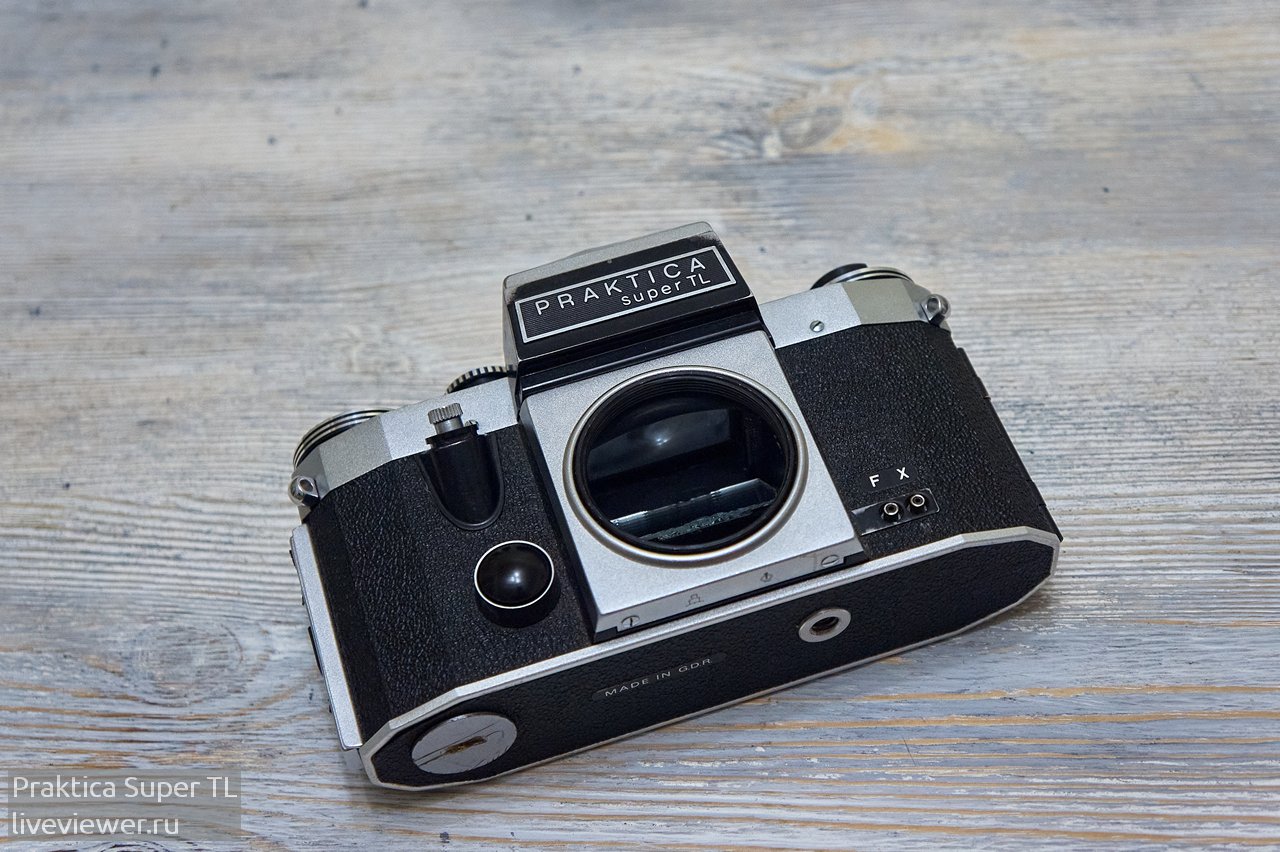 Standard lens - T 2.8/50, aus Jena 2.8/50, Carl Zeiss Jena Tessar 2.8 / 50 (Soviet analogues according to the scheme - Industar lenses). Developed under the guidance of designer Herbert Welzel. It is possible to install lenses with M42 thread. Praktica Super TL belongs to the Praktica Nova generation, which included the following cameras:
Praktica nova
Praktica nova
Praktica nova B
Practice mat
Pentaflex SL (aka Porst reflex FX 3)
Praktica PL nova
Praktica PL nova I (aka Hanimex Praktica nova I)
Praktica PL nova IB (aka Pentor IB, Porst FX 4, Hanimex Praktica nova IB)
Praktica PL electronic
Praktica super TL (aka Hanimex Praktica super TL, Porst reflex FX 6)
In turn, Praktica Nova is a development of the Praktica VI/V line of cameras. The first Praktica was developed by Siegfried Böhm in 1948 in the GDR. These chambers have some unification with the previous Praktiflex model. So, for example, the following remained common:
location of controls
body shape
Newly developed and applied for the first time:
shutter speeds from 1/2 s to 1/500 s
Bayonet Praktica M42x1
Read more:
Specifications Praktica Super TL
| | | | |
| --- | --- | --- | --- |
| Issue | Kombinat veb pentacon dresden | Chief Designer | Herbert Welzel |
| Production period | 1968 - 1976 | Total produced | as part of Praktica super TL-series (508 656) |
| Shutter | mechanically controlled vertically moving focal gate with fabric rubberized curtains | Available excerpts shutter | B, 1/1, 1/2, 1/4, 1/8, 1/15 1/30, 1/60, 1/125, 1/250,1/500 |
| Viewfinder | fixed viewfinder at eye level (pentaprism) | Mirror | automatically returned |
| Film feed | Hand | Bayonet mount | M42x1 |
| Self-descent | — | Battery | 625 |
| Metering system | TTL-exposure meter with metering at the current aperture value | Flash | X- and F-, no shoe |
| Flash indication | no | Aperture display in viewfinder | no |
| Notes | Leatherette finish | Lens | T 2.8/50, aus Jena 2.8/50, Carl Zeiss Jena Tessar 2.8/50 |
Praktica Super TL in action
Case, build quality Praktica Super TL
Good, pleasant in hands, film camera. Lined with leatherette. The camera was supplied with a leather-plastic case. The body panels of the camera are made of metal, stamped. Chassis - injection molding. In this regard, cameras are more afraid of mechanical impacts than those same Zeniths, since the panels are too soft, and dents remain upon impact. Have you seen the dents on the Zeniths?
Management
Management represented by
Exposure disc
Eye level viewfinder
Exposure meter with metering through the lens, powered by 625 batteries.
The depth of field preview button, and the shutter button.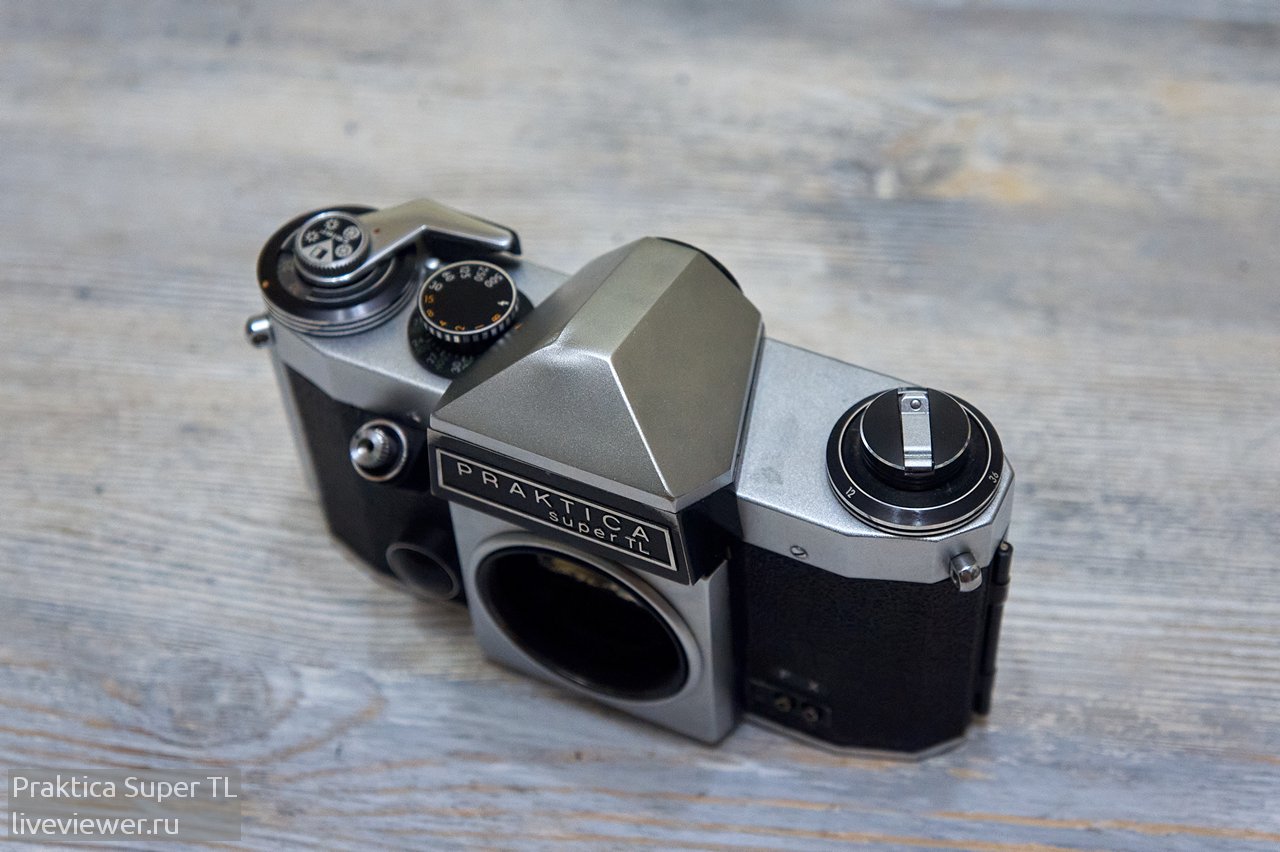 Iris control
Manual. It is set on the lens, taken into account by the exposure meter when previewing with the half-pressed shutter button.
Sighting through the viewfinder
Pentaprism with silvering, does not hold very well - it is laid on top with foam rubber, which usually rotted. Two of the four cameras that passed through my hands had a dangling pentaprism inside the top shield. Mounting on glue is very unreliable, however, it does not affect the work. To facilitate focusing, the viewfinder displays a matte micro-raster screen. The viewfinder is brighter than on the Zeniths, the coverage is greater (97%), the mirror is thin.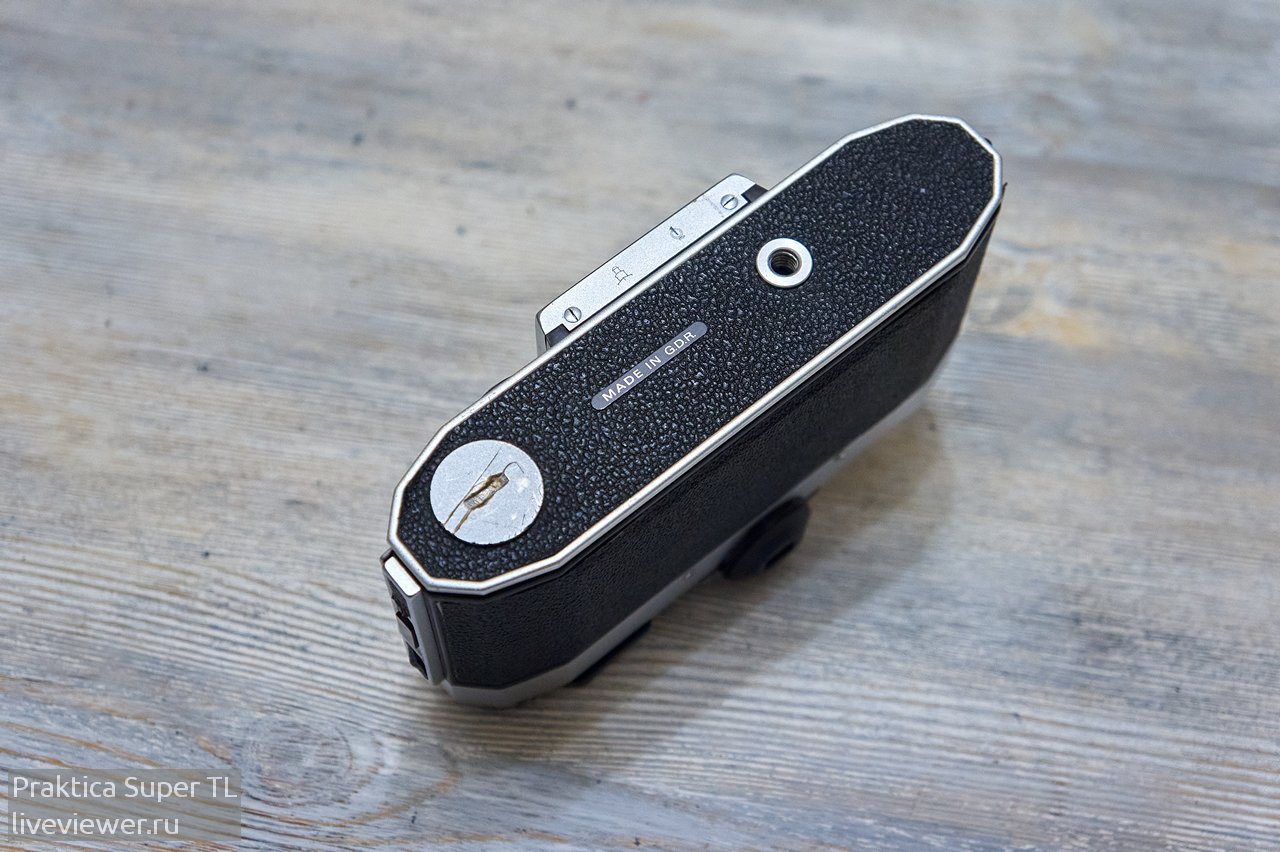 Exposure control
The shutter speed range is from V and 1s to 1/500 s. The shutter of the camera is mechanical, focal curtain, horizontal travel.
Flash sync
Through the terminals on the front of the case.
Light meter and exposure metering in Praktica Super TL
On the bottom of the camera there is a connector for the batteries of the exposure meter. The exposure meter readings are indicated in the viewfinder by moving the arrow. Exposure meter corrections can be made by changing the DIN value, as well as classically by changing shutter speed and aperture. Batteries of the Soviet type RTs-53 1,35V were used for power supply (modern foreign analogue - elements of type 625, slightly smaller in size, voltage 1,5V), LR-44 (AG12) are also suitable.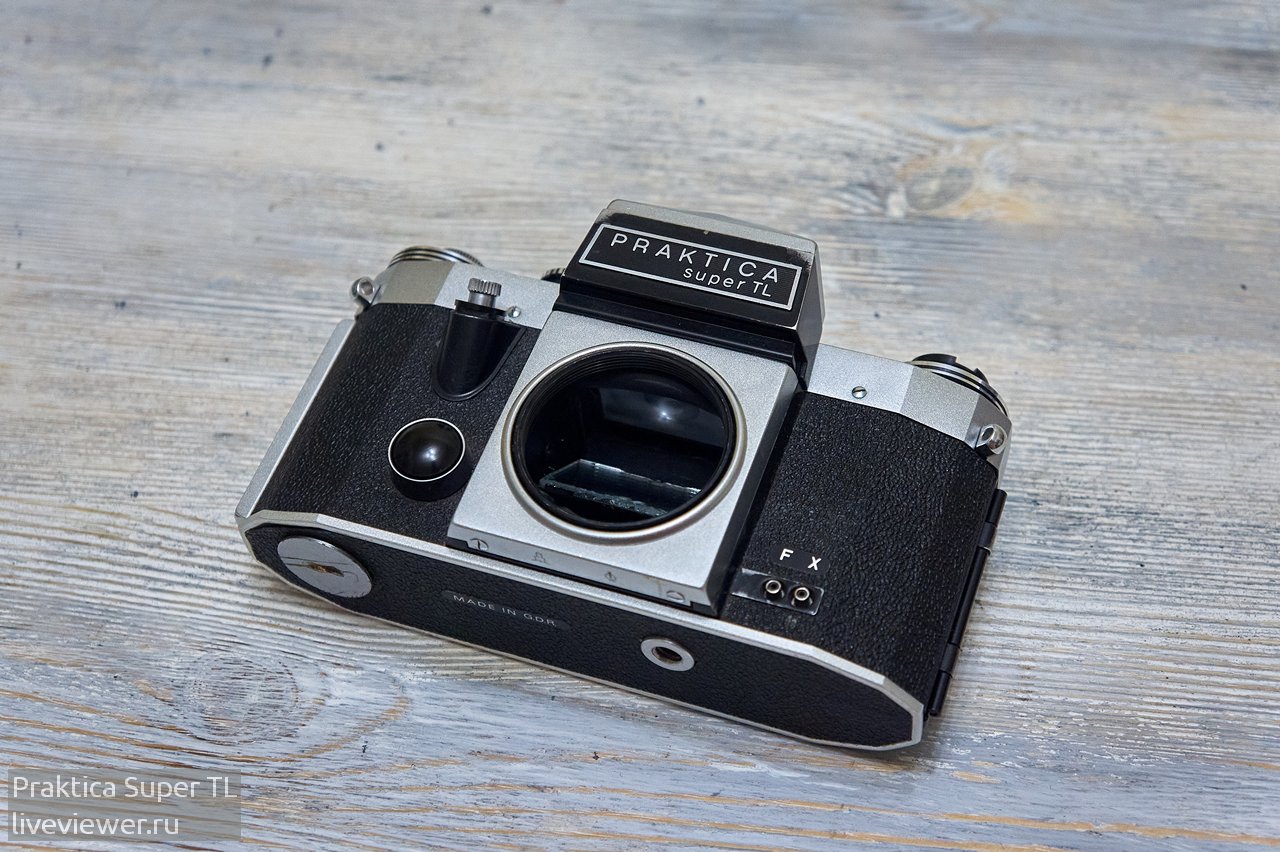 Convenience of work
The convenience of working with Praktica Super TL from the 80s is such a thing, of course. But Praktica Super TL is more convenient for Zeniths to use. First of all, thanks to the extended set of exposures. The device for unhurried shooting and thoughtful arrangement of objects in the frame.
Working with film
Film winding is of roulette type, the winding mode is switched on by a mechanical button on the top panel of the device. The frame counter is also located on the shield, it has an automatic reset when the lid is opened.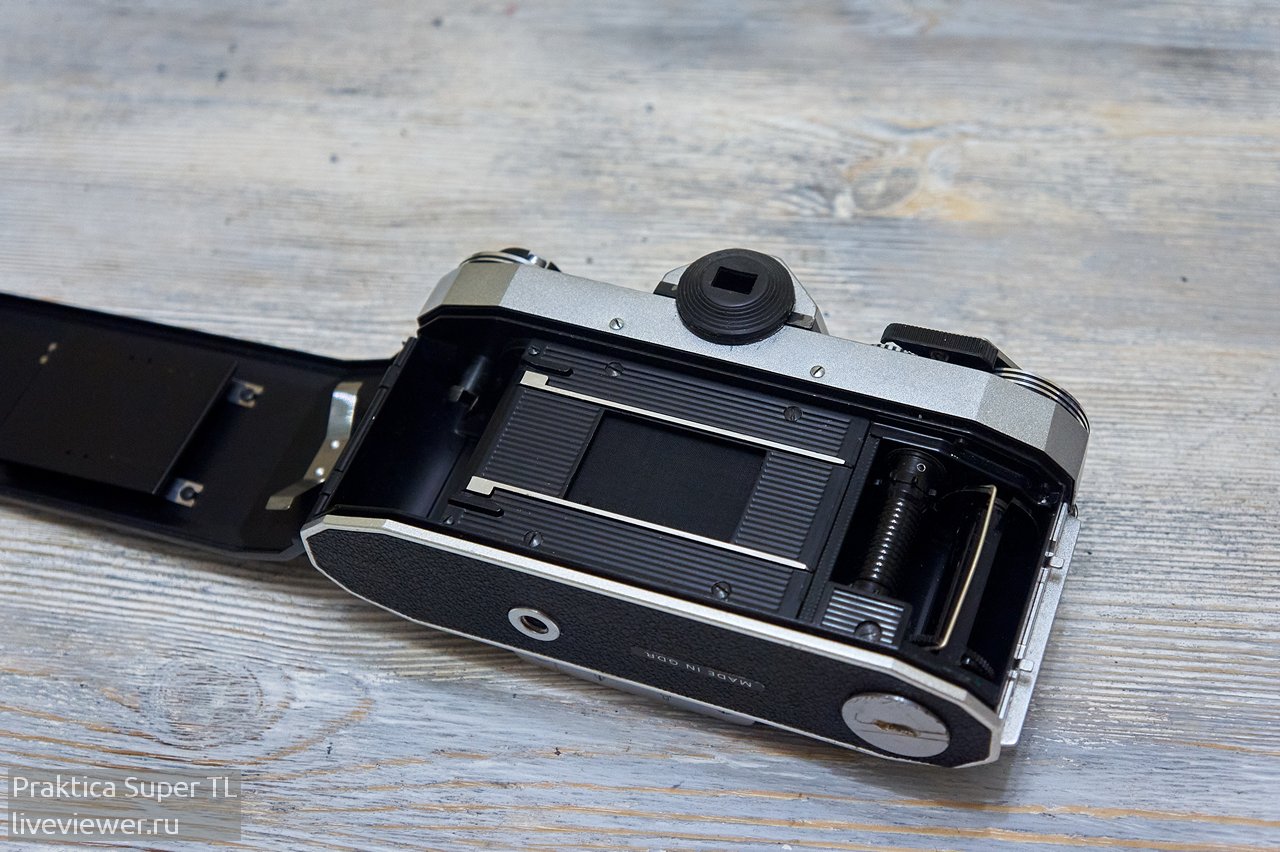 What kind of film is needed for a Praktica camera?
For Praktica cameras, any 135 type (35mm) film is suitable, in standard spools. You can use both black and white and color, you can wind the film yourself. Can be bought from
masters
... A budget hobbyist color film from Fujifilm or Kodak, black and white Tasma, works well. Films c
ISO
400 are suitable for low light conditions, and on films with
ISO
200 is best for shooting outdoors in clear or slightly cloudy weather.
Examples of photos on film can be viewed
here
.
Noise
Praktica Super TL is quieter than Zeniths. It's not strange, and it is. However, the disease of these practices is creaking at work. To eliminate the creak, a complete disassembly of the camera is required.
Reliability
Praktica Super TL is a controversial matter - on the one hand, a mechanical chamber, and on the other, a mechanical chamber requires maintenance of mechanisms. A curtain shutter has a shorter service life compared to metal lamella shutters. It can burn out in the sun, or tear from fatigue or external influences. I already wrote about the falling off pentaprism above, and the retarder mechanism has a limited service life, since it uses clock springs.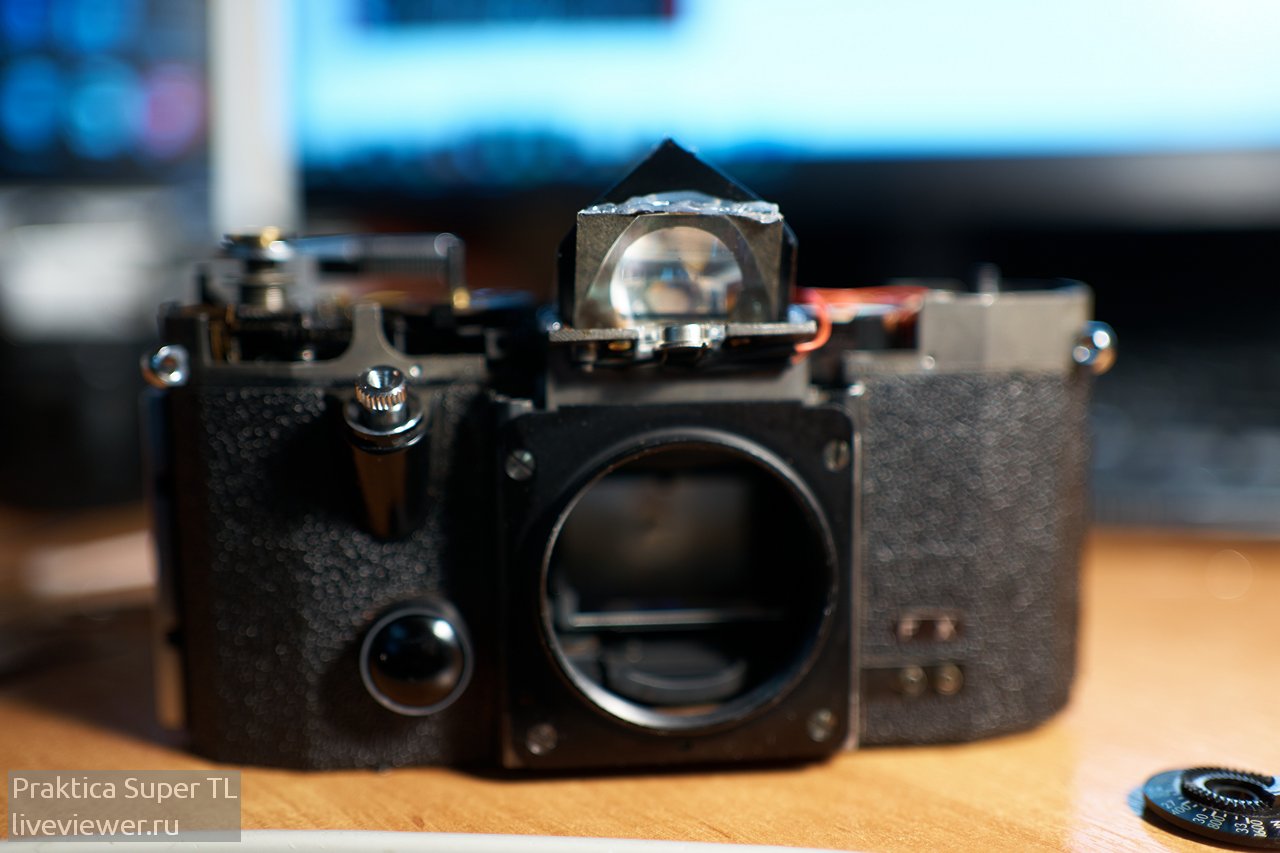 Gallery of images. Praktica Super TL
Summary
The Praktica Super TL is a nice, solid film camera. An excellent camera for a beginner amateur photographer, if you really don't want a Zenith. In the secondary market you can find at a cost of up to 3000 rubles. Praktica Super TL is found under the following brands and names:

And others, as it was actively exported abroad by resellers such as Quelle, Porst, Hanimex.




Sometimes I buy photographic equipment from the USSR and not only. You can offer your write me. Help the project: 5469 1200 1062 4624. Comments can be left without registration and SMS