I-51 F = 21cm 1: 4,5 is an Industar-51 lens from format camera FK (FKP or FKD)... The I-51 in 13x18 format provided an angle of view equivalent to about 50mm "full frame" for modern full-frame digital cameras. Lenses of the I-51 type (as well as And-37, I-4), were used not only in pavilion and road wooden cameras of large format, but also in projectors, as well as for filming (I-51D).
The lenses did not have the ability to focus, this ability was provided by fur wooden chambers... Have you seen such large wooden boxes in pictures, or in museums? A large wooden box with a lens is a format camera. Large format - these are plates with a working field of 13x18 or 18x24 centimeters.
Focusing (then in everyday life it was "focusing") on frosted glass was carried out by moving the plate with the installed lens along the rails inside the camera, and opacity was provided just by the very fur of the camera.
(Industar-51) I-51 F = 21cm 1: 4,5 in operation
It turned out to be an amazing fact for me that with the parallel existence of large, medium and narrow formats (what we now call a full frame in numbers), BF lenses have found use in the hands of craftsmen who ported them to 36x24 film cameras. In order to facilitate porting, some factories have mastered the production of extension pipes.
Thus, now on sale you can find both factory and handicraft helicoids, and lenses for large format (talking about the lenses of the USSR) for a small amount.
And-51 is capable of resolving a frame with a format of 13x18 centimeters, so any small format (digital medium format is also a small format, yes) camera for this lens is a crop.
I-51 is a Tessar lens with 4 elements in three groups. The I-51 diaphragm consists of 20 graceful blades forming an even circle. Aperture is controlled by rotating the ring on the lens barrel.
The aperture values ​​are marked as follows: 4.5, 5.6, 8, 11, 16, 22, 32. The lens for review came with a helicoid with a large thread pitch of the focusing ring. Helix with M39 thread (LSM) for SLR or rangefinder cameras on one side and M60x0,75 thread on the other. The I-51 through such a helicoid will stand on both a DSLR and a rangefinder due to its huge rear segment.
The lens I-51 1:4,5 F=21cm manufactured by KOMZ, dated 62 years on the frame, was used in the review. The serial number of the lens is 625647. As you know, after 1960, for the most part, photographic equipment made in the USSR had a yearly numbering.
Based on this fact, the production year of this Industar-51 defined as one thousand nine hundred and sixty-two. The lens from the review was used for a long time for shooting sports events together with the camera "Crystal". Was painted black. The paint peeled off over time, and now the appearance is "just a bomb."
The I-51, when used on a full-frame digital camera, shows good sharpness, has an even and calm blur of the unsharp zone, good color rendering and, in general, low contrast.
Also, the lens does not tolerate, in spite of the presence of violet color enlightenment, strong light sources in the frame. When such sources enter the frame, a flare appears over the entire area of ​​the image, and there is also a drop in contrast that is much stronger than with normal use.
The metal hood is very weak. However, I didn't shoot without her. Its appearance is so organic with the general view of the lens and helicoid.
Classic chromatic aberrations at the boundaries of contrasting areas are compensated for by the arrangement and shape of the elements. The classic Tessar is harsh and immune to the childhood illnesses of many other patterns.
The I-51 with an aperture of 4,5 is dark by modern standards. However, the weight, age and purpose of the lens allows you to ignore this. Hello from the sixties, descendants!
The focal length of Industar-51 is 210mm, and on the large format the lens is "fifty dollars", but on the small format, now called "full frame" - it becomes an honest telephoto lens. Thus, its adaptation with the help of a purchased helicoid to a small format is determined, and its subsequent use in sports events confirms the logic of using it as a telephoto lens.
Sample photos on Industar-51
Of course, having seen for the first time such a miracle of domestic engineering thought, I was eager to attach this unknown to a digital camera. In my case, the installation was carried out on cameras Sony A7 и Sony A7II using adapter M39 (Leica Screw Mount) - NEX. About adapters for old lenses I describe in detail here... Due to the peculiarity of the setting, a vignette is visible at the edges of the frame, which is difficult to eliminate in the editor. By the concept of "difficult" I mean here that when the vignette is removed, a strong drop in detail is noticeable in the corners. The lens can obviously do more, and the problem disappears if you install this kit through an adapter for SLR cameras. In general, since I suddenly did not have an M39-M42 adapter ring, I had to leave the samples as they were. Here's what happened in the end.
Specifications (Industar-51) I-51:
Lens type: tripod
Class: "fifty dollars"
Minimum focusing distance: on "full frame" - 3 meters
Purpose: camera FC (P, D)
Fastening: thread М60х0,75
Working distance: 183,71 mm
Focal Length: 210mm
Aperture range: f 4.5 - 32
Optical design: 4 elements in 3 groups, Tessar
Length: 53 mm
Weight: 300 g
Filter Diameter: 58 mm
Aperture Petals: 20
Center / edge resolution: 22 (24?) / 14 lines / mm
I-51 4,5 / 210 (full name Industar-51) is a lens from a wooden camera FK, designed for a format of 13x18 cm. It replaced Industar-4. Produced at KMZ and KOMZ.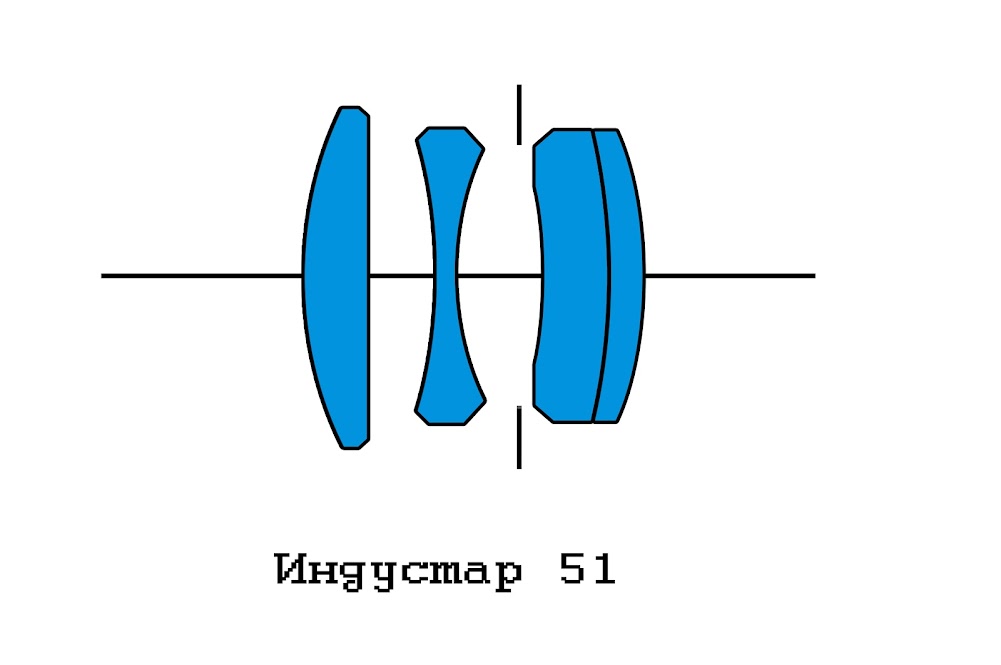 Summary
Industar-51 with a helicoid of this type is a very interesting solution that can allow you to equip your arsenal with a cheap telephoto camera for every day.
The lens was provided by Edward, for which many thanks to him.
/2021/08/vtoraya-zhizn-fkd/

/2020/08/industar-51-na-sovremennoj-cifrovoj-kamere/




Sometimes I buy photographic equipment from the USSR and not only. You can offer your write me. Help the project: 5469 1200 1062 4624. Comments can be left without registration and SMS