Lens Sony FE 3.5-5.6 \ 28-70 (SEL2870) Review with sample photos.
Can we praise the whale lens? Yes, if it is SEL2870 supplied with Sony A7 / Sony A7II. It is an all-metal lens with versatile focal lengths. There are both wide angle and moderate telephoto for shooting distant subjects / portraits with background blur. In addition, the lens is equipped with an optical stabilizer. When installed on cameras with built-in sensor stabilization, both stabilizers work. No lens backlash, out of the box. The rings rotate a little, especially the difference with the whale for the Nex. On my copy, the focus ring rotated tighter than the zoom. The rings, by the way, are metal, but covered with a material that feels like rubber. This is a paint that collects dust and literally chips off from fingernails. In general, appearance is appearance. How does it actually work?
Focuses Sony FE 28-70 instantly. On the video example, I tried focusing from the minimum distance to infinity. Instant. A silent moment. If you listen closely, you can hear the stabilizer and diaphragm working. But these are the sounds that are poorly captured even on video. In fact, when focusing, there is a slight sound of movement inside the lens, but no more. All in all, if I were a fan of the ASMR soundtrack for Canon lenses, I would be sorely disappointed. Focusing is internal, thanks to this, the lens focuses at high speed. As far as I understand, looking at reviews on other Sony E mount lenses, Sony does not have a single external focusing lens. It is also very accurate. This is checkmate, Canon.
Despite the fact that the transition to Sony is not given with little blood, after all, kit 28-80 for a full frame is the best start to start in this system (after whale for nex, of course - that one is even easier, but for a crop, I will mention it a little further).
I compare my feelings from canon glasses, since I sat on it for a long time - canon lenses are heavier, work louder, younger models have a jerky-eyed image quality. And even, unfortunately, the vaunted 24-70 L does not have such a price / quality ratio in comparison with this glass. Well, really, guys. I tried various optics from Canon, and all the time I wondered - is it really my hands that are crooked? You will forget about many troubles by trying another system. By the way, even Nikon makes whale glasses better and of higher quality.
In addition, the Sony FE 28-70 is very common on the secondary market, because many people get rid of the kit lens for various reasons. I got rid of the whale Canon lenses simply because it was rubbish, but here I did not get rid of it, but sold the lens because of the purchase of the 1.8 / 35. For a wide angle there is Sony E 3.5-5.6 / 18-55 (SEL1855) from the nex, for that very rare day. For shooting subjects, I liked it more, since it has a shorter focusing distance, and the stabilizer and everything else is not worse. Well, and thanks to the fact that the lens forces the camera to work in APS-C mode, I get an increase in depth of field.
The trunk and part of the frame on the far ring of the Sony FE 28-70 are plastic. The trunk extends about a centimeter at a wide angle. Included with the lens was a hood that prevented the trunk from walking freely. It turned out that the hood is not native, but from 1.8 / 35. Fit-fit, but not quite. The original one, apparently, has a thinner base.
Sony 28-70 gives good colors even on old cropped nexes. At wide angle, there is vignetting and loss of sharpness, as well as perspective distortion inherent in many zooms. But for those for whom it is important to maintain perspective when deviating the shooting axis from the true horizon, he uses a slightly different equipment.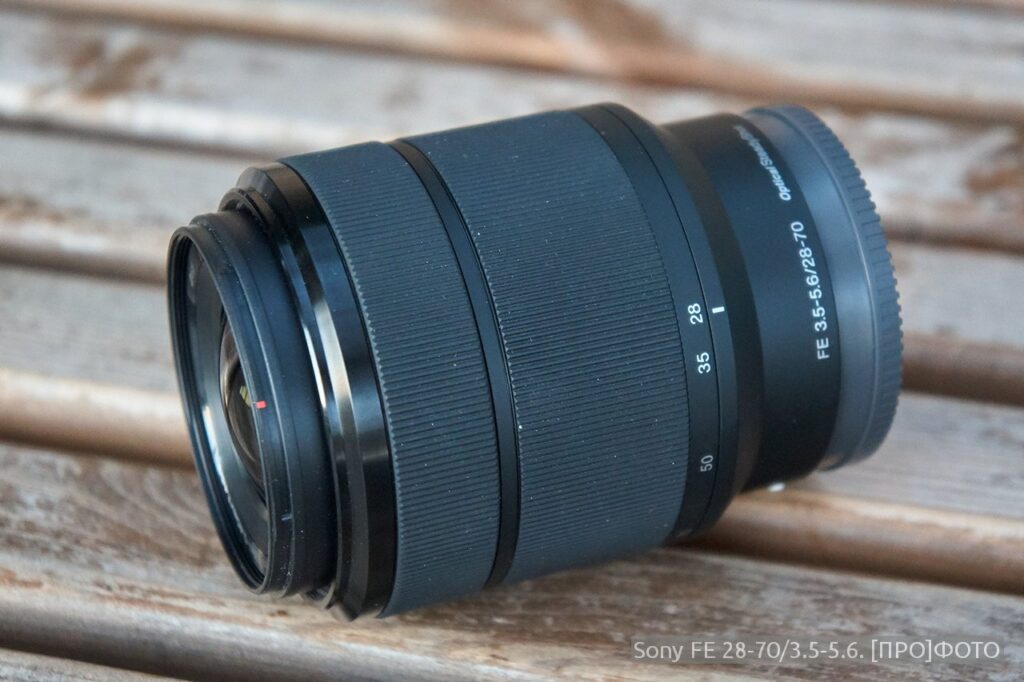 The bokeh for the zoom lens is simply gorgeous. Soft colors, as well as a soft transition to the unsharp zone. There are no scales in the bokeh. Yes, over the entire focal length range it is not artistic, and at a wide angle it is typical wide-angle, that is, with a large depth of field. But still, this glass is worthy of attention. First of all, as mentioned above, because of the excellent price / quality ratio.
There is, of course, a small fly in the ointment. The coating on the rings (stuttered above) and the paint on the lens barrel is not wear-resistant and wears off pretty quickly.
Sony FE 28-70 has no complaints about image quality, well, it seemed to me so. There are no aberrations in the form of chromaticity on contrast transitions (on open), nor loss of detail when working in backlight. Detail and sharpness are fire. Even on the crop.
Lens Sony FE 3.5-5.6 \ 28-70 (SEL2870) sample photos and videos
SEL2870 + Sony A7M2 sample photos
Shooting on a full-frame Sony A7II camera, processed in Capture One. Color Profile - NoColorCorrection, Auto Adjustment, reducing the "Highlight" and "White" parameters until there is no overexposure.
SEL2870 + Sony Nex-5 sample photos
An example of a photo with a cropped Sony NEX-5 camera. Processing in Capture One in the same way as all other photos (see above).
Video sample Sony FE 3.5-5.6 \ 28-70 (SEL2870)
Summary
It would be dishonest to call the lens extremely unsuccessful, or somehow cheap ... and so on. The opposite is true here. You are so surprised that you start to hate the system on which you have been sitting for 9 years (brick in the direction of canon). Just because there is no normal native optics on it. In the case of the 28-80, this is exactly the case when the lens seems to be cheap, but it has no drawbacks, except that it is dark, it seems to be gone.




Sometimes I buy photographic equipment from the USSR and not only. You can offer your write me. Help the project: 5469 1200 1062 4624. Comments can be left without registration and SMS