A single-lens reflex camera based on and replacing the Praktiflex model. Had many modifications and standard lenses. Produced in the GDR.
The predecessor of the very first "Praktika" is the mirror Praktiflex, produced by Kamera-Werkstätten Guthe & Thorsch GmbH ("KW"), equipped with a non-standard M40 × 1 thread for attaching interchangeable lenses. This camera is considered the third small-format "SLR" in the world after the Soviet "Sport" and the German "Kine-Ekzakty".

After the occupation of Germany, the private enterprise KW was nationalized and renamed VEB Kamera-Werkstätten Niedersedlitz, working on orders from the Soviet military administration. In 1947 she was given a technical assignment for a new camera with a threaded M42 × 1 optics and a shutter speed range from 1/500 to 1/2 of a second. Under the leadership of the designer Siegfried Boehm, the Praktiflex camera is being modernized, an improved sample of which was presented in the fall of 1948. Serial production begins in January 1949 under the new name Praktica, as KW became part of the Ihagee company.

Further improvements were made to the acquisition of a sync contact, a constant sight mirror and pentaprism, as well as a jumping diaphragm, which first appeared in the world in the Praktica FX2 model in 1956. Since the transformation of Praktiflex into Praktika, two generations of cameras based on cloth focal gatee with horizontal curtain movement, such as Leica. One of the most famous among the second generation of Nova was the Praktica Super TL model, which was also popular in the Soviet Union, where it turned out to be the first affordable camera with TTL-exponometer. The earlier Praktica Mat was the first to receive such an exposure meter in Europe.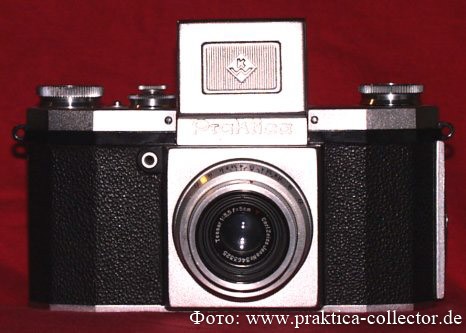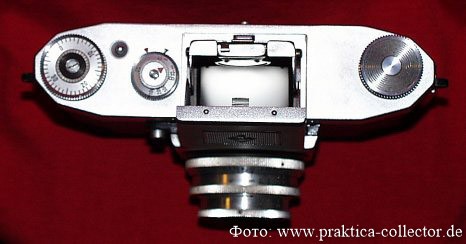 Praktica specifications (early)
Issue
MECHANIK Kamera-Werkstätten VEB Niedersedlitz
Chief Designer
Siegfried Boehm
Production period

1949 - 1952
Total produced
~ 60000
Shutter
Mechanically controlled vertical stroke with fabric rubberized focal curtains gate with retarder for long exposures
Available excerpts shutter

B, 1/2, 1/5, 1/10, 1/25, 1/50, 1/100, 1/200,1/500
Viewfinder
Mine
Mirror
non-refundable automatically
Film feed
lever, automatic zeroing of the frame counter
Bayonet mount
M42x1
Self-descent
—
Battery
—
Metering system

Outside
Flash
external, X-sync, F- for lamps, connectors on the body behind the lens
Flash indication

no
Aperture display in viewfinder

no
Notes
Leatherette finish
Lens
Carl Zeiss Jena - Tessar 1: 3,5 f = 5cm