The Canon EF-s 18-55mm f / 3.5-5.6 went on sale in 2003, and could be bundled with the Canon 300D and 20D body.
Canon EF-S 18-55mm f / 3.5-5.6 IS. General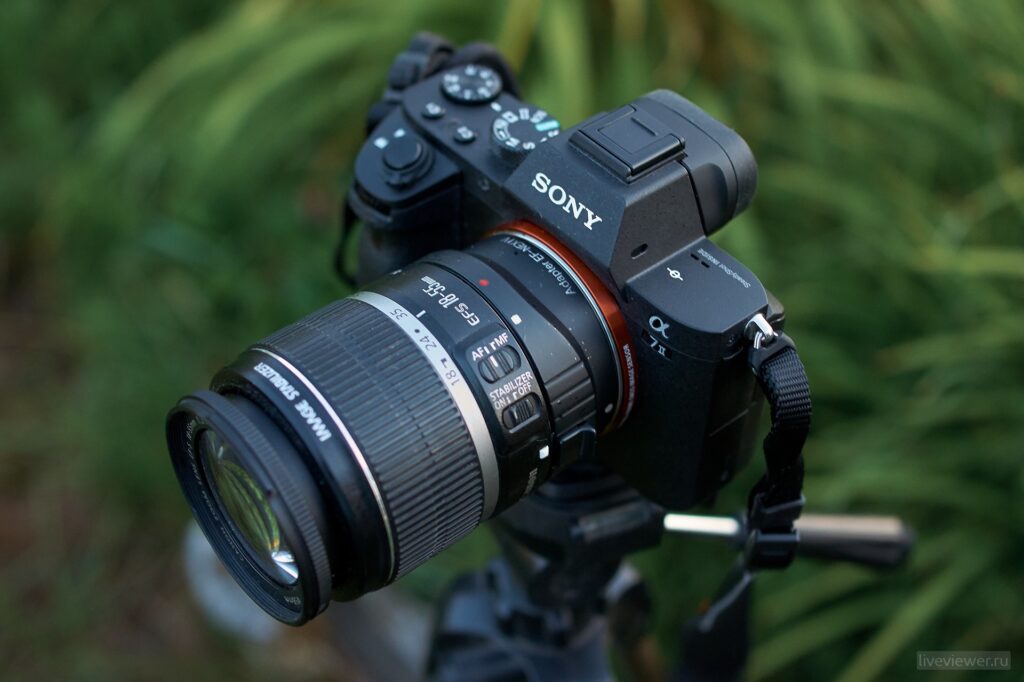 The first lenses were not considered a very high-quality purchase. due to the many aberrations and low sharpness.
There are nine options in the series:

EF-S 18-55mm f / 3.5-5.6 (September 2003);
EF-S 18-55mm f / 3.5-5.6 II (March 2005);
EF-S 18-55mm f / 3.5-5.6 IS (September 2007);
EF-S 18-55mm f / 3.5-5.6 III (March 2011);
EF-S 18-55mm f / 3.5-5.6 IS II (March 2011);

EF-S 18-55mm f / 3.5-5.6 USM (September 2004);
EF-S 18-55mm f / 3.5-5.6 II USM (March 2005)

EF-S 18-55mm f / 3.5-5.6 IS STM (March 2013)
EF-S 18-55mm f / 4-5.6 IS STM (April 2017).
Canon EF-s 18-55 come bundled with EOS cameras with bayonetohm Ef-s. The first lenses of 2003 did not have very good image quality, even by the standards of a whale, so after a while a second version was released, and a little later, a lens with a stabilizer was released on the basis of the second version. By the way, lenses of later modifications, despite slightly better image quality, have obvious production optimizations.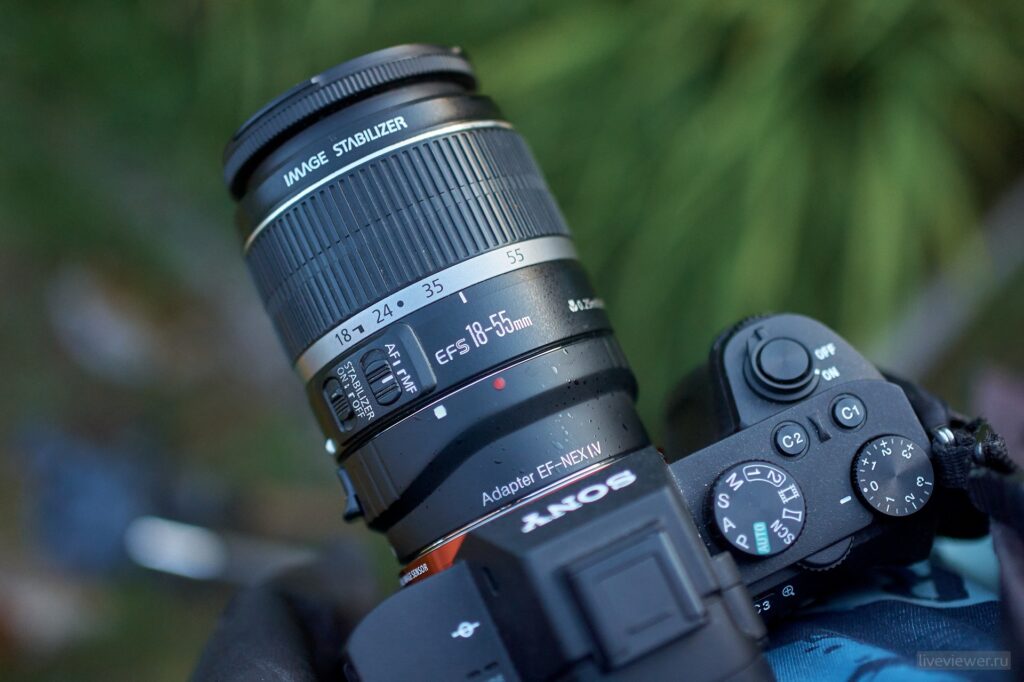 For example, a lens Canon 18-55 2011nd version with stabilizer (XNUMX) not equipped with a rubber coated ring bayonet, and the zoom mechanism uses screws that are cheaper in production. In addition, (this is strange, but it really is) - EF-S 18-55mm f / 3.5-5.6 IS (September 2007) has better build and image qualitythan version Canon EF-s 18-55 IS II 2011... Visible at wide angles. Perhaps there was some kind of quality optimization at medium focal lengths to the detriment of wide-angle.
I would like to highlight lenses with STM and USM focusing motors.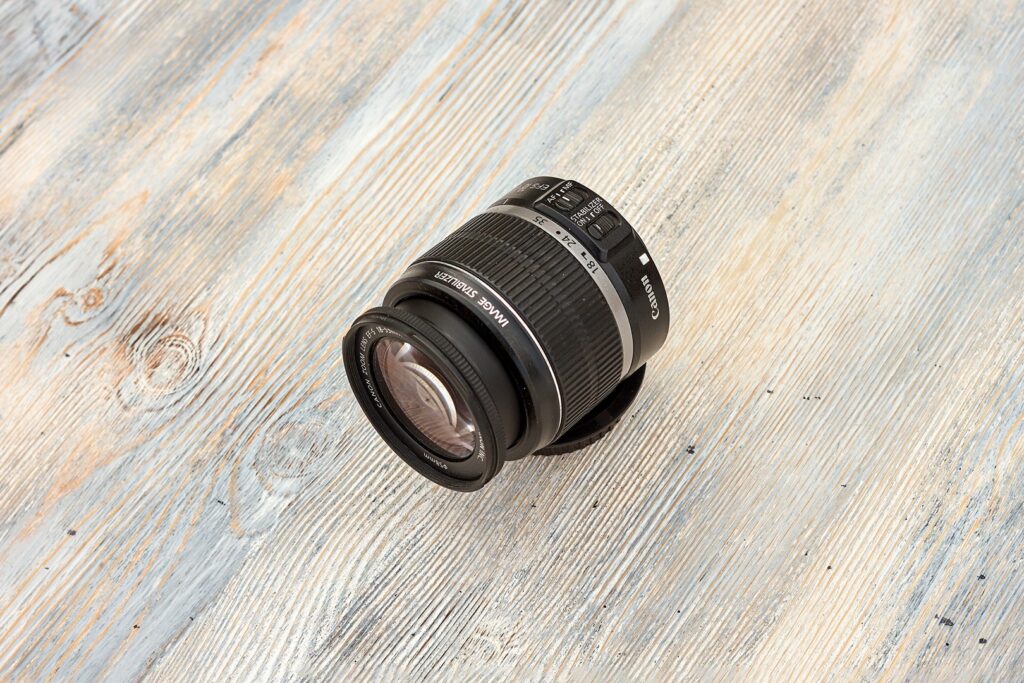 The lens is a "kit" for many cameras with bayonetohm EF-s. What is a kit lens?
Whale lens (from the English kit - kit) - slang word - replaceable lens supplied with the camera at the time of purchase... Often this refers to a specific entry-level zoom lens that comes with budget cameras (EF-S 18-55mm f / 3,5-5,6 for Canon, AF-S DX NIKKOR 18-55 mm f / 3,5-5,6 VA for Nikon, 18-55 mm f / 3,5-5,6 Sony, DA 18-55 mm f / 3,5-5,6 AL from Pentax, etc.)
The lens from the review belongs to the third upgrade, has a stub and came with the Canon 1000D.
TECH SPECS
| | |
| --- | --- |
| Name | Canon EF-s 18-55mm f / 3.5-5.6 IS |
| Mount to the camera | EF-s |
| Issue | 2005 |
| Manufacture | Malaysia |
| A type | Varifocal lens |
| Chassis | Information is painted on the body |
| Cost | $ 150 included with the camera in 2013 |
| Lens groups | 9 |
| Elements | 11 |
| Optical design | no data |
| Aperture blades | 6, rounded |
| Relative aperture | 1:3,5-1:5,6 |
| Iris control | e |
| Aperture Scale Limits | no scale, limits 1: 22-1: 38 |
| MDF (m) | 0,25 |
| Focal length (mm) | 18-55 |
| Viewing angle (degrees) | 18 and 55mm respectively |
| Filter diameter (mm) | 58 |
| Dimensions (mm) | no data |
| Weight (g) | 200 |
Lenses Canon EF-s 18-55 on the portal
Canon EF-S 18-55mm f / 3.5-5.6 IS in action
Chassis lens и bayonet the mount is made of plastic. This lens has a rubber indentation bayonetso as not to scratch the plastic when mounted on the camera. The zoom ring is rubberized, the focus ring is a plastic molded in the frame. Diameter for light filters - 58mm. Light filters are screwed into the plastic case of the lens unit, the thread is internal. Objective production - Malaysia, objective from the "whale" set. There are several switches on the body - focus mode and stabilizer. The Canon EF-S 18-55mm f / 3.5-5.6 IS has a range of popular 18-55mm focal lengths and is able to cover their needs for everyday use.
The Canon EF-S 18-55mm f / 3.5-5.6 IS is equipped with a stabilizer to help you shoot in low light handheld excerptx up to 1/30 second. The lens is very lightweight and easy to handle. Many started with this glass, and many know it like the back of their fingers. For its price, the lens has everything you need, and even more. Canon EF-s 5-18mm f / 55-3.5 IS is a zoom lens, that is, it has a variable focal length. Canon EF-S 18-55mm f / 3.5-5.6 IS - entry-level stock lens... Supplied with cropped cameras such as EOS 1000D, EOS 400D, EOS 500D.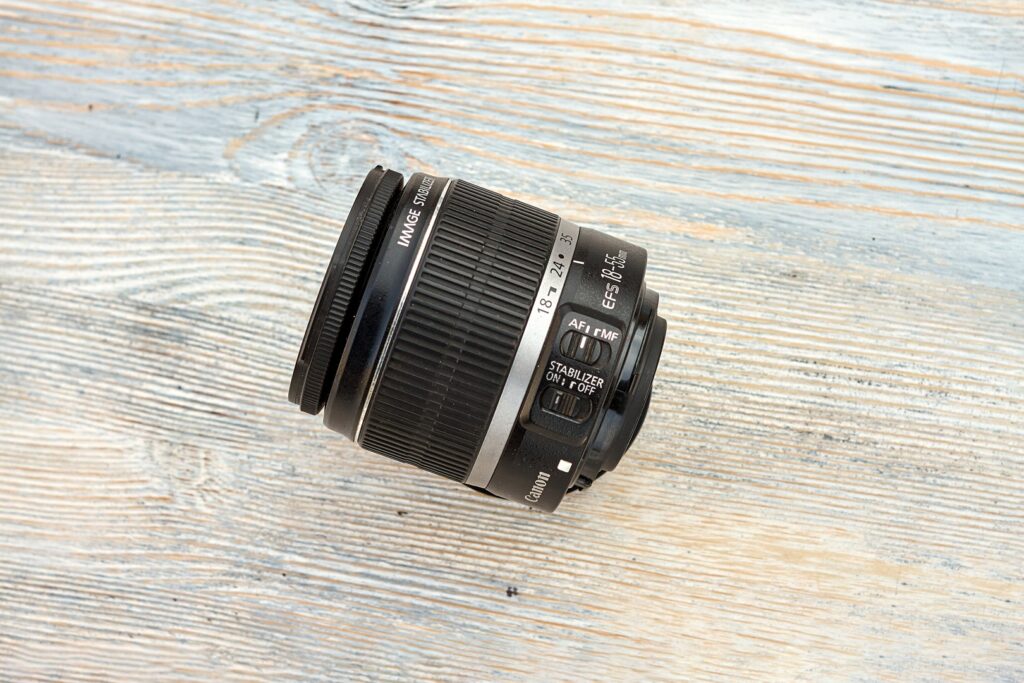 Focusing
Focusing drive - stepping, there is no possibility for manual adjustment without switching to manual mode. When focusing, the front part rotates around its axis. Outside focusing, lens - vacuum cleaner. During focusing, the motor runs loudly, but focuses quickly. The lens almost always hits the spot. There is no focusing ring as such, and manual focusing produced by rotating the front lens frame.
The switch on the body should be in the "MF" position, as manual focus adjustment in "AF" mode is not available. More precisely, there is a possibility, but it is provided by the backlash of the drive. The switch mechanically opens the drive. Infinity comes from about 15 meters, at a wide angle - less in total. There is no focusing scale or depth-of-field calculation.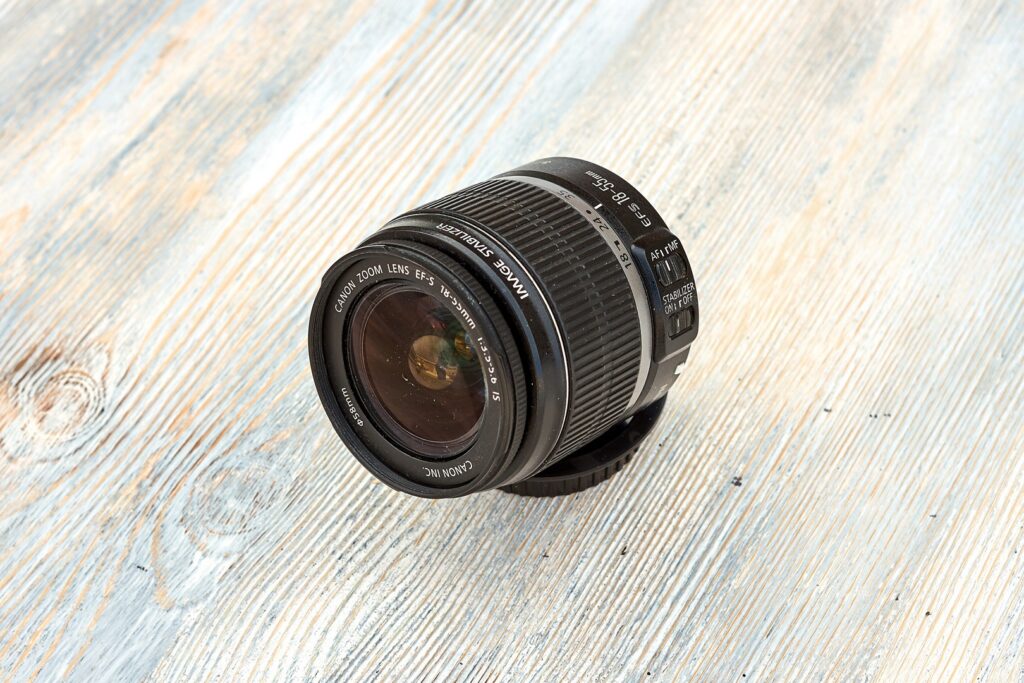 Diaphragm
The diaphragm is rounded, has six blades, and is electronically controlled. If there is no connection with the iris, the camera will generate an error ERR01. Maximum relative hole 1: 3.5 at wide angle. At the far end of the zoom, in the 55mm position - 1: 5.6. Variable focal length lens with variable aperture. Actually, lens is not suitable for indoor shooting and in low light conditions. You will definitely have to use a stabilizer or a tripod. Plus, bully every time ISO.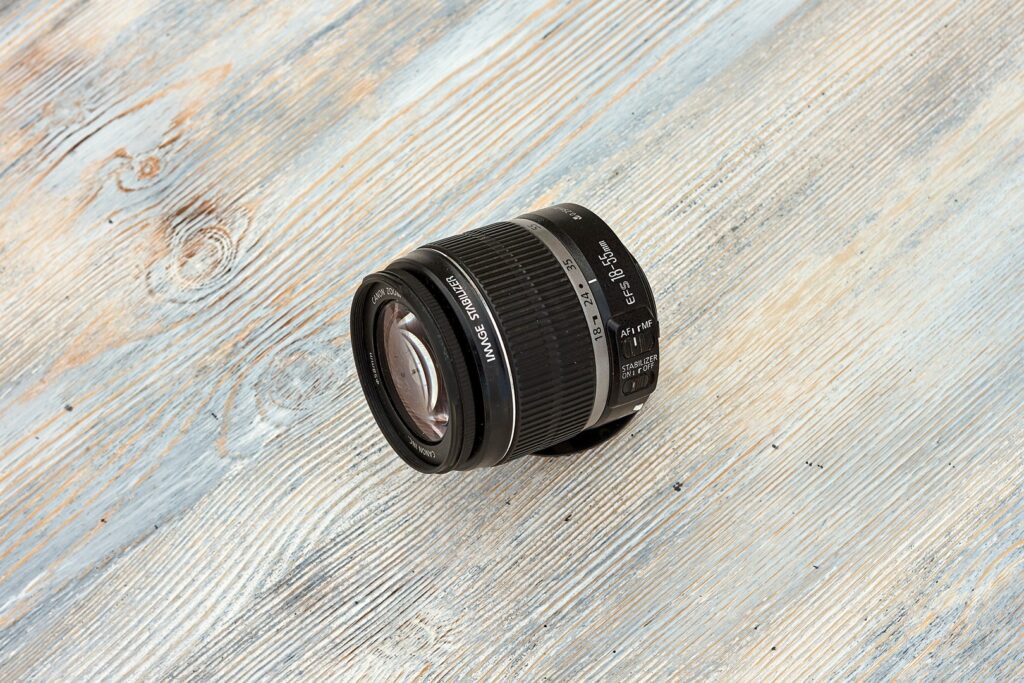 Image quality
On closer inspection, all the flaws are noticeable, including insufficient sharpness, color distortion, chromatic aberration, distortion and vignetting at a wide angle. Edge sharpness lens much lower than in the central part. Contrast lens not always normal, the colors in the photo are faded. However, there are lenses with better sharpness and color. Most likely depends on factory setting. There are adjustment screws under the rubber of the zoom ring.
During post-processing, various color distortions come out. The lens does not like to transmit halftones, but he likes to rush from one extreme to another. If we observe a slight violet flare or a spot on the face, then during processing we will see a clear spot that is not cut out by anything. The light meter of a camera with a lens is not often mistaken. This happens mainly in difficult conditions.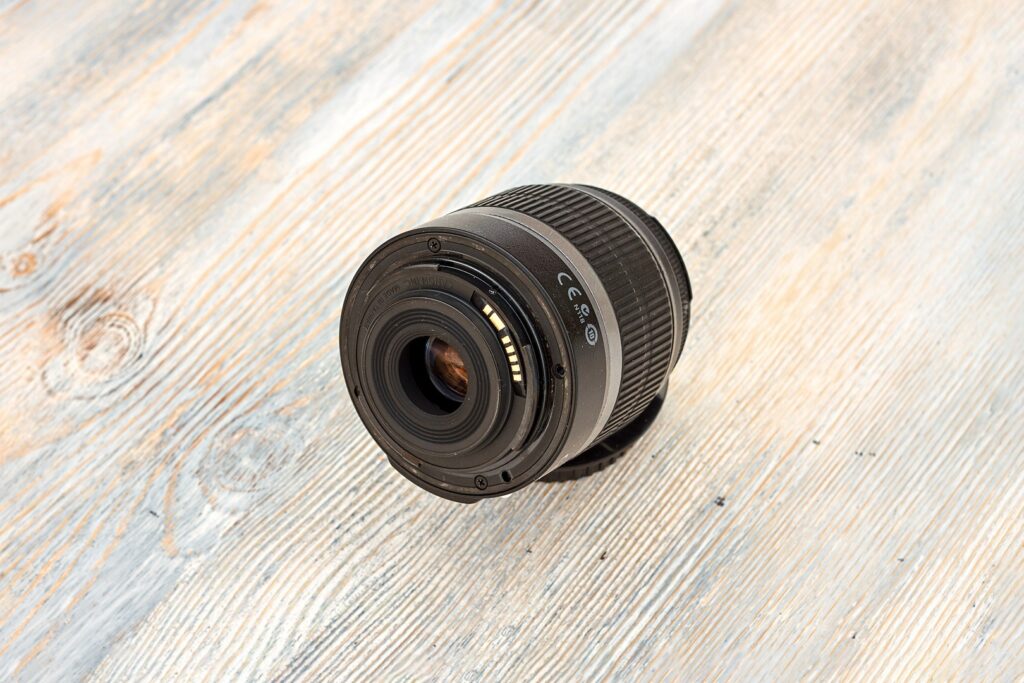 Sample Photos
You can look in this review at Canon 18-55 IS II or Canon 18-55 DC III.
Well, and, of course, in the gallery below
Video example
Canon 7D, Sony A7ii:
Alternatives
If you develop further, then you can take something from the lenses more seriously for the crop. Immediately, a qualitative leap in the generated images will be noticeable.
Summary
Overall, the Canon EF-S 18-55mm has enough features to allow for family album prints up to a maximum size of 10x15cm. You start to feel the difference in quality when you put on your camera a lens from the L series (the same old Canon EF 28-80 f / 2.8-4 USM). Knowing the obvious shortcomings of Canon 18-55mm, with skillful handling, nevertheless, something can be pulled out of the lens.

In the early stages, the lens allows you to understand what to focus on in the future. For a beginner, at the time of acquaintance with the technique, a very suitable option. Some manage to shoot masterpieces using optics of this kind. In the secondary market, you can easily find it for a cost of up to two thousand rubles.

But it's better not to linger with this lens for a long time, since good optics instill love and taste, and bad optics blur the eye. The Canon EF-S 18-55mm f / 3.5-5.6 IS is not a bad lens, it just works out its value.




Sometimes I buy photographic equipment from the USSR and not only. You can offer your write me. Help the project: 5469 1200 1062 4624. Comments can be left without registration and SMS