Helios-81M 2/53 is a standard lens for Kiev SLR cameras with a frame format of 24 × 36 mm (Nikon F mount) and M42 thread. Produced in versions with single-layer and multi-layer enlightenment (MC).
This lens contains 6 elements in four groups, a six-lens anastigmat with single-layer or multi-layer (MS) enlightenment is made on the basis of the Biotar 2/58 lens (Carl Zeiss Jena). Super-heavy crowns are used in the lens scheme. Helios-81M is equipped with a Nikon F mount and taken from a Kiev-19 camera. In order to mount a lens on a Nikon digital camera, no modification is required if you have a Nikon D700, D80, or D40 camera. On other cameras, to install the lens, you will need to cut off the skirt that frames the rear lens. But even if you manage to put this lens on your Nikon, you will be disappointed - many of these cameras do not support manual lenses in any mode other than manual exposure.
An interesting fact is that I, nevertheless, managed to put Helios-81M on Sony, using the found back with an M42 thread from some similar lens. I unscrewed three screws, screwed a similar M42 ring into two, since the third hole did not fit in the location. After changing the shank, infinity did not appear, and aperture control on the lens outside the native camera is available only in the direction of its opening.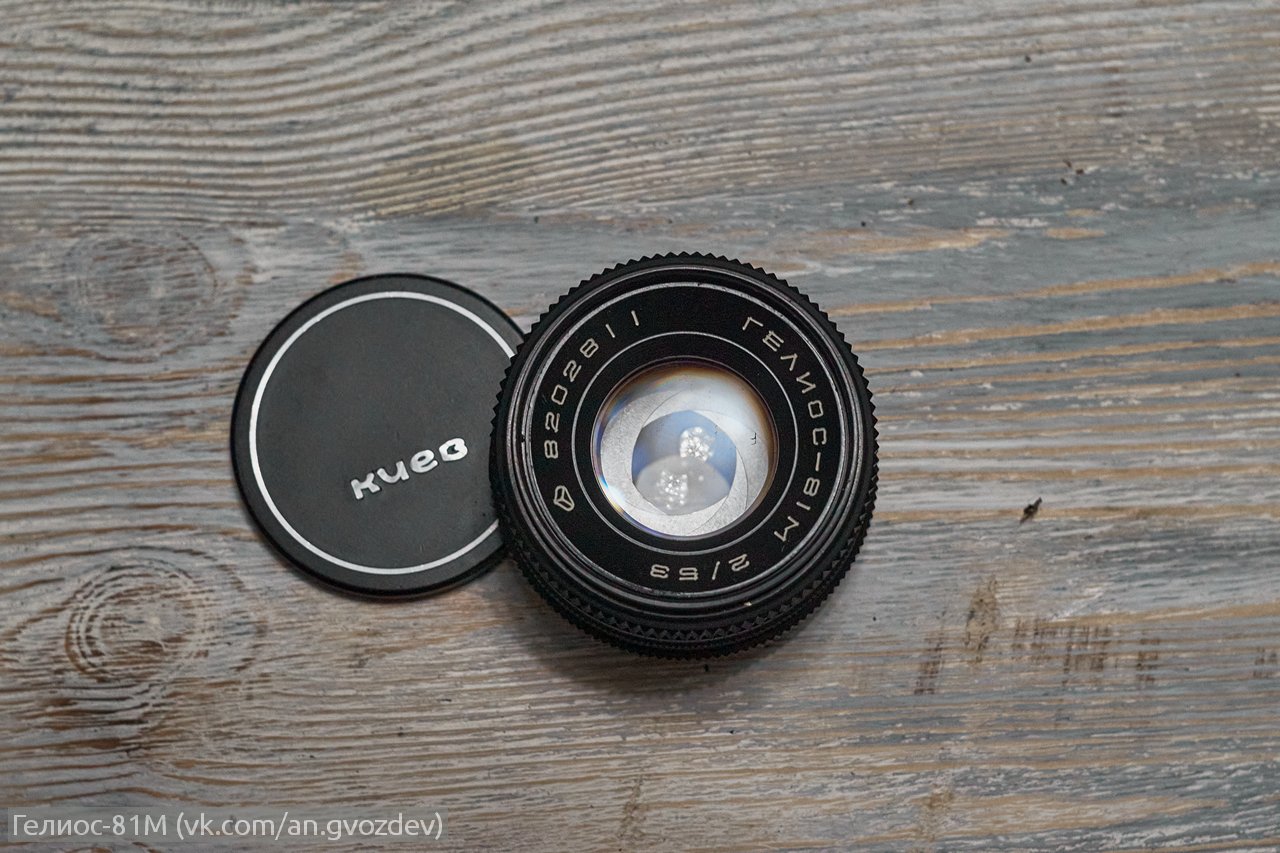 You remove the lens, set the aperture ring to the desired position, and move the plate to close the aperture. The aperture of the lens mounted on the camera will only open, since there is no connection between the aperture ring and the aperture itself. The diaphragm ring, in fact, is a limiter. In general, on lenses with a Nikon F mount, the aperture always returns to the open position, but this does not happen with this lens. Possibly a breakdown.
The lens has smoothly rotating focus and aperture rings, the aperture has a fixation of values, as well as intermediate steps. Switching values ​​​​occurs with considerable effort. Well, then, you just can't beat it. When focusing the lens, the front lens does not rotate. The focus ring has a knurling with a high spike. The ring, thanks to knurling, is felt even with gloves. The lens is sharp, the color is realistic. However, he does not like flare and bright sources in the frame. It seemed to me that the lenses of the Helios-44M series cope better with both backlight and backlight work. In addition, the lens likes to pamper the user with a golden rain, flooding the entire frame with light from the light source. Especially when there is side illumination at a large angle. The effect is perfectly removed with a hood.
Specifications Helios-81M
Format: 35mm mirror
Type: Fixed focal length (fixed)
Focus: Manual focus
System: M42, Nikon F (FX, DX)
Optical design: 6 elements in 4 groups
Helios-81M 2/53 example photo
Summary
Based on a combination of factors, Helios-81M 2/53 did not work for me. Despite the fact that the Planar torsion of the background at minimum focusing distances has not gone away, there are lenses that are much easier to install and use later.




Sometimes I buy photographic equipment from the USSR and not only. You can offer your write me. Help the project: 5469 1200 1062 4624. Comments can be left without registration and SMS