Zorkiy-5 is a Soviet rangefinder camera produced by the Krasnogorsk Mechanical Plant from 1958 to 1959.
Zorkiy-5 is an inexpensive model that replaced the first Zorkiy. The camera uses the "antediluvian" method of loading film through the bottom cover, as in the first "Zorkiy" and "FED". At the time of its release, FED already had a camera model with a removable rear wall in production. KMZ themselves also had experience making cameras with more advanced film loading systems. Moreover, Zorkiy-4 cameras were already in production, and before them there was the release of Zorkiy-3 and Zorkiy-3C. Therefore, I think that the camera was produced using the components remaining from previous years until they were completely used up, including the hurt that went to the future Zenit-3. "Zorkih-5" in total, 236 units were produced.

Zorkiy-5, in my opinion, has a convenient trigger cocking and film advance, a bright viewfinder combined with a rangefinder, and two sync contacts. The shutter button is in a convenient and familiar (according to the Zeniths, from which I began my acquaintance with equipment with interchangeable lenses) place, but at the same time it has an obvious drawback - a non-removable rear panel.
And it seems that the camera was quite advanced for those times, but ... The small volume of production is really connected either with the development of a reserve of components, or with the unpopularity of the solution among potential buyers. Why take HERE THIS, if there is a "Zorkiy-4". Well, not quite so that he "is". You just have to wait. But in general, if you do not pay attention to the obvious disadvantage of this camera, we can say that the device is very harmonious in appearance, and with some kind of Jupiter-8 2/50 it would look good.
At the same time, the more popular and massive "Zorkiy-4" was equipped with a trigger platoon "a little" later - after only 14 years of production. Very harsh. However, the camera is good for that, probably, despite the obvious drawback (yes, me again), it was quite progressive in terms of synchronization of several types of flashes, and ease of use during shooting (including a large rangefinder base).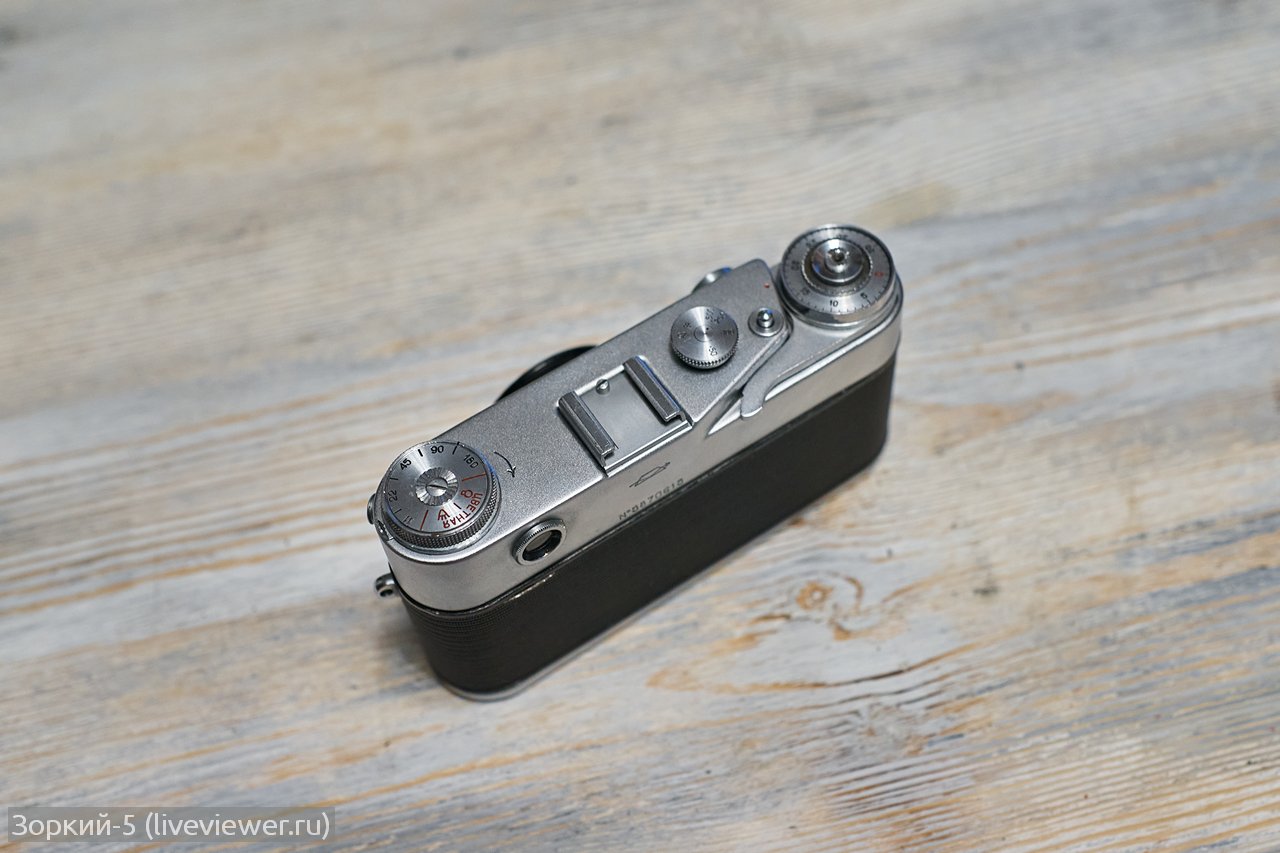 The trigger stop allows you to quickly rewind the film and cock the shutter, and also does not eat the skin on your fingers when shooting in the cold with a rough surface, which was a kind of drum cocking hit. By the way, it is in the cameras of this time that the future features of the massively replicated Zenith-E and the models that follow them can be traced.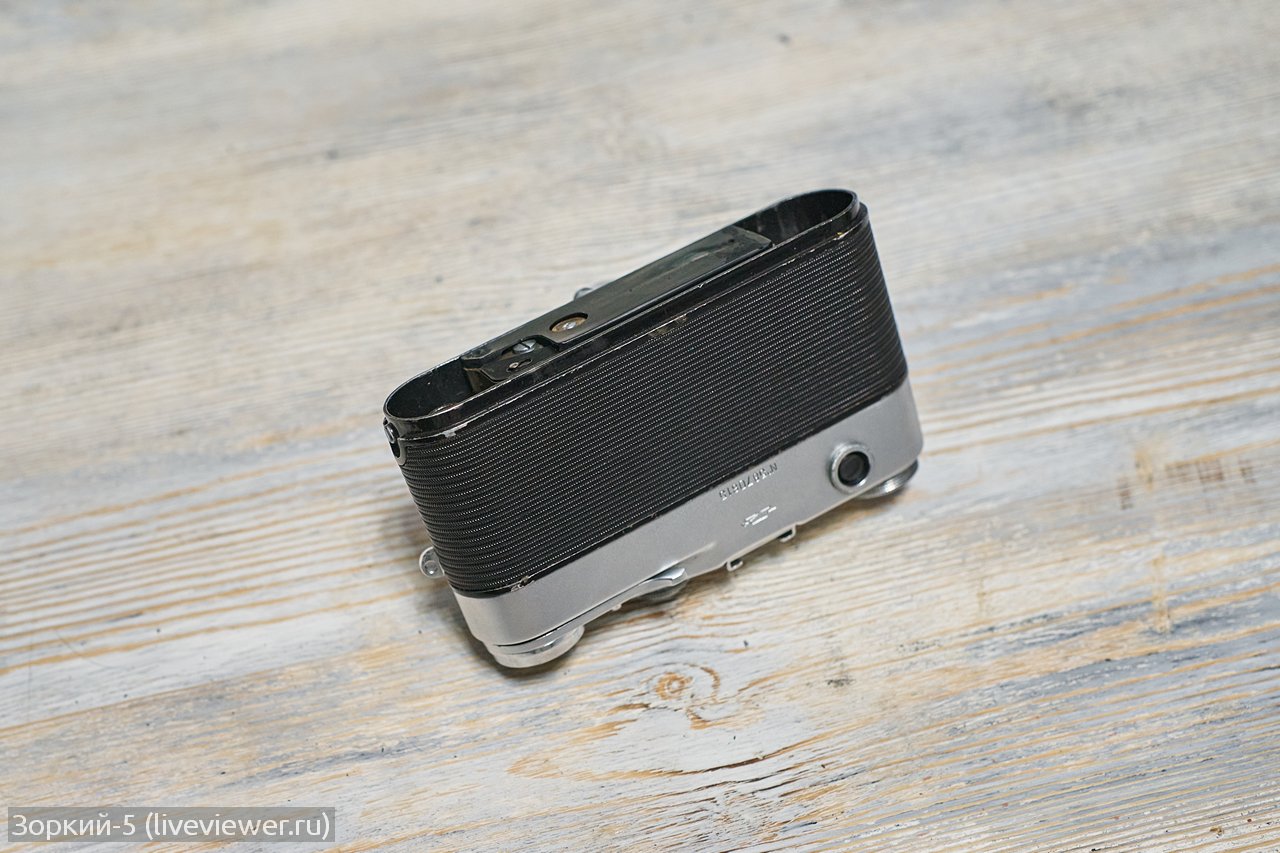 Released a little later, Zorkiy-6, outwardly looked like Zorkiy-5, but differed for the better in that it had a hinged lid, like Zenit, starting with Zenit-3M (ok, with Kristall too). Actually, Zorkiy-6 was unified with them. Rangefinder cameras will be in demand for a long time, however, with the mass enthusiasm for SLR cameras around the world, in the end, they will gradually fade into the background, remaining the lot of enthusiasts and pros.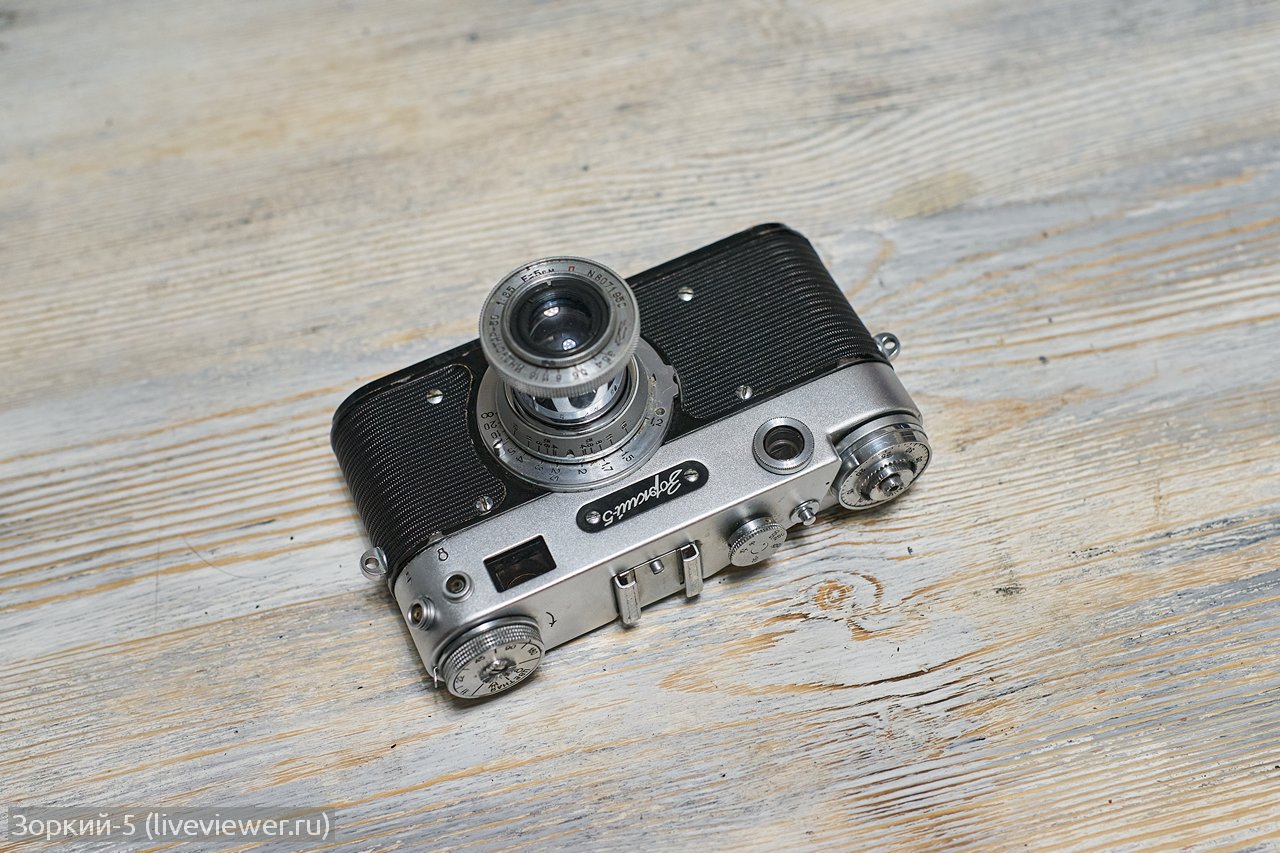 According to the catalog of 1200 cameras of the USSR, the cameras had some modifications:
Cases with cosmetics other than those shown in the photos from this review are quite rare. The kit included an Industar-50 lens. In the early versions, it had a folding design and 8 blades in the diaphragm, and later, the cameras were equipped with clumsy versions marked in the German manner.
Camera Zorkiy-5 specifications
The type of photographic material used is perforated photographic film 35 mm wide (film type 135) in standard cassettes. It is possible to use two-cylinder cassettes with a sliding slot.
The frame size is 24×36 mm.
Housing - cast aluminum alloy, with a removable bottom cover. Film loading from below.
Shutter cocking and film rewind.
Photographic curtain shutter, with horizontal movement of cloth curtains.
The standard lens is Industar-50 3,5 / 50 or Jupiter-8 2/50 (as a rule, export equipment). On the devices of early releases, the tube "Industar-22" 3,5 / 50 was installed. Fastening - threaded connection M39 × 1 / 28,8.
Rangefinder with base 65 mm.
Viewfinder with diopter correction, combined with a rangefinder, eyepiece magnification 0,6×.
The shutter speed range is from 1/500 sec to 1/25 sec and "B".
Clip for attaching an interchangeable viewfinder and flash. Two sync contacts "X" and "M" (for electronic and chemical flash).
There is no self-timer.
The thread of the tripod socket is 3/8 inch.
Camera Zorkiy-5 photo examples
It is better to look for examples of photographs from a specific lens, since cameras of that time (with interchangeable lenses) are, in fact, just a box that has little effect on image quality. Therefore, as examples of photographs, I propose to see photos from Industar-50 1:3.5 F=5cm P folding и Industar-50 3.5 / 50 in related reviews.