Cosina lens (Tamron) AF 19-35 f/3.5-4.5 MC is a wide-angle lens for full-frame film cameras, with the most popular set of wide-angle focal lengths, with autofocus and multicoated lenses. Such a set of focal lengths will allow, in principle, to shoot handheld in 1/30 of a second, or even less, in low light conditions.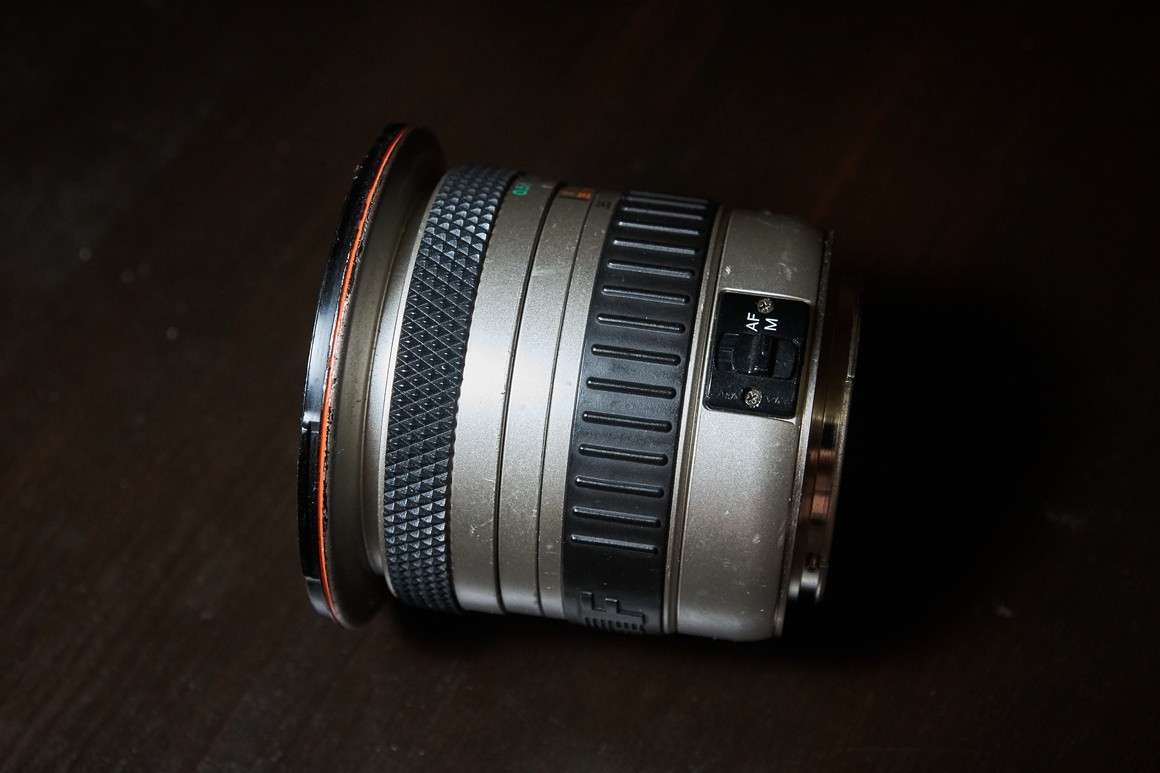 Common
Cosina (Tamron) AF 19-35 f / 3.5-4.5 MC was available in two colors - black and silver, for all popular camera connectors. It is not surprising that there is very little information about this lens on the Internet, because the lens is "hello from the end of the 20th century." There are many clones of this model, they were produced under the brands Tamron, Quantaray, Tokina. At the same time, in the Tamron production version, the front lens does not rotate during focusing. The lens is very light, its weight does not bother it, as well as its dimensions.
Specifications Cosina (Tamron) AF 19-35
Format: 35mm mirror
Type: Variable focal length (zoom)
Focus: Autofocus
System: Canon EF, EF-S, Sony A / Minolta A, Nikon F (FX, DX), Pentax K
Optical design: 13 elements in 11 groups
Cosina AF 19-35 in progress
Cosina 19-35 body is made of plastic completely, with the exception of bayonet to the camera. It, in principle, could also be made of plastic. Making the already simple construction even more cheaper in production.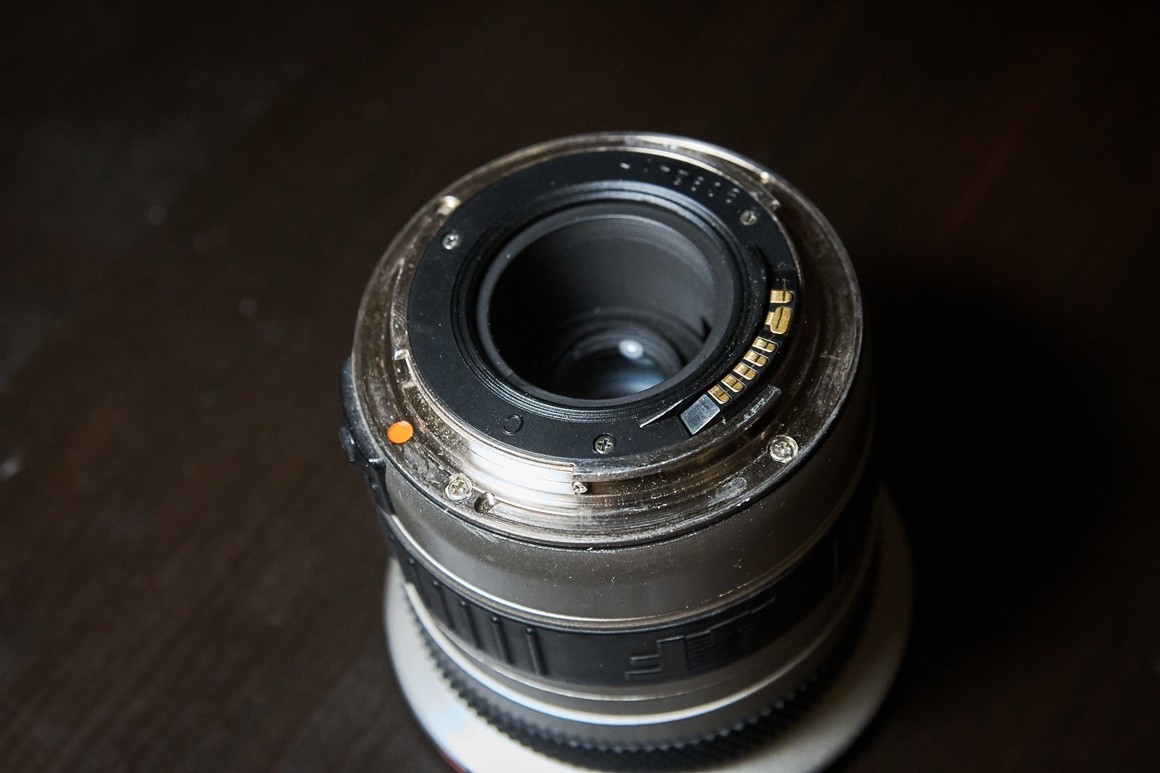 There is no question of any smoothness of the course of any controls - everything is clumsy, the rings are loose (but rubberized for a better grip). The edges of the parts are well finished. The body does not tolerate shocks and falls - the plastic in those years was not the best, and you can get, for example, both a crack on the body and broken offal. Now things are not entirely better, but still. Children's toys are cast from a similar structure.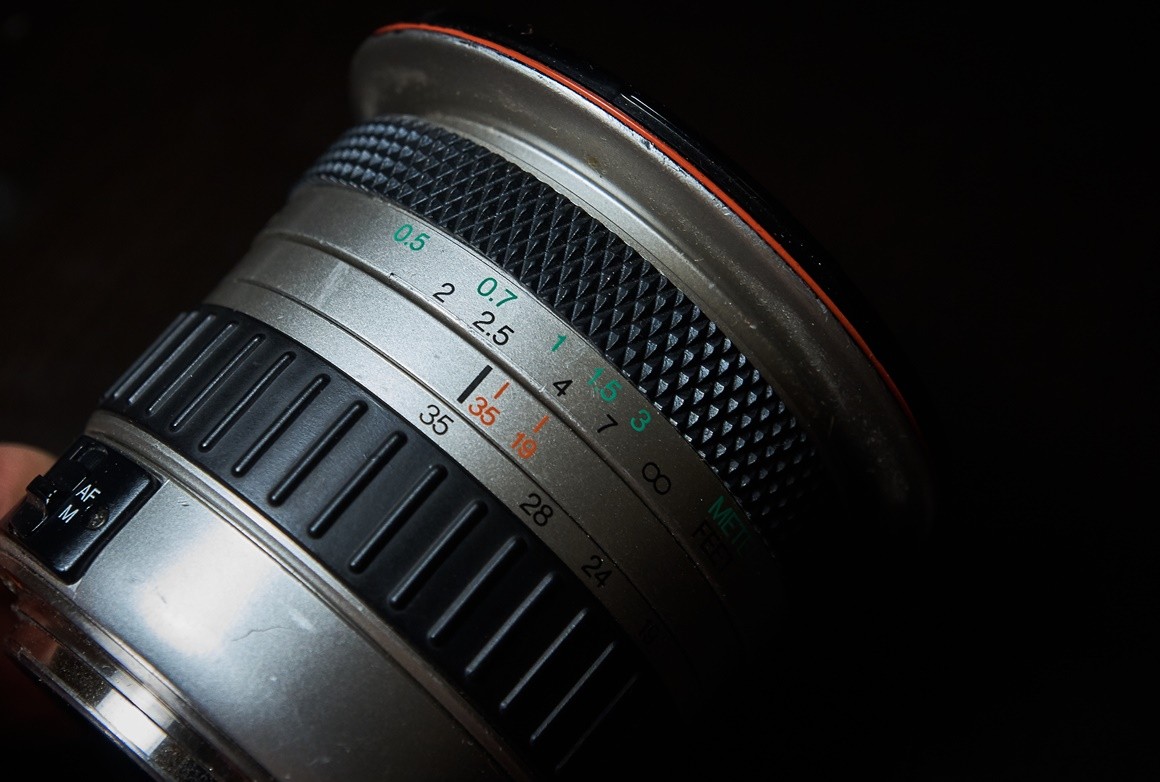 Autofocus Cosina (Tamron) AF 19-35
The focus motor is an ordinary, plastic assembly as a single module, while, apparently, for a smoother ride, the force from the motor is transmitted to the drive through a rubber ring, a round belt, like in cassette recorders. The front lens rotates when focusing.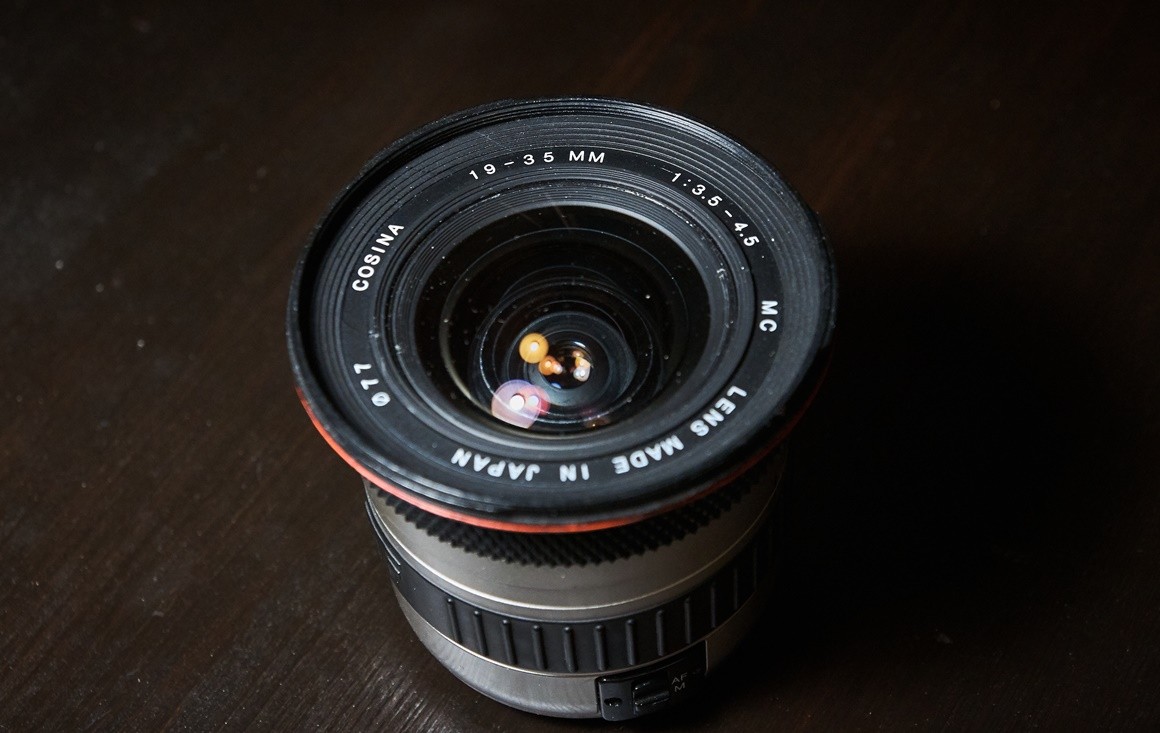 Focus operation is nervous - if there is no confirmation of focus, the lens screeches in all directions with a squeal and noise. Able to pass the entire range back and forth without stopping, however, managing not to hit the limiter, like tamrons. Like any wide-angle lens, the lens focuses quickly and fairly accurately, tolerates backlight well and reproduces colors well. However, with this glass you should be on the lookout, as in difficult lighting conditions, you can get a lot of parasitic shades in the photo.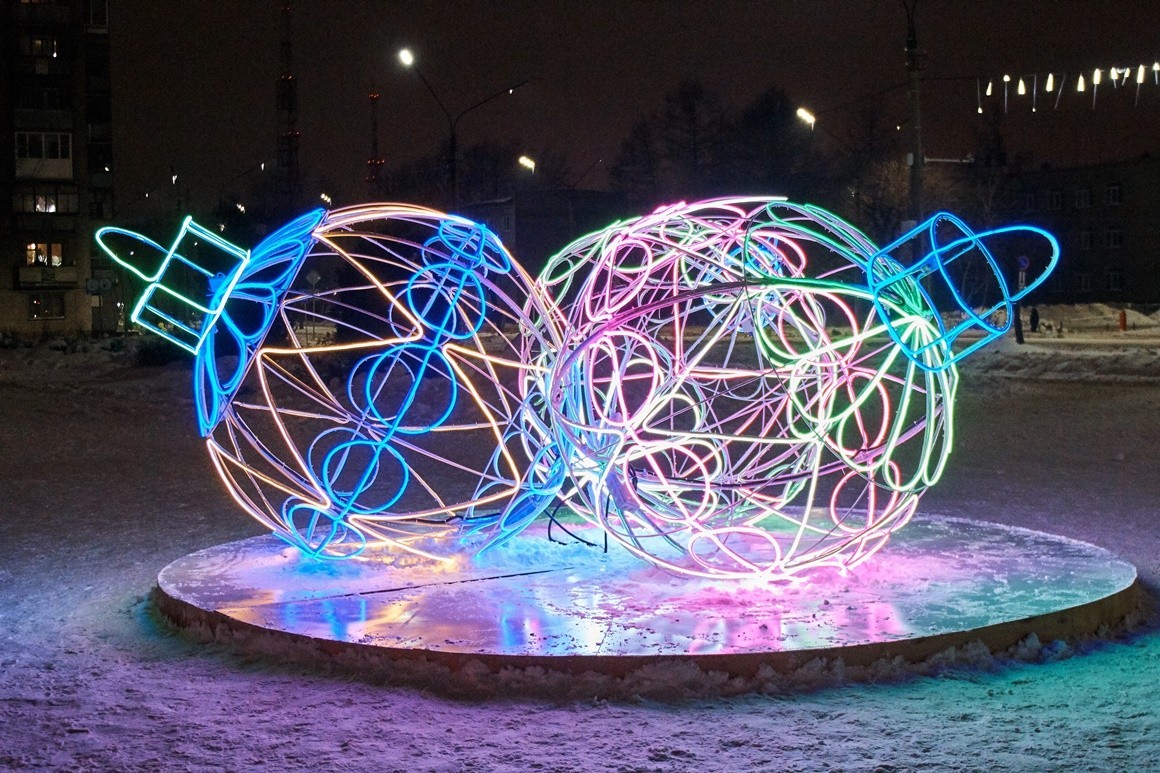 Diaphragm
The diaphragm is eight-bladed, assembled into a single module with a lens, with latches. The drive in this model (for Canon) is carried out by a separate stepping motor. At 19mm the lightest is f / 3.5, at 35mm it's f / 4.5. Sharpness and detail are present open at all focal lengths.
Since the lens is wide-angle, it can shoot from the hip - a very useful feature when diaphragm clamped to f8-f11 at hyperfocal distance. Great for taking pictures in unexpected places without attracting attention.
Boke
As such, hips not the most artistic. But this is not a portrait photographer. Wide-angle lens in principle, there can be no good background blur. When the aperture is closed, the light sources in the background resemble small nuts. On the open - everything is like everyone else.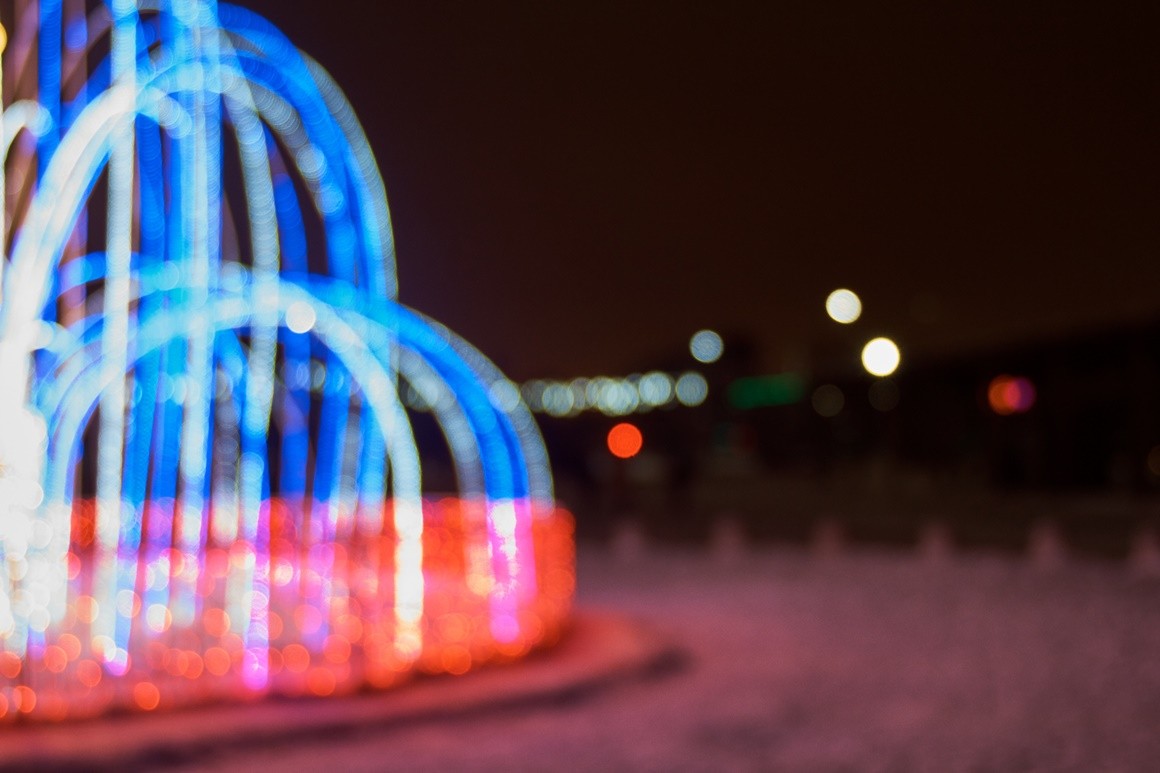 Cropped lens
On the crop, the lens has EGF 30-56mm, with a set of distortions inherent in wide-angle lenses - contraction of perspective from the corners of the frame to the center, distortion. By the way, distortion not as pronounced as, for example, on the Canon 16-35 f / 2.8.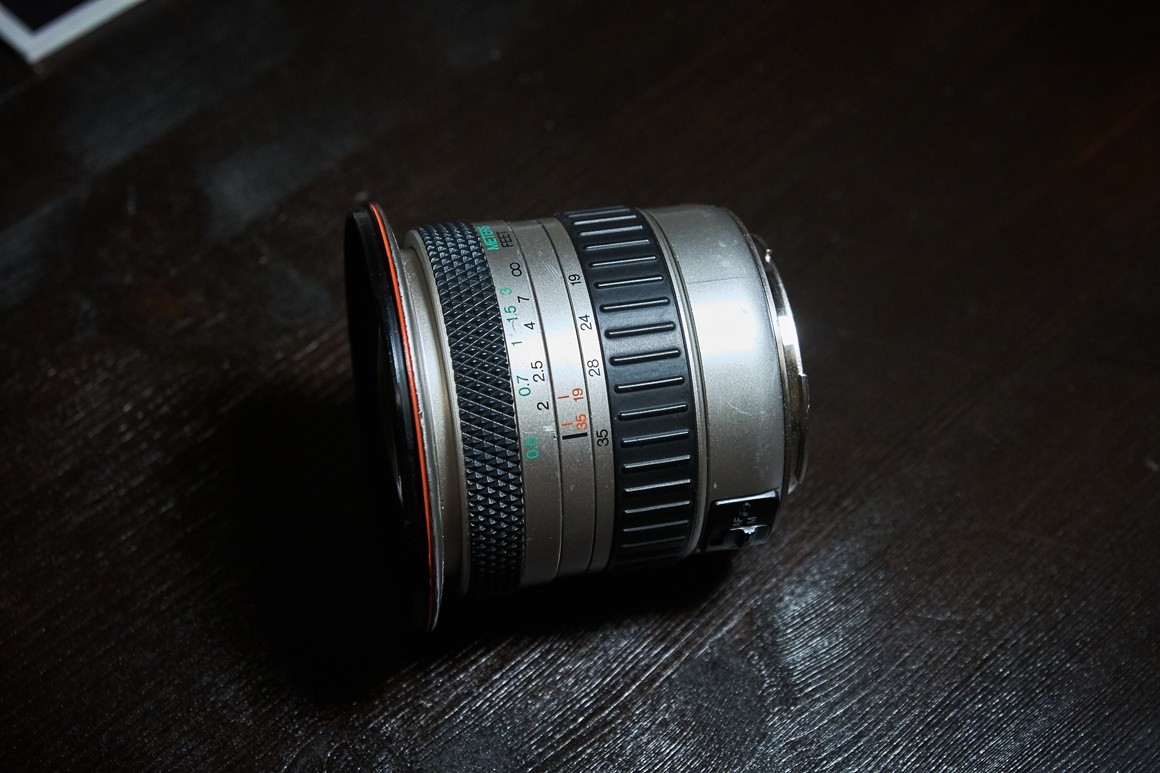 Sometimes I buy photographic equipment from the USSR and not only. You can offer your write me. Help the project: 5469 1200 1062 4624. Comments can be left without registration and SMS