Zenitar-M 1.7 / 50 was produced at KMZ (Krasnogorsk Mechanical Plant) for quite a long time. Under the Zenitar name, KMZ still produces manual focus lenses with a metal body.
The name "Zenitar" and its derivatives do not describe any specific optical device, and was assigned lensm of various types designed for Zenit equipment. The brand appeared in the late 1970s after the decision to unify the names of the KMZ model range im. Zvereva, as the most memorable in the international market.
Metal lens. Yellow coating of optics. Frame design like Heliosov 44M series, and the tactile feel is, in principle, identical to lenses in a similar frame. But first things first.
Review lens provided by by photographer Ilya Ustinov, which independently loads reels of 135 and 120 film types (small and medium format), as well as shoots and develops on it. If you are still sick with film, then this is a good option to buy and develop for printing.
Lens for SLR cameras with M42 screw connection. This lens is installed on modern SLR and mirrorless cameras through the appropriate adapter. Read the article about adapters.
Scheme of the Soviet lens Zenitar-M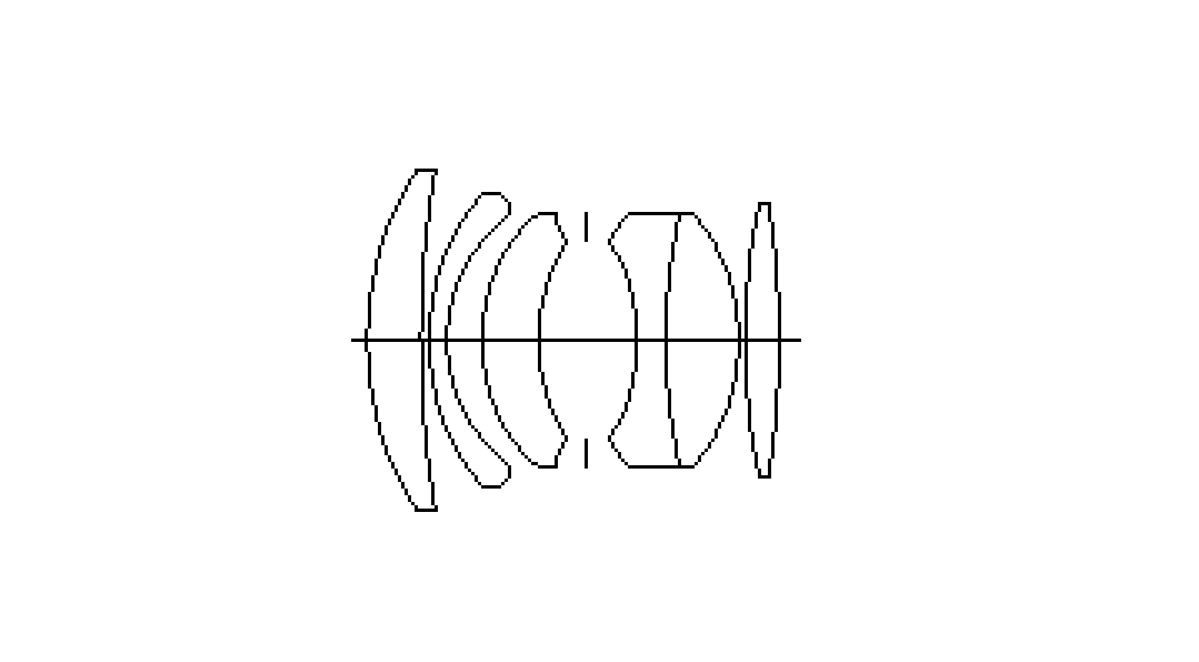 The scheme is a direct reference to the ancestor - the German scheme of the Ultron lens by Albrecht Tronier. Development was completed in 37 for the Schneider Kreuznach and is considered a variant of the double lens Gauss.
Specifications Zenitar-M 50 \ 1.7
Focal length: 

50 mm


Relative aperture: 

1:1,7


Field of View: 

46°


Frame size: 

24 × 36 mm
Linear dimensions of the photographed field at 0,45 м: 16 × 24,4 cm


Working segment: 

45,5 mm


Number of lenses / groups: 

6/5


Aperture type: 

push-on, switchable


Number of aperture blades: 

6


Aperture scale limits: 

1: 1,7 — 1: 16


Near Focus Limit: 

0,45 м



Resolution according to technical specifications (center / region): 

43/24 lines /mm


Enlightenment type: 

no data



Connections: 

 
lens with a camera - M42 × 1


for screw-in nozzles - 

M52 × 0,75


for slip-on attachments - 

∅54 mm



Dimensions: 

 
length lens without lids - 52 mm


largest frame diameter - 

∅62 mm, 

size: 

65 mm


Weight: 

0,28 kg



Development start year: 

November 1975, XNUMX


Payment: 

no data


Structure: 

Kvaskova V.G.


Production: 

serial


Years of production: 

from 1977 to 1980s
Zenitar-M at work
Classically for retro, the lens is made in an aluminum frame, the so-called "monocyclic zebra", inherent in fifty dollars of the Soviet bloc 70-90 years.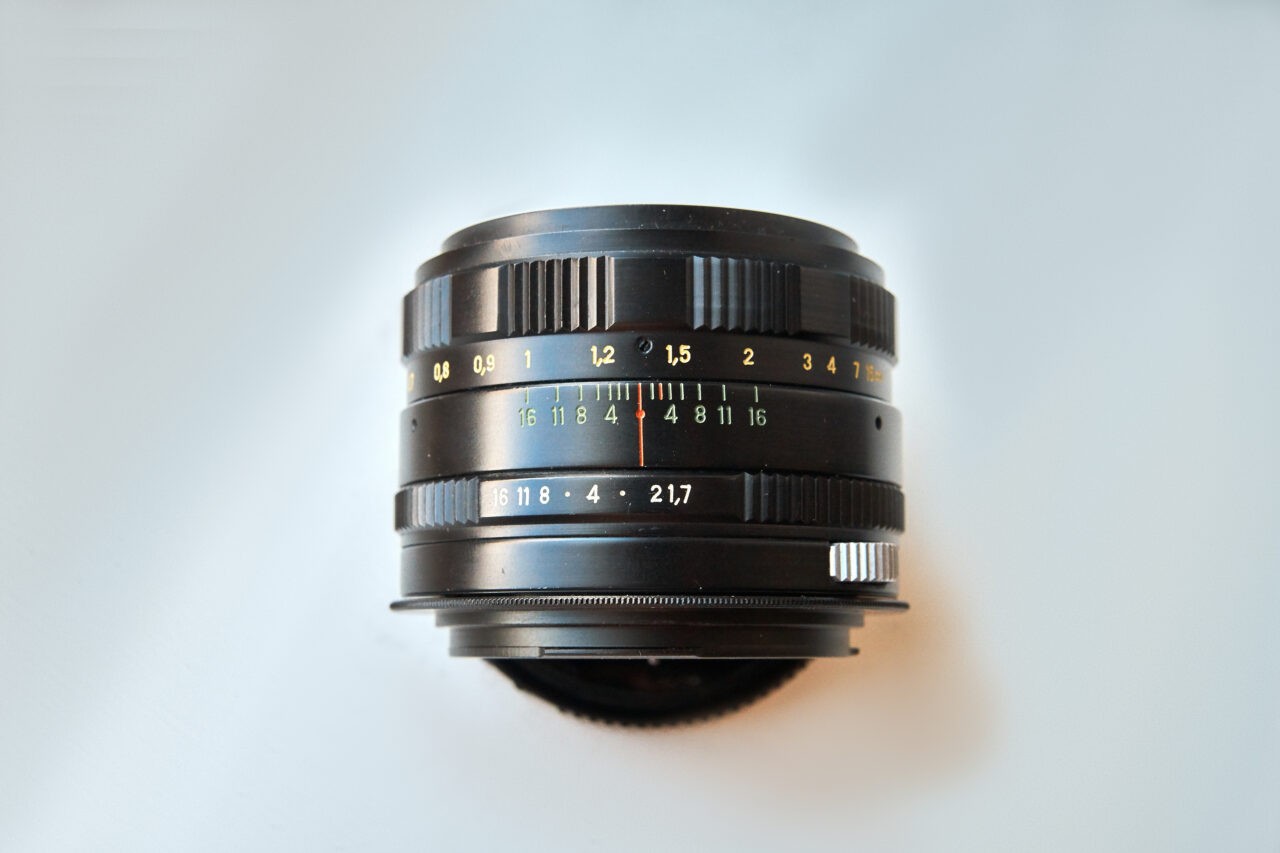 Focusing
The minimum focusing range Zenitar-M 1.7 / 50 is 45 centimeters, if anyone is interested. Not macro, of course, but slightly smaller than Helios-44M... The focusing ring is ribbed, it is possible to achieve a soft and smooth stroke if you replace the lubricant with a fresh one. The symptoms of dry grease are jerky movement of the ring, with uneven force. It's okay, in general, no, but it creates certain difficulties in constant work. The rotation of the ring is long, about 270 degrees, and objectively, a lens with such a ring is not suitable for dynamic scenes. Zenitar-M is a lens for unhurried work and calm, restrained models.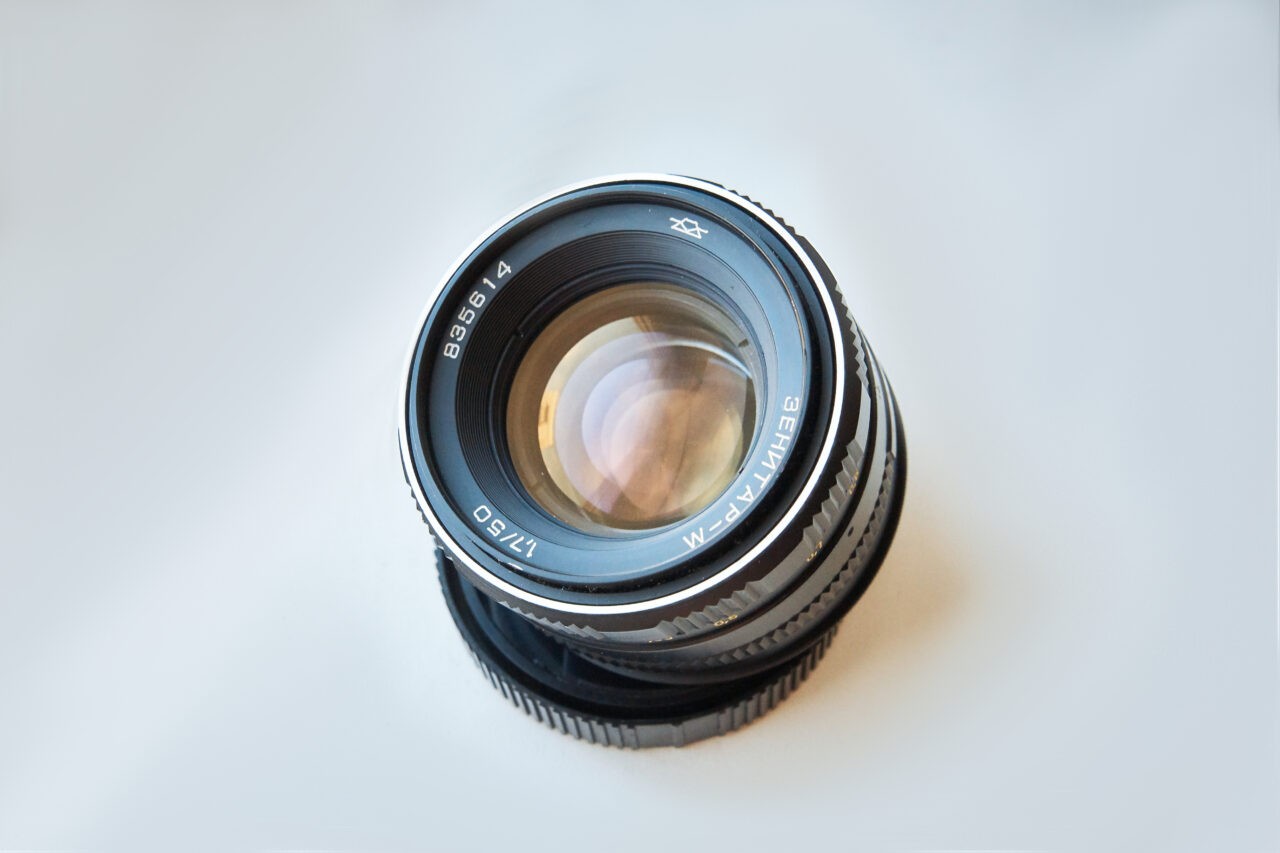 Diaphragm Zenitar-M
The lens aperture has 6 blades, metal blades, diaphragm made as a separate unit, does not require lubrication during normal operation. The petals are gray, controlled by a ratchet ring, have a drive that can be switched off by a switch on the body. It is noteworthy that on the basis of Zenitar-M lenses Zenitar-ME1 and ME-4 were created, which had electronics for transmitting the working aperture value to the camera.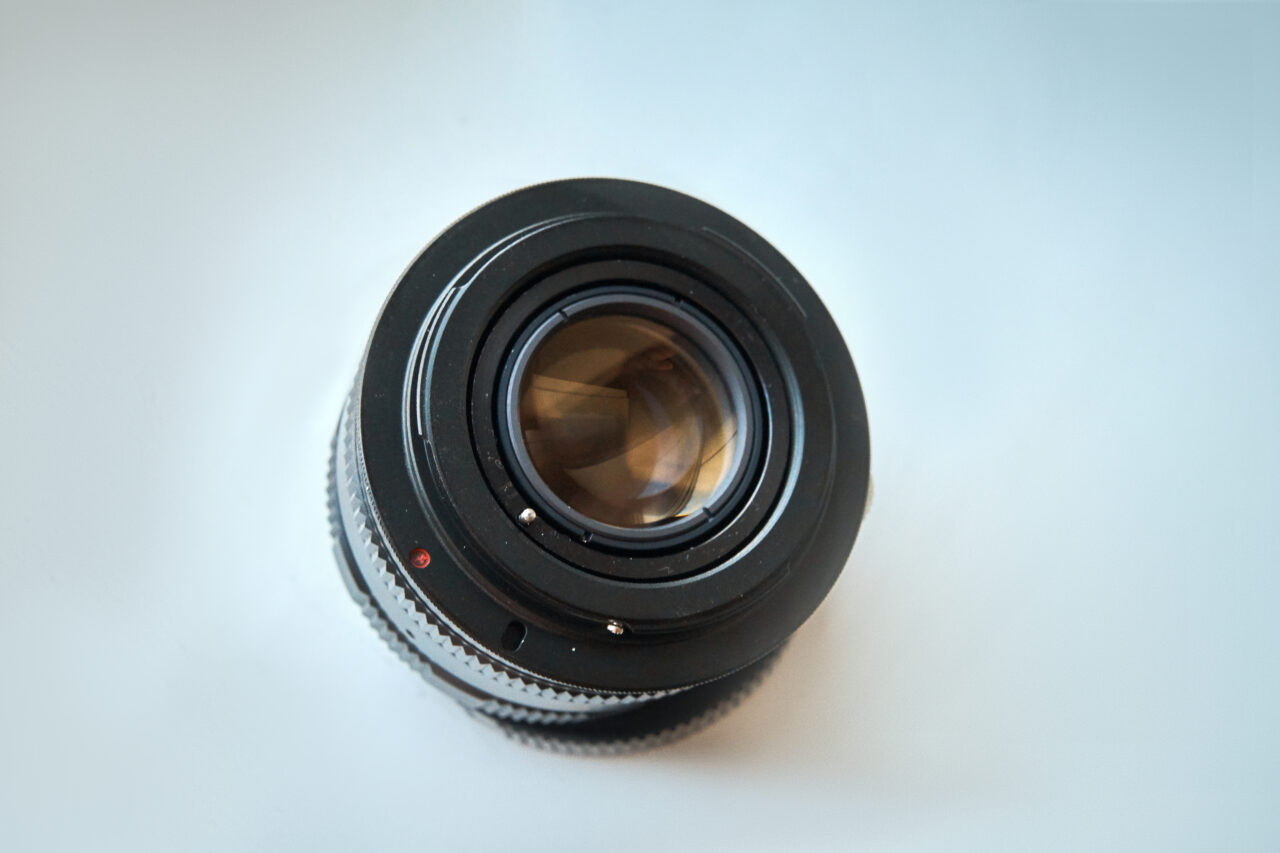 The preset ring is absent in this model, and is replaced by a diaphragm pusher, for the type of exposure metering / focusing on an open aperture that was then in use. Switching the aperture values ​​occurs with a noticeable effort even on a serviced lens, since the aperture ring retainer is simply placed in the recess of the body, without any damping mechanisms.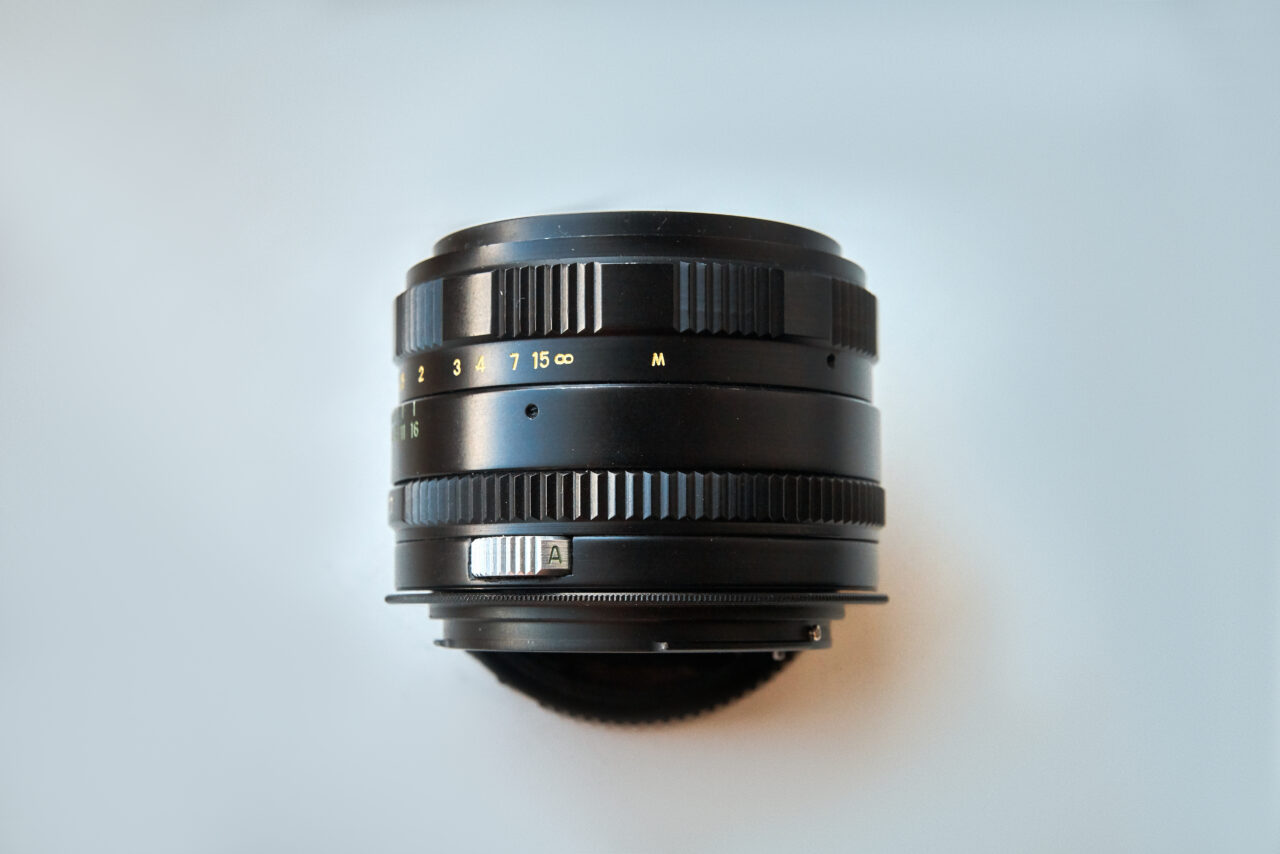 Next