Canon launched EF system lenses and cameras with the introduction of the first Canon EOS 650 camera in 1987. A lot has changed since then. Both in the world and in photography.
Canon EF Film Cameras
USA \ Europe \ Japan \ Date
Canon EOS EF Mount DSLRs
Specification:
| | |
| --- | --- |
| Working segment: | 44 mm |
| Inner diameter of bayonet | 54 mm |
| Maximum sensor size | 35mm (36x24mm) |
Records

| | |
| --- | --- |
| Widest lens: | 5.8 mm (Lensbaby 5.8mm F3.5 Circular Fisheye) |
| Longest focal length: | 1,200 mm (Canon EF 1200mm F5.6L USM) |
| Maximum zoom: | 10.7 (Tamron 28-300mm F3.5-6.3 XR Di VC LCD Aspherical IF Macro) |
| Maximum aperture (no autofocus): | F0.95 (ZY Optics Mitakon Speedmaster 50mm F0.95 Canon EF) |
| Maximum Aperture (Autofocus): | F1 (Canon EF 50mm F1L USM) |
Lens markings from Canon manufacturer
| | | |
| --- | --- | --- |
| Label | Value | transcript |
| II, III, ... | Versions | Lens versions are marked with Roman numerals |
| EF | | EF mount lens |
| Ef-m | | EF-M mount lens |
| Ef-s | | EF-S mount lens |
| DO | Diffractive optics | Presence of distortion and color correcting elements in telephoto lenses (weight reduction) |
| IS | image stabilizer | Optical stabilizer |
| L. | L series lens | High quality Canon optics |
| Macro | macro lens | Macro Capability |
| MP-E | | Magnifying lens |
| RF | | RF mount lens |
| Nano USM | Ultrasonic motor of the nano type | Average focus performance between STM and USM. Quieter STM but slower USM |
| STM | stepping motor | High performance focusing stepper motor |
| TS-E | | Tilt-shift lens (shift the blur area horizontally and vertically, as well as perspective correction) |
| USM | ultrasonic motor | Canon high performance ultrasonic motor |
Marks on lenses from the manufacturer Samyang
| | | |
| --- | --- | --- |
| Label | Value | transcript |
| AF | Autofocus | Autofocus is) |
| AS | | |
| FE | | Lens for Sony E \ FE mount |
| CS | | |
| ED | | ED lens |
| IF | Inner AF / MF | Internal focusing lens |
| Macro | | Possibility of macro photography |
| NCS | | |
| RF | | Canon EOS RF Mount Lens |
| UMC | Ultra multi coating | Special lens coating |
| Z | | Nikon Z mount lens |
Labels on lenses from the manufacturer Sigma
| | | |
| --- | --- | --- |
| Label | Value | transcript |
| APO | apochromatic | Abbreviation indicates chromatic aberration has been corrected in the lens. |
| Art | | Art series |
| Contemporary | | Contemporary series |
| DC | | For cameras with a cropped sensor |
| DG | | Lens for full-frame cameras |
| DN | | Lens for mirrorless cameras |
| EX | | "EX Series" professional series with balanced performance |
| HSM | Hyper sonic motor | Sigma ultrasonic motor |
| Macro | | Macro capabilities |
| OS | optical stabilizer | Optical stabilizer |
| Sports | | Sports Series Lens |
Labels on lenses from the manufacturer Tamron
| | | |
| --- | --- | --- |
| Label | Value | transcript |
| DI | | Lenses for full frame cameras |
| DIII | | Lenses for cameras with APS-C sensor |
| DI III | | Mirrorless Lenses |
| IF | Inner AF / MF | Internal focus |
| Macro | | Macro Capability |
| OSD | Optimized Silent Drive | Fast focusing |
| Pzd | Piezo Drive | Piezo focus system |
| RXD | Rapid eXtra-silent stepping drive | Silent focusing stepping motor |
| SP | Great performance | High quality lens |
| USD | Ultrasonic Silent Drive | Ultrasonic focus motor |
| VC | Vibration Compensation | Optical stabilizer |
| VXD | Voice-coil eXtreme-torque drive | High speed focus stepping motor |
Canon EF Mount Lenses Sorted By Lens Type
Fixed focal length lenses
Fisheye lenses
Ultra wide angle lenses
Wide angle lenses
Normal lenses
Moderate telephoto lenses
Telephoto lenses
Super telephoto lenses
Macro lenses
Special lenses
Zuma
Fish eye
Ultra wide angle lenses
Standard zooms
Telephoto zooms
Super telezums
Adapters
About the system
EOS - a new generation of Canon cameras
One more step up the ladder of technological progress towards single-lens reflex cameras with autofocus was made by the giant of the world photographic industry - the company "Canon". The "EOS" system (abbreviation for "Electron-Optical System") includes several models of cameras: from professional "EOS-1" to amateur ones with a wide range of interchangeable optics (about 50 lenses) and additional accessories. Without focusing on purely technical indicators (they were repeatedly cited in the company's advertising posted in our magazine), let us dwell on the new opportunities that this system gives, on the first impressions of its work.
It is safe to say that this is an extremely versatile and technically advanced system.
Lenses of the EF series (unfortunately, the old lenses with FL or FD mounts cannot be used in new cameras) not only cover the entire focal length range from 14 to 1200 mm (among them more than 20 zooms), but also include types designed for special shooting: "Tilt-shift" (the ability to rotate and shift the optical axis) 24 / 3,5, 45 / 2,8 and 90 / 2,8; macro 50 / 2,5 and 100 / 2,8; portrait lens with adjustable softness of the image 135 / 2,8, record-breaking standard lens 50 / 1,0.
High precision automatic focusing completely silent and produced at a higher speed than lenses of other manufacturers, which is especially important in reportage shooting. This is achieved through the use of ultrasonic motors in each lens (113M), as well as a targeting system both along the horizontal and vertical lines of the object. The lower illumination level of the scene, sufficient for autofocusing, is so small that it is almost impossible to aim accurately with the eye in such semi-darkness. Several autofocus modes are provided. Normal ("one shot") gate fires only after the lens has focused on the subject, and in Servo mode, it continuously tracks the moving subject. It is taken into account that at the time of operation shutter focusing "Freezes", and a rapidly moving object during this time can move out of the sharpest zone. Therefore, in order to avoid unwanted loss of sharpness, the camera's microprocessor makes the necessary correction for the exact moment of exposure, depending on the speed and direction of movement of the object. It is so fast to correct the fine focus position that it can capture sports scenes at up to 4,5 frames per second ("EOS-1").
Other innovations have been introduced to autofocus. Wider field with three sensitive zones, when the camera tracks a subject not necessarily in the middle of the frame (EOS-500) and (EOS-5) focusing on the subject of the photographer's gaze. After aiming, you can check the desired depth of field - in the upper left corner of the focusing screen there is a special marker for checking the depth. So far, only one model has a "guide by sight". The EOS-1 N system leader does not have this option. Manual focusing capability on many models complements this convenience.
The choice of exposure automation (AE) is no less wide. Along with the usual shutter speed priority, aperture priority and the usual program, the photographer can choose a program that, depending on the focal length lens, will prefer faster shutter speeds or smaller apertures. That is, the old "TV" or "wide-angle" program modes are automatically set. The "depth of field" program, introduced so far only by this company, selects the aperture that will provide the required depth of focus, separating, for example, a portrait from the background or sharply conveying all the details of a multifaceted landscape. Manual exposure mode is provided in many models, and in the "EOS-1" the indication scale in the viewfinder indicates how much the set exposure deviates from the recommended exposure meter of the camera. Wide shutter speed range (30 to 1/8000 s for the EOS-1 and EOS-5), flash sync at 1/250 or 1/200 s, 1/3 stop exposure control expands the possibilities for the most challenging shooting conditions.
Exposure metering systems are also versatile. From 6 ("EOS-1") to 16 ("EOS-5") measurement zones allow you to compare the results with the basic program embedded in the camera's computer and reliably exclude the influence of the sky, backlight, non-standard background and other "non-averaging" the plot of the circumstances. Partial (5,8% area) or spot (2,3%) metering is possible in addition to weighted average exposure metering over the entire frame. In the amateur models "EOS-1000" and "EOS-100" special program modes are provided, similar to the magnetic cards of the "Minolta" devices. These are "portrait" (background blur), "landscape" (sharpness of all shots), "close-up" (partial exposure metering and optimal depth of field), "Sport" (minimum excerpt). Unusual is the "soft focus" mode, which automatically performs double exposure: the first with precise aiming, and the second - with a slight defocusing, which creates a nebula effect. The set of consumer functions in the EOS-1 allows one-touch adjustment of the camera's automation to the specific requirements of the shooter.
Working with flash, as usual, is not a hassle. With some models (EOS-500, EOS-100 FN), a small flash is built into the camera, and EZ series flashes work automatically with any model.
Information on the external display and the most important in the viewfinder, the field of view in the eyepiece, which completely coincides with the image on the film, comfortable shape, durable body, external power supply, silent
triggering, automatic rewinding - all this makes the EOS system versatile, suitable for any filming. There is also a "manual" model - "EF-M" without autofocusing, but designed to use a new series of lenses with automatic exposure. Interchangeable focusing screens ("EOS-1" and "EOS-5"), angled viewfinder and eyepiece magnifier, interchangeable rear panels, remote control, macro and microphotography attachments round out the system. The RT model, which stands somewhat apart, does not have a jumping mirror, it is replaced by a semitransparent stationary one, which reduced the level of shock during shooting and made it possible to introduce an almost cinematic mode - 10 frames per second.
For macro photography, when there is no need to maintain sharpness at infinity, non-autofocus FD lenses can be used on EOS cameras using the FD-EOS converter, while maintaining the automatic exposure at the working aperture.
The sleek and technically sophisticated Canon EOS cameras will certainly appeal to both professionals and enthusiasts.
A. SHEKLEIN PHOTO '95 # 3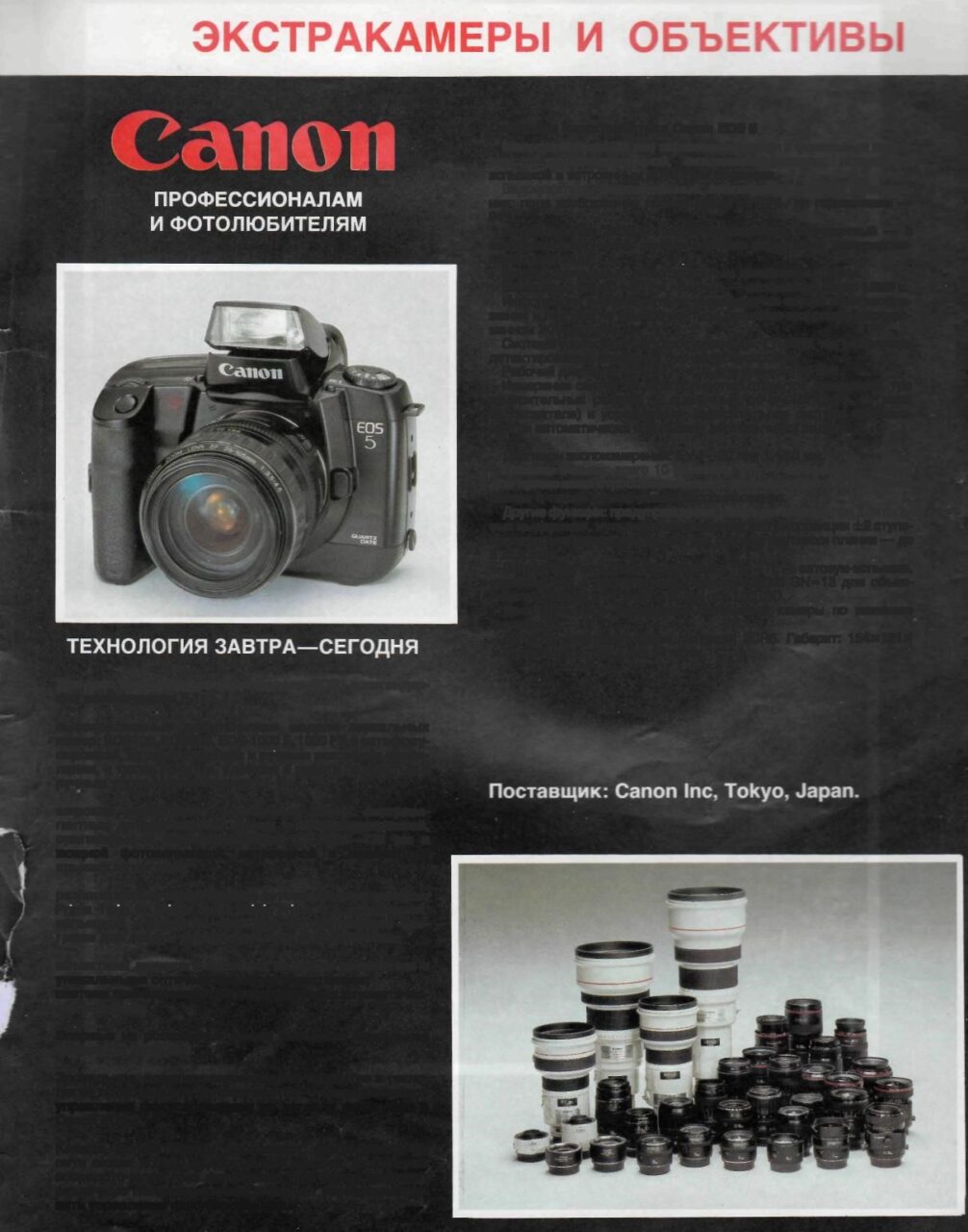 Sometimes I buy photographic equipment from the USSR and not only. You can offer your write me. Help the project: 5469 1200 1062 4624. Comments can be left without registration and SMS