In my Sayan campaigns, I always wanted to have exactly 24mm at a wide angle. I don't know where this obsession came from, but I thought that 28mm was not enough for me. And I also wanted to have 105mm instead of 135mm at the long end. Well, to shoot bears from afar. And I also wanted to have a high-aperture lens, so as not to go into my backpack for a fix all the time. This is how I got my Sigma AF 24-135 mm f / 2.8-4.5 ...
For a long time, I went hiking with a Canon EF 28-105 f / 3.5-4.5 USM II lens. He pleased me with his sharpness, but not always satisfied with the blur in the zone
hips
and as mentioned, I was missing the focal length range.
Reading about the Sigma AF 24-135 mm f / 2.8-4.5 Aspherical IF, I have met many complaints about sharpness - especially on the open frame and at the edge of the frame. And now, having already mentally resigned myself to this fact, I took a test shot on a completely open ...
You know - the bitter sigh did not follow! See for yourself. In the picture, new buildings are 500 meters away, and the chapel is almost five kilometers away. Shooting at 24mm focal length and f / 2.8 aperture. You know, this result suits me perfectly! Although it should be noted that it is at a wide angle that the lens shows the best sharpness. But at the long end, the results sometimes require shrinking the diaphragm.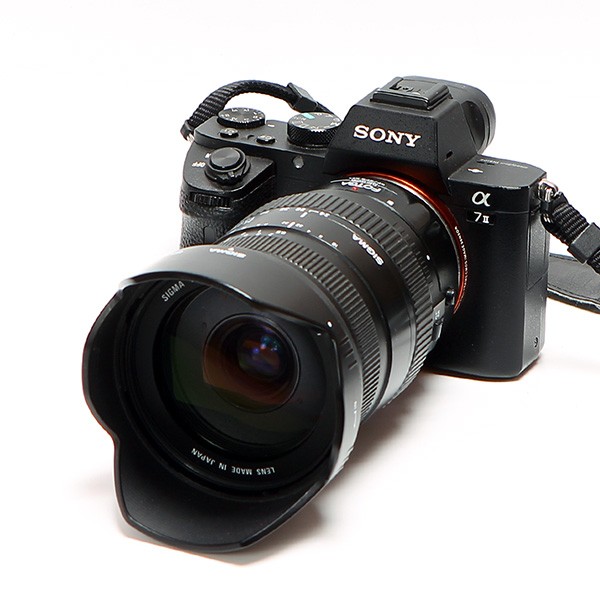 Move on. Color rendering. Many people write that Sigma "turns yellow". The way it is. Although I would say "golden". But my previous Canon was different in the same way!
Vignette
That is already there, that is. Quite powerful at open and quite noticeable at closed aperture. It remains to check - what if it will sometimes give some kind of creative effect?
Geometry
Amazing! There are almost no blockages of vertical lines, unlike Canon! Considering the ways of correcting distortions that the latest versions of Photoshop give us, I think that the problem of geometric distortions on this lens will disappear altogether.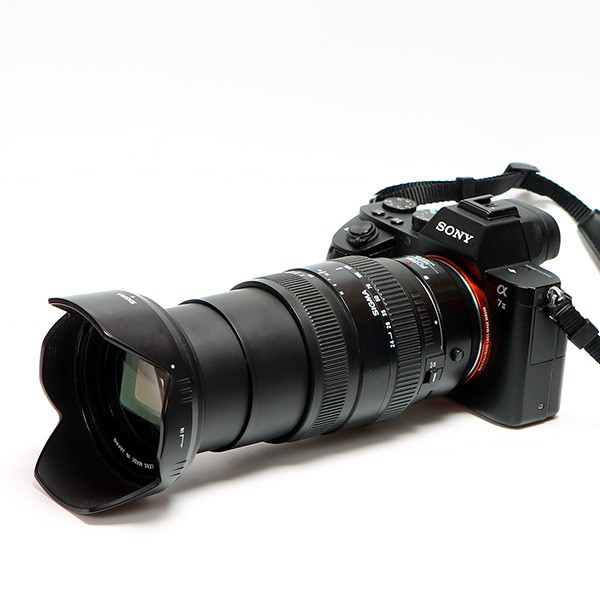 HA
Yes ... here the lens is weak. I even think that the specific software on the open is caused precisely by the fact that chromatics (even in low-contrast scenes) asserts itself very actively, as if "fluffing up" the edges of objects.
Amazingly soft, smooth and artistic at 135mm focal length! Despite the drop in aperture to f / 4.5, the picture looks like it was shot with a fixed lens.
Here the lens made me happy. Yes, there are hares, but the camera does not go blind and it is quite possible to solve various creative tasks when shooting against the sun.
Up to focal 30mm you can shoot at f / 2.8! At 35mm we get f / 3.5. At 88mm we have f / 4.0. And only then the aperture decreases to f / 4.5. But you must admit that such aperture at such focal lengths at the zoom is cool!
Ergonomics
The lens is assembled very solidly. In the usual position it is compact, in the TV range it begins to look very impressive. Weighty, but not critical. All control rings are at hand. There is no distance scale, but it's not scary for me with focus peaking.
Сonclusion
Perhaps the best travel zoom in its class. The Tamron 24-135 f / 3.5-5.6 (anniversary edition) outperforms it in sharpness, but I didn't like the picture. Tamron 28-105 f / 2.8 shines with color saturation and constant aperture, but ... falls short of focal lengths.
So Sigma AF 24-135 mm f / 2.8-4.5 Aspherical IF is a godsend for people who are too lazy to rearrange lenses on a hike, but still want to have a picture of decent quality.
An example of shooting a video is given below (starting from 3.43). The first scene was shot with erroneous gimbal settings on a Sony A7 Mark II. All video was shot at a focal length of 135mm
Photographer, consultant, teacher, candidate of historical sciences
SIGMA



Sometimes I buy photographic equipment from the USSR and not only. You can offer your write me. Help the project: 5469 1200 1062 4624. Comments can be left without registration and SMS