This lens is designed for rangefinder cameras with bayonetohm L39, has a huge number of diaphragm blades, high aperture and a truly noble, slightly heavy and slow pattern.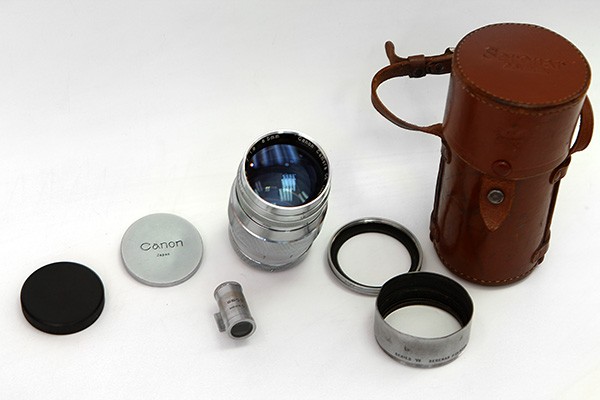 The Canon Serenar 85 mm f / 1.9 lens will become a gem in the collection of both the practicing photographer and the collector of photographic equipment. Leather case, compact viewfinder, detachable hood, vintage engravings ... but most importantly, the drawing!
This glass is clearly aristocratic - and you can feel it from the first picture. The fact that I call a drawing heavy and slow does not mean that it is bad. This is just a characteristic of the picture. I can't imagine children laughing and jumping in the sun. Canon Serenar 85 mm f / 1.9 is designed to convey something deep, serious, unknown. And, by the way, they can take pictures of children in the sun's rays - but the final photo will cause not a touching, but a thoughtful smile.
Let's move on to technical issues. Have lens strikingly small MDF - it is not at all 1 meter, as they say in the sources, but somewhere around 75 cm. This allows you to shoot expressive large-face portraits.
Canon Serenar 85 mm f / 1.9 actively swirls the background, making you remember Helios-40. The bokeh is, in principle, even, but if the background is variegated, then "scales" appear. Contrast is normal, with a bias in the shade. The lens does not tolerate backlight and side light, but this is not important for its design. The sharpness is good for its time, it can be noted that the lens is "soft".
In general, this lens is primarily suitable for creating a deep psychological portrait. I note that he also creates his own special atmosphere around the person being portrayed - this is helped by both vignetting and shading in the drawing. In summary, the Canon Serenar 85 mm f / 1.9 is a large brush stroke for the professional portrait photographer.
Canon Serenar 85 mm f / 1.9 sample photo
Photographer, consultant, teacher, candidate of historical sciences



Sometimes I buy photographic equipment from the USSR and not only. You can offer your write me. Help the project: 5469 1200 1062 4624. Comments can be left without registration and SMS