The Canon EF 75-300 mm f / 4-5.6 III is arguably the cheapest proprietary telephoto lens in its class. As a rule, a used one can often be found for 5000 rubles. What do we get for this money?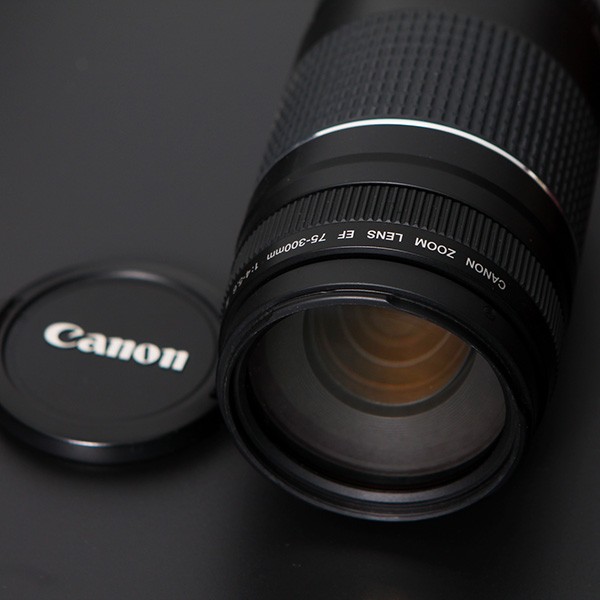 I'll start with the problematic points. At the long end, the glass sometimes gives out a frankly "loose", blurry picture when trying to shoot an object in infinity. Why "sometimes" and not always? Do not know. In my examples below, you will see a snapshot of an airplane flying at an altitude of at least 8000 meters. The result (crop) is very pleasing!
But the picture of the antennas located on the mountain five kilometers away is already depressing. It is possible that at a focal length of 300 mm, the lens simply cannot cope with fine details.
Next comes chromatic aberration. Here I almost fell into a sediment of amazement. In fact, I saw them for the first time, although I have been shooting with different lenses since 2010! Distinct purple and blue lines on the border of contrasting objects - that's HA so HA! They are so vivid that I removed them manually using a Color / Saturation adjustment layer in Photoshop.
As for the rest, the lens did not cause any complaints.
Convenient to work with. Contrast is sometimes not enough, but this is good for me - I'm used to adjusting it in a photo editor. At focal lengths of 75-200 mm, the open hole is quite functional. The light transmittance of the Canon EF 75-300 mm f / 4-5.6 III is quite low, so the camera tends to lift up in the evening. ISO... But luckily I shoot with the Sony A7 Mark II and can compensate for this problem with slow shutter speed.
The lens is very lightweight and compact. Actually, that's why I took it - because last time I got tired of carrying a huge and heavy Tamron 200-400 f / 5.6 LD with me.
This season the Canon EF 24-105 f / 4.0L IS USM should be the main lens in my Sayan campaigns. And I just take a telephoto camera just in case - to shoot marals or bears from afar and capture large natural objects opening from the peaks.
Canon EF 75-300mm f / 4-5.6 III sample photo
Photographer, consultant, teacher, candidate of historical sciences



Sometimes I buy photographic equipment from the USSR and not only. You can offer your write me. Help the project: 5469 1200 1062 4624. Comments can be left without registration and SMS