Mir-10A is a Soviet wide-angle lens with a focal length of 28 mm. Has six aperture blades, aperture - f / 3.5, weight - more than half a kilogram (while the size is not very large)
The first thing I want to warn you about is that on full-frame cameras Mir-10A catches a mirror at infinity. Tested on Canon EOS 6D and Canon 5D Mark III. Considering that this is a "long range" lens, this fact is somewhat disappointing. But you can still shoot in LiveView mode. If you use an LCD type magnifying eyecup, then shooting problems will not arise at all. Moreover, the focusing accuracy will increase.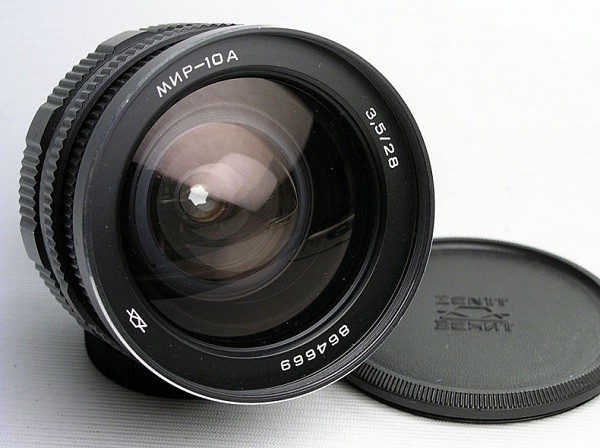 The first thing I noticed was the minimal geometric distortion inherent in the lens. It is required to approach the object close enough to notice the "blockage" of the vertical lines. In terms of sharpness, the lens did not cause any complaints at all. Color reproduction is natural, colors are correct and saturated. Vignetting is minimal. Mir-10A tolerates backlight well even without a hood.
Mir-10A has a diaphragm presetting ring. Itself diaphragm changes without clicks, which should appeal to videographers. In my copy, the diaphragm setting ring rotated freely - and so much so that at times I was afraid to accidentally shift it, being carried away by shooting.
У lens there is one feature - point light sources in hips turn into spots of irregular rounded shape. This is the first time I meet such a transformation of point light sources. Consider this fact when working on the plot.
Comparing Mir-10A with the Photax-Paragon 28 mm f / 2.8 lens, I can note that the latter is more compact, a little sharper and produces a little more saturated, "film" colors. Summing up, I can say that Mir-10A should show itself well not only in landscape, but also in architectural and even interior photography (provided that it works in large rooms). Although I personally liked the other wide-angle lens - Mir-24N - which has a high aperture ratio and better color rendering.
I would like to express my gratitude for the provided lens to Alexey Zolotukhin.
Examples of photos on Mir-10A
Photographer, consultant, teacher, candidate of historical sciences
WORLD



Sometimes I buy photographic equipment from the USSR and not only. You can offer your write me. Help the project: 5469 1200 1062 4624. Comments can be left without registration and SMS