Kashimura Dianon 200mm f / 4.5 is a rather rare Japanese telephoto camera that pleasantly surprised me with the artistic quality of its drawing.
Let's agree right away - in modern conditions, using manual telephoto lenses for reporting is possible only out of despair. For shooting birds, a focal length of 200 mm will not be enough. Therefore, I recommend
Kashimura Dianon 200mm f / 4.5
primarily for leisurely artistic photography.
The lens delicately separates the hero from the background, while
hips
expressive enough to play a part in the overall picture. This is largely due to the fact that this photo lens has 16 (!) Aperture blades that form an even circle when closed. Sharpness at f / 4.5 is quite satisfactory - at least for a portrait. Comparing, for example, with MC Jupiter-37A, I can note that the Soviet TV camera, perhaps, will be sharper. But here the focal points are different, and ... do we need excessive sharpness for a portrait?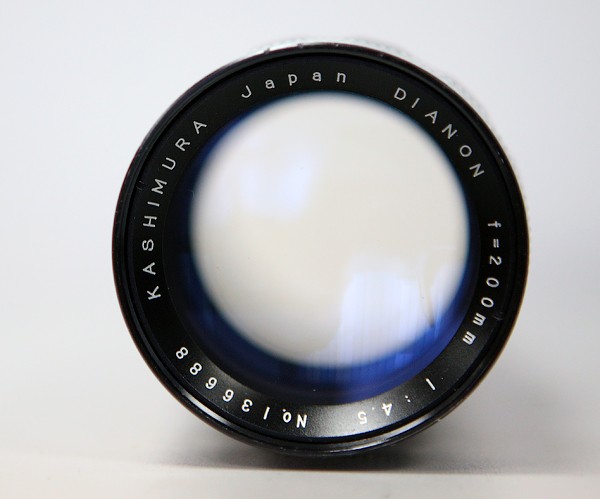 The lens features a pronounced blue-violet coating
Color rendering
lens
normal, with a slight bias in a golden hue (which again is not at all superfluous for portrait photography). The lens has a large, comfortable "grip" focusing ring. And the only difficulty for a portraitist is the large MDF. According to my estimates, it is about 2,5 meters, if not more.
Kashimura Dianon 200mm f / 4.5
it is distinguished by a reliable design and good assembly - it is simply pleasant to take it in hand. Length
lens
exceeds 20 cm, but the diameter is not very large - and therefore this glass will not take up much space in the photographer's wardrobe. I recommend using it with a lens hood, because when backlit, a fairly noticeable veil appears across the entire field of the image. I also note that when shooting in full frame, slight vignetting is noticeable in the corners.
I would like to express my gratitude for the lens provided to Dmitry Terskov.
Sample photo of Kashimura Dianon 200mm f / 4.5
Photographer, consultant, teacher