The popular Elki 24-105 suddenly had a younger brother. The most amazing thing is that the lag in optical characteristics is not at all catastrophic! However, first things first ...
At the end of 2014, a new zoom lens was presented -
Canon EF 24-105mm f / 3.5-5.6 IS STM
... Its optical design includes a UD lens, which allows it to cope well with chromatic aberrations. Two aspherical lenses further enhance optical performance
lens
... This can be clearly seen in Canon's test shots. Even in sunny weather, even with a lack of light, the lens consistently produces a high-definition picture. At wide angles, it can sometimes compete with its "electronic" counterpart. He is not inferior to him and at the focal 50 mm. But at the focal length of 105 mm it still starts to lose
The lens is equipped with an optical stabilizer, which allows you to shoot much more confidently in low light conditions.
Canon EF 24-105mm f / 3.5-5.6 IS STM
Has a stepping motor for focusing STM, which makes focusing fast, quiet, and also convenient when shooting video on a DSLR.
The diameter of the front frame is 77 mm. So the owners
lens
you will have to pay a fairly large amount for filters - especially in conditions of rising prices.
If we had bought this lens before the 2014-2015 crisis, it would have cost us 17 rubles. Quite a reasonable price for the quality given out. But as of January 000, it was possible to buy it in Russia for at least 2015 rubles ...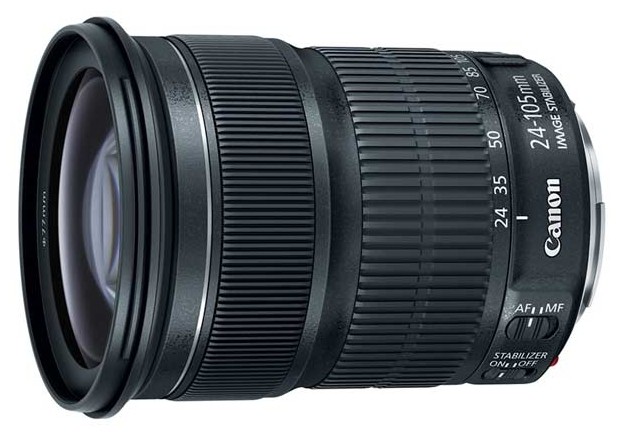 Of course, as for other lenses, you need to buy a hood for this glass, it will not be superfluous. Whether the user is a protective filter for him is up to you. Traditionally, photographers do not put protective filters on budget lenses. After all, any superfluous optical object in the path of light is, to one degree or another, a distortion of the final picture. Protective filters are traditionally used on expensive lenses, where the risk of damage to the front lens forces you to fork out for expensive protective filters.
Speaking about me, I stopped using protective filters a long time ago. This is partly a kind of photo fetishism - I'm still afraid that the optical characteristics
lens
deteriorate due to the filter screwed onto the frame. I hope that fate will not punish me for such an attitude to optics (although once during a reportage photographing at a shooting range, a pellet flew off just into an expensive fix)
In any case, put the filter on
Canon EF 24-105mm f / 3.5-5.6 IS STM
only makes sense if you intend to shoot in extreme conditions where there is a high risk of splashing the front lens or being damaged by sand and dirt.
By the way ... the second version was also released. Canon EF 24-105 f / 4.0L IS
Photographer, consultant, teacher
Sample photo on Canon EF 24-105mm f / 3.5-5.6 IS STM
Authors with Flicr



Sometimes I buy photographic equipment from the USSR and not only. You can offer your write me. Help the project: 5469 1200 1062 4624. Comments can be left without registration and SMS