Shabby full frame Canon 5D MarkIIreleased in the distant 2008g, from hand to ANCESTRAL can be bought for 40-45 thousand rubles. The camera is 10 years oldand consumer digital photography is only 20 years old. Since then, the technology has made a huge leap forward! Is it worth taking a "dinosaur" with a large sensor, or is it still worth taking a new, modern, advanced device, but with a "cropped" sensor (smaller)? The device is 10 years old, mileage shutter suspended 2 times, i.e. his change already needed and this is 15000r !!! The camera itself is all dirty and scratched, there is no living space on the display! And the seller has enough conscience to write - "In perfect technical and external condition" !!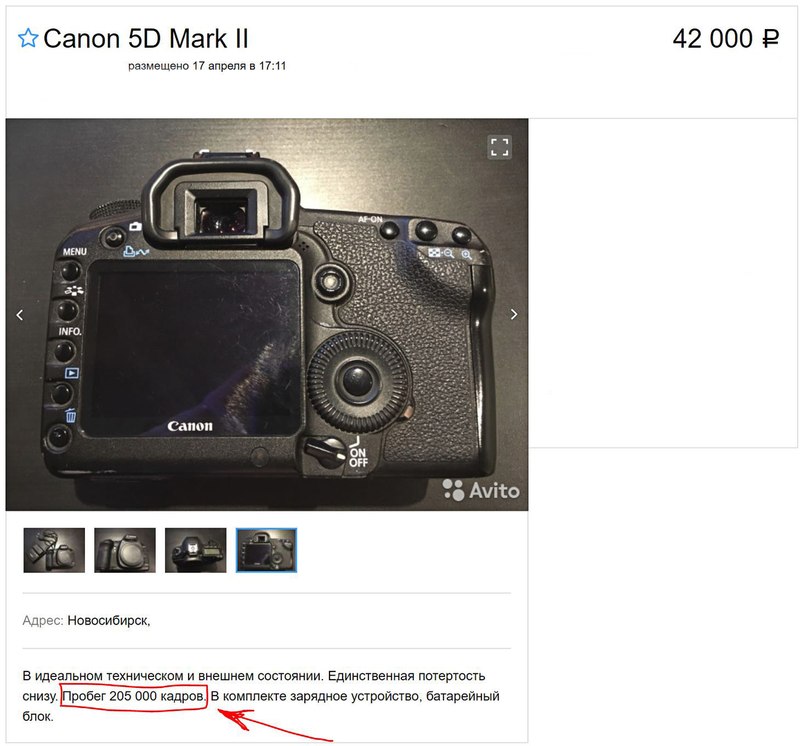 I must say that he is alive in a good condition a full-frame camera on the used market will cost at 60'000r. These are Canon 5D Mark III, Canon 6D II, Nikon D610, Nikon D610, Sony A7 II.
Killed fotiki with more than 100 thousand runs, or completely old irrelevant rubbish like Nikon D700 (12MP) or Sony A850 is EXACTLY NOT WORTH taking! BUT still hypothetically I can take underwhelmed Canon 5D Mark II for 40'000r! Is it worth it? Or take a brand new Nikon D5500 body for 38'000r?
FULL SHOT MAGIC!
Any novice photographer thirsts for him, because he thinks that THIS WITH HIM, EVERYTHING WILL IMMEDIATELY CHANGE, the level of photos will immediately grow! This is not true! It all depends on your knowledge and skills and ... EVERYTHING! Of course it's easier to think that you just need to pay and get a better camera, and a more cool picture will be added to it! BUT THIS WILL NOT BE!

Слева Crop with 35mm lens and f / 1,4, and on the right full frame with 50mm lens and f / 1.4 The difference is in the man with the packages in the background. Full frame blurs the background a little more and that's it!
The further technologies go, the more they develop, the more perfect they become! From the point of view of matrices - they are less and less noisy and the dynamic range becomes more and more (i.e. more data in light and dark areas can be saved)! In this case, you can more lighten dark areas without the appearance of noise and artifacts!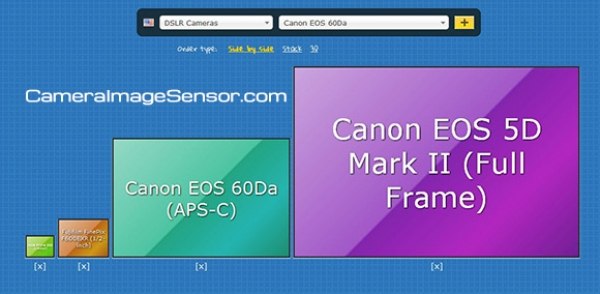 The larger the sensor, the larger the pixels, i.e. the sensor makes less noise, because more light gets, and the dynamic range and colors are better! Plus blurs the background more! BUT THIS IS UNDER THE CONDITION THAT THE SENSORS ARE RELEASED AT THE SAME TIME!
Therefore, an interesting picture is obtained, the small "APS-C" sensor released in 2016-2018 will make less noise than the Big Senosor released in 2006-2009. The same can be said about color and brightness difference! Moreover, many "APS-C" sensors of 2017 shoot on the head better than their full-frame counterparts 10 years ago!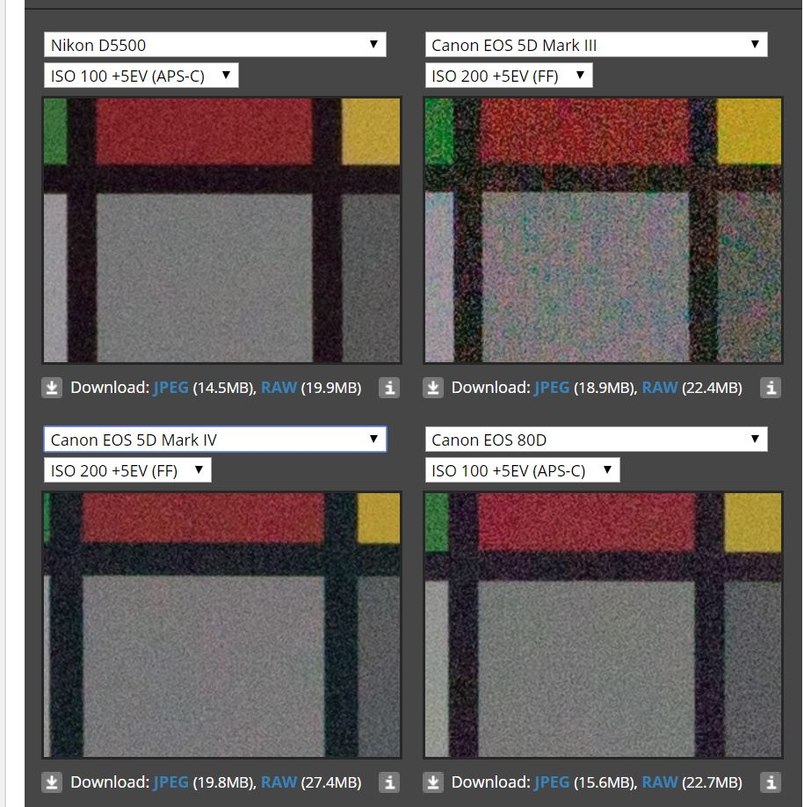 The Canon 5D MarkIII has almost the same sensor as the 5D MarkII, just a little tweaked. But the Canon 5D MarkIV already has a really new sensor and the difference is visible! Notice how, in principle, Canon is inferior in quality to the Sony matrices that are in Nikon!
You can compare any cameras on this site
We look: There was no 5D MarkII on the site, but we know that ugly marketing Canon and that, when in 2012 it was time to change the 5D MarkII to MarkIII, they changed everything except the sensor, it was only slightly modified (but in fact it didn't change anything and it's the same 2008 sensor just with a new processor)! Therefore, the image quality is almost the same. Pay attention to the difference in noise between the Nikon D5500 crop and the older Canon full frame!! And 5D MarkV - released in 2017 - already demonstrates a positive difference and a very noticeable one! And even the cropped Canon 80D -2016 shoots several times better than its "BIG" brother from 2008!
Notice how Canon lags behind Sony in technology, all cameras including Nikon have Sony sensors. A Canon develops matrices for itself. Therefore, given the worse picture, (Nikon / Sony crop shoots better than Canon full frame!) I do not recommend Canon cameras in principle!
Are there any PROS to the ancient full frame?
Since the Canon 5D MarkII was a member of the camera class "For serious amateurs" and was quite expensive in 2008! Then she has some not very significant, but pluses!
Ergonomics! A more serious camera has more buttons on the body, in order NOT to climb the menu every time! Also has more wheels to control all parameters separately!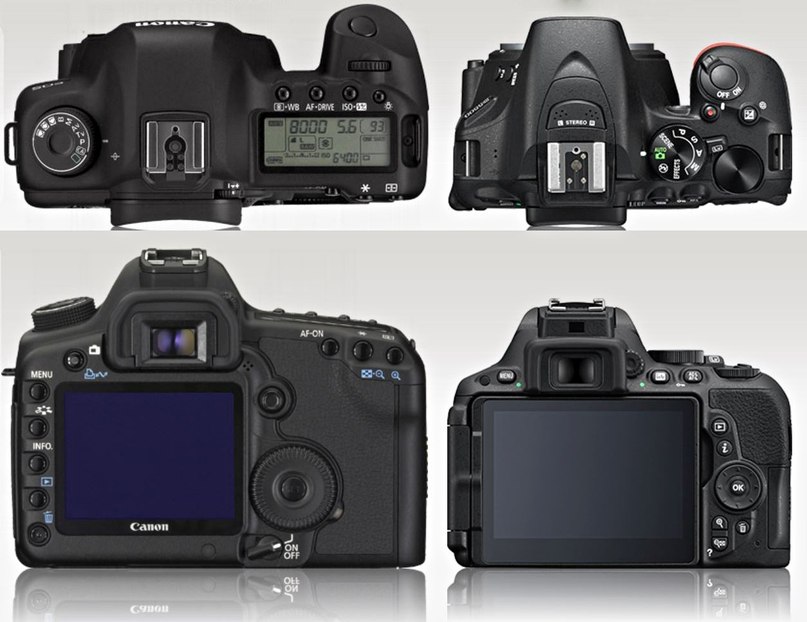 See the 5D has more buttons and wheels as it is a class up! Also, a higher-class camera has moisture protection, in rain and fog you can shoot without fear of anything (if the lens is waterproof too)! And it is more durable and resistant to damage!
YES, and as a rule, the battery in cameras of this class is larger, but buying on the second-hand market, the battery will already be half-dead.
And of course the full frame blurs the background a little more!

Left KROP, right FULL frame
And in the bottom line, the "ancient full frame" only brings us more convenient controls and a slightly more blurred background! AND EVERYTHING!
BUT WHAT DO WE LOSE?
And we lose a LOT!
First, and this is very important - we are losing in image quality! The new cropped Nikon D5500 shoots better than the old Canon 5D Mark II! That is, with the new camera, I can shoot in more difficult conditions, and I will get better quality in post processing!
Autofocus, old cameras had junk! Canon 5D Mark II sucked it (believe me, I shot hundreds of weddings with it)! The new cameras have more cross-type focusing points and allow you not to perforate with a center point, but to choose the one you need! And yet all the lateral points work great! Including the center one, it allows you to focus in darker conditions!
More advanced and modern standards!
Nikon D5500 sensor does not have Anti-Alias ​​filter, those. the picture is much sharper than that of conventional matrices, even with a whale lens!
The camera has built-in WI-FI and you can immediately transfer the photo to your phone! very convenient on vacation, or if you are a blogger, and in principle, now it is more than relevant! After all, a smartphone allows you to process well on the spot, and not go home to the computer! If you, for example, Wedding photographer, then if you immediately throw a photo on the spot to the makeup artist, or to the bridesmaids, they will be so "happy" that they will remember you forever!
Display better quality and moreover he SENSORY! which greatly simplifies navigation and control! A plus older cameras use outdated CF memory cardsthat you can't stick anywhere else! Whereas the new cameras allow you to insert MicroSD (with an adapter), which can be used in any device!
And if, nevertheless, ergonomics, moisture resistance and a more tenacious battery are more important, add 20tr, and for 60'000 rubles, buy a new Canon 80D! It has not only all the advantages of new cameras (autofocus, wifi, etc.), but also the advantages of old ones. And even with the more expensive price tag of the 80D (although if you get a 5DII in good condition it will cost the same amount) overall you will still get better picture quality and still save money! Why?
We consider the kit as a whole!
After all without optics, the camera does not shoot! You also have to buy a lens! And we know that the more matrix, the stronger the requirements for optics! Full frame requires higher quality lenses!
The better the lens, the more expensive it is!
Left 35 / 1,4 for crop, right 35 / 1,4 for full frame! The difference in weight and size is noticeable! The more matrix, the larger the lens! More lens - more glass and materials needed! The more expensive it is!
FULL frame lenses cost 2-4 times more than crop lenses!
For example bright standard zoom Sigma ART 24-70 / 2,8 for a full frame will cost 80'000 rub. Analogue for crop will Sigma 17-50 / 2.8 and its price 25'000 rub.
If you totally economize and buy bad optics for the "prehistoric full frame", then it makes sense to buy this full frame !? The quality of the picture will be complete shit! Keep in mind that it makes sense to take a full frame only for the sake of expensive optics! Otherwise it makes no sense!
TOTAL
Buying an old camera, thinking that "Well, THIS IS A FULL FRAME and even MARK!" by the bottom line buy old junk, which is no better than new, more budgetary cameras!
By the way, about the MARKs, ALWAYS read the article THIS!
Moreover! For the crop, special lenses are produced, which are not available for the full frame! These are f / 1,8 zooms that will allow you to get a picture as in a full frame and not raise the iso!
Sigma 18-35mm f / 1.8 and Sigma 50-100mm f / 1.8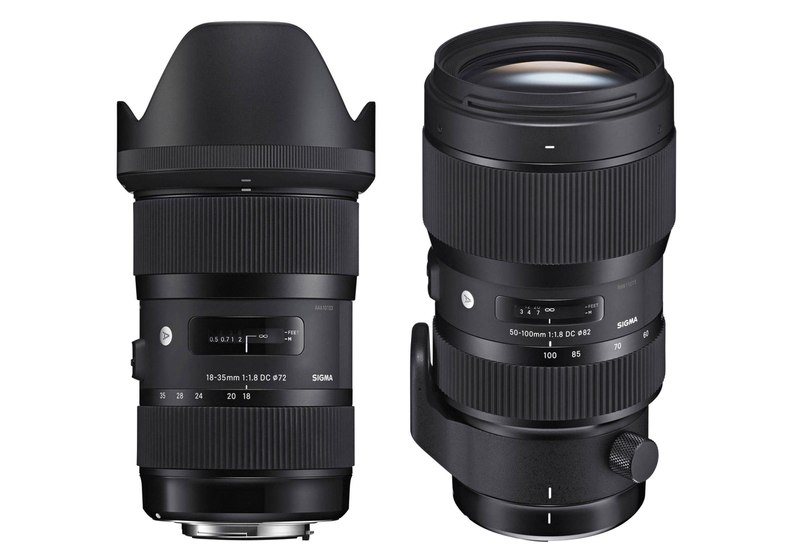 Sigma's unique f / 1.8 crop zoom!
It is better to take a camera for easier and good optics than vice versa! Otherwise, a good camera and bad optics will make the picture look bad!
And of course, if you are engaged in commercial photography, then the conversation is different ;-)
Article author - Photographer Stanislav Ivanitsky
Stanislav is not only professionally engaged in photography, but also publishes useful videos on your YouTube channel