In 2005, alongside the 350D, Canon announced the Canon 60mm f/2.8 macro USM lens. Canon 2.8/60 macro specially designed for 1.6 crop factor cameras (Canon APS-C sensors) and provides a field of view (EGF) equal to a 96mm lens, with a 1: 1 zoom ratio. The lens is equipped with a ring drive for silent focusing USM (Ultra-Sonic-Motor) and a maximum aperture of f / 2.8. The zoom ratio and field of view are close to the most popular Canon EF 100mm f / 2.8 Macro USM for full-frame cameras at the time.
Canon 60mm f/2.8 macro USM review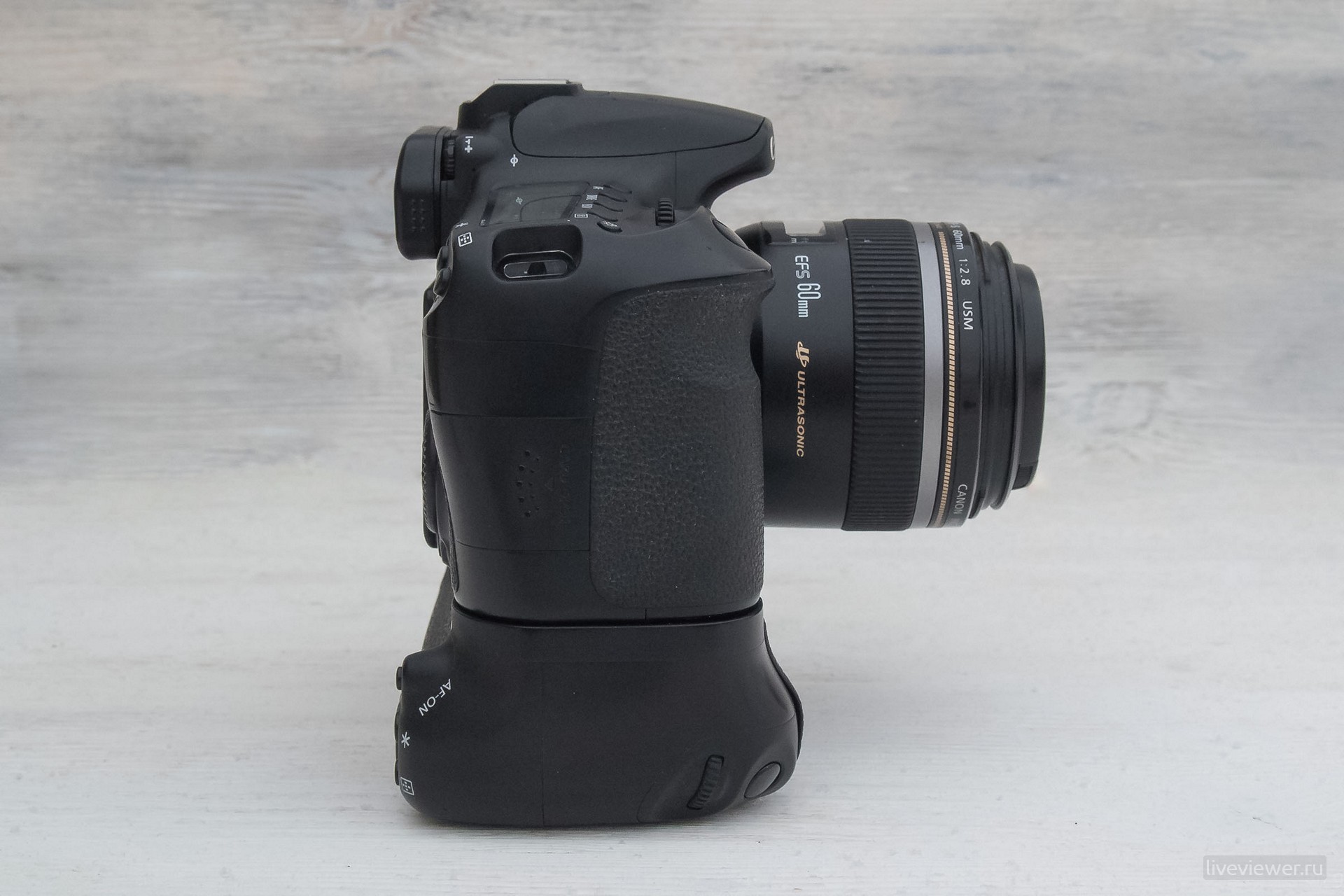 When was the lens announced Canon EF-S 60mm f/2.8 Macro USM, many were not happy with the new macrolens with a short focal length, only compatible with cropped digital SLR cameras. Why? Because:
a short focal length to get a one-to-one macro requires the owner of this lens getting too close to the macro subject.
owners of Canon's full-frame cameras would have to buy a new camera to match a new lens. Canon EF-s lenses cannot be attached to cameras with bayonetohm EF (for macro - only using macro rings).
Lens layout
The Canon 2.8/60 scheme consists of 12 elements in 8 groups, and a three-group internal focusing system that delivers sharp and contrasting detail across the entire image field. Internal 3-group focusing system keeps length constant lens when you turn the focus ring. This is required for scenes where the lens must be very close to the foreground subject. Also, the lens, which does not have a fixed and non-retractable front element, is suitable for use with ring flashes and UV filters. The lenses of the lens are coated with Superpectra, designed to reduce glare and reflections from the camera's matrix. This coating also provides high detail, contrast, and color balance throughout the entire focus range. In optics lens only lead-free glass is used.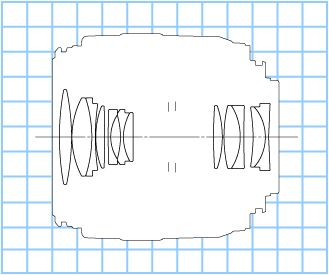 Canon EF-s 60mm f / 2.8 macro USM specifications
A type: Macro lens for Canon DSLR cameras with APS-C format sensor (1.6 crop)
EGF: on the crop has an angle of view equivalent to a 96mm lens mounted on a full-frame camera
Mounts: Canon EF-s only
Viewing angles:
- horizontal: 20 ° 40 '
- vertical: 14 ° 10 '
- diagonal: 24 ° 30 '
Diagram: 12 elements in 8 groups
Aperture blades: 7
Minimum aperture: f / 32
The nearest focusing: 20 см
Maximum magnification: 1
Distance information: Yes
Image Stabilizer: no
AF drive: USM
Filter Diameter: 52 mm
Dimensions: 73x69,8 mm
The weight: 335 g
Canon 60/2.8 macro in action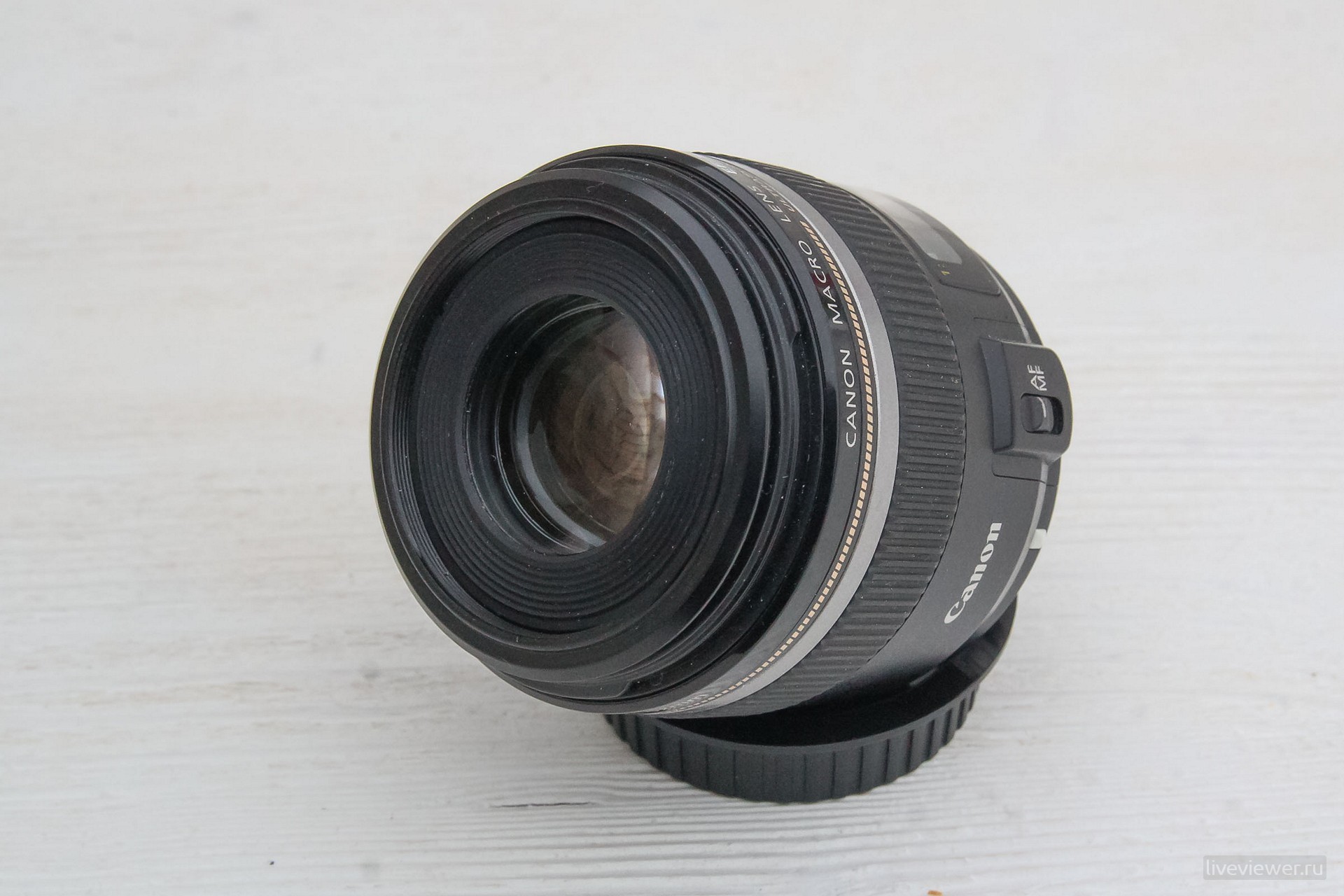 The lens is compact and lightweight. The body is made of textured plastic, fastening bayonet - metal. Fits well in the hand and takes up little space in the bag. There is an inscription with the model name on the body behind the light filter mount. lens, Canon Macro Lens EF-s 60mm 1: 2.8 USM view, company name and filter diameter. Light filters, by the way, will be one of the cheapest, since the diameter is only 52 mm. Behind the ring with these inscriptions is a rubberized focusing ring. This is followed by an area with imperial and metric distance and focus, as well as a scale mark for macro photography. Scaling of objects is available from 1: 1 to 1.5, 2, 3, 5. The DOF calculator has no focusing distance window. The autofocus mode switch is located next to the window.
Focusing
The Canon 60 / 2.8 macro focus ring rotates very smoothly, and its stroke is 180 degrees. This is sufficient for manual focusing, and is often necessary in macro photography. Automatic focusing provided by the USM ring drive. USM allows full time manual focusing FTM (Full Time Manual), without the risk of damaging the drive and motor in both manual and automatic modes. In automatic mode focusing happens very quickly and accurately if the camera clearly sees the subject. With a lack of lighting, it takes about 3 seconds to travel over the entire range of distances. During focusing, the front plane lens does not rotate, which is a big plus when using compatible macroflashes and filters.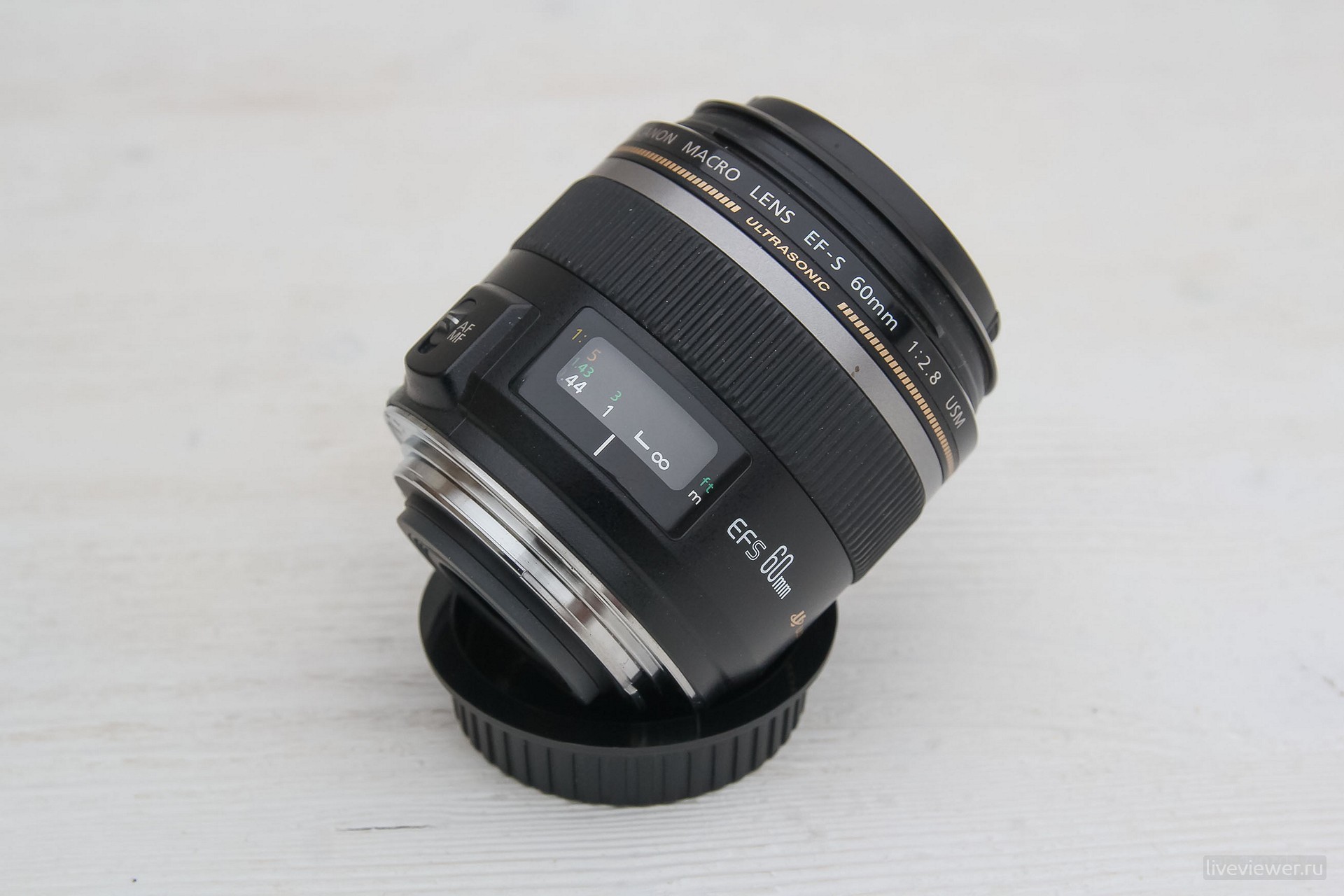 Diaphragm
The lens is sharp from the open aperture. At least as sharp as the Canon 50mm f / 1.4 at the corresponding aperture. The aperture is traditional, electronically controlled, the minimum value is f / 32. At f / 11, the Canon EF-s 60mm Macro loses sharpness due to diffraction, but at f / 16 it is still quite sharp.
Depth of field control, hips
7 aperture blades do not produce even reflections in hips, however, when shooting portraits at f / 2.8 of the owner of this lens the nuts won't bother. A common attribute of macro lenses is small depth of field at the minimum focusing distance, and scaling objects up to 1: 1. Using a narrow aperture is the solution to maximizing depth of field, but this usually requires a tripod (for stability during long exposures) or flash. Even though the Canon EF-s 60mm Macro allows you to close the aperture down to f / 32, you shouldn't go beyond f / 16. Aperture settings are optimal between f / 8 and f / 16.
The lens creates an attractive, uniform background blur when you minimize the depth of field to isolate the subject. This, combined with the 60mm focal length, is ideal for portraits as well.
Sharpness lens redundant for portraits. At times it will be necessary to reduce the sharp during processing, because not all scenes can use strong sharpness. For example, if the model has uneven skin.
Aberration
Chromatic aberration remains very low throughout the entire aperture range. On open, there are small purple halos around the contrasting transitions, but these are negligible.
Vignetting
Vignetting is present at f / 2.8. At f / 4.0, it is already so small that in practice it will rarely interfere. From such a lens, you can expect slightly low vignetting at open aperture. In addition, vignetting can be dealt with programmatically. Vignetting will be very noticeable at closest focusing distances when shooting macro.
Sharpness, contrast, color
The strength of this lens is the slight difference in resolution between the center and the edges. On all ranges of work lens the sharpness is, in fact, the same. At f / 2.8 it is slightly less at the edges, however, the effect disappears when the aperture is changed by 1/3 of a stop. Colors have no distortion, and photography with this lens is a pleasure. The camera's exposure metering operation with this lens does not exhibit any critical deviations in difficult conditions. For a crop, a very good lens in terms of picture quality.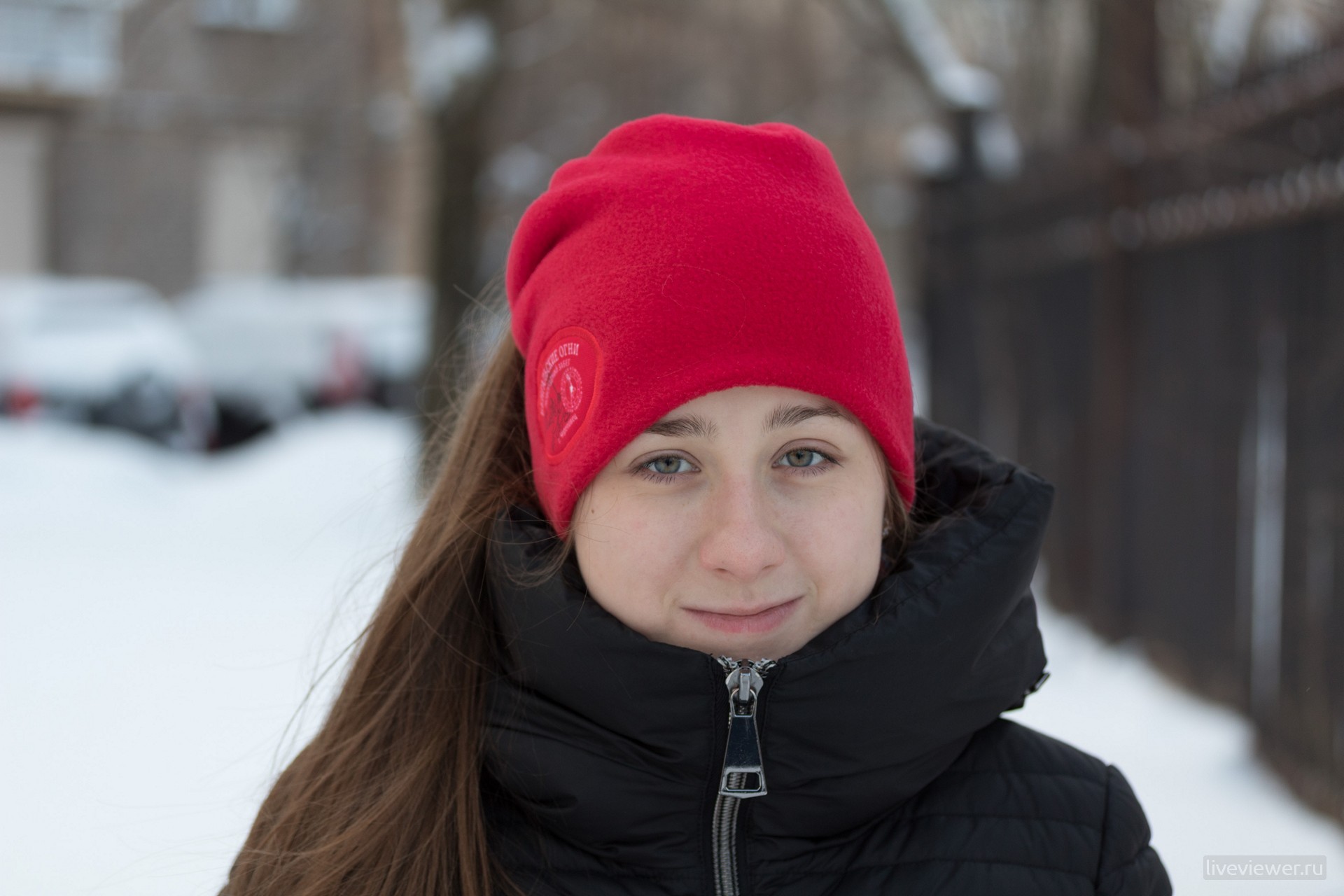 Next




Sometimes I buy photographic equipment from the USSR and not only. You can offer your write me. Help the project: 5469 1200 1062 4624. Comments can be left without registration and SMS