Industar-50 3/5 is the cheapest and smallest Soviet interchangeable lens. Often it is they who are found with cameras, since they were predominantly common in the USSR.
General in the Industar-50 series
Industar-50 is a removable lens that comes with the camera when it is sold. A specific entry-level zoom lens is often assumed to come with budget cameras (EF-S 18-55mm f/3,5-5,6 for Canon, AF-S DX NIKKOR 18-55mm f/3,5-5,6 VA for Nikon, 18-55 mm f/3,5-5,6 Sony, DA 18-55 mm f/3,5-5,6 AL for Pentax, etc.
SLR standard lens with M39 threaded mount, for cameras "Crystal", Zenit-3, Zenit-3S, Zenit-3M and others. It can be used without problems on modern digital cameras through adapter from thread M39 to M42 and from M42 to digital camera.
The most compact of all Soviet lenses for SLR cameras, which were manufactured in The Soviet Union. A four-lens translucent anastigmat of the "Tessar" type in a threaded frame with a retractable (very rare) or non-retractable tube. Equipped with an iris diaphragm. For its period, it had a high resolution capability with well-corrected chromatic aberration.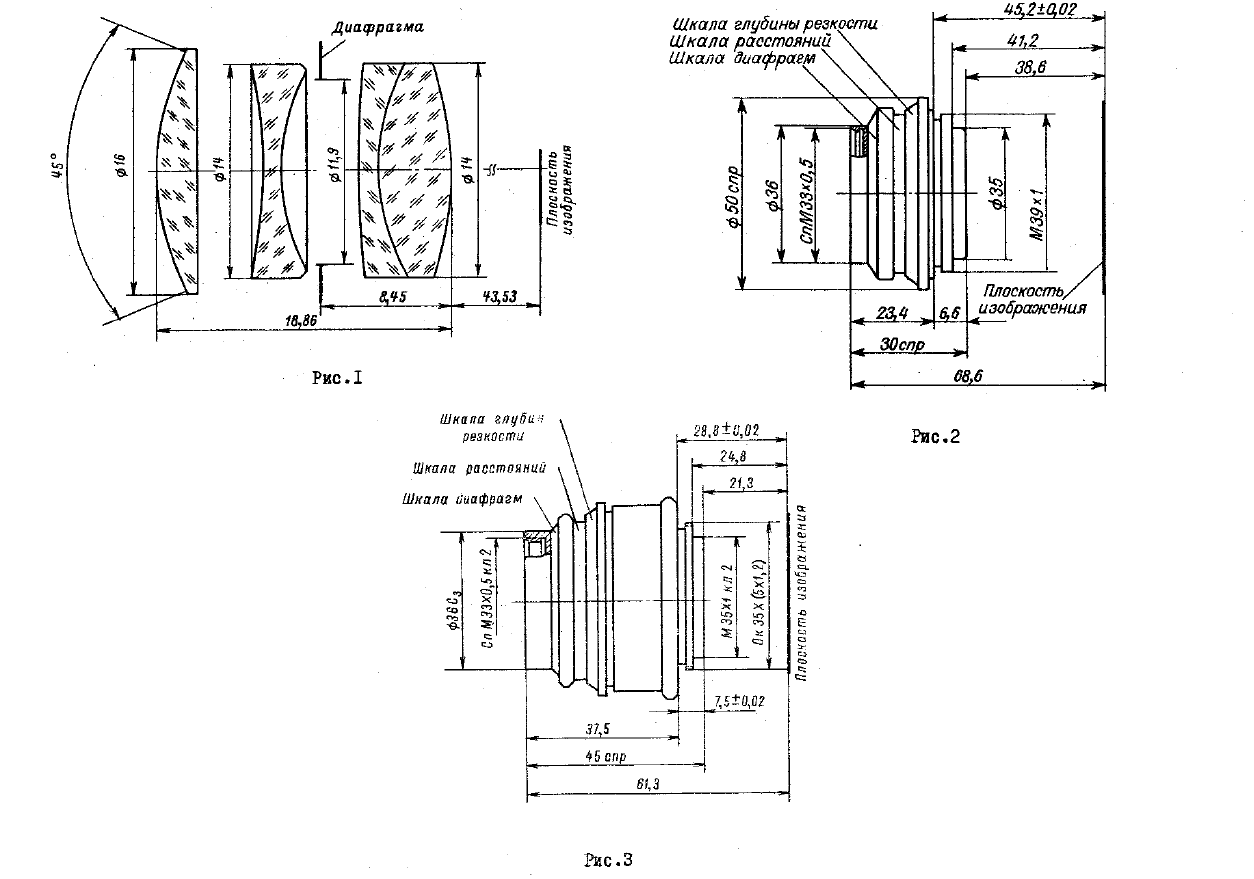 TECH SPECS
Industar-50 3.5 / 50
Focal length: 52 mm (52,48 mm)
Relative aperture: 1:3,5
Field of View: 45°
Frame size: 24 × 36 mm
Front vertex focal length: −41,68 mm
Rear vertex focal length: 43,62 mm
Distance from first to last surface: 18,55 mm
Number of lenses / groups: 4/3
Working segment: 45,2 mm
Number of aperture blades: 7
Aperture scale limits: 1: 3,5-1: 16
Near Focus Limit: 0,65 m
Connections:
lens with camera: M39 × 1
for screw-in nozzles: SpM33 × 0,5
for slip-on attachments: ∅36 mm
The location of the mount for light filters: front
Resolution (0/10/20 mm): 43/27/25 lines / mm
Resolution according to technical specifications (center / region): 38/22 lines / mm
Light transmission coefficient: 0,80
Color formula: 7-0-0
Enlightenment type: no data
Dimensions:
length of a lens mounted at infinity, with covers: 30 mm
largest frame diameter: ∅50 mm
The weight:
option for SLR cameras - 126 g
End of development: November 1953, XNUMX
Years of production (KMZ): from 1953 (Industar-50) to 1986 (Industar-50-2)
Varieties of Industar-50
Industar-50 is a continuation of the Industar-22 line.
The variations of Industar-50 themselves are much smaller than Industar-22:
Industar-50 1960s, mirror black
Industar-50 1960s, black rangefinder
Industar-50U for photo enlargers
Industar-50S for medical cameras
Conventionally, I divide the lenses into "early" and "late".
"Early" lenses - labeled in the German manner, of the form "Industar-50 1:3.5 F=5cm P" and having a deep blue-violet enlightenment, inherent in all early lenses of the USSR.
"Late" - having a simplified species marking "Industar-50 3.5 / 50" and weak blue enlightenment inherent in lenses made in the USSR after 1960.
Also, there are transitional lens models that use different markings and lens coatings. The Industar-50 option for DSLRs in black is rare - for the entire time I was sorting through cameras, I met him only twice. The rangefinder in black color did not meet in live form at all, only in the pictures.
The Industar series is quite extensive, lenses were also produced in Lytkarino (LZOS) and Kazan (KOMZ), FOZ and NPO "Optics". Options for photographic enlargers (type I-50У, were marked with the index "U").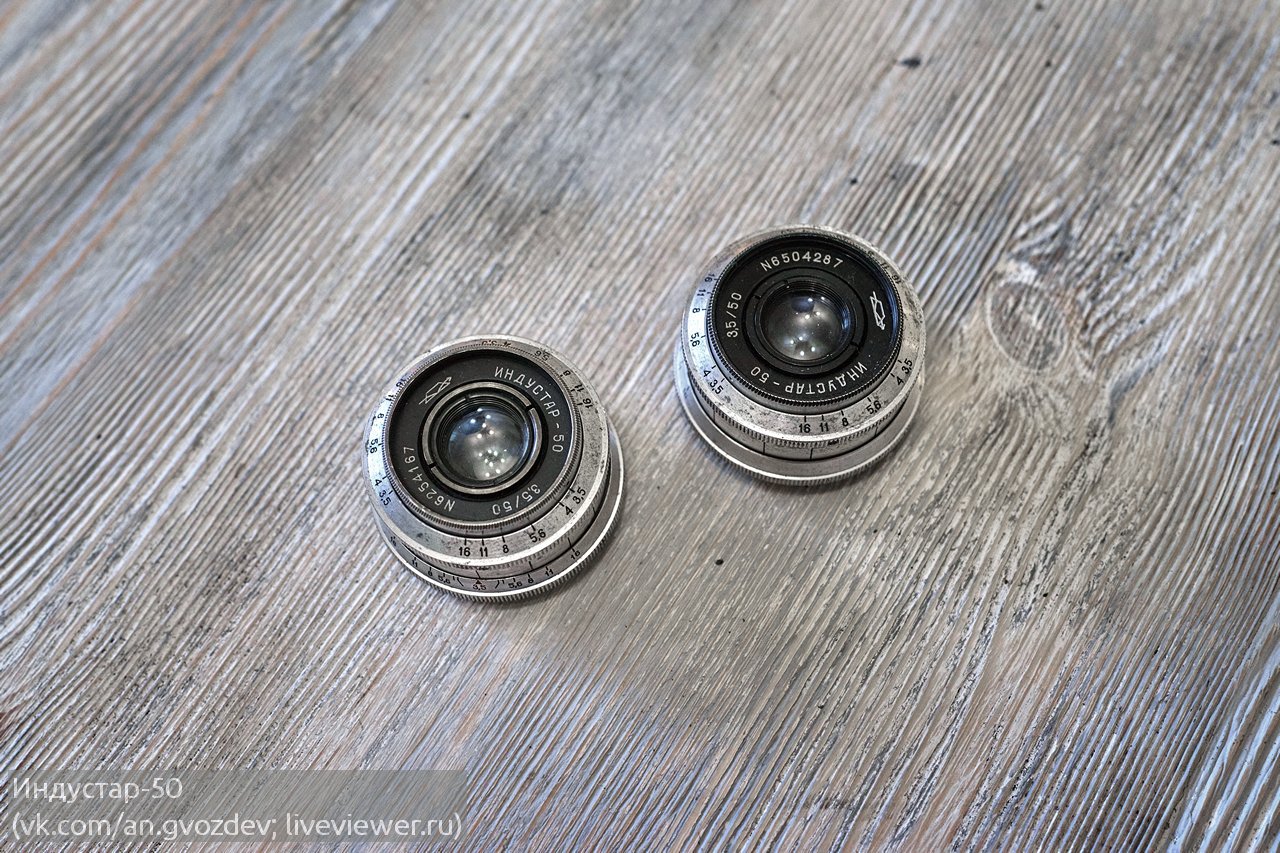 Lenses with multi-coating (MC) were not produced.
Industar-50 3.5/50 in operation
I deliberately did not produce articles and divide lenses into "mirror" and "mirrorless", since, in fact, lenses are not any significant difference from each other. Even early versions from later ones do not have any fundamental difference in image quality. Therefore, everything that is written below is typical for all lenses of the Industar-50 series. In fact, a mirrorless one differs from a mirrorless one only in the presence of an extension shank and a rangefinder pusher and a minimum focusing distance of 65 cm versus about 0,8 m.
Focusing
The Industar-50 focus ring is located immediately behind the aperture ring. With this design, it is difficult to control the lens, and if the grease near the focus ring is dry, it becomes impossible at all. The aperture ring leads the focus ring. The minimum focusing distance is 65 centimeters, the focus ring rotates almost 360 degrees around the axis, and thanks to this it allows you to more accurately adjust the focus. Very sharp from f5.6, and wide open it allows you to take portraits with background swirling.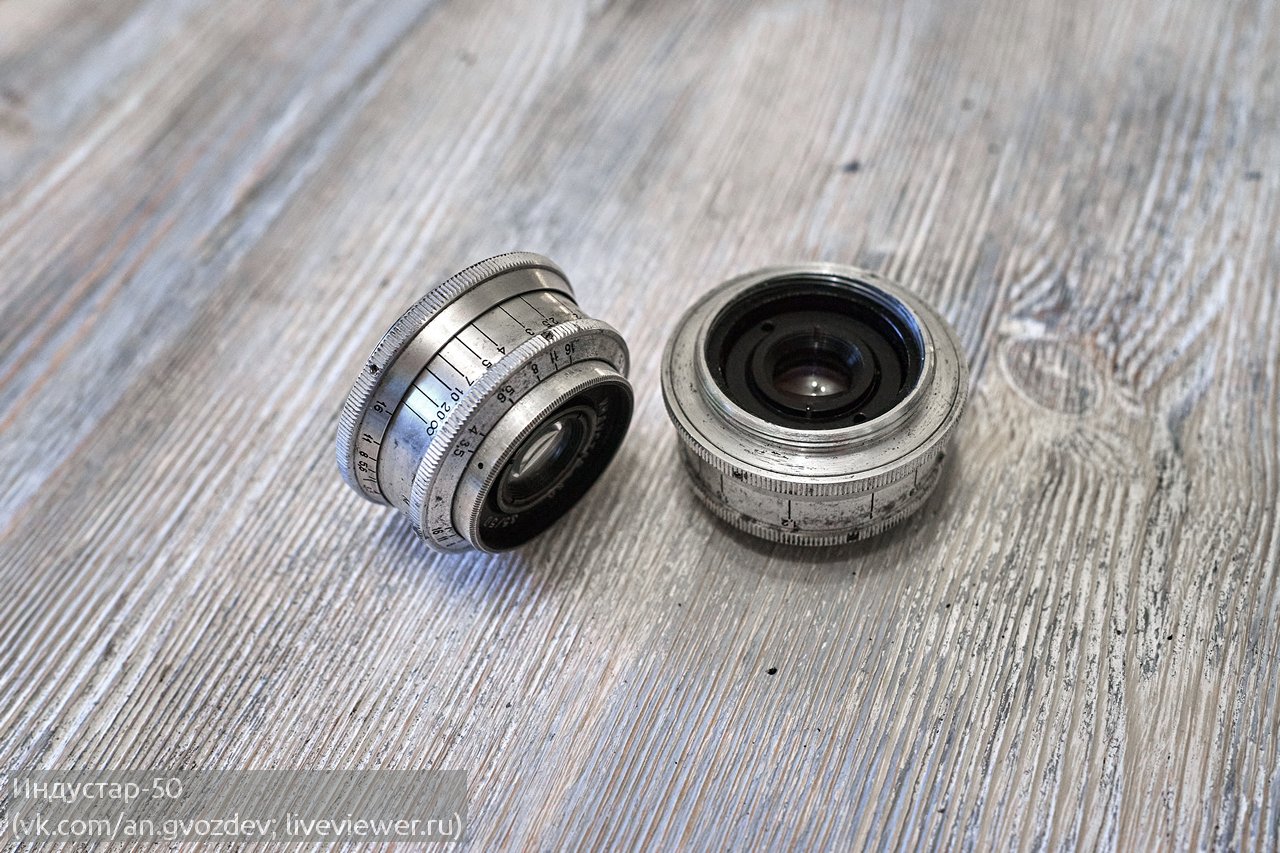 Diaphragm
The lens aperture is controlled by a ring located on the front of the body. The diaphragm consists of 7 blades, and at narrow values, in the out-of-focus area, "nuts" will be noticeable. Maximum diaphragm — f/3.5. The lens, in backlight, in addition to losing contrast, also draws reflections on the matrix, even in the light of a flashlight. Reflections are noticeable when the focus ring is rotated.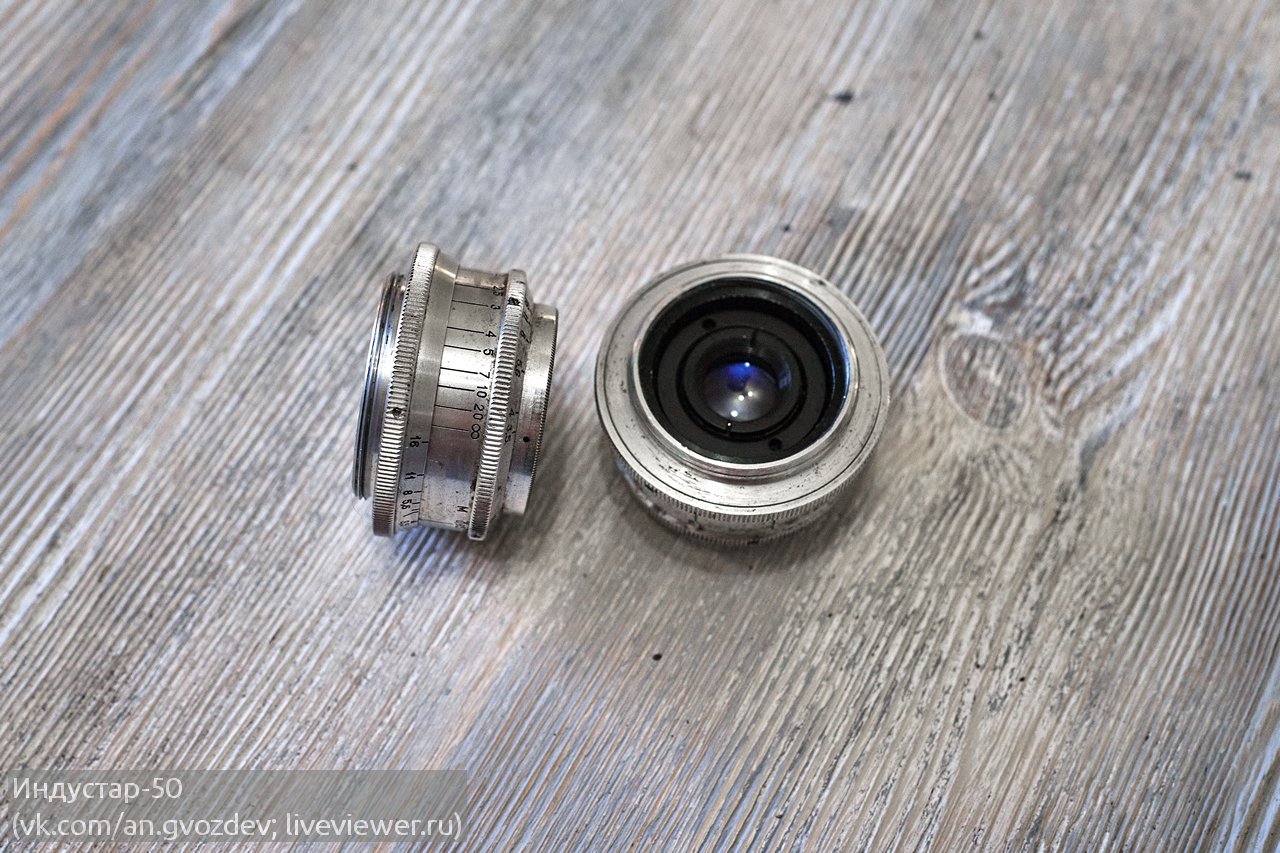 Depth of field control
Despite the large depth of field, focusing on cameras with a small viewfinder size can cause hitting problems. You have to use LiveView mode much more often than with autofocus lenses. As an alternative to LiveView, you can use the distance scale and depth of field of the lens itself, or adapter rings with a focus confirmation chip (more expensive).
Industar-50 can be set to hyperfocal distance using the depth of field calculator printed on the body, and shoot without touching the viewfinder eyepiece. This is useful in street photography, for example.
Aberration
Industar-50 corrected or minimized such aberrations as astigmatism, spherical and spherochromatic aberrations. The tessar scheme itself implies high sharpness and minimization of various aberrations. On an open aperture, I noticed a slight green coating at the borders with contrasting transitions. So light that it can be neglected.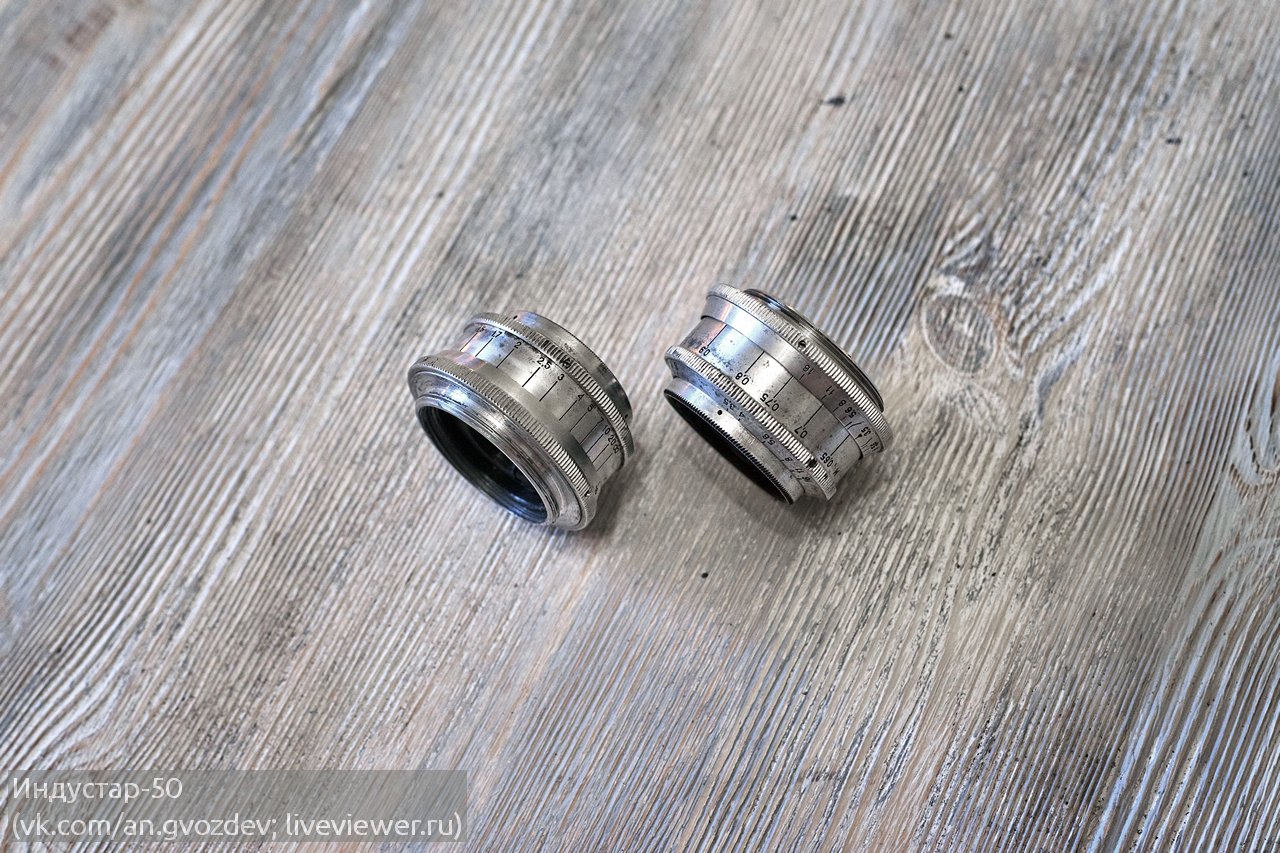 Vignetting
At its widest aperture, this glass has strong vignetting in the corners of the frame. Disappears by f / 4. On a cropped camera, it will not be noticeable at all.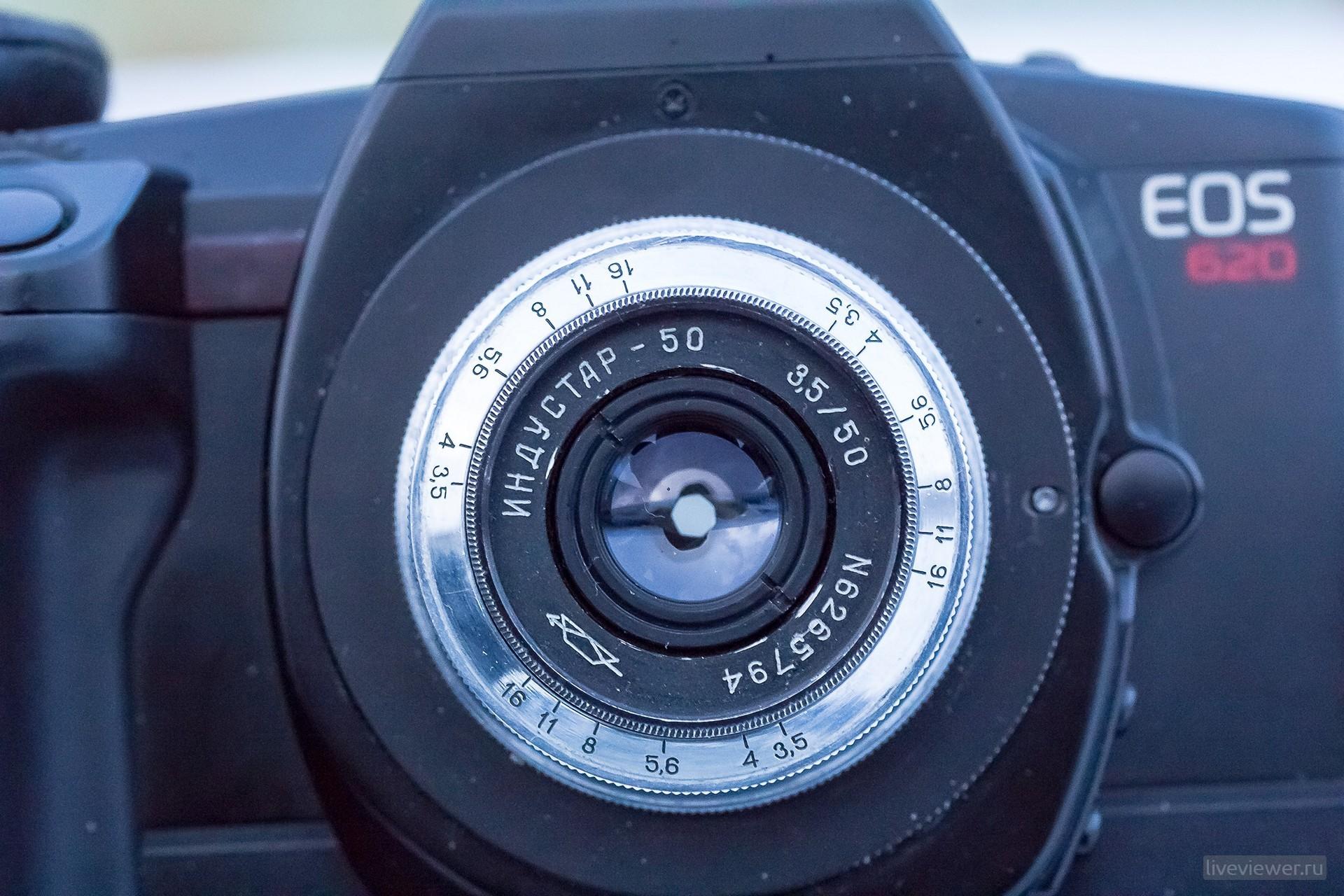 Sharpness, contrast, color
When open, the lens has a drop in sharpness towards the edge of the image, which is eliminated by the deviation of the aperture ring in the direction of narrowing the aperture. Glass does not like bright backgrounds, local light sources in the frame.
Case and build quality
Industar-50 (50mm f / 3.5)
The gripe is the location of the aperture ring. In view of the small dimensions, the location of the diaphragm ring causes great inconvenience in operation. Such an arrangement of small rings one after the other, as on the Industar-50, forces you to be distracted from the viewfinder to set the required aperture values.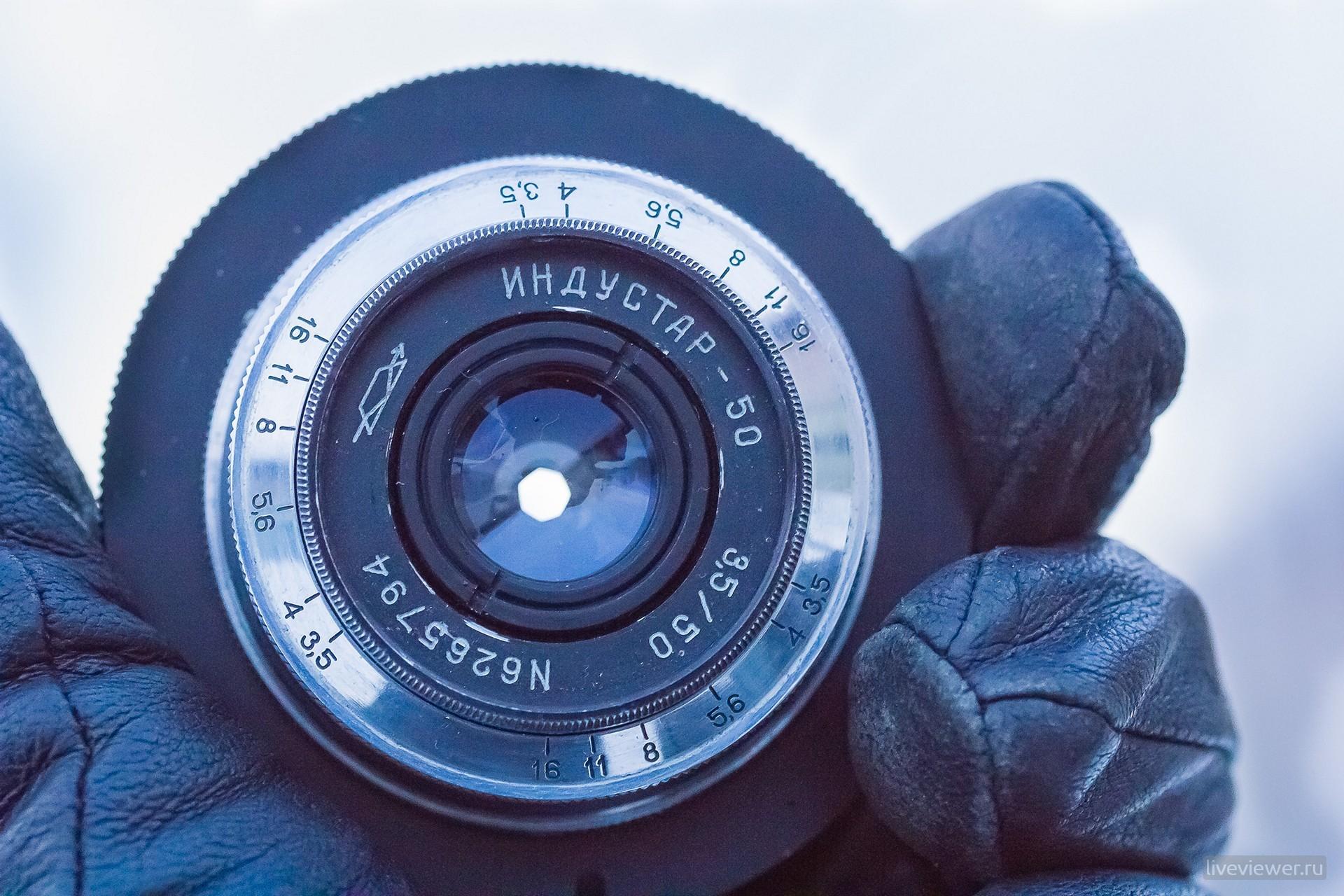 Use the fingers of both hands to operate lenses that require maintenance. You have to hold the focus ring with one hand, and set the aperture with the other. In general, 70% of the area of ​​​​the lens body is occupied by the focus ring. 15% each falls on the Industar-50 base and diaphragm ring. In general, it is worth getting used to. The inscriptions on the case are engraved and filled with paint.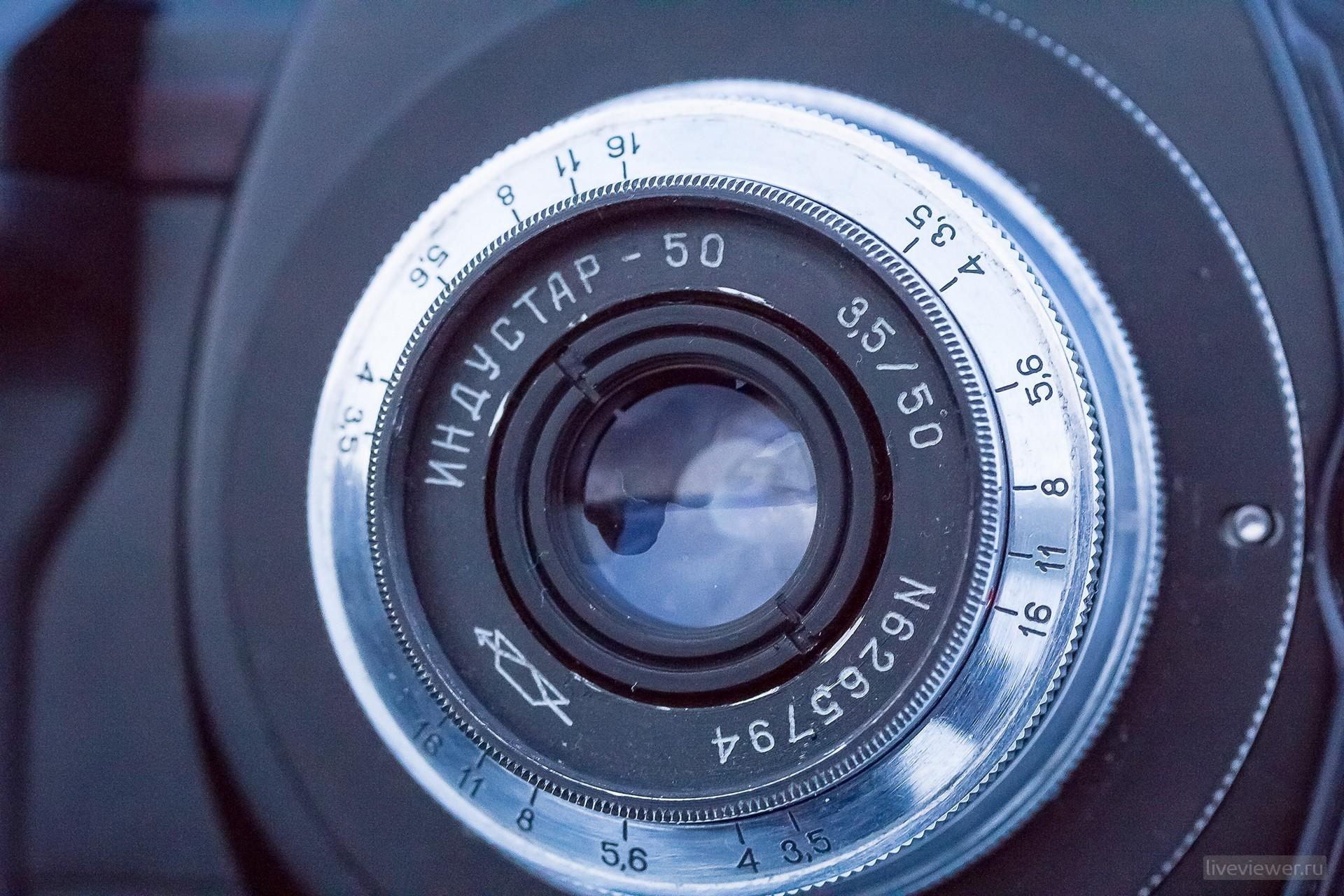 Advantages
Industar-50 (50mm f / 3.5)
Lack of autofocus should not be embarrassing, because, for example, in portrait and macro photography it can be omitted.
DOF calculator and distance scale is absent in the vast majority of modern lenses. Industar-50 can be set according to the marks on the lens itself and shoot without looking through the viewfinder.
Indestructible construction. The lens is not afraid of frost, temperature and humidity changes, drops. The metal case will not crack upon an accidental impact, and the absence of electronics will not fail at the right time. The lens is easy to disassemble and maintain.
Can be used with almost any digital camera, through the appropriate adapter.
Small weight and dimensions make it easy to carry with you. Under the lens you can find a miniature lens hood (suitable for the Industar-22 lens).
High maintainability. Repair of Industar-50 and its disassembly is available right on the knee, without special service centers.
The main trump card of the lens, nevertheless, is its miniature size and scanty weight. The lens weighs just 126 grams.

Industar-50 1:3.5 F=5cm P rangefinder tube 8 petals
Industar-50 1:3.5 F=5cm P tube - standard lens from the Zorkiy-5 rangefinder camera. This is the very rare early Industar-50 with 8 aperture blades. A rangefinder lens, M39 standard, which has a threaded connection of the same name with contemporary cameras of the lens (Zorkiy, Zorkiy-2s, Fed, Fed-2, Fed-3 and others.) cameras are getting smaller. In order to start using the lens, you need to pull it away from you and turn it clockwise to fix it.
Everything, the lens is ready. But this is where its danger lies - the rear end of the tube on a SLR camera will rest against the mirror, and on a mirrorless camera it is quite capable of breaking through the matrix. Well, for example, in Sony NEX, the tube rests on the frame window, and it remains to stick out such a good part of the lens.
On Sony A7 and A7II, the lens retracts completely, about a millimeter does not reach the camera matrix, but crosses the shutter plane. The consequences are clear. The installation was carried out using an adapter M39 (LSM) - Sony NEX.
The lens barrel itself is chrome-plated and assembled from brass. The base and frame of the front lens are also brass, electrochemically painted. Enlightenment as on early Soviet lenses, dark blue. Late industrials came with violet or light blue single-layer coating, and this fact was not indicated in any way on the lens barrel.
Mounted on a modern camera, this lens looks strange. Like a mushroom growing out of a camera. Aperture control is not the most convenient. In order to switch values, you need to be distracted by working with the aperture ring. To shoot from the hip or waist, just stop down to f/16 and everything between 1,5 and the horizon will be sharp. In this case, the focusing distance indicator should be at 3 meters. Industar-50 1:3.5 F=5cm P is considered a dark lens. However, its sharpness, thanks to the "tessar" type scheme, can compete with contemporaries. In addition, the lens is devoid of most distortions by a well-chosen combination and shapes of lenses.
Despite its miniature size, the lens is heavy. 50 millimeters of focal length is a universal focal length that allows you to shoot, if not everything, then a lot. A huge number of photographs were taken with lenses with a focal length of 50mm. On the rim of the front lens, the focal length is indicated in centimeters, still in the German manner. And not surprisingly, a whole year remained before standardization according to GOST - the lens was manufactured in 58, judging by the first digit in the serial number. Later they began to print the date in the form of 2 digits.
Unlike Industar-22, or Industar-10, as it seemed to me, the white balance behaves in a strange way. Snow doesn't turn white in any of the shots. The camera will definitely set in AWB warmer or colder than it actually is. In general, it is not critical for working in RAW, but in JPEG it can, of course, pretty spoil the picture. The colors are generally warmer than on other Industars.
The depth of field of this lens allows you to shoot portraits with background blur. Best of all, the background is blurred at an open aperture, but when focusing, you need to be careful, because without magnifying the picture in the viewfinder or on the screen, when viewing later, there may not be sharpness. When shooting in low light conditions (for example, indoors), it is better to have a camera with good working ISO, or use a flash.
Industar-50 is a common lens, however, Industar-50 1: 3.5 F = 5cm P tube lens with an 8-blade aperture is rare. So rare that meeting such a lens is a pleasant stroke of luck. The difference in one aperture blade (there are 7 blades in the bulk) does not add much charm to the blur zone, and the pursuit of such a lens is rather a desire to replenish the collection than to purchase Industar-50, which is "slightly more artistic" than its counterparts.
Video examples Industar-50
Sample video. Industar-50 + Canon 6D
Sample video. Industar-50 + Canon 60D
Sample photos Industar-50 3.5 / 50 mirror
A lens with a faint shade of blue coating, which was mainly equipped with lenses of late Soviet production. The main trigger for identifying such lenses is simplified labeling. This Industar-50 3.5 / 50, unlike the lenses below, has the best image quality. Yes, of course, it's not ideal, not the 50-2 version, which turned out to be better than the first fifty, however, you can shoot with it, and it even makes sense to bother with buying an adapter ring for modern cameras. MDF just under 65 cm.
Shot with Canon 6D
Shot with Canon 60D
Sample photos Industar-50 3.5 / 50 rangefinder
Industar-50 3.5 / 50 rangefinder - a lens with a weak blue coating. This copy did not enter the picture at all - either it was previously disassembled and not assembled normally, or this is the one from the manufacturer. Strong veil on the open, lack of contrast in principle. Perhaps the result of damage to the enlightenment on the rear lens. Sharpness is present, but it does not seem to change the general state of affairs. Although, for pictures with a touch of retro under B&W, it will probably come in. MDF just under a meter.
Sample photos of Industar-50 1:3.5 F=5cm P rangefinder
Industar-50 1:3.5 F=5cm P rangefinder - a lens from Zorkiy cameras manufactured by KMZ. Enlightenment - a deep color with a blue-violet tint, unlike its later rangefinder options with simplified markings, gives a slightly better image quality at an open aperture, and is more resistant to bright objects in the frame. The veil that appears on the open is about 50% less than on the late versions with a faint blue enlightenment. MDF just under a meter.
Sample photo of Industar-50 1:3.5 F=5cm P rangefinder folding 8 petals
With Industar-50 AWB cameras are not always adequate. The lack of contrast when shooting is small, in the back it works well. Gives vignetting in the corners at an open aperture, and when exposed, draws a sunny rain on the image.
Use on modern cameras
Rangefinder Industar-50 can be installed without modification only on mirrorless cameras. Industar-50 for SLR cameras with M39 thread can be installed on M42 through an adapter ring from M39 to M42 thread. The rangefinder version of the Industar-50 could easily be rearranged to early Zenith cameras with an M39 thread by removing the back and the rangefinder pusher.
On a camera with APS-C sensor (kf = 1.6) the camera will have a field of view equal to the equivalent 80mm focal length, and the depth of field in this case on the open will correspond to the value f / 5,6. Why is that? Because, due to the narrow viewing angle, you will have to move further.
Alternatives

The main likely use of Industar 50 is bust portraits, shooting on a hike. The lens is not suitable for video shooting, because. management is not the best. For many, this lens seemed inconvenient to operate. The alternatives presented below are the same legacy from yesteryear that is still in use today.
Summary
Not bad, of course, "the first easy fix" for a novice amateur photographer, if you close your eyes to the shortcomings of the controls and the darkness of the image. Industar-50 is easy to repair, disassemble, has a minimum weight. The most important thing is that the price of the Industar-50 lens fully corresponds to its quality, despite all the inconveniences in handling, which I focused on in this review.