The Canon Speedlite 430ex ii flash unit replaces the Speedlite 430EX. Redesigned interface, improved speed. There is an updated version 3 on the market, featuring speed and a redesigned interface.
/2020/12/what-takoe-vspyshka/
Canon Speedlite 430EX II. Overview
Canon Speedlite 430ex ii – вспышка для камер Canon EOS, с ведущим числом 43 (ISO100, 105mm). An updated version of the Canon Speedlite 430 EX with a metal shoe and a slightly faster reload speed. The rest, in principle, is unchanged: the same matrix display with green backlighting, remote control, custom C.fn settings from the camera and flash menus. Built-in autofocus light, diffuser.

Canon 430ex ii specifications
Type of - Camera flash
Leading number 43 m (ISO 100, 105mm)
Compatible Cameras Canon A and B
Fastening - metal shoe
Recharge time – 0.10 – 3.70 s
Backlit display
Swivel head
– Angle of rotation up 90 degrees
– Angle of rotation horizontally 270 degrees
Automatic Zoom
Manual Zoom
Wide angle diffuser
Illumination angle - eq. 24-105 mm
Maximum illumination angle, eq. (with diffuser) - 14 mm
Mode support - TTL, ETTL, ETTL II
Manual power adjustment
Color temperature information transmission
FP sync
Front curtain sync shutter
Rear curtain sync shutter
Slave flash mode
C.Fn
Pilot light, strobe
Autofocus highlight
Nutrition - 4 AA
The number of operations from one set of batteries - 200
Maximum series of operations - 10
Number of batteries - 4
Weight - 320 grams
Portal flashes
Canon Speedlite 430EX III (-RT)
Speedlite 430EX II Controls
The main controls are located on the rear panel (the panel facing the photographer when the flash is attached to the camera). Buttons, display, switches. It differs little from the Canon 430EX. The controls are sunk into the body on purpose so as not to knock off the settings during operation.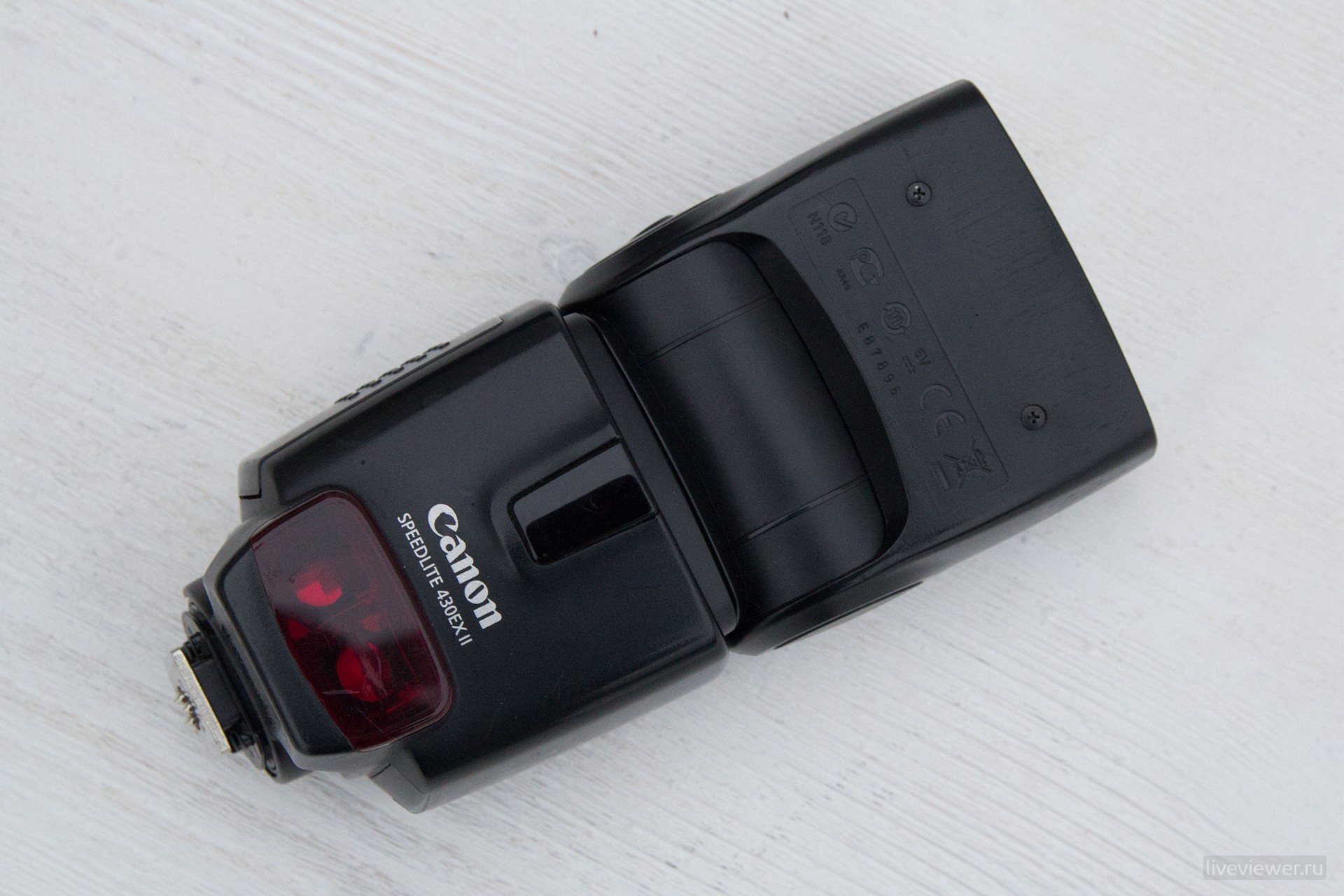 Swivel head
Has the ability to tilt horizontally and vertically for shooting with bounced light. There is a flash lamp in the head, the lamp has a limited resource. The swivel mechanism is activated by pressing the PUSH button on the head itself. A diffuser is integrated into the head to increase light diffusion. It helps a lot when you need to knock out the shadows of the subject.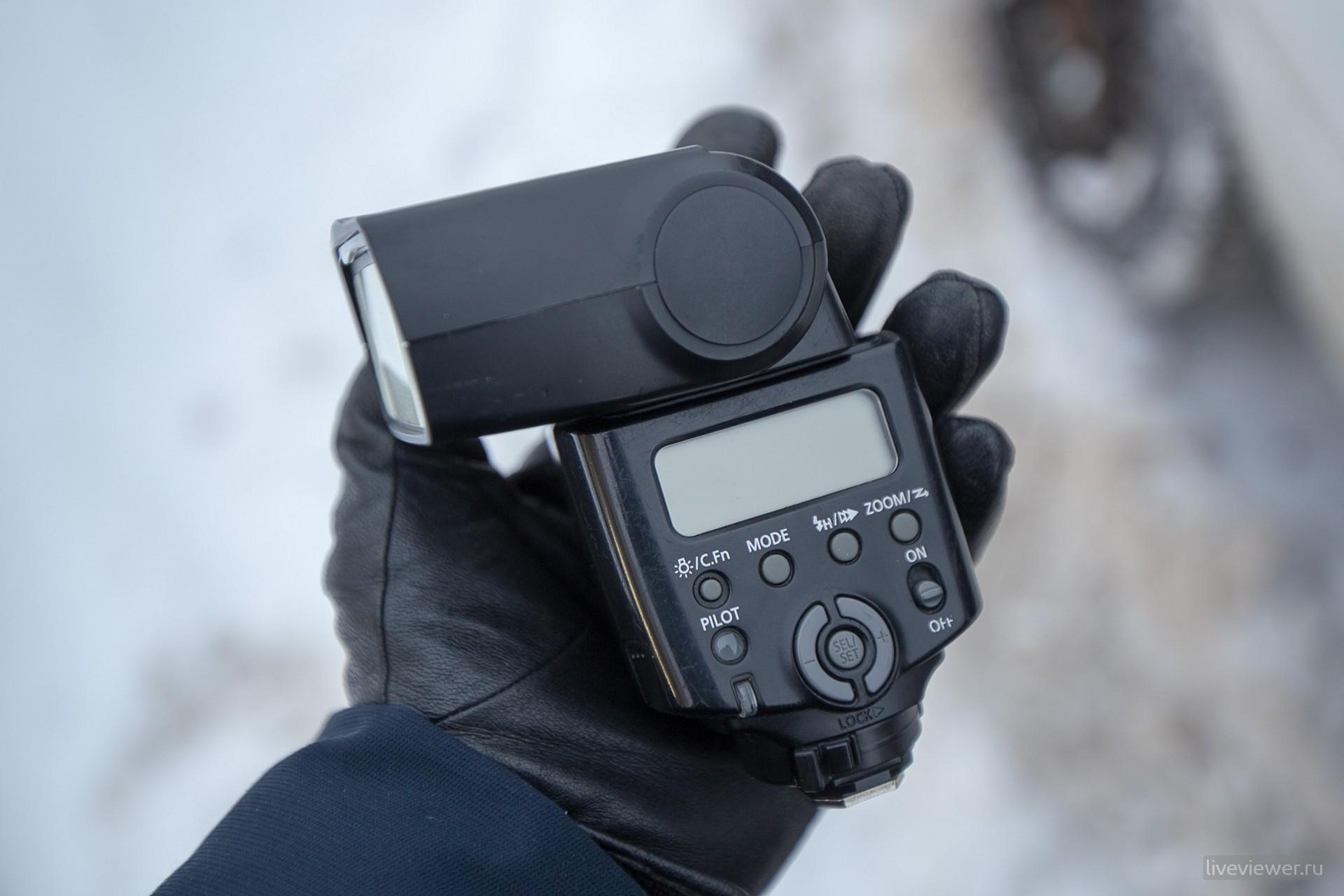 It is pulled out of the body with a "toward" movement. To improve reflectivity and use in sequential shooting, many people tape a piece of paper or a business card to the head of the flash. It turns out soft and diffused light (not always a "flash in the forehead" is permissible).
I often only needed to light up my subjects just a little in order to pick out the shadows. The built-in diffuser and a white business card help a lot in this work.
Display
Matrix, has a green backlight. The backlight is activated by pressing the C.Fn (Custom Functions) button once and extinguishes after 12 seconds. The display shows the flash modes. Everything that is needed is printed on the display in advance (battery savings should be economical).
Buttons and switches
Let's go directly to the description of the panel buttons.
C.Fn in Canon Speedlite 430EX II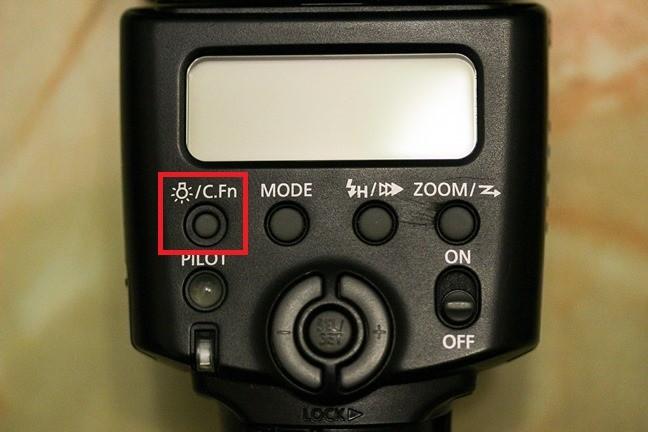 Однократное нажатие кнопки C.Fn, и Canon 430ex ii включает подсветку дисплея вспышки. Яркость подсветки стабильна, но мне кажется, что яркость можно было сделать менее интенсивной. Длительное нажатие кнопки активирует меню "дополнительные функции". Дополнительные функции появляются на экране управления вспышкой в меню фотоаппарата. Расшифровка и настройка может производиться как на вспышке, так и через меню фотоаппарата. Вспышка запоминает C.Fn в энергонезависимой памяти. Список дополнительных функций:
C.Fn 0 - Distance units (0 - Meters, 1 - Feet)
C.Fn 1 - Auto power off (0 - Enabled, 1 - Disabled)
C.Fn 2 - Modeling flash (0 - DOF button, 1 - Flash test button, 2 - Both buttons, 3 - Disable)
C.Fn 7 - Test flash output (0 - 1\32, 1 - Full)
C.Fn 8 - Turn on the AF assist lamp (0 - Yes, 1- No)
C.Fn 9 - Auto-adjust to sensor size (0 - Yes, 1 - No)
C.Fn 10 - Remote flash timer (0 - 60 minutes, 1 - 10 minutes)
C.Fn 11 – Cancel auto off for remote flash units (0 – Up to 8 hours, 1 – Up to 1 hour)
C.Fn 14 - Flash area/Aperture information (0 - Maximum distance, 1 - Aperture)
The rooms are out of order. Apparently reserved in the general system of additional functions for all Canon flash units.
Fashion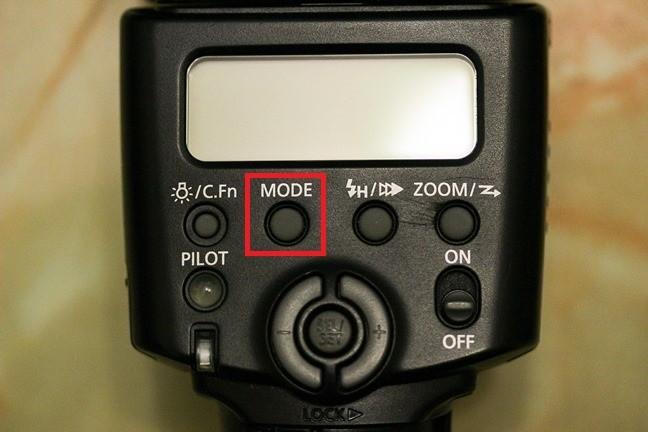 Switching operation modes from automatic exposure metering to manual mode. The flash output can be adjusted.
Sync toggle button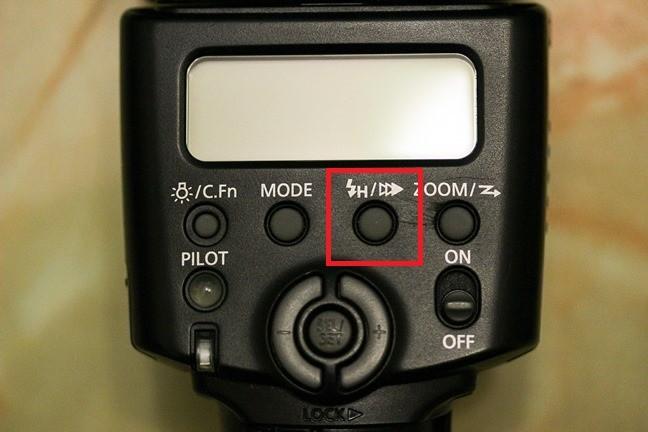 Forcing the flash and camera to sync at high speeds shutter, switch the sync to the second curtain mode.
Zoom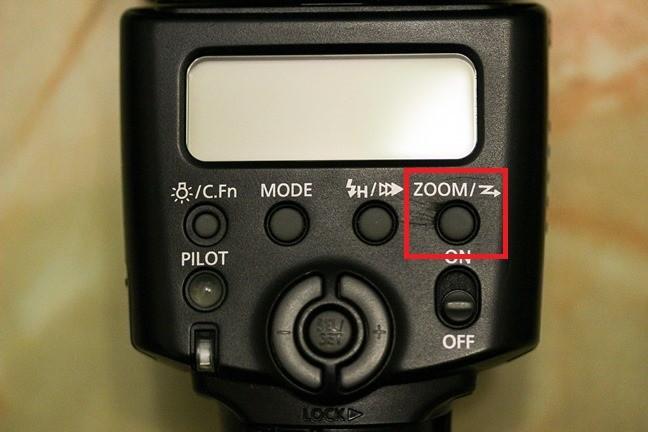 The button allows you to manually set the guide number (the equivalent is displayed in the form of focal length). A long press activates the slave flash mode.
Pilot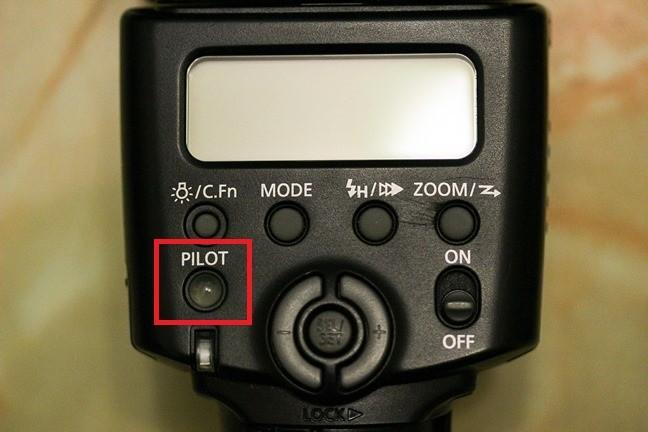 Pilot light. I use it to evaluate the cut-off of an object. When the flash is in hand, and the autofocus of the camera dulls in the dark, it can be used for additional illumination of the subject.
Lamp under the Pilot button
Displays flash exposure rating. Green - ok, yellow - the object is underexposed.
Central button block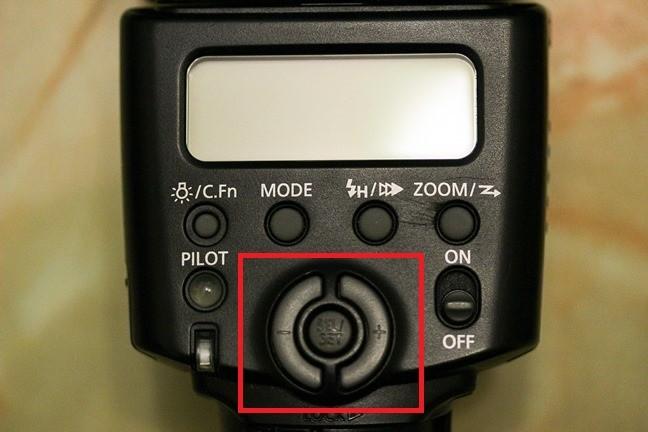 Used for setting, selecting parameters in the Canon Speedlite 430EX II.
Power switch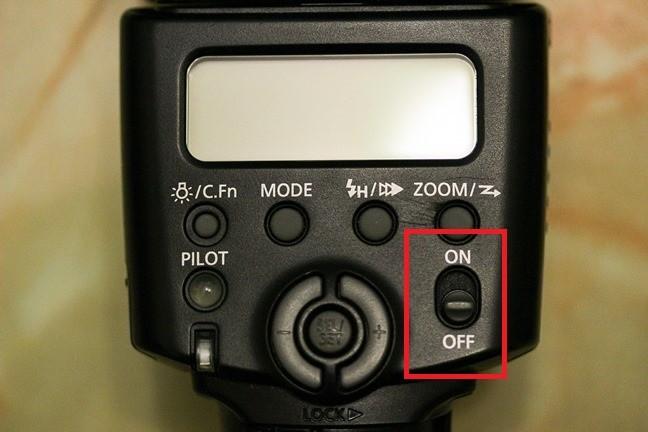 Everything is simple here. Flash power on / off.
Shoe retainer
A device that is more convenient than the plastic retainer of the previous model. The latch is rotated and clamped by a button, blocking the flash in the camera shoe.
Battery compartment cover
Hides a nest underneath for AA elements.
Supported metering modes
TTL (exposure metering in real time by reflection from the film, TTL-OTF), Canon calls them "Type B cameras" in the instructions
E-TTL (estimated exposure metering using pre-flash) Canon calls them "Type A cameras" in the instructions
E-TTL II (estimated exposure metering with pre-flash and focusing distance lens) in the Canon manual calls them "Type A Cameras"
Camera types A and B

Before Canon officially split its cameras into two Type A and Type B cameras, there were several variations of Type A.TTL flash control and modeling light modes supported in second generation Type A cameras. Third generation cameras also support E-TTL II.

Type A cameras (with support for E-TTL FEL and FP modes)


EOS Elan II (E), EOS 50 (E) / 55
EOS D2000, D6000 (digital)
EOS IX, IX 7, IX Lite, IX 50 (APS)
EOS Rebel G / 500N / New EOS Kiss, Rebel G II
EOS Rebel 2000 / EOS 300 / Kiss III, Kiss IIIL
EOS 300 V / Rebel Ti / Kiss 5
EOS 3000N / Rebel XS N / EOS 66
EOS 3000V / Rebel K2 / Kiss Lite

Type A cameras (with support for the above modes, as well as wireless E-TTL flash output control and modeling light)


EOS-3
EOS Elan 7 (E) / EOS 30/33/7
EOS 1V
EOS D30, D60 and 10D (digital)
EOS 1D and 1Ds (digital)
EOS 300D / Digital Rebel / Kiss Digital (digital)

Type A cameras (with support for the above modes plus E-TTL II)


EOS 1D mark II (digital)
EOS Elan 7N / Elan 7EN / EOS 30V / 33V / 7S

Type B Cameras (Supported only TTL and A-TTL)


EOS 600 series - 600, 620, 630, 650, RT
EOS 700, 750, 800
EOS-1
EOS 10 / 10S / 10QD
The first generation of the Rebel series - Rebel, Rebel S, EOS 1000 and all variations of 1000, Rebel II, Rebel X, XS/EOS 500/Kiss
EOS Elan / 100
EOS A2 (E) / 5
EOS 1N, 1NRS
EOS 3000/88, 5000/888
EOS DCS3, DCS1 (first generation digital cameras)
Canon 430EX II operating modes
Key for me are the operating modes of the Canon Speedlite 430EX II.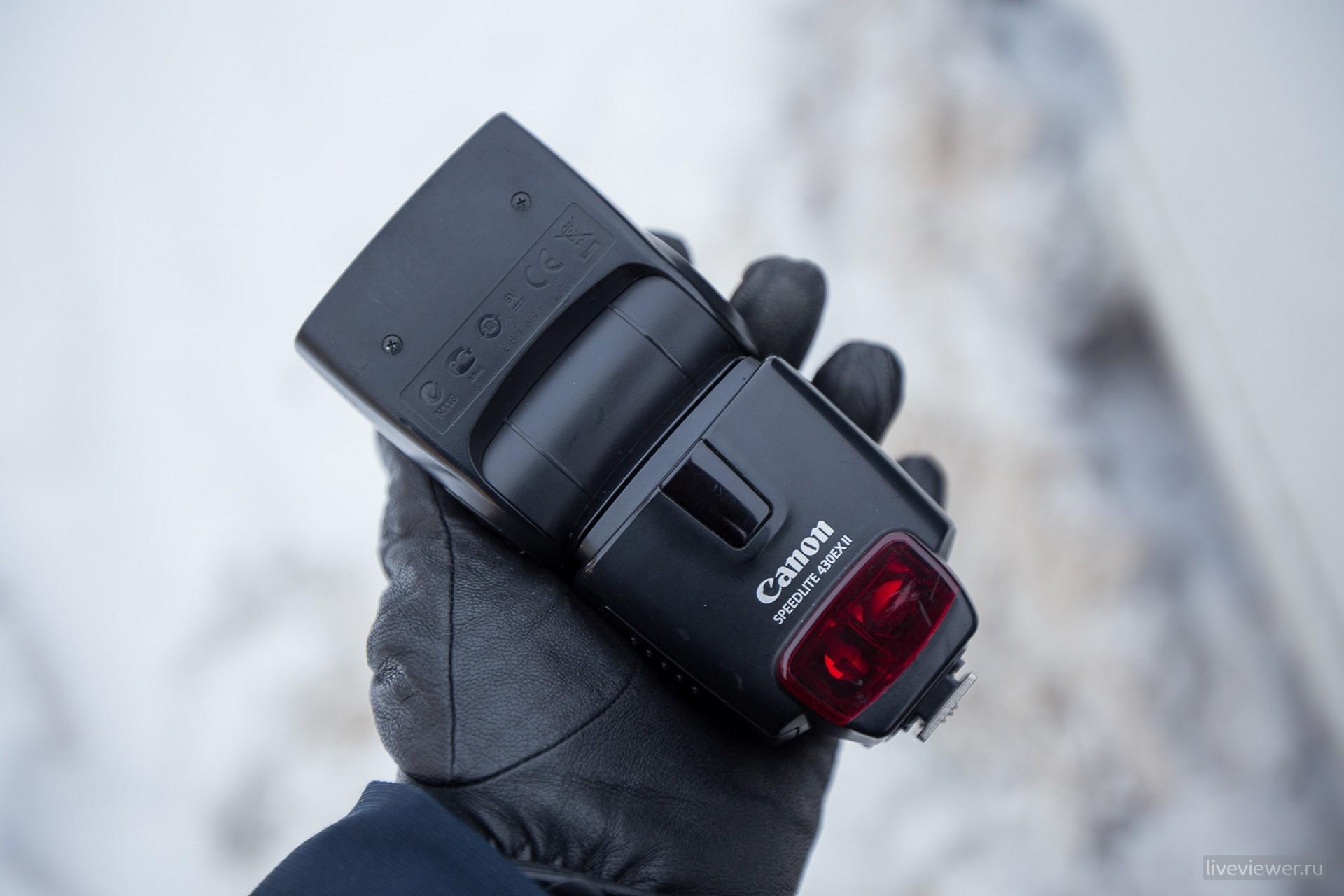 High speed sync
Allows the Speedlite 430EX II to be used in FP sync mode, at all speeds shutter... In this case, the flash output power is automatically adjusted. High-speed sync helps a lot when shooting on a sunny day, when a person or a group portrait needs to be shot so that the people in the photo turn out to be in a normal state, and not in a gloomy-squeezed state.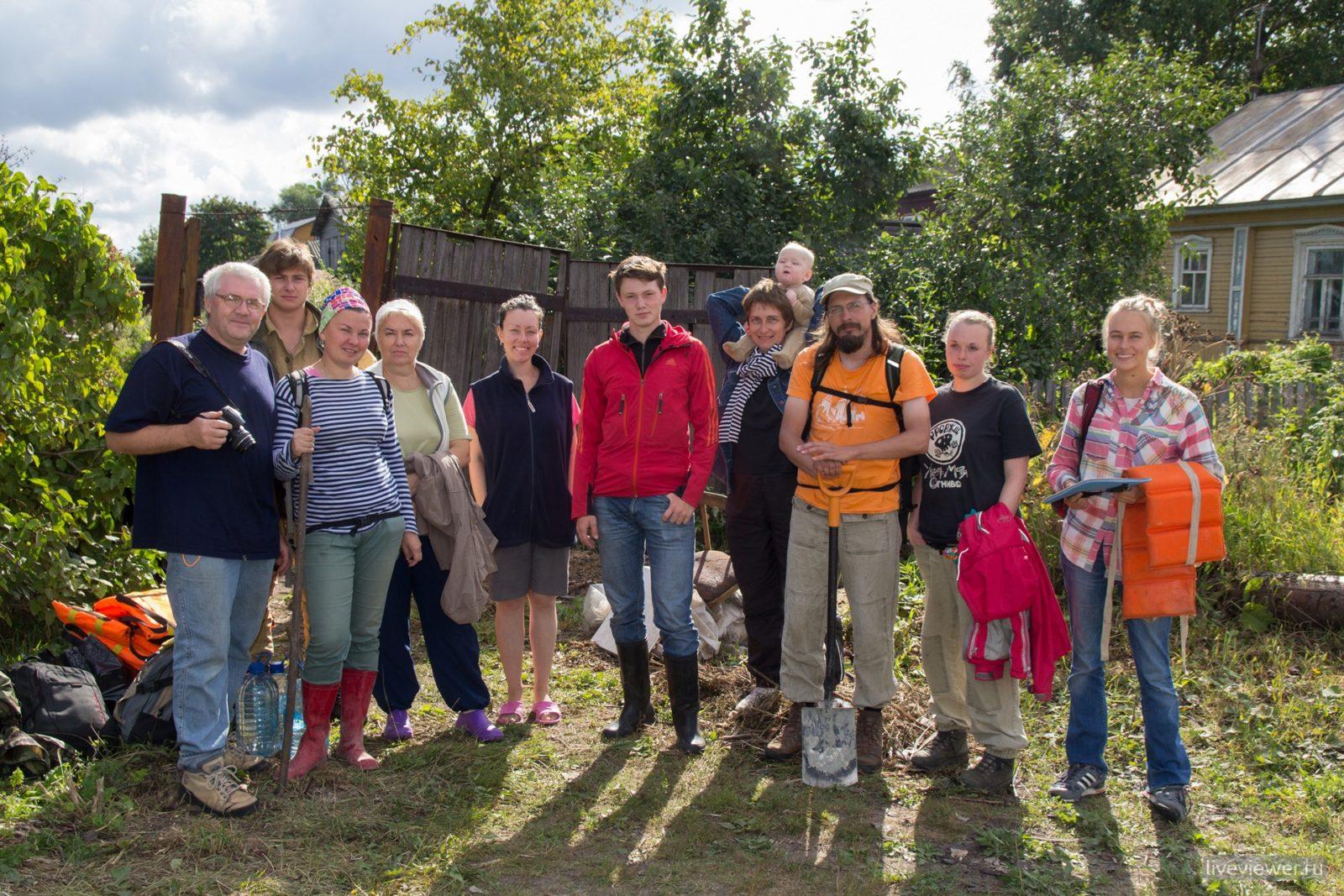 Second curtain sync
Allows for a variety of lighting techniques when the Speedlite 430EX II's subject is backlit just before closing shutter.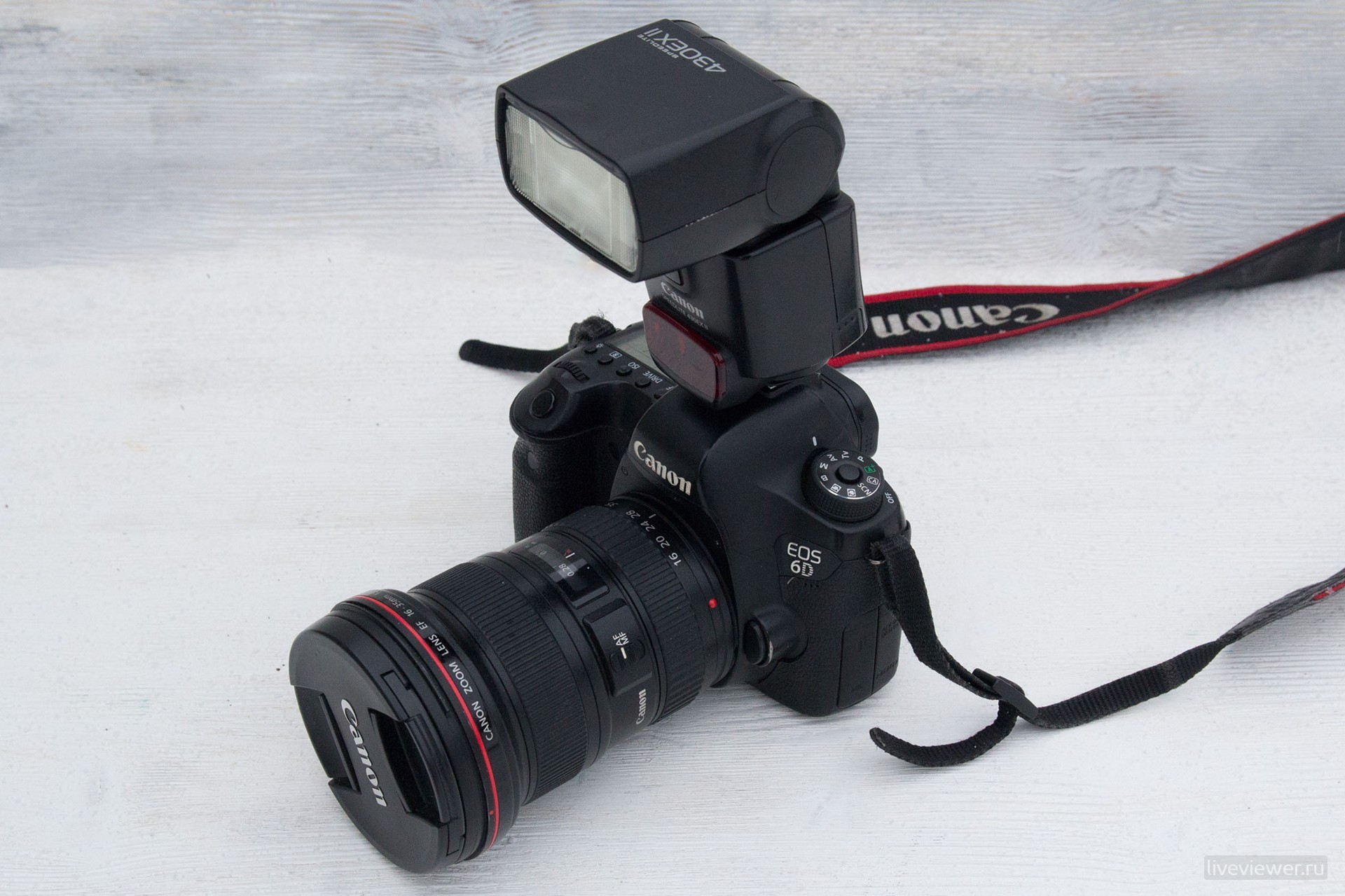 Depth of field preview
Activated by button DOFV on the camera. Allows you to assess depth of field and the location of shadows.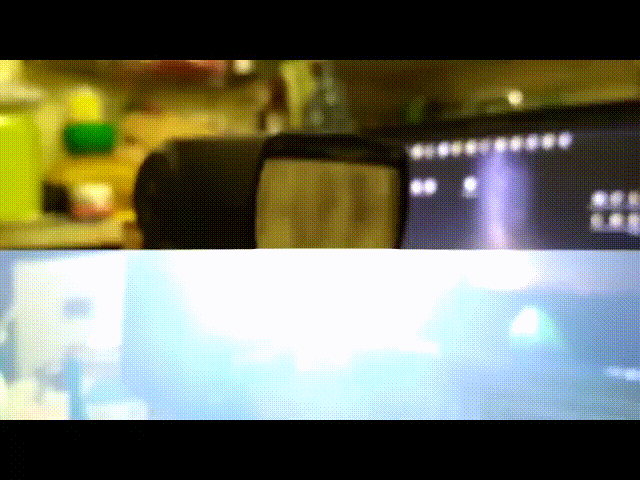 Focus Assist in Low Light Conditions
Helps the camera to hit the target using the infrared radiation of the Speedlite 430EX II sensors.
overheat protection
The Canon 430EX II has built-in overheating protection. When triggered more than 10 times in a row, the electronics limits the number of times the lamp is switched on to 1 time in 10-15 seconds. The user's manual warns you to protect the flash from long bursts. The flash circuit uses a rare (as I understand it, it was simply created under the order of Canon) IGBT-transistor, which overheats when working at an unbearable pace.
Flash Guide Number Adjustment
The Speedlite 430EX II adjusts the lamp power to the attached lens (24 to 105mm range).
Slave flash mode
Для удаленной съемки без синхронизатора, используется светоловушка. На выбор, через меню фотоаппарата можно включить работу как в паре, так и в одиночку. Телом Speedlite 430EX II надо повернуть в сторону встроенной вспышки фотоаппарата, а в настройках аппарата нужно указать в режиме работы "Управление внешней вспышкой" "Включено". Для включения Speedlite 430EX II в режим светоловушки, достаточно длительного нажатия кнопки "Зум".
Case and build quality
The plastic, moving parts have a noticeable backlash even on the new flash. The flash shoe is metal; on the front panel, under the red glass, the slave flash indicator, the radio transmitter window, and the autofocus lamp are hidden.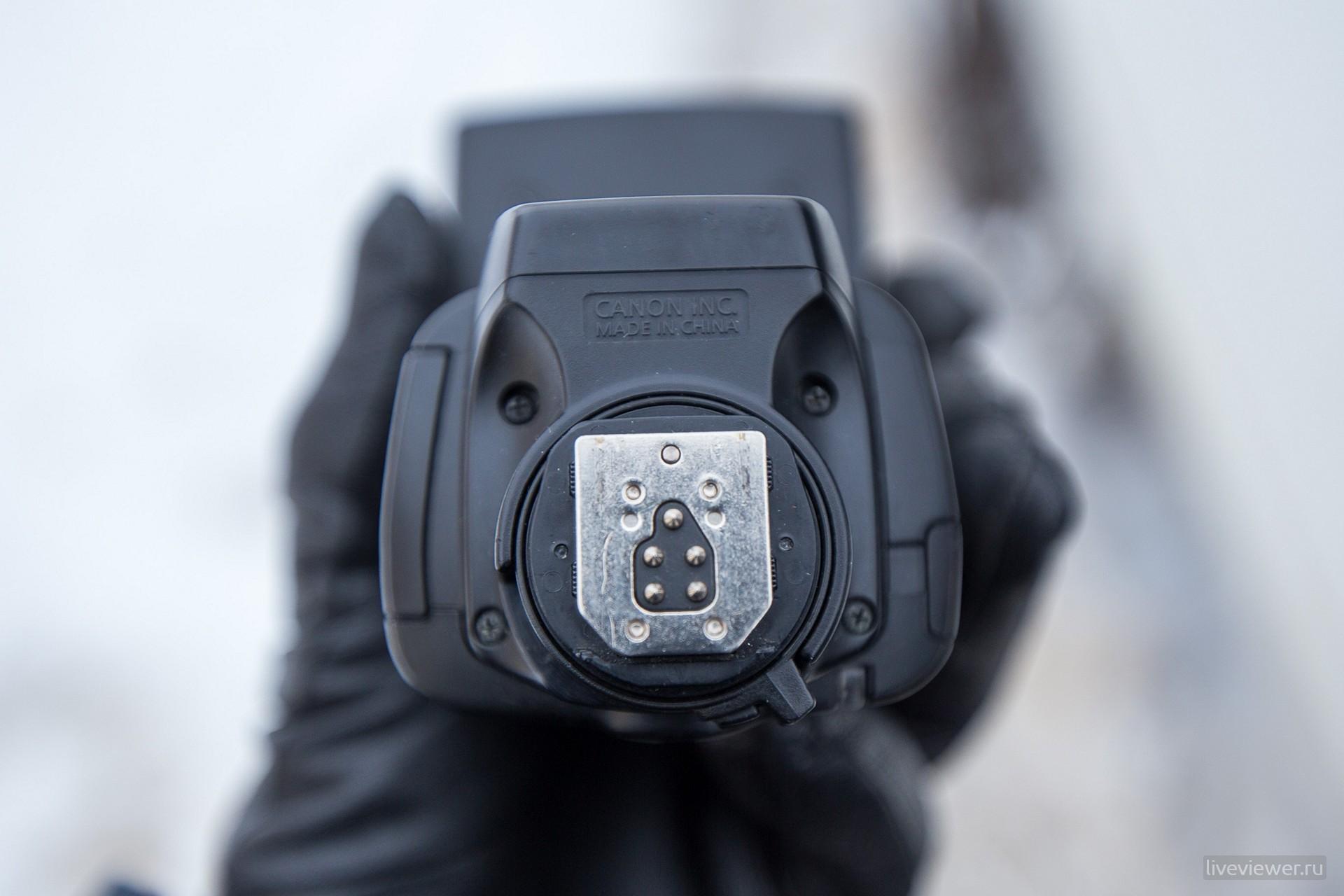 Food
Canon 430EX пищала во время перезарядки. Canon 430EX II молчит, как партизан. "Звуковое подтверждение заряда" позволяло на слух определить степень остатка заряда батарей, ибо графический указатель дисплея малоинформативен.
The Canon 430EX II is designed to use rechargeable AA batteries or batteries. 4 AA batteries with a capacity of 2500mAh are enough for about 300 operations. If you expect to use more time, it is better to carry spare batteries with you.
The Canon 430EX II benefits
Accurate exposure and no overexposure.
High-speed sync. If this function is not available, the flash will operate normally when excerptx up to 1 \ 200 (in general, depends on shutter camera) seconds.
Slave flash support
Disadvantages of the Canon 430EX II
The Canon 430EX II is criticized by the backlash of the upper rotary part (more than 3 mm). The shoe mount on this flash is metal, and you can live with it.
Gluttonous when used intensively.
Summary
At the moment, it is very accessible on the secondary market, and at an attractive price there are copies that are little used. An excellent choice for beginners and pros. I hope this review of the Canon Speedlite 430ex II has helped you. Anything to add? Welcome to comments.
Canon 430EX II photos
Speedlite 430ex ii manual
Manual in Russian for Canon Speedlite 430ex ii.
/wordpress/wp-content/uploads/2019/01/430EX-II.pdf