Canon 70-300 f/4.5-5.6 do is usm. Do - diffractive optics. Lens with an element that reduces diffraction.
Three-layer diffractive optical element
Total 9,99 cm long
Image stabilizer
High-speed autofocus with manual focus override
Round aperture diaphragm for dramatic bokeh effect
Zoom ring lock mechanism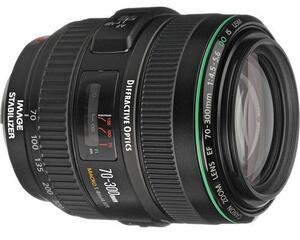 The EF 70-300mm f/4.5-5.6 DO IS USM is equipped with a diffractive optical element that reduces the physical size of the lens while maintaining high image quality. Thanks to the diffractive optical element, the characteristics of fluorite and ultra-low dispersion (UD) optical elements are combined in one lens. The result is high contrast and image clarity, as well as precise control over chromatic aberration.
With technologies such as a multilayer diffractive optical element, Image Stabilization System (IS) and Ultrasonic Motor (USM), the EF 70-300mm f/4.5-5.6 DO IS USM lens is the epitome of precision lens construction.
The EF 70-300mm f/4.5-5.6 DO IS USM lens with XNUMX-stop image stabilization (IS) is ideal for tripodless photography. You can shoot handheld at shutter speeds up to three stops slower than normal without increasing image blur. Any significant movement is recognized as panning and the image stabilizer is automatically activated.
The autofocus drive algorithm of the lens was developed specifically for the current EOS line, allowing you to take full advantage of the speed of the lens. The lens provides optimal exposure metering by transmitting distance information to the E-TTL II metering system of a compatible EOS camera.
Canon 70-300 f / 4.5-5.6 do is usm sample photo
Taken from Flickr.



Sometimes I buy photographic equipment from the USSR and not only. You can offer your write me. Help the project: 5469 1200 1062 4624. Comments can be left without registration and SMS