For many, photography becomes a matter of life, a hobby. Someone is making money from this. But to be able to take really good pictures, you need to spend a lot of money. Here we are talking about Canon EF 70-200mm f / 4 L IS USM, whose cost varies within 500 dollars.
This model began to be produced back in 1999, and managed to become a classic. The general predecessor of the lineup is Canon EF 80-200 f / 2.8 L. Slava Terebov. Be sure to check out his page, Slava impresses with his street photos.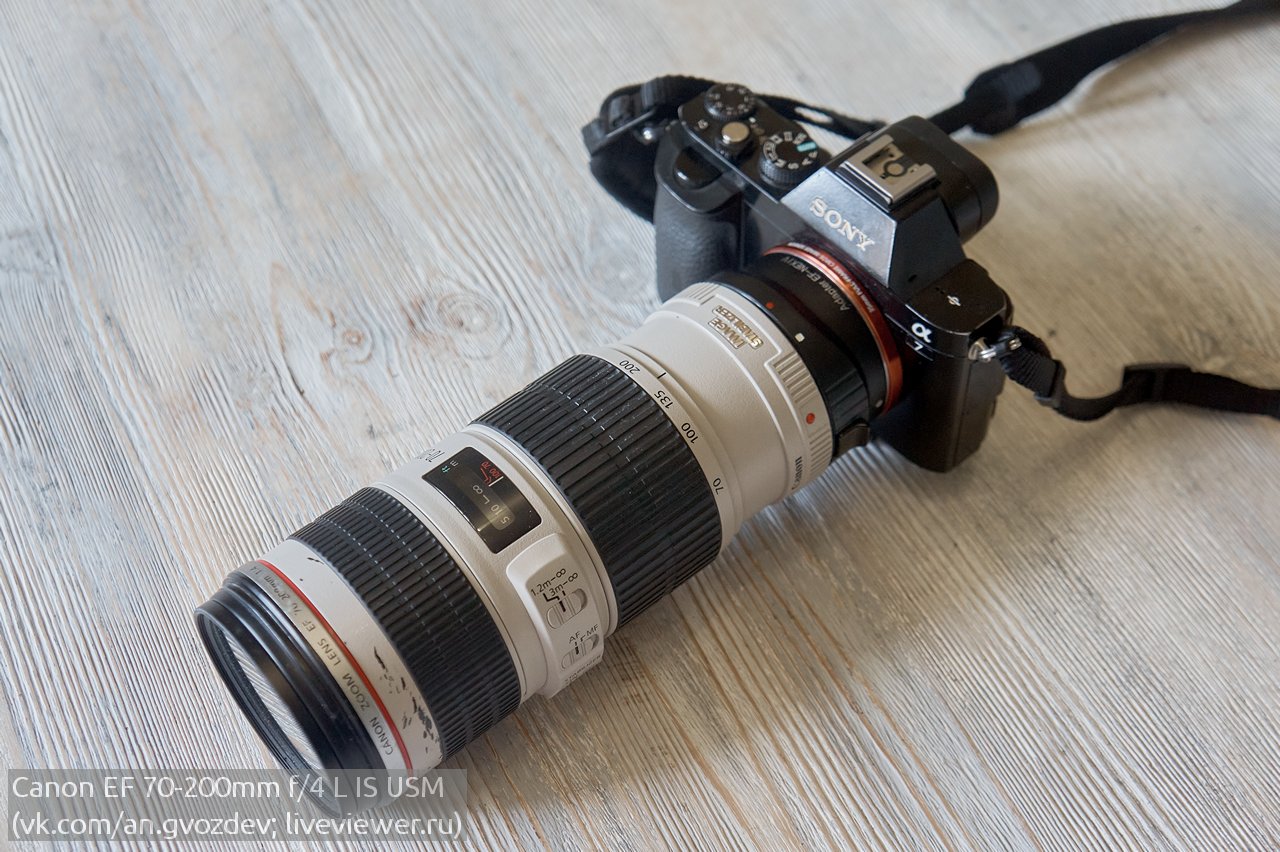 Canon 70-200 is usm schematic
The circuit contains optical elements made of fluorite. Fluorite does not tolerate heat, so the lens barrel is white. What makes you stand out from the crowd when you walk at the ready with this lens.
Canon EF 70-200mm f / 4 L USM in action
Focal length
The lens is great for shooting a variety of reports, thanks to the ability to change the focal length range. Covers popular portrait focal lengths, but can be used as a telephoto zoom in reporting or taking pictures of fearless animals. By the way, it supports extenders, and even autofocus works with them.
Body, build quality
The body is made of plastic, white. The camera mount is made of aluminum, the mode switches are located directly on the body. The form lens cylindrical, like a tube. It has two rubberized rings with which to carry out focusing and changing the focal length. The recess for the tripod foot is located at the base lens... A distance and focus window can also be found on the body. It is located immediately after the focus ring.
But such a thing is needed as dust and moisture protection is not entirely provided for in this model. The only thing that is protected from dust and moisture is the ring bayonet... When mounted on a camera, this place is covered with a rubber skirt located around the frame lens... Canon EF 70-200mm f / 4 L USM body walls with recessed rear element lens, covered with black pile. This is done in order to minimize the risk of various reflections and glare.
There are already four switches on the case:
Focusing distances
Focus mode
Turning on the stabilizer
Stabilizer mode (normal and "sport" - for shooting with a wiring)
Focusing
The focusing process is quite smooth, without sudden movements, thanks to the USM ring motor. Focusing on this lens as a whole is quite fast, not noisy and quite accurate. The focal length is at least 1.2 meters. In cases where there are problems with determining the subject of focus, the correct focusing can take a long time. For example, on the Canon 6D, no focusing convenience is observed. Focus speed varies with camera model. So, for example, on Canon 6D and 7d it is much higher than on younger models. Accordingly, on older models, autofocus is more precise. The front lens does not rotate during operation. The rear lens is also stationary. You can shorten the time it takes to find focus by setting the minimum focusing distance. This is done with a switch on the case. lens, and implies using it in "sport mode" for shooting distant objects.
Stabilization Canon EF 70-200mm f / 4 L IS USM
The stabilizer is powerful enough to allow handheld shooting at the far end of the focal length, under poor lighting conditions, at excerptx up to 1/50 inclusive (depends on the skills of the photographer). The first time you need to get used to it. You can use a tripod if you don't want to constantly shoot handheld. Perhaps the photo will be blurry despite the presence of a stabilizer. Hand-held telephoto shots are still fun.
Diaphragm
The diaphragm has 8 blades and is electronically controlled. If you set the value above f / 4, then hexagons may form in the blur area. There is enough depth of field, the picture is without noticeable distortion.
Bokeh Canon EF 70-200mm f / 4 L IS USM
The bokeh is quite soft, in a modern "even". In this case, of course, the image is easier to perceive as a whole.
Picture quality
Speaking about the quality of the resulting images, it should be noted how well the lens does its job. Post-processing is minimal, color reproduction is excellent, and sharpness and contrast are quite high. Mirrored cameras with a full-frame sensor at the correct values ​​allows you to take good pictures indoors without using a flash.
However, with cropped cameras, shooting in tight spaces will definitely cause difficulty. Not only when shooting, but also in post-processing.
You shouldn't shoot in low light if you don't have a tripod: photos run the risk of not being very good, despite the presence of a stabilizer. The best use is outdoors.
Vignetting
Not seen on the crop, present on the full frame. Especially at the far end of the focal length. In the corners. Disappears from the next aperture from the open stage.
HA
At an open aperture and in highly contrasting scenes, pink and purple halos appear. This is not a big disadvantage since easily corrected in photo editors.
Purchase recommendations
A lens for those who want decent quality at a reasonable price. However, when buying, you should pay attention to the cosmetic component. lens - this will tell you how much it was in use. Often used by artisans, and after prolonged use, the zoom ring loosens / lightens and may start to wedge the motor. Replacing the motor - half the cost lens... Choose carefully. On the new lens, all rings rotate smoothly and easily, focusing almost silent, without jamming. The stabilizer should also be barely audible. If the stabilizer is heard during operation, it is bad.
Alternative lenses
If you have a desire to buy something similar to this lens, then here is a list of relatives that are very similar in their characteristics:
Canon EF 70-200 f / 2.8 L USM
Canon EF 70-200 f / 2.8 L IS USM
Canon EF 80-200 f / 2.8 L
Non-native lenses from third-party manufacturers have the same AF sets, but have slightly worse characteristics (purely personal value judgment), and a lower cost:
Sigma 70-200 f / 2.8 APO
The lenses of the updated versions are also similar in focal length. They can be recognized by the "II" symbol in the name. In addition to the improved optical performance, these lenses are also heavier, which can make handheld shooting difficult, causing fatigue before shooting ends. In combination with a camera, you will have to carry up to three kilograms of photographic equipment on yourself, depending on the model chosen. On forums for photographers, you can find a bunch of messages that this lens is definitely not for women, but there are ladies who handle it. It is doubtful, of course, because the Canon 70-200 is neither with a stub, norи without, it did not seem particularly difficult to me.
Pros of the Canon EF 70-200mm f / 4 L IS USM
High image quality.
The focus is very accurate, almost always gets to the right place.
Good background blur. Many people may get the feeling that the background for the photo is framed in Photoshop.
Excellent color rendering. Minimum post-processing and color correction
Smooth movement of focus and focal length rings.
Excellent stabilizer, comfortable tripod foot.
Cons of Canon EF 70-200mm f / 4 L IS USM
Inability to shoot in macro mode. Minimum focal length here - 1,4 meters.
Indoor portraits are not very good. If your hands are crooked.
Battery discharges quickly when the gimbal is on. If you do not use it, it is better to turn it off.
Dislikes direct sunlight and excessive heat. Therefore, the body is painted white. Fluorite optics do not like heating.
Sample photos taken with Canon EF 70-200mm f/4 L USM
On Canon 6D:
Canon 7d
Sony A7
Video from Canon EF 70-200mm f/4 L USM
Summary
Great lens for any Canon EF/EF-s mount camera. Powerful stabilization, popular focal lengths for shooting reportage, portraits, living creatures.