Canon EF 15mm f / 2.8 has long been the only diagonal (fisheye) lens from Canon, which was produced and supplied by the company itself. For a long time there was no replacement for this lens. Since the first release, the design has not undergone any changes. There was no second or third version, as is the case with the more popular lensE Canon 70-200 и 24-70... It was most likely replaced by Canon EF 8-15 / 4L Fisheye USM, because with the release of this lens, Canon EF 15mm f / 2.8 is discontinued.
Thank you for the copy provided for the article. Slava Terebov.
Chassis lens Canon EF 15mm f / 2.8 is made of frosted plastic, bayonet metal. The wide-angle lens does not have a stabilizer, and there is only an auto-manual focus switch on the body of the switches. The frame has a window for calculating the focusing distance and information for calculating the hyperfocal distance. The inscriptions are painted. The lenses are green coated.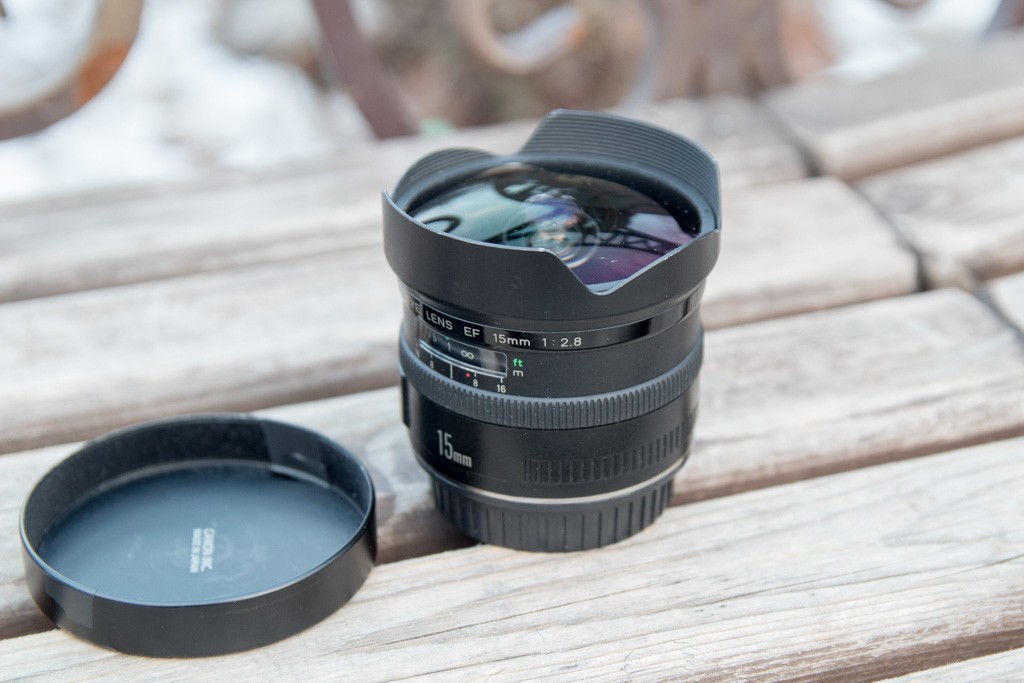 At the same time, the front lens rises about 0.5 cm from the body. The frame extends from the base of the lens and forms protrusions to protect the optics, on these protrusions there is a thread from the inside for installing the hood. Dimensions (edit) lens small, as well as the weight (only 330 grams), the front lens is covered with a cover with deep edges. Although the lid is covered with pile from the inside, even a new one can fly off without problems and get lost somewhere (as always, unexpectedly).
Canon EF 15mm f / 2.8 schematic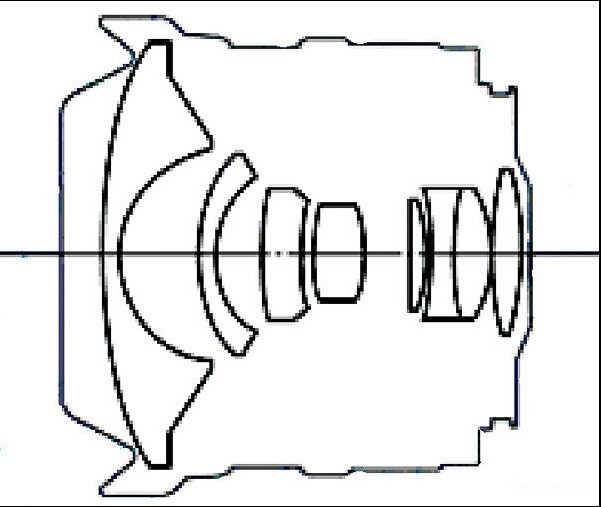 The Canon EF 15mm f / 2.8 lens has 8 elements in 7 groups. Refers to wide-angle lensм.
Canon EF 15mm f / 2.8 Specifications
ultra wide angle
Canon EF
permanent
15 mm
f / 2.8
180°
22

Minimum distance

focusing

0.2 m

Bayonet mount

(fastening)

Canon EF
full frame / APS-C
motor

Design

(elements / groups)

8 elements in 7 groups

Number of petals

aperture

5

Dimensions (diameter / length)

73х62.2 mm
330 g
Canon EF lenses on the portal
Canon EF-s 60mm f / 2.8 macro USM
Canon EF 16-35 f / 2.8 II L USM
Canon EF 15mm f / 2.8. In work
EF series lens, but EF-s compatible. Taking into account the reduction of the viewing angle by 1.6 (1.5, depending on the crop factor of the matrix) times, instead of 180 degrees it will be 112 degrees (for a matrix with a crop factor of 1.6). It is quite remarkable that light filters, as in the case of the Zenitar Fisheye 16mm lens, can only be used on the rear lens. lens... For this, a place is even marked on the body above the rear lens and a pocket is brought out.
Focusing
The focusing ring on this specimen moves freely, is made of plastic, and is located almost in the center of the case. lens... Focusing is quick, but the ring travel is short. Mdf 0.2m, infinity comes from about one and a half (!) Meters, but for sure. The focusing motor is a stepper; during operation, the mechanism sometimes met with a focusing distance limiter, with a characteristic knock.
Diaphragm
Diaphragm lens Canon EF 15mm f / 2.8 electronically controlled, consists of 5 blades. At average values, we get nuts in hips... The depth of field is great, and at an open aperture it will be impossible to cut out unnecessary details if you are going to use it for portraits (which is really unlikely). The change in depth of field during aperture is shown clearly below.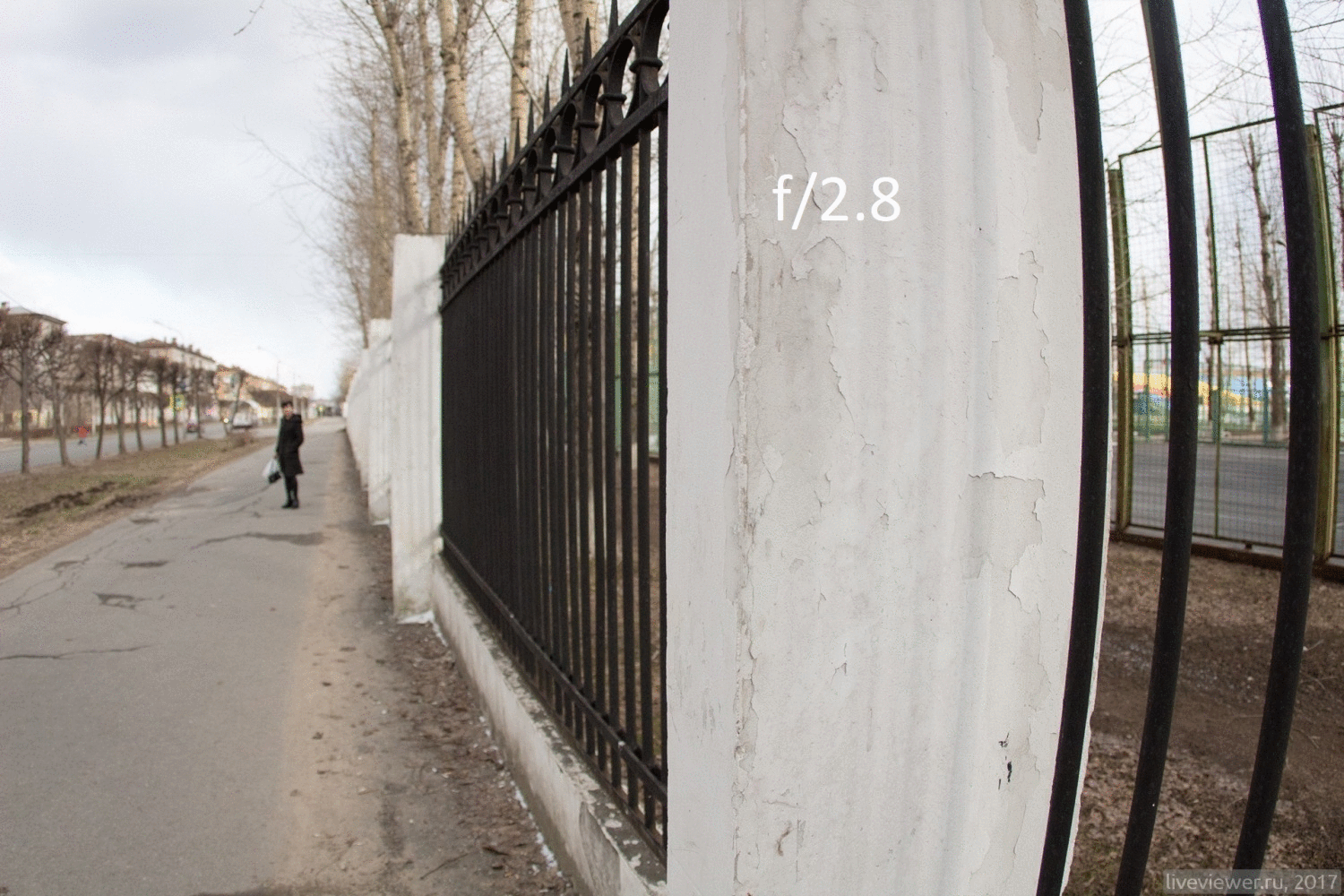 Aberration
The Canon EF 15mm f / 2.8 lens has a pronounced distortion. Well, basically, like all wide-angle lenses. Thanks to this, you can create the effect of presence in the frame.
Wide angle lenses on the portal
Summary
Sufficient quality picture, high sharpness and focusing... On a full frame - a wide-angle lens, on a cropped Canon DSLR - has a 24mm field of view with distortion inherent in a wide-angle lens.
Sample photos and videos.
Canon EF 15mm f / 2.8
Video example
For video shooting with a quick change of focus, it is not suitable because of the small travel of the focusing ring, but thanks to the large field of field and depth, you can safely shoot general plans without fear of missing.
Sample Photos
Considering that the lens is diagonal and distortion is not corrected in it (by deflecting the camera from the horizontal, you are guaranteed to get a curved horizon line), its use is possible for astrophotography, landscape photography, or in confined spaces, for shooting spherical panoramas.







Sometimes I buy photographic equipment from the USSR and not only. You can offer your write me. Help the project: 5469 1200 1062 4624. Comments can be left without registration and SMS