On July 2, 1896, Alexander Heinrich Rietzschel founded Optische Anstalt A. Hch. Rietzschel in Schwabing, a suburb of Munich. Rietzschel was an optician and precision mechanic from Dresden, studied his profession at Carl Zeiss Jena and worked for some time at Rodenstock and Steinheil.
The first products of the company were lenses. In 1910, the company offered the Linear symmetrical anastigmatic lens with 8 elements in just two groups. With this arrangement, there were only two groups between which reflections could appear. A similar anastigmatic lens was made by E. Suter.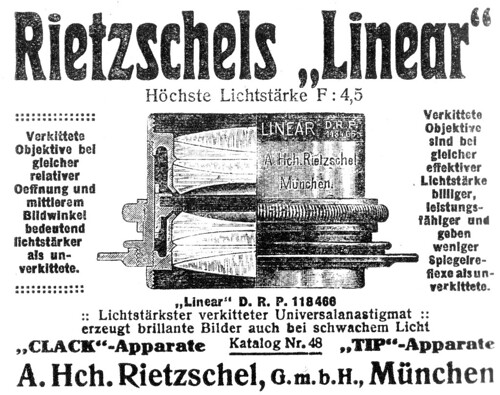 In 1900, Rietzschel released his first camera, the Clack, and went on to produce many subsequent cameras of various types with variations of the name. Rietzschel's cameras included amateur models as well as studio cameras for professionals. In particular, there are many foldable cameras with names that are variations from Tip, which are often simpler models to match one of the Clack cameras.
In 1921, the company was bought by the Bayer Company (of Leverkusen), which transferred it to the filmmaker Agfa in 1925 as part of the merger of the two companies in the IG Farben conglomerate.
Cameras:
Clack
Condor Luxus
Film Type
Heli-Clack
Heli tip
Multi Clack
Ninon
Opal
Cosmo-Clack
Reform-Clack
Roll tip
Spezial-clack
Special-Tip
Tip:
Taschen-Clack
Universal heli-clack
Lenses
Apotar
dialyt
Linear
Sextar
Solinear; (Solinar, Tessar scheme)
telelinear
Trilinear; (triplet)
Weitwinkel Apostigmat



Sometimes I buy photographic equipment from the USSR and not only. You can offer your write me. Help the project: 5469 1200 1062 4624. Comments can be left without registration and SMS