I-61 2.8/52, aka Industar-61, Industar-61 L / D. A rangefinder version of the lens of the Industar series, the most common series of interchangeable lenses for rangefinder cameras in the USSR.
I-61 is "Kitovy (kit)". What is a kit lens? Kit lens (from the English kit - kit) - a slang word - an interchangeable lens that comes with the camera when it is sold. It often refers to a specific entry-level zoom lens that comes with budget cameras (EF-S 18-55mm f / 3,5-5,6 for Canon, AF-S DX NIKKOR 18-55 mm f / 3,5-5,6 VA for Nikon, 18-55 mm f/3,5-5,6 Sony, DA 18-55 mm f/3,5-5,6 AL for Pentax, etc.)
I-61 2.8 / 52 - a lens for rangefinder (mirrorless cameras) with an M39 threaded connection. This lens is installed on modern SLR and mirrorless cameras through the appropriate adapter. Read the article about adapters.
Lens layout

Made according to the "tessar" scheme. High sharpness, minimum aberrations. The lens reveals excellent sharpness and color reproduction when in use. Industar-61 was the first domestic consumer photographic lens that used super-heavy crowns (STK-6 grades in two positive lenses). Subsequently, the use of lanthanum and other special glasses in lens indexes was not particularly noted in any way.
Known variants of Industar-61
In technical specifications and on the lenses themselves focal length was indicated as: 50 mm, 52 mm, 53 mm and even 55 mm.
Industar-61 L / Z - Лantana Зmirror lens. LZOS production.
Industar-61 (I-61) 2.8 / 52 - lens for rangefinder cameras FED and Zorkiy of the 70s. FED production.
Industar-61 (I-61) 2.8 / 53 L / D - Lantana ДA measuring lens for FED rangefinder cameras of the 80s. Marked as 2,8 / 53 and 2,8 / 55. FED production.
Industar-61-A - Аadaptable for SLR cameras, with a tail for interchangeable adapters. KMZ production.
Industar-61M - a variant in the frame like the Helios-44M, with a diaphragm drive. KMZ production.
Industar-61M FED is a FED lens for SLR cameras with M42 thread.
Industar-61-Z is the first of the mirrored Industar-61. LZOS production.
Industar-61L - produced at LZOS as a standard and replaceable for rangefinder cameras. Marked as 2,8 / 50.
Industar-61L / D - for FED-6TTL camera (body changed, 1992). FED production.
All lenses are assembled according to the "Tessar" scheme, and have a huge number of brothers from other manufacturers around the world. Lanthanum glass in the USSR was brewed only on LZOS, therefore, variants with decoding "Л"In the name Industar-61, as" Lytkarinsky "I think it is strange. That is why Industar-61 - Lanthanum Mirror or Rangefinder. Industar-61 L / Z versions come across both single-layer and multi-coating. The difference between them is not very noticeable - the front and rear lenses are themselves made of high quality glass.
Industar-61 rangefinder. Differences from mirror
Despite the difference in one letter of the abbreviated name, identical circuits and glass, the lenses have a different design.
The designations L / D (LD) and L / Z (LZ) are usually deciphered as: lanthanum glass, rangefinder or SLR camera. However, the letter "L" (at least for lens Industar-61L) there could be another original meaning - "lytkarinsky".
Industar-61 L / D has a rangefinder pusher of the camera viewfinder, the working length is 28,8 mm, M39x1 threaded mount. Itself is almost 2 times lighter than Industar-61 L / Z.
Industar-61 L/Z is designed for use in Zenit full-format film cameras. Aperture blades fold relative hole in the shape of a star. Focal length for SLRs (45,5mm), threaded mount М42х1.
Supplied with cameras FED-5, FED-5V
. Control is provided by two rings - the aperture control ring and the focusing ring. There is no automatic or preset aperture. The case is aluminum, silver-black execution. There are I-61 2.8 / 52 and in a completely black version. The engraving on the case is filled with paint, which on this copy has worn away from time and use.
I-61 2.8 / 52 is great for installation and work on cropped and full-frame mirrorless cameras, and is installed through adapter. In this particular case, the M39 - Sony Nex adapter was used. The lens performed well on the NEX-5, NEX-C3 and full-frame A7II crops. To work with manual lenses on the listed cameras, it is very convenient to use Focus Peaking. This feature makes shooting much easier.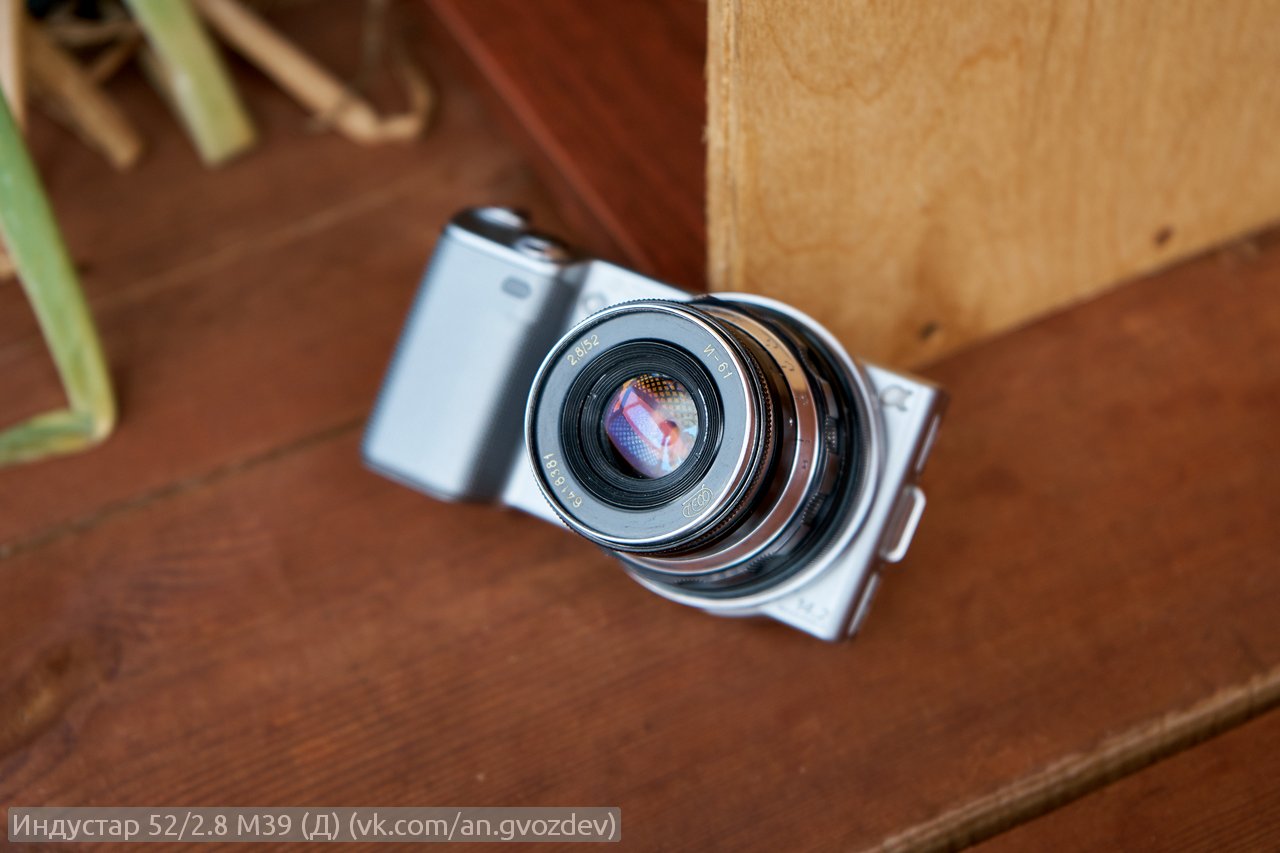 I-61 2.8 / 52 I got it from this review in very poor condition, from a camera that was stored in a damp garage. It had a fungus in the interlens space, as well as thoroughly oxidized surfaces of the body and lenses, and the aperture blades were covered with a rusty coating. Despite the fact that after resuscitation, the lens was out of focus, nevertheless, I managed to shoot on it. The minimum focusing distance of the I-61 is a little less than a meter, but here it turned into 3 meters))). Well, it's better than nothing at all. See the result below.
In general, despite the fact that this lens has survived, we can say that its resuscitation was a success.
Use on modern cameras
On a camera with APS-C sensor (kf = 1.6) the camera will have a field of view equal to the equivalent 80mm focal length, and the aperture will correspond to the value f / 4,5... Why is that? Because, firstly, because of the narrow viewing angle, you will have to move further. Secondly, the camera's sensor receives 1,6 times less light than a full-frame 35mm sensor. Thirdly, although this does not apply to the previous two statements, the lens on the crop has a drop in sharpness due to the denser arrangement of pixels on the matrix and their concentration in the center of the lens.
On a full frame, the lens works as intended - it has a more flexible picture and characteristics corresponding to the declared ones.
The easiest way to shoot is in the mode Aperture Priority (Av)when the camera adjusts the required shutter speed based on the current aperture value and the light in the frame.
Sample photo of I-61 2.8 / 52 (macro on Nikon D5100 SLR)
I-61 on a SLR camera will work in macro mode, since SLR cameras have a greater distance to the matrix than rangefinder / mirrorless cameras. Therefore, if you want to use it to work in full force, you need to install it on a mirrorless camera.
Sample photo of I-61 2.8/52 (NEX-5)
I-61 2.8 / 52 was tested on the camera Sony NEX-5, which has a sensor size one and a half times smaller than a film frame. Therefore, using the I-61 on cropped cameras, a drop in sharpness is quite expected. Although, this is not so critical, because the lens is assembled with a margin of sharpness. The "tessar" scheme, according to which almost the entire generation of industrials was made, is rather mild both in terms of changing the conditions of use and in modifications of the scheme itself.
Sample photo Industar 2.8 / 52 M39 rangefinder (Sony A7ii)
Of course, the I-61 could have been fully revealed on the full-frame A7II, if not for the storage conditions and subsequent disassembly with cleaning from oxides and deposits. Despite this, the picture from him still pleases. The last photo shows a noticeably degraded coating of the front lens (anti-reflection). And in general, judging by the hares and flares in the frame, most of the lens enlightenments have gone nowhere. Therefore, the lens has turned more into some kind of creative and experimental.
Sample photo of Industar 2.8/52 M39 rangefinder (Sony A7)
And here are the photos on Industar 2.8 / 52 in which the hand of a person did not climb after it left the assembly line.
Sample video Industar 2.8 / 52 M39 rangefinder (Sony A7ii + Sony Nex-5)
This video contains examples shot first with a Nex-5 crop and then a full frame Sony A7II
Summary
Even such a wildly tired state did not take the lens out of circulation, and therefore after cleaning it can be removed again. Yes, of course, it was easier to throw it out and not mess around, because the industrialists are lying around in packs on Avito and similar sites, no one needs. But in the event of the onset of the apocalypse, it is safe to name a thing that will survive it.