The Tamron 150-600mm is one of the cheapest ways to get a very long focal length lens. With such a range of focal lengths, it has gained its fans among sports photographers. and naturalist photographers.
Description and Application
Tamron 150-600mm is commercially available as below Canon, and under Nikon, Sony alpha. The versions of the lenses are identical, except for the lack of a stabilizer in the latter. The lens is not small, almost 30 long centimeters, and weighing about two kilograms.
With such a muzzle, I think it is quite possible to examine craters on the Moon. The Tamron 150-600mm is not very convenient for shooting "to the top", it is better to use a tripod. This is especially true for shooting at dusk. Well, or shake your hands. The stabilization system works tolerably, but it could be better - at the far end in the first place, because with such a focal length, getting a sharp picture is very problematic. In particular, also due to the weight of the lens - it is not heavy enough for shooting in windy conditions.
The body is plastic, the focus and zoom rings are rubberized. The large diameter of the front element forces you to treat the lens with care, it is advisable to use a protective light filter (it will be difficult to find for such a diameter, 95mm). The native hood is about 12 centimeters long, with it the lens grows to a completely indecent size. Change in one move focal length will not work - you will have to intercept, tk. focusing ring travel is about 280 degrees.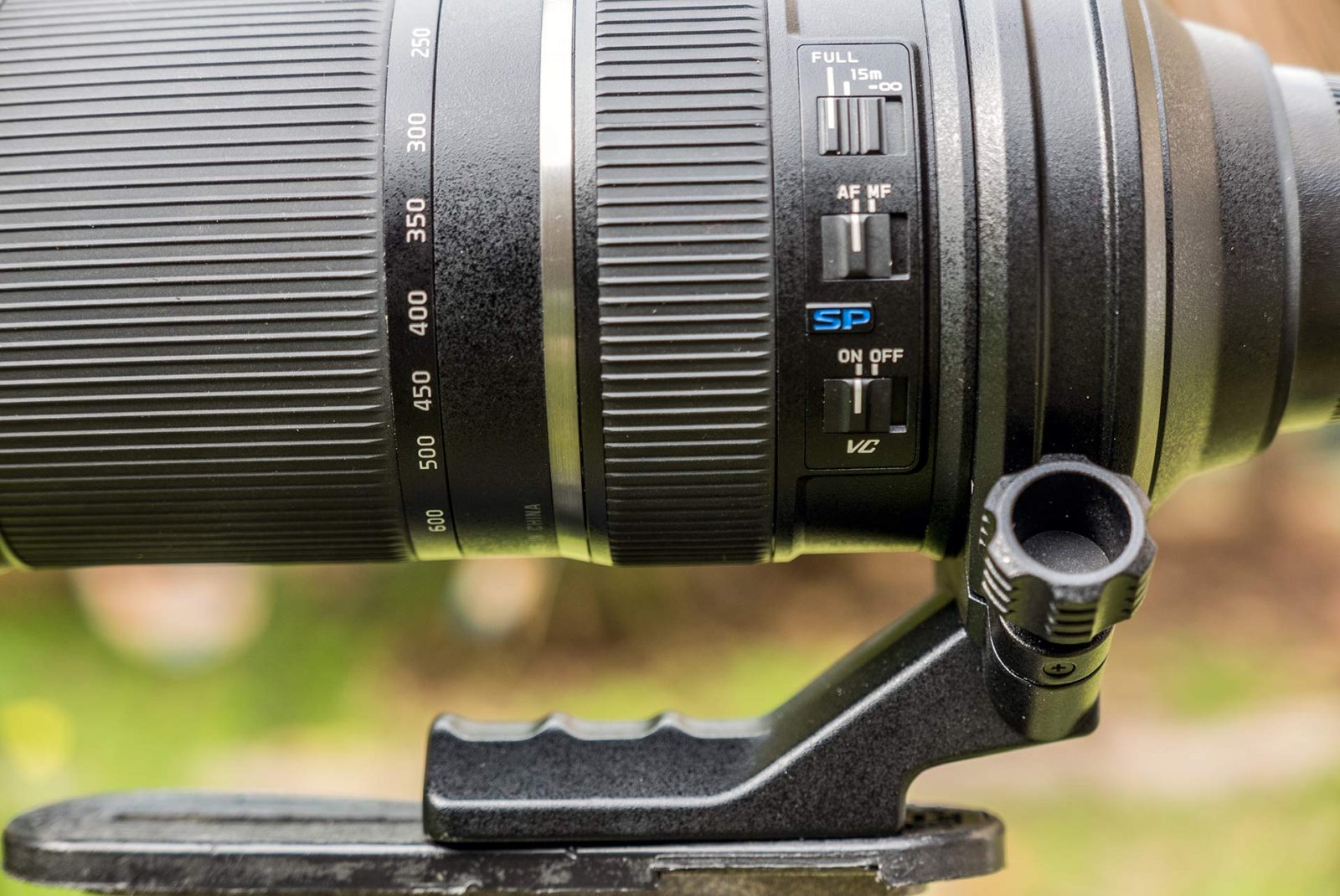 From an operational point of view, the weakest point lens it's autofocus. He works better than you might expect from him, but initially it may seem that he thinks for a long time. Even too long. Despite the presence of a sufficient amount of light and contrasting objects, it examines several times the entire field of view of the viewfinder from zero to plus infinity. The minimum focusing distance of the lens is 2,7 meters. 9-blade diaphragm creates a round hips.
Focuses relatively quietly. The best focusing performance of Tamron 150-600mm is achieved on cameras such as the Canon 7D Mark II, thanks to the presence of an updated focusing system (migrated from the 1D X). Autofocus becomes more tenacious.
Despite the presence of low-dispersion elements, the lens produces slight color distortions at the edges of illuminated objects, which, in principle, gag during post-processing of the material.
Instead of an epilogue
When buying, you should pay attention to the build quality - it is floating from lens to lens, it is desirable alignment immediately after purchase. In general, in terms of price / quality ratio, it is a good lens. The cost in stores ranges from $ 1000.




Sometimes I buy photographic equipment from the USSR and not only. You can offer your write me. Help the project: 5469 1200 1062 4624. Comments can be left without registration and SMS