FED-B
(The letter "B" is not indicated in the title)
In November 1937, the Soviet Photo magazine reported that the plant was testing 10 experimental samples of the new FED model with an increased exposure range from 1 to 1/1000. This is a copy of the Leica model IIIa. The characteristic feature of the model was the new design shutter with a retarder but a type of clockwork. On the front panel of the case there is a head for setting additional slow shutter speeds from 1 to 1/8 s. In addition, the shape of the rangefinder cover has been changed, since the semicircular torus of the deceleration mechanism would go beyond the contours of the previous cover. By the way, this new form of the rangefinder cover, specially created for the FED-B, remained unchanged until the end of the FED-B production (1955).
The FED-B model did not go into mass production due to the difficulties in manufacturing precise fine-modular gears for the retarder anchor mechanism.
In the practice of collecting, FED-B cameras from a batch of 10 experimental samples of the end of 1937 are almost never found. made a lot of component parts. It is known about the existence of even a copy of "FED-B", collected in Berdsk in 1938.
FED-B
The original copy shown in the photo was assembled in Berdsk in 1946. Feature:
the sync terminal was installed on its own much later.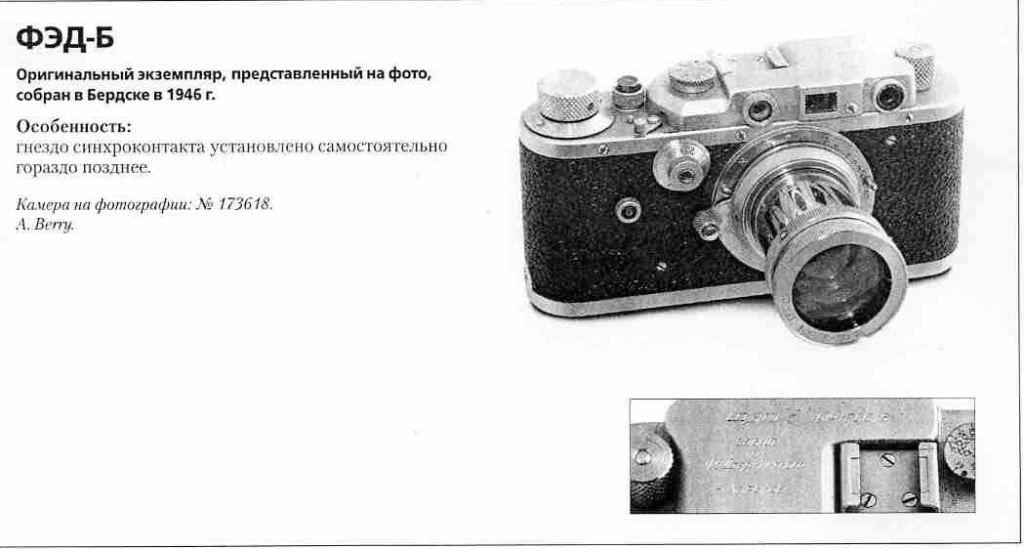 ------------
1200 cameras of the USSR. CHAPTER I. Kharkov plant "FED". A group of models of the FED family without an exposure meter.
PHOTO MUSEUM "PHOTO WORLD"
Victor Suglob, Sergey Kochergin, Grigory Shaternik
Released only 750 copies of the classifier