Once, my friend, colleague and good photographer Alexey Trunov brought this lens.It seems that this is the smy Sonnar, which became the prototype of the domestic Jupiter-3. Lenses are as similar as siblings. Sonnar is distinguished only by a wider focusing ring, "ears" on the aperture ring, and air bubbles in the lenses - unlike Jupiter, it has a fair amount of them. (Looking ahead, I will say that it is impossible to distinguish by the 15x20 prints which picture was taken by Jupiter and which by Zonar. But all the moves were recorded, and the results of Zonar's tests are presented on this page.)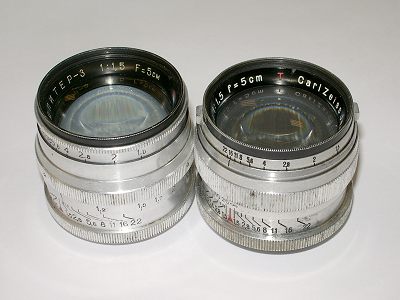 On the surface, the lens was in a depressing state. However, after external washing and wiping, it turned out that it is absolutely suitable for photography. Perennial mud layers were carefully removed and a test survey was carried out, the results of which I bring to your attention.
CZJ Sonnar 50 / 1.5 Specifications
Minimum Focus Distance 1 m
Diaphragm f1: 1.5 - f1: 22
Filter diameter 40.5 mm
dimensions 49 x 42 mm
Weight 160 g
CZJ Sonnar 50 / 1.5 sample photos
Author Ermolaev P.N.
Many thanks to Alexey for the lens provided and the joint test. The lenses were installed one by one on Zorky-4. Special alignment cameras were not produced.
Author - nezdoiminoga
Leica M3
Zeiss Sonnar 50mm
Kodak 5231
Sample photo Zeiss Ikon Zm Zeiss Sonnar 1.5 50 Kodak Ektachrome E100 (Sergey Meshcheryakov) Zeiss Ikon Zm



Sometimes I buy photographic equipment from the USSR and not only. You can offer your write me. Help the project: 5469 1200 1062 4624. Comments can be left without registration and SMS