Nikon S3 began production in 1958. Basically, it's a Nikon SP with a simplified viewfinder. The price of the camera at the time of release was 86000 yen, while the Nikon SP sold for 98000 yen. The main difference is the simplified viewfinder.
Probably due to the cost of these cameras, the closest competitor Canon P with characteristics close to the Nikon S3 was more popular (Canon P produced about 87,8 thousand copies in 3 years, Nikon SP - 22 thousand in 8 years, and S3 - ~ 14 thousand copies from 1958 to 1967)
Camera Description
The camera was originally shipped with a focal plane gateohm, but already in 1959 the models began to be equipped with a lamellar, with titanium curtains. Lenses with focal lengths of 35, 50 and 105 mm and bayonetohm Nikon RF. It was also possible to work with electronic and flash lamps through the connector on the camera body. Prized by collectors.
The dials on the S3 are extremely legible in all lighting conditions, and the mechanics are made of metal. The rangefinder spot has less contrast than, for example, the Leica M3. It has fuzzy edges, but moves in the direction of rotation lens... Sound shutter quiet, much quieter than DSLRs, the release button is soft. After pressing the button, you can hear a barely perceptible "clack". On top of that, the Nikon S3 is lighter than any rangefinder Leica.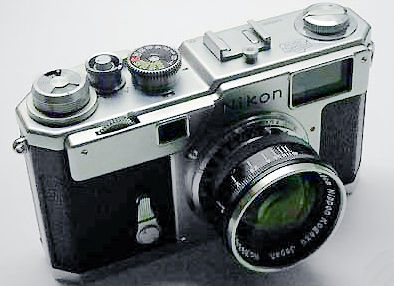 In 2000, Nikon released a commemorative batch of replica cameras, calling the Nikon S3 2000 series.
TECH SPECS:
| | |
| --- | --- |
| A type | 35mm rangefinder camera with focal gateohm |
| Frame size | 24 x 36 mm |
| Lens included | Nikkor 5 cm-SC f / 1.4 |
| Bayonet mount | Nikon S |
| Shutter | Focal gate horizontal stroke with silk double-layer curtains (1957-1958), titanium (1958-1963 as on Nikon F). Shutter speeds T, B, 1, 1/2, 1/4, 1/8, 1/15, 1/30, 1/60, 1/125, 1/250, 1/500, 1/1000 seconds. Timer 3-10 seconds. |
| Flash sync | X-sync flash via shoe (electronic, 1/60 second), PC-Sync connector for FP-flashes, up to 1/1000 second. |
| Viewfinder | Rangefinder, base 60,5 mm. Frames 3 pieces for lenses 35, 50, 105 mm. 1x magnification, no parallax correction. |
| Focusing | Manual, through the viewfinder rangefinder |
| Metering and exposure control | External exposure meter, inserted into the shoe. |
| Food | no |
| Loading Film | Film spool is inserted under the rear hinged cover |
| Frame counter | Yes, automatic reset |
| Film rewinding | On-camera folding handle |
| Dimensions and weight | 139 x 85 x 48 mm, 590 grams |



Sometimes I buy photographic equipment from the USSR and not only. You can offer your write me. Help the project: 5469 1200 1062 4624. Comments can be left without registration and SMS