The Canon 85mm f / 1.8 is a Canon EF lens with excellent value for money. Sharpness, beautiful background blur, internal focusing, USM, for a reasonable price.
General. Canon 85mm f / 1.8 USM
Canon 85 / 1.8 was developed using computer simulation, made, like all modern optics, with high accuracy.
Canon 85mm f / 1.8 USM in action
The Canon 85 / 1.8 mount is metal, the body is plastic, and its appearance resembles the Canon EF 50mm f1.4. Lightweight, filters are cheap. The front and rear lenses do not move when focusing. The lens in the hand is like a thing. A well-established set of plastic and glass. The front lens is wide enough and is actually very close to the outer end of the frame. Using the 85mm 1.8 without filters is strongly discouraged - there is a high risk of damage to the front element (then it will be mega difficult to sell the lens, despite the fact that scratches on the front element show themselves only under certain conditions).
Focal length
The focal length Canon 85mm f / 1.8 hints at its likely use - shooting portraits. If you have a 24-70 2.8 and are looking for a good portrait add-on, then the 85 1.8 is both in quality and price. When choosing, we make allowance for the fact that lenses are often used by weddings, and are often sold in dead condition at an inadequate price. It should be borne in mind that the focal length lens is a small telephoto lens without a stabilizer. In conditions of a lack of light, it is necessary to pay attention to the shutter speed with which the shooting is carried out - it is desirable that it should not be shorter than 1/150, because at such a focal length, shutter speeds are blurred.

Focusing
Autofocus works instantly thanks to the USM motor. No comments on the work. Rarely misses even on an old crop.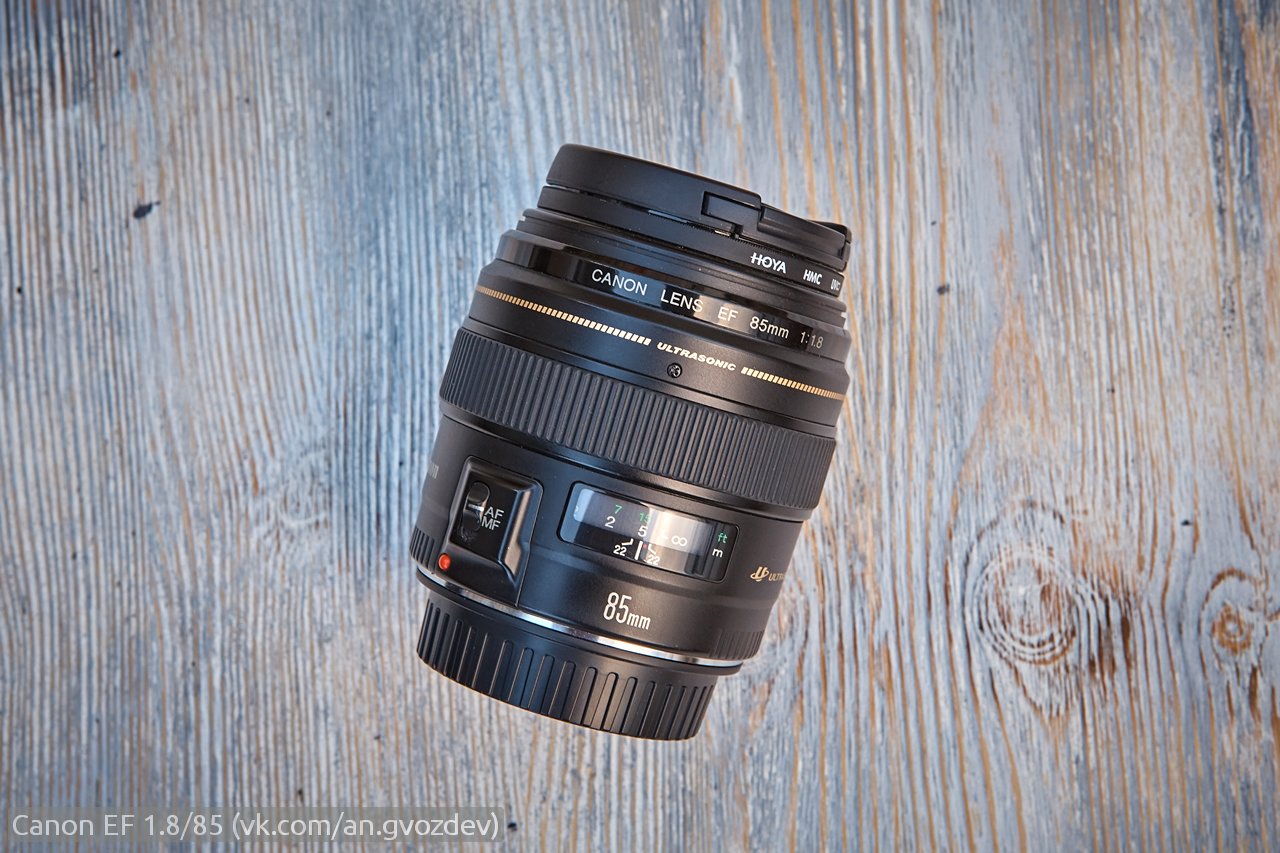 Diaphragm
Gives a very flexible and sharp picture, on any diaphragmNS. The Canon 85 / 1.8 aperture has 8 iris blades, electronically controlled, glare nuts can be seen at the covered values ​​in the out-of-focus area. At an open aperture, it gives very strong halos around contrasting objects, which is noticeable when the picture is enlarged on the monitor. However, this is noticeable only under certain conditions (more often - with a photographer's mistake)
Depth of field, sharpness Canon 85 / 1.8
DOF is small and thin in the open, therefore, from distances close to the minimum focusing distance, it is necessary to control it in order not to get unexpected surprises in post-processing. In general, controlling the distance to the model and setting the appropriate aperture is a matter of basic control.
Build quality, body, usability and features
On full-frame cameras like Canon the 6D gives the best picture, but it can also be used on cropped cameras without any problems. Compact, does not take up much space in the bag. Focal length lens allows you to shoot both chest and waist portraits without distorting perspective. It is quite common, and, despite the fact that the scheme lens rather old, the lens is relevant today.
Alternatives
Canon 85 / 1.8's closest competitor in terms of design and cost is 100mm f / 2.
For telephoto zoom lenses, a 85-1.8 from Canon or Tamron will do the replacement for the 70mm f / 200. However, using 70-200 f / 4 or f / 2.8, you will have to go further and use longer focal lengths to blur the background and create atmosphere when working with models. At the same time, we get a big loss in the area occupied by the lens. In addition, the 70-200 adds a lot of weight to the bag.
Canon 85mm f / 1.8 USM. Sample photos
Summary
A lens will definitely find its subject in the hands of a skilled photographer. Photos from lens everyone likes it. My personal opinion is confirmed by the opinions of other photographers on the Internet. A very good portrait lens, relatively inexpensive fix-Canon lenses are probably the most demanded and high quality lens.