The Praktica L is a small format single-lens reflex camera manufactured in the German Democratic Republic at the VEB Pentacon plant.

Camera Praktica L
M42 SLR camera, which has a threaded connection of the same name with contemporaneous lenses. The optics from this camera can be painlessly applied to modern digital cameras through adapter with thread M42. Read the article about adapters.
Cropped version of Praktica LLC, LTL и MTL, without exposure meter. Otherwise, the characteristics are the same. It also doesn't have a self-timer. The shutter is metal, mechanics, vertical stroke.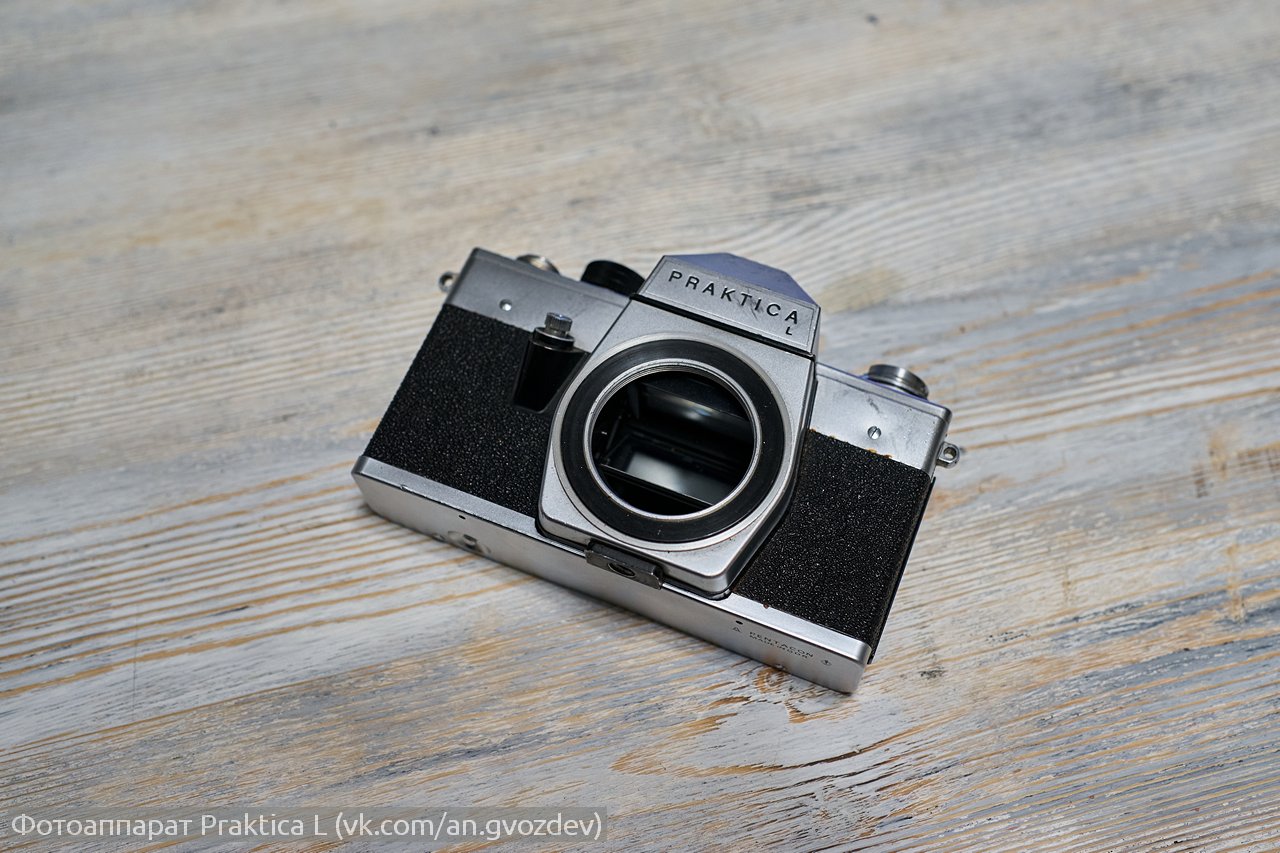 Specifications Praktica L
Issue
Kombinat veb pentacon dresden
Chief Designer
Rolf Noack
Production period

December 1969 - December 1975
Total produced

278,731

Shutter
Mechanically controlled vertical travel with focal metal shutters gate
Available excerpts shutter

B, 1/1, 1/2, 1/4, 1/8, 1/15 1/30, 1/60, 1/125, 1/250,1/500, 1/1000
Viewfinder
Pentaprism, fixed at the corner of the eyes, matte screen with focusing area, display of shutter speed and exposure meter readings
Mirror
Returnable
Film feed
quick-release lever (black), Pentacon Loading-System, fold-out rewind crank (black), auto-zeroing frame counter
Bayonet mount
M42x1
Self-descent
no
Battery
no
Metering system

no
Flash
external, shoe over pentaprism
Flash indication

no
Aperture display in viewfinder

no
Notes
compact size, body made of injection molded plastic with leatherette finish
Praktica L at work
Standard lens - Carl Zeiss Jena Tessar 50mm f2.8 (its Soviet analogues are lenses of the Industar series), are often found with Pentacon auto 50mm f1.8 M42and Meyer-Optik Domiplan. Developed under the guidance of designer Rolf Noack. It is possible to install almost any lenses with M42 thread.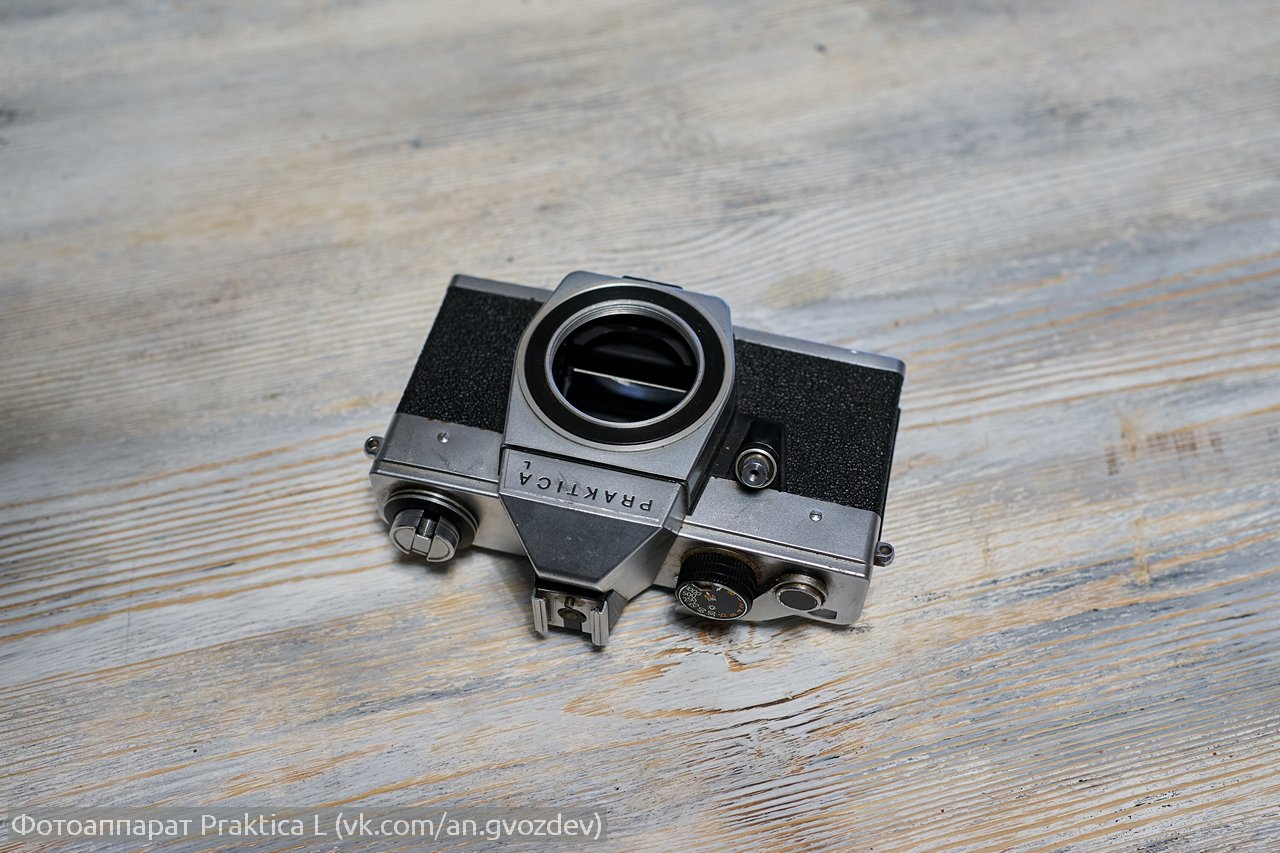 Case, build quality Praktica L
Nice, pleasant in hand, film camera. Glossy, the lower part of the camera is finished with leatherette. The camera was supplied with a plastic case. The camera body is made of metallized plastic, injection molding. In this regard, cameras are afraid of mechanical stress more than the very Zeniths.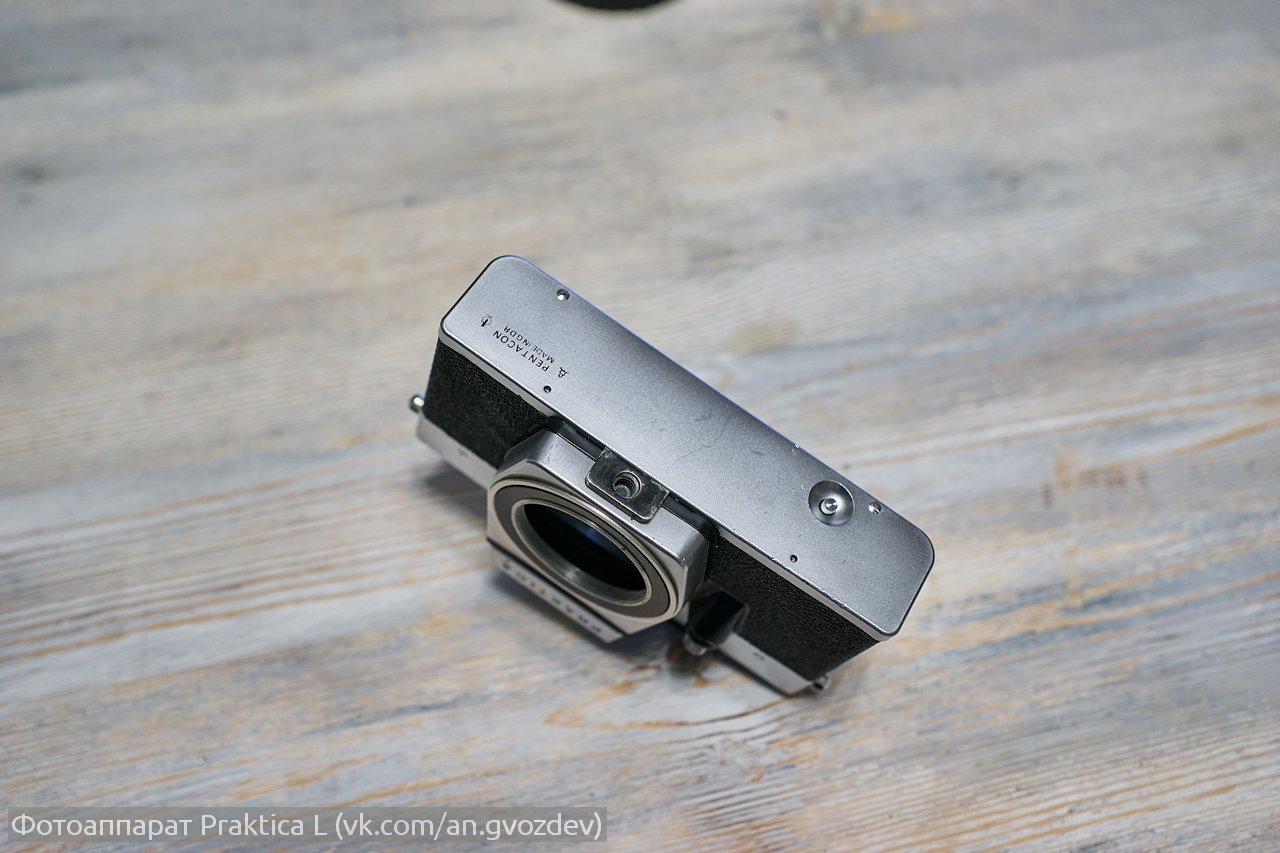 The chassis is made by injection molding. The subsequent processing of the case took only 45 seconds, for this a special machine was used, which could simultaneously perform 50-60 operations. This device could drill, countersink, thread, etc. from all six sides of the chamber. Up, down, forward, back, left, right.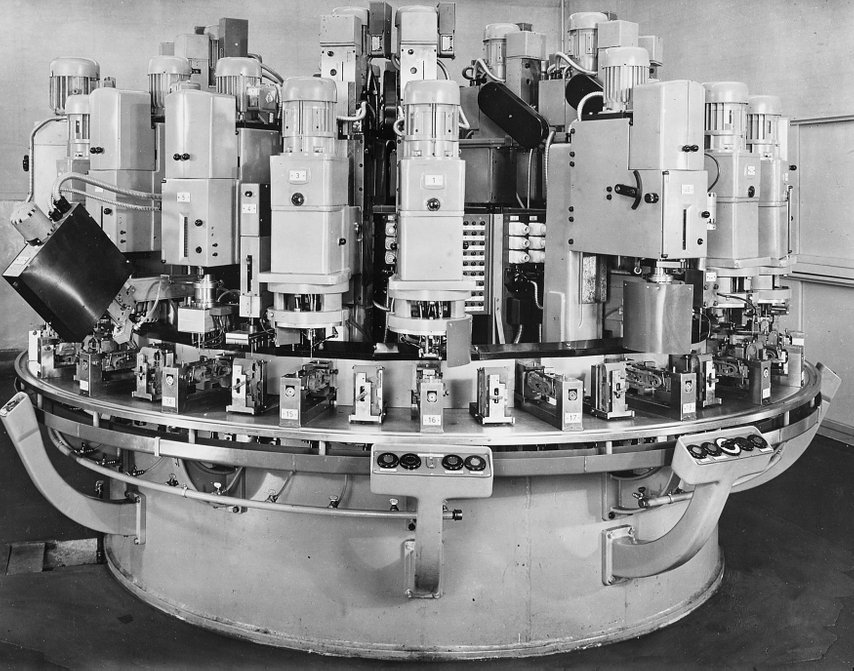 Management
Management represented by
Exposure disc
Viewfinder
DOF preview button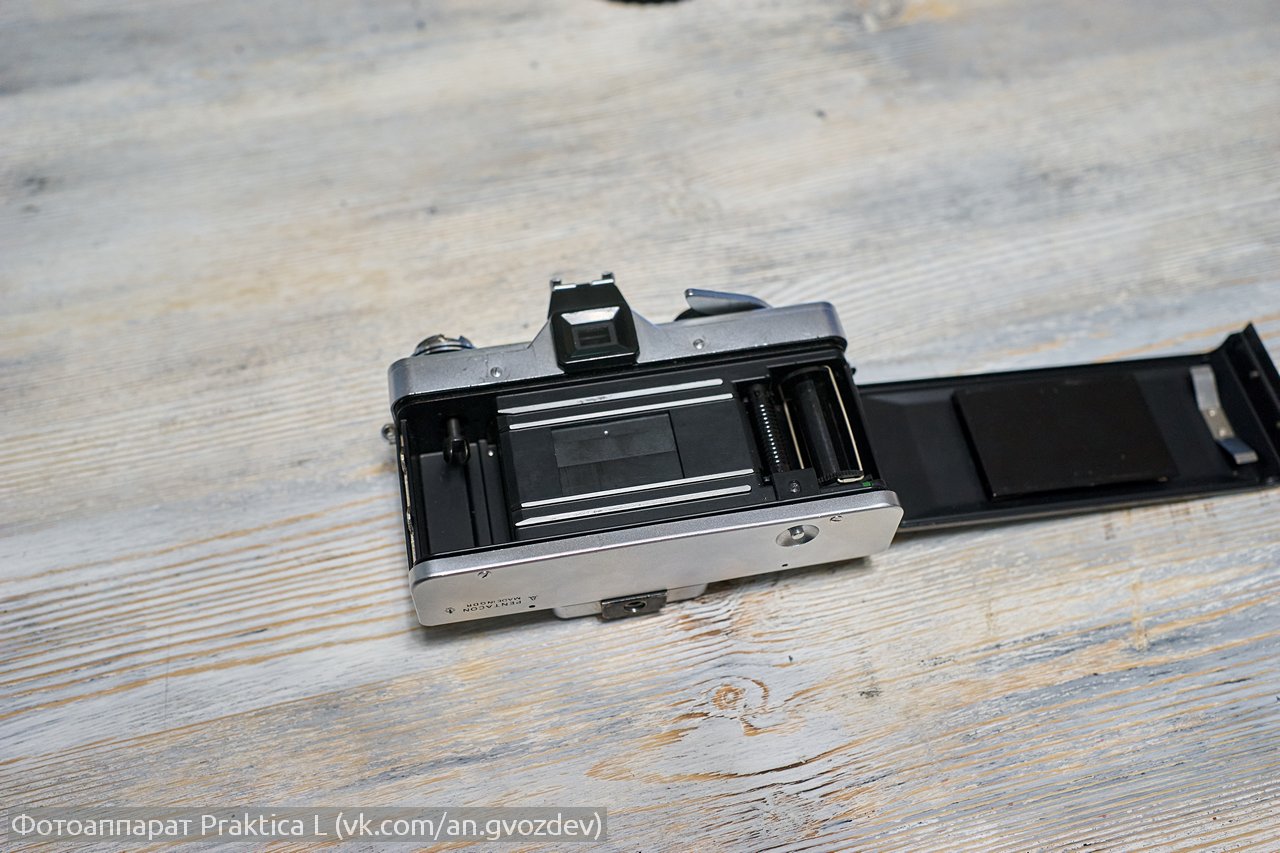 Sighting through the viewfinder
Silver-plated pentaprism, now often you come across options with a destroyed coating. It is restored either by applying an aluminum layer in an electrovacuum chamber, or by the reaction of a "silver mirror". For ease of focusing, the viewfinder displays a matte, micro-raster screen. The viewfinder is lighter than the ZenithTTL, coverage is greater (97%). The mirror is also larger.
Shutter
Unlike most contemporary cameras, Praktica cameras did not use Copal shutters. In fact, the shutter was developed by Pentacon independently in the 1960s, and is accordingly patented.
The development of the steel blade focal plane shutter, which has been used in the Praktica L series since 1969, has a long history. The Konica F (born 1960) was the first camera with such a shutter, with which Konica was able to achieve some success in the Japanese market, and within a year Dresden engineers filed the first patent applications in this area. According to GDR document No. 27 434 of May 4, 1961, the basic principle of the later Horst Strehle scissor-lever lock is already recognizable.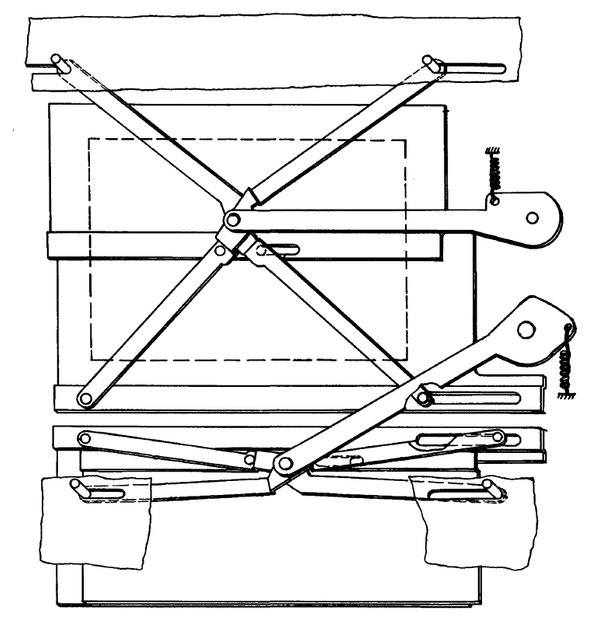 Lamella scissor lock (1961) In this variant, the scissor lock consisted of only two slats per shade. Such an implementation would result in a rather unwieldy design that could hardly fit into a compact camera.
The problem with this arrangement lies in the fact that the lamellas, arranged one above the other in a fan-like manner, lie parallel to each other both in the folded and in the unfolded state. The Japanese Copal uses Hi Synchro in its shutter, the so-called parallel crank guide. In it, metal bars are attached to two parallel arms of the lever. The solutions inherent in this design became especially popular when the more compact single-lens reflex cameras began to be produced (from the mid-1970s). Such a shutter allowed the use in light cameras due to the minimum of vibrations created during operation. In addition, such a design accelerated to unthinkable shutter speeds and was very reliable. Almost all blade shutters today use the Hi Synchro shutter principle. Even the leading Japanese camera makers have almost completely abandoned their own shutter designs and source their shutters from Copal or Seicosha.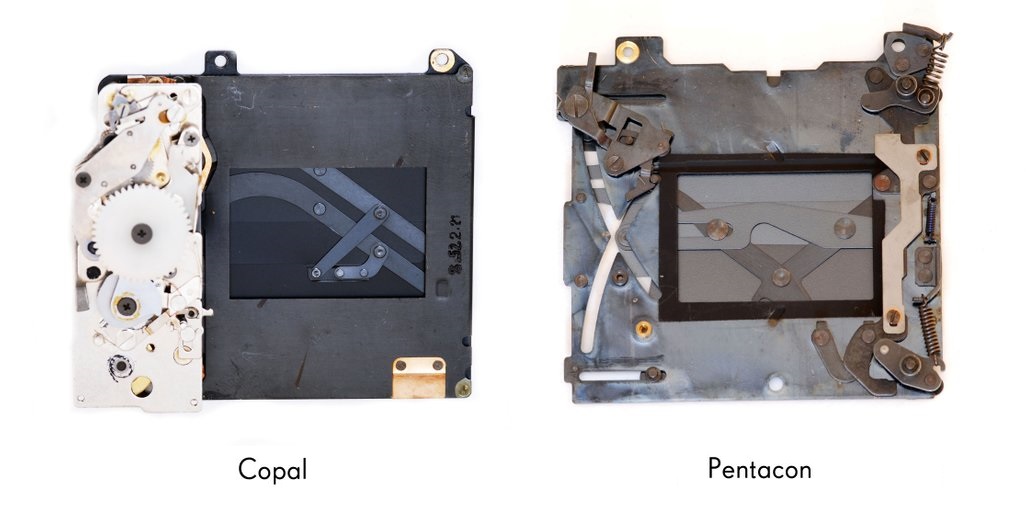 Pentacon's own design worked not with parallel, but with crossed drive plates, like scissors.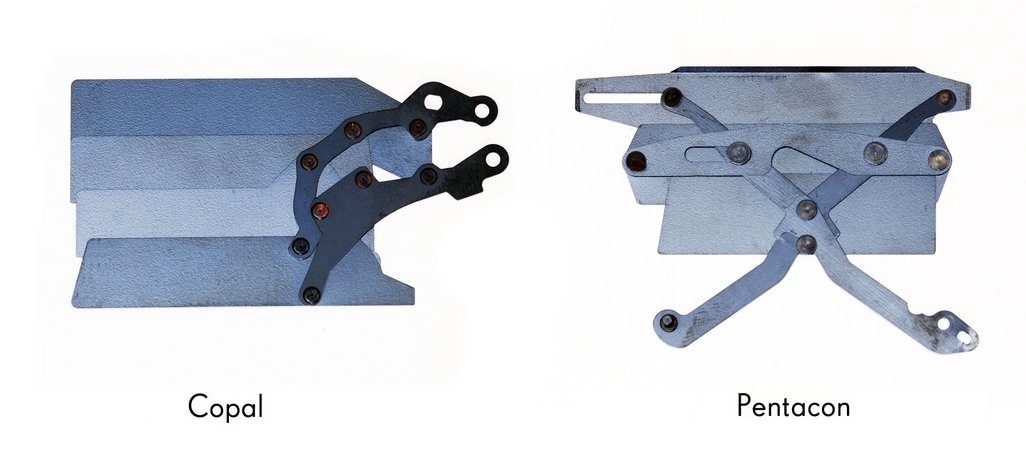 The shutter according to patent No. 27434 has a rather bulky design. In addition, it was feared that such a design would not provide the necessary high speeds. The shutter was modernized in such a way that only one lamella was used, which only partially covered the frame window. The rest was occupied by a flexible rubberized fabric that is wound around a spring roller. This combination was used in 1967 in the Pentacon Super professional camera. This made it possible to achieve a very fast shutter speed of 1/500, which remains accurate even half a century later. The disadvantage, however, was the bulkiness of the solution and the complexity of its maintenance.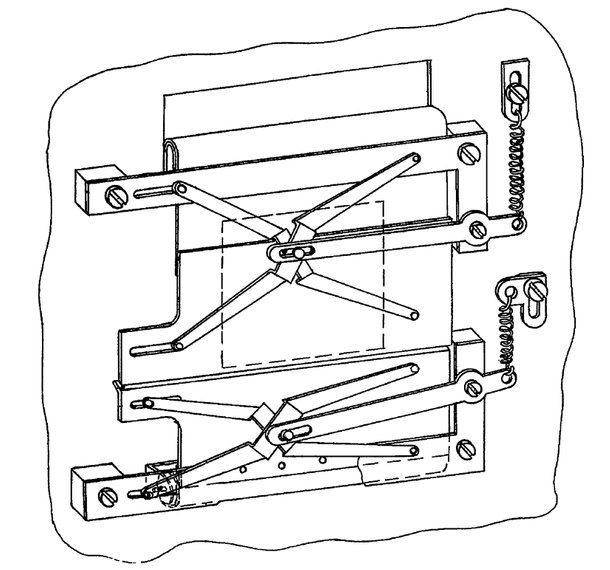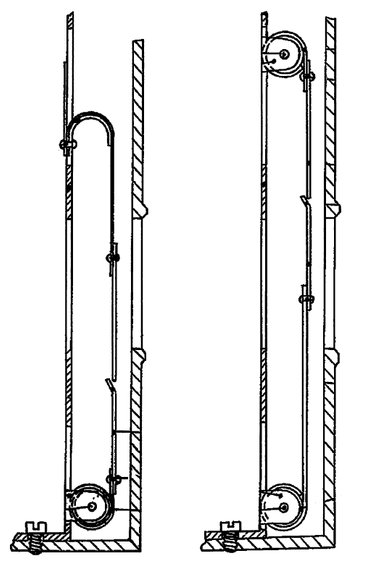 A new generation of cameras was developed in Dresden, which, thanks to three main features, was to ensure the survival of local camera production for the next 20 years. The Praktica L series was modern both in design and technical solutions. The cameras used a scissor shutter, registered in 1968.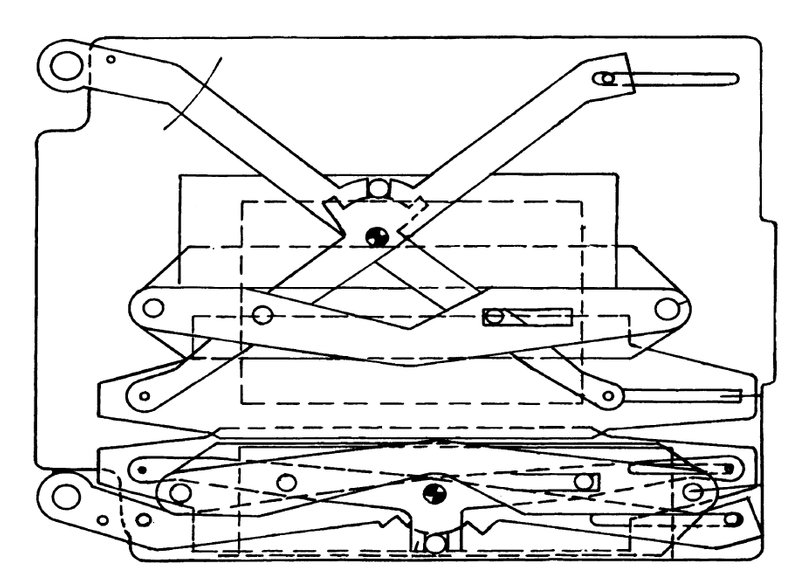 This solution was used in the Practika L series cameras for the next 10 years, and five million units of cameras. However, during the development of cameras, the Practika B200 caused significant problems, and, nevertheless, was replaced by a shutter of the Copal Hi Synchro type, which is more common among competitors.
Iris control
Semi-automatic. It is set manually on the lens according to the readings of an external exposure meter, clamped by the camera mechanism directly during the release shutter.
Exposure control
The shutter speed range is from V and 1s to 1/1000 s. Mechanical shutter, focal lamellar, vertical travel.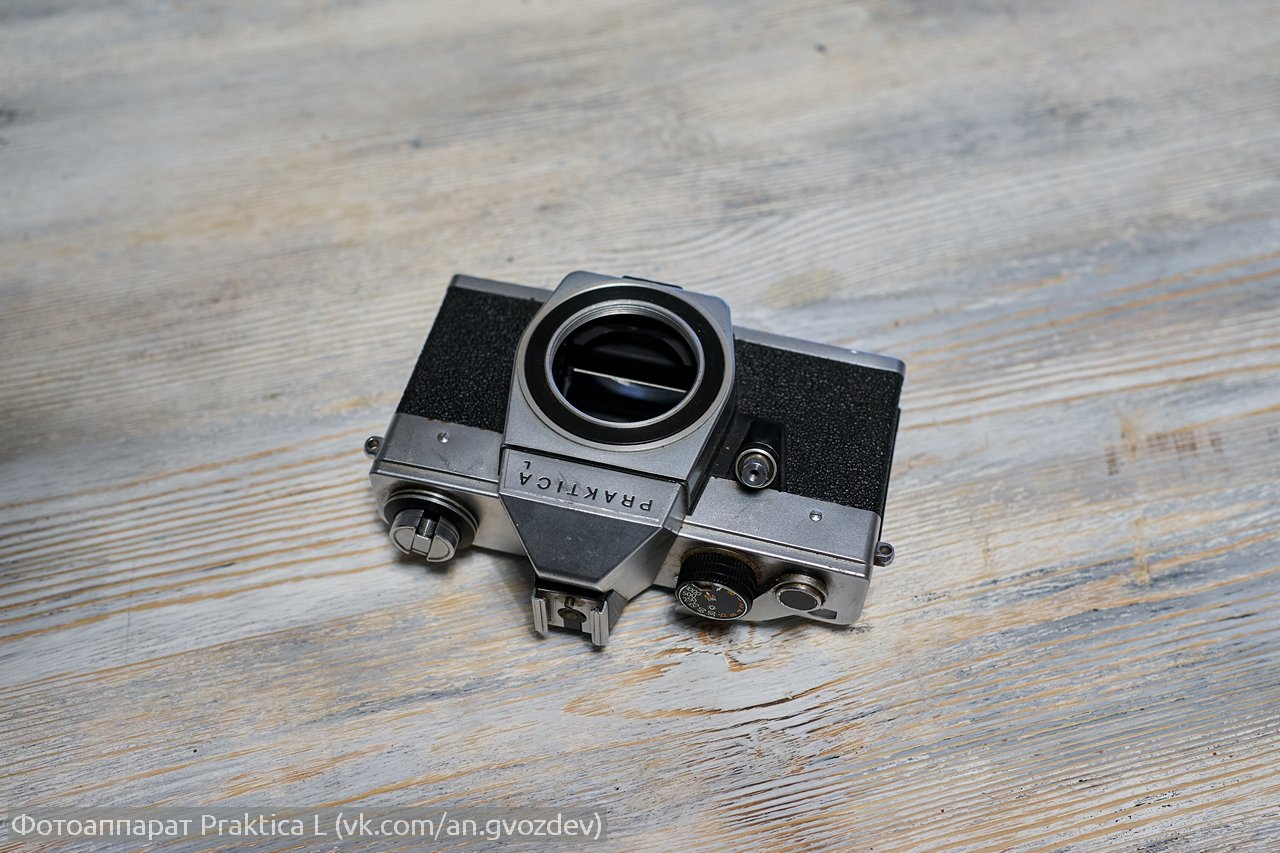 Flash sync
It is produced at an exposure time of 1 \ 125 s, through the shoe behind the pentaprism.
Absent. An external exposure meter was used. Next to the shutter button shutter there is a lever for previewing the depth of field, equipped with a pusher for the lens aperture.
Convenience of work
Of course, the convenience of working with a film camera from the 80s is so easy. But the camera is more convenient to use than Zenits. A device for unhurried shooting and thoughtful positioning of objects in the frame. Using an external exposure meter does not add efficiency in work and control. The lamellar shutter is not afraid of sunlight and will not burn out if the lens is left with the cover open in the sun.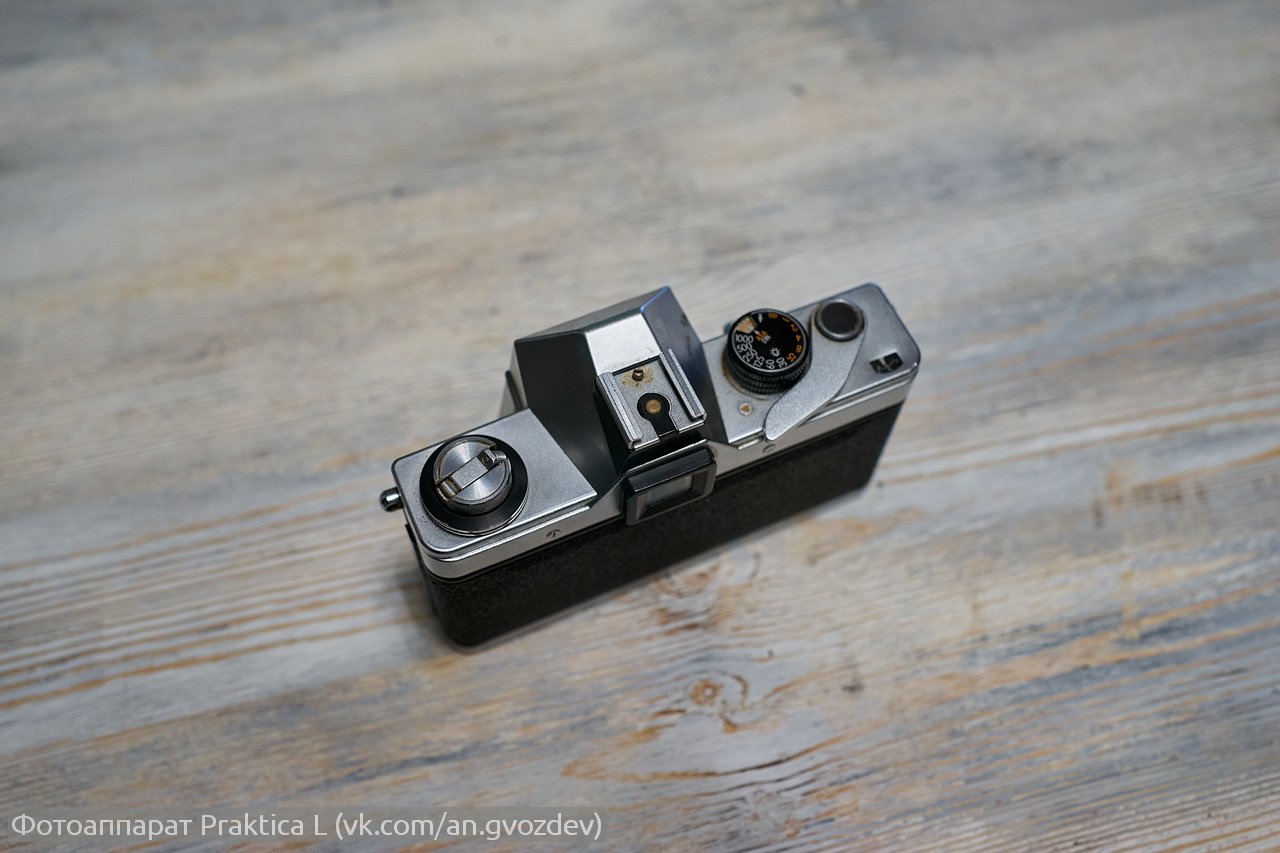 Working with film
Film rewinding is of a roulette type, the rewinding mode is switched on by a mechanical button on the bottom of the apparatus. The frame counter is located on the top cover and has an automatic reset when the cover is opened.
What film is needed for a Praktica film camera?
For Praktica cameras, any 135 type (35mm) film is suitable, in standard spools. You can use both black and white and color, you can wind the film yourself. Can
buy film
... A budget hobbyist color film from Fujifilm or Kodak, black and white Tasma, works well. Films c
ISO
400 are suitable for low light conditions, and on films with
ISO
200 is best for shooting outdoors in clear or slightly cloudy weather. Examples of photos on film can be viewed
here
.
Noise
Works quieter than Zenith. Not strange, and it is.
Gallery of images. Praktica L
Summary
The camera is interesting for those who want to try the GDR film camera. However, if possible, it is better to purchase a camera with a built-in exposure meter. It will be much easier to work with.
Prices in Germany range from 5 to 40 euros.
references



Sometimes I buy photographic equipment from the USSR and not only. You can offer your write me. Help the project: 5469 1200 1062 4624. Comments can be left without registration and SMS