Judging by some data, a device from the Praktica FX2 series (second generation, which was produced from June to September 1954) VEB Kamera-Werkstätten Niedersedlitz (former Kamera-Werkstaetten Guete und Thorsch, future Pentacon). In total, about 34 thousand copies were produced, then the devices acquired a second connector for synchronization with flash lamps.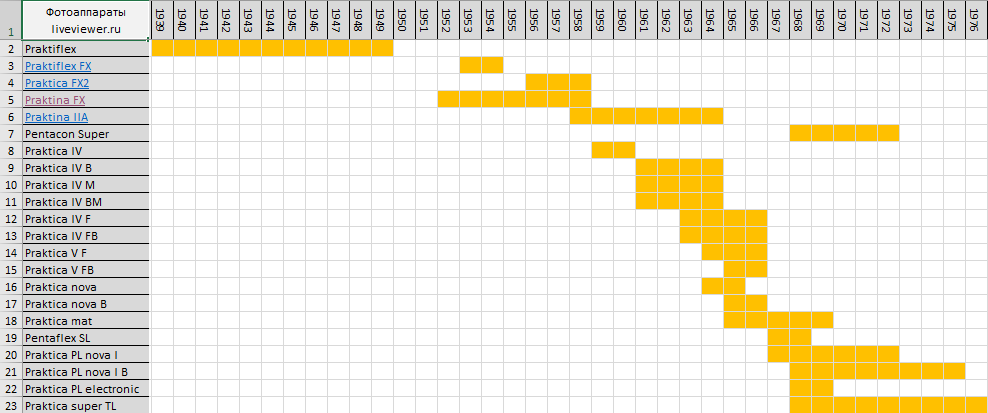 Praktica FX2 camera
The predecessor of the very first "Praktika" is the mirror Praktiflex, produced by Kamera-Werkstätten Guthe & Thorsch GmbH ("KW"), equipped with a non-standard M40 × 1 thread for attaching interchangeable lenses. This camera is considered the third small-format "SLR" in the world after the Soviet "Sport" and the German "Kine-Ekzakty".

After the occupation of Germany, the private enterprise KW was nationalized and renamed VEB Kamera-Werkstätten Niedersedlitz, working on orders from the Soviet military administration. In 1947 she was given a technical assignment for a new camera with a threaded M42 × 1 optics and a shutter speed range from 1/500 to 1/2 of a second. Under the leadership of the designer Siegfried Boehm, the Praktiflex camera is being modernized, an improved sample of which was presented in the fall of 1948. Serial production begins in January 1949 under the new name Praktica, as KW became part of the Ihagee company.

Further improvements were made to the acquisition of a sync contact, a constant sight mirror and pentaprism, as well as a jumping diaphragm, which first appeared in the world in the Praktica FX2 model in 1956. Since the transformation of Praktiflex into Praktika, two generations of cameras based on cloth focal gatee with horizontal curtain movement, such as Leica. One of the most famous among the second generation of Nova was the Praktica Super TL model, which was also popular in the Soviet Union, where it turned out to be the first affordable camera with TTL-exponometer. The earlier Praktica Mat was the first to receive such an exposure meter in Europe.
Specifications Praktica FX2
Issue
VEB Kamera-Werke Niedersedlitz
Chief Designer
Siegfried Bohm
Production period

June 1956 - February 1958
Total produced
34,062
Shutter
Mechanically controlled vertical travel with fabric curtains
Available excerpts shutter

B, 1/2, 1/5, 1/10, 1/25, 1/50, 1/100, 1/200 and 1/500
Viewfinder
Mine with magnifying loupe
Mirror
Returnable
Film feed
knob film advance, loose film take-up spool (plastic), manual frame counter
Bayonet mount
M42x1
Self-descent
no
Battery
—
Metering system

no
Flash
external, X-sync, F-sync, external connectors on the case, no shoe
Flash indication

no
Aperture display in viewfinder

no
Notes
—
Cameras "Praktica" on the portal
Praktica FX2 in action
Stock lens - Carl Zeiss Jena Tessar T 50mm f2.8 M42.
Case, build quality Praktica FX2
Aluminum body. The control discs are nickel-plated, brass. On the front panel of Praktica FX2 there is a connector lens, output for connecting flash lamps. Known devices with body finishes in other colors.
Management
Exposure control in the Praktica FX2 camera is presented:
Film rewind disc
Shutter speed dial shutter
Mine viewfinder
The Praktica FX2 is a classic fully manual camera. The only assistant to the photographer is an external light meter.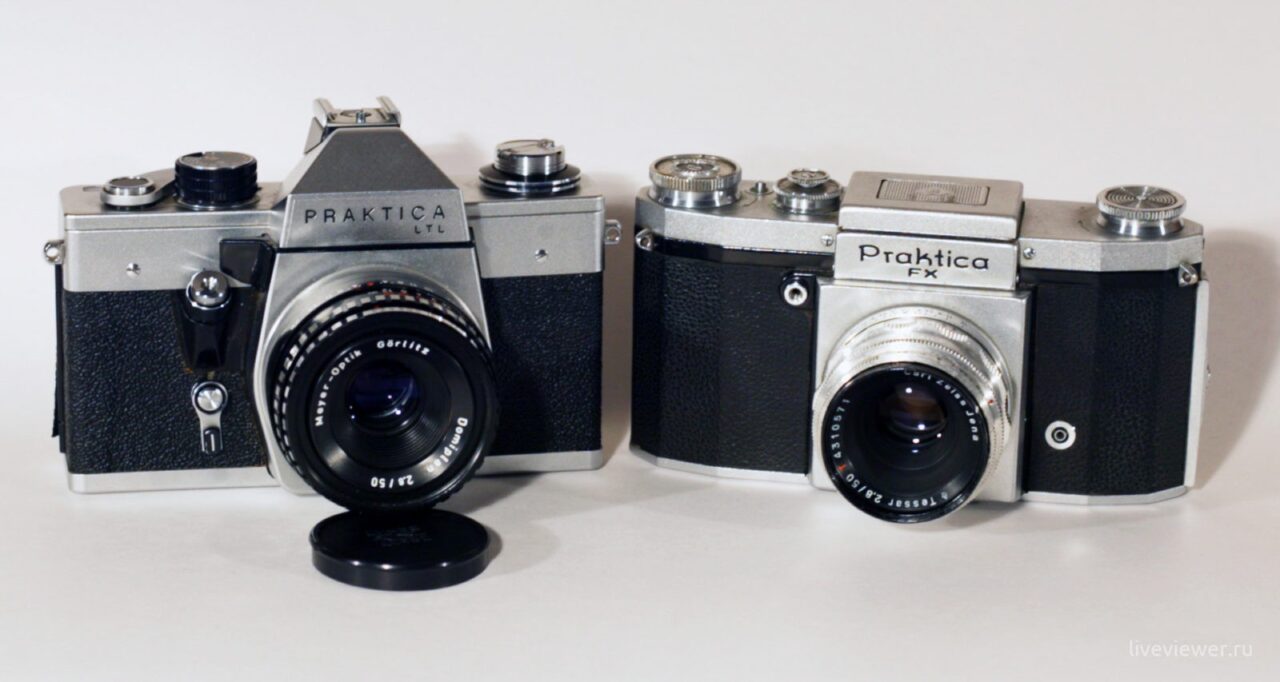 Iris control
Aperture control is not set by the camera itself. It is necessary to manually set the values ​​on the lens.
Sighting through the viewfinder
Mine viewfinder, with an inverted image, the upper part is foldable, non-removable. In the upper part of the Praktica FX2 viewfinder, it is possible to use the viewfinder window and the image magnifier.
Exposure control
Shutter speed range - B, 1/2, 1/5, 1/10, 1/25, 1/50, 1/100, 1/200 and 1/500, shutter speeds are set when cocked gatee. Shutter curtain, horizontal stroke. Cloth curtains.
Flash sync
Cameras are found both with a sync connector in the middle of the body, and in the lower part of it (as in the photo)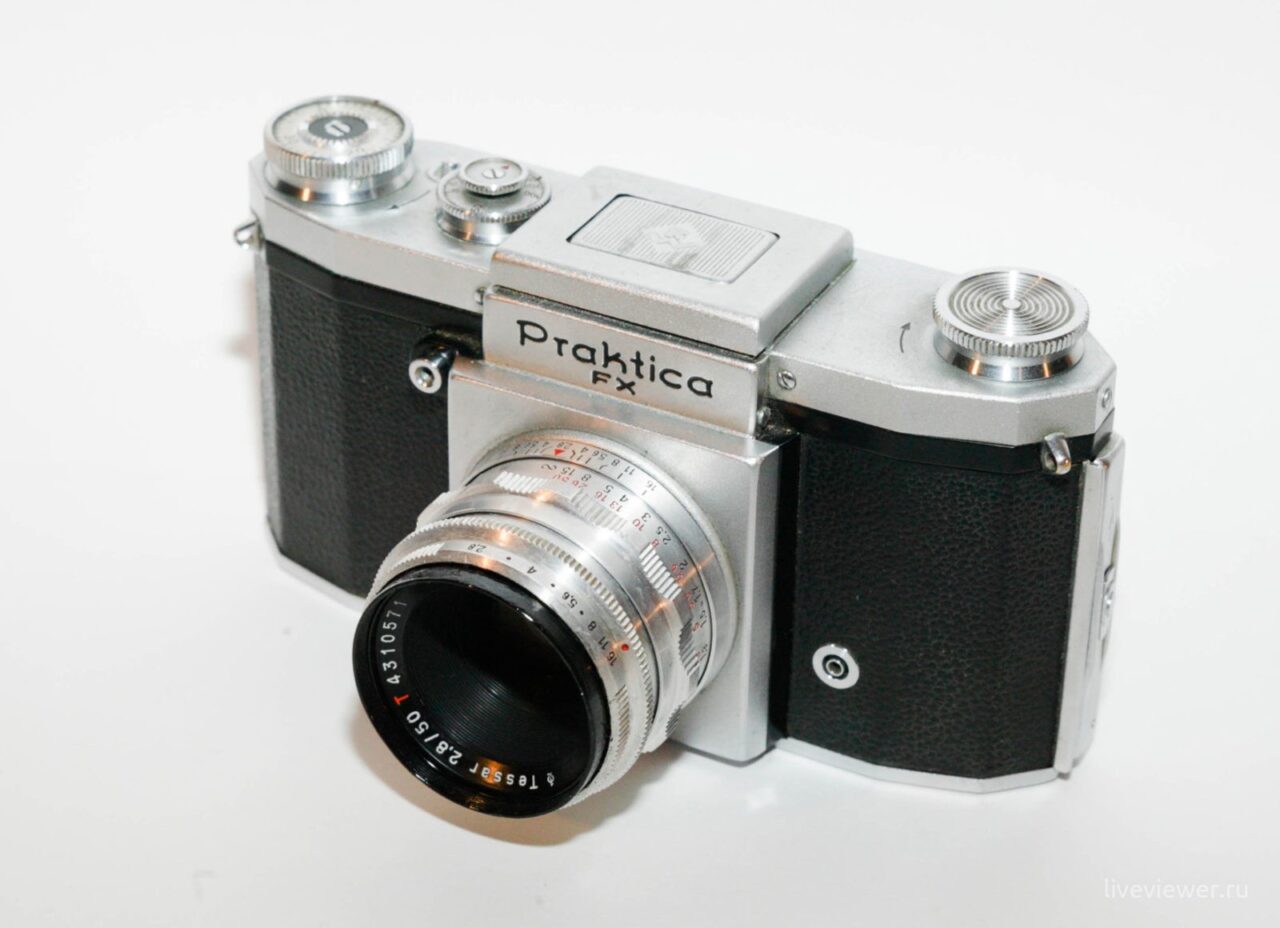 The device does not have a built-in exposure meter.
Convenience of work
The convenience of working with a camera from the 50s is, of course, so much. Especially, the mine viewfinder is embarrassing. God forbid a man who saw a couple of such cameras. A device for unhurried shooting and thoughtful positioning of objects in the frame.
Working with film
Film rewinding is of a roulette type, rewinding is switched on by pressing a button on the top cover. The back cover has a lock, the cover can be removed completely.
What kind of film is needed for a Praktica camera?
For Praktica cameras, any 135 type (35mm) film is suitable, in standard spools. You can use both black and white and color, you can wind the film yourself. Can be purchased from artisans. A budget hobbyist color film from Fujifilm or Kodak, black and white Tasma, works well. Films c ISO 400 are suitable for low light conditions, and on films with ISO 200 is best for shooting outdoors in clear or slightly cloudy weather. Examples of photos on film can be viewed here.
Noise
Works quieter than Zenith. Strange, but true.
Reliability
Like all film cameras with cloth curtains. Not very high due to childhood diseases of the curtain shutter
low speed of work
burns out in the sun
the coating dries
curtains may break
the curtain cocking springs are weakened, the shutter speed is lost
Gallery of images. Praktica FX2
Summary
The machines in working order are valued higher than the later Praktica models. A unique and interesting thing in its own way.