I-61 (Industar-61) L / D is another victim of technological progress - along with Soviet film rangefinder cameras, it also remained out of work.
Шtatny lens for rangefinder cameras FED. This lens is installed on modern SLR and mirrorless cameras through the appropriate adapter. Read the article about adapters. Had a focal length of 53 and 55 mm, respectively, was marked as
"Industar-61 L / D (LD) 2.8 / 53"
"Industar-61 L / D (LD) 2.8 / 55"
Also occurs with a bunch of other variations in the name, such as
Previous Industar rangefinder series lenses:
Industar-26M is an upgraded version of Industar-26. What is the difference between modernization has not yet been found. It was produced with a leash drive and a body like the early Jupiter-8. The last issues were in cases, like the I-61.
Industar-61 (I-61) - produced in a silver = black and completely black body, has slightly worse image quality (or the tested lens was battered by life)
Lens diagram FED I-61 L/D 2,8/53 (Industar-61 L/D)

Industar-61 L/D is a four-lens anastigmat of medium aperture with coated optics. Equipped with an iris diaphragm. Made according to the "tessar" scheme, they have a huge number of brothers from other manufacturers around the world. High sharpness, minimum distortion. The lens exhibits excellent sharpness (compared to past generation Industar type lenses) and color reproduction in use. The first domestic consumer photographic lens that used super-heavy crowns (STK-6 grades in two positive lenses).
Known variants of Industar-61
In technical specifications and on the lenses themselves focal length was indicated as: 50 mm, 52 mm, 53 mm and even 55 mm.
LZ - Лantana Зmirror lens. LZOS production.
LZ MS - the same, but with multi-enlightenment.
61 2.8/52 - a lens for rangefinder cameras FED and Zorkiy of the 70s. The previous iteration of the lens from the review. FED production.
61 (I-61) 2.8/53 L/D - Lantana ДA measuring lens for FED rangefinder cameras of the 80s. Marked as 2,8 / 53 and 2,8 / 55. FED production.
BUT - Аadaptable for SLR cameras, with a tail for interchangeable adapters. KMZ production.
M - a variant in a frame like the Helios-44M, with a diaphragm drive. KMZ production.
M FED is a lens manufactured by FED for SLR cameras with an M42 thread.
З - the first of the mirror Industars-61. Production of LZOS.
L - produced at LZOS as a standard and replacement for rangefinder cameras. Marked as 2,8/50.
L / D - for the FED-6TTL camera (body changed, 1992). FED production.
Despite the difference in one letter of the abbreviated name, identical circuits and glass, lenses of a mirror and rangefinder format have different designs.
Industar-61 was the first domestic consumer photographic lens to use super-heavy crowns (STK-6 brand in two positive lenses). Subsequently, the use of lanthanum and other special glasses in lens indexes was not particularly noted.
TECH SPECS
Focal length: 53mm, 55mm
Relative aperture: 1:2,8
Frame size: 24 × 36 mm
Number of lenses / groups: 4/3
Aperture scale limits: 1: 2,8-1: 16
Number of aperture blades: 6
First surface luminous diameter: ∅18,6 mm
Luminous diameter of the last surface: ∅16,4 mm
Near Focus Limit: 1 m

Connections: lens with camera - M39 × 1 for screw-in attachments - M40,5 × 0,75 for slip-on attachments - ∅42 mm
The location of the mount for light filters: front

Resolution according to technical specifications (center / region): 44/30 lines / mm
Working distance: 28,8 mm
Near Focus Limit: 1 m
Enlightenment type: no data

Dimensions:
lens length - 48 mm; largest frame diameter - ∅55 mm
Weight: 140 g

Years of production: from 1971
Industar-61 rangefinder. Differences from mirror
The rangefinder has a rangefinder pusher of the camera viewfinder, the working length is 28,8 mm, threaded mount M39x1. Itself is almost 2 times lighter. MDF 1 meter.
SLR designed for use in small-format film cameras "Zenith". Aperture blades fold relative hole in the shape of a star. Working length for DSLRs (45,5 mm), threaded fastening M42x1. The minimum focusing distance is 0,3 meters.
FED I-61 L/D 2,8/53 (Industar-61 L/D) in progress
I would not say that the image quality of this lens is somehow terrible. No, it is excellent in terms of price / quality ratio, and only if used correctly (you should learn to feel the glass on the camera and its features).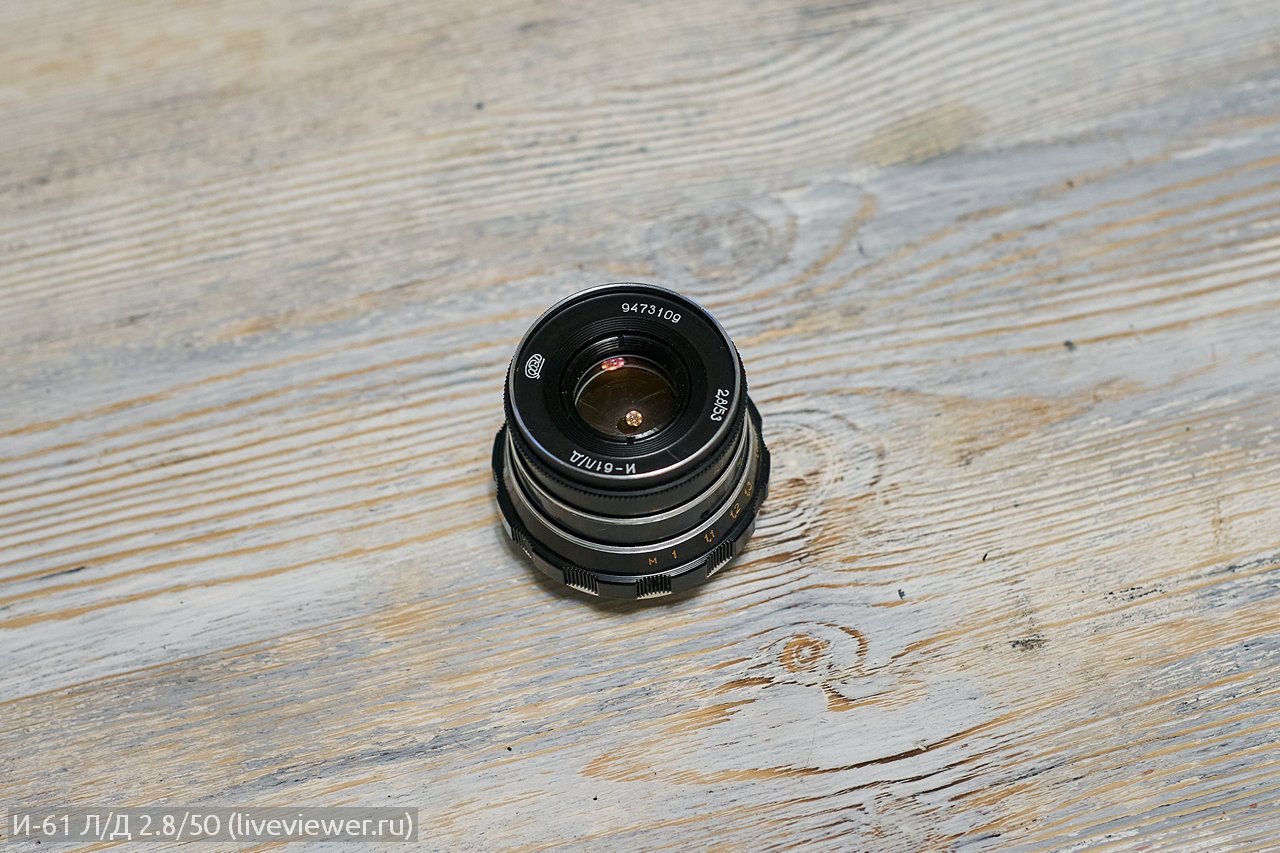 Industar-61 does not like backlight and bright light sources in the frame. From them the contrast of the image sags. Sharpness characteristics at a level sufficient to separate the object from the background - in order to understand later on the print, what exactly is the emphasis on the photograph. Of the entire Industar lineup, the I-61 is objectively the best. All previous versions lose to lanthanum glass as an image.
Case and build quality
The build quality is good. I-61, of course, is not without backlash, but it does not look and does not feel loose, flimsy. The lens from the review required lubrication, disassembly and maintenance. In disassembly is quite simple, does not require special skills. The values ​​on the case are engraved, the engraving is filled with paint. The curved font on the frame gives the impression of an unskilled approach to production.
Focusing
The focusing ring of the lens is narrow, located at the bottom of the barrel. The focusing ring can be rotated 180 degrees. Ease of rotation is controlled by the density of lubricant under the lens ring. The minimum focusing distance of Industar-61 L / D is 1 meter.
Diaphragm
The diaphragm is easy to control, there is a lock to hold the selected value. Diaphragm blades blackened, 6 pieces. They form hexagons from highlights at small values ​​of the relative aperture. Very sharp from open apertures, and allows portraits with a slight background twirl.
Depth of field, bokeh
The depth of field is shallow enough for portraits. Background blur is present enough to maximize this lens, apertures. Sharp across the frame at f/5.6. There is a depth of field calculator on the frame to calculate the depth of field. The zone of sharpness can be set using the calculator from the lens barrel and shoot without looking into the viewfinder.
Aberration
The lens corrects or minimizes aberrations such as astigmatism, spherical aberration, and spherochromatic aberration. Among its predecessors and contemporaries made in the USSR, the lens clearly loses to Helios of any version in artistic terms - Industar gives a more technical background blur.
It is the I-61 L / D that is the best of the Industar rangefinders - only the Industar 50-2 for SLR cameras can beat the quality characteristics, which felt like it was significantly redesigned from the I-50, and the work on updating it did not go unnoticed.
Photos from the I-61 L / D before and after processing:
Use on modern cameras
Lens for installation on rangefinder cameras. Due to the smaller working distance of the rangefinder lens, use on SLR cameras is limited. The focusing distance after attaching the lens to the DSLR only allows shooting up to 2 meters. Without such problems, the lens can be mounted on mirrorless cameras such as Sony NEX, Canon EOS M. (via the appropriate adapter from the M39x1 thread). In this case, the lens will have a viewing angle equal to the equivalent 85 mm- a lens for a full-frame camera due to the crop factor of APS-C matrices and aperture in EKV. f/4.5.
At full frame, it will work as intended and stated on the case.
Focal length alternatives
The main probable application of Industar-61 L / D is bust portraits. The lens is not suitable for video shooting. management is far from the best. The DSLR counterparts presented below are a legacy of yesteryear that is still in vogue today.
Helios of any modification will have better artistic characteristics due to the working wide aperture of f / 2, and the older Helios models are slightly more resistant to backlight.
Industar-61 L / Z MS 50mm f / 2.8
An analogue of Industar-61 L/D, differs in the design of the frame and the working length, which allows using it on Canon SLR cameras through an adapter. Much sharper and less prone to flare, as the lens is recessed into the body. The minimum focusing distance is 0,3 meters.
Carl Zeiss Jena Pancolar 50mm f / 1.8 m42
It is a good choice for leisurely shooting portraits with shallow depth of field and artistic background blur.
Meyer Optik Domiplan 50mm f / 2.8
Made according to the "Tessar" scheme, has a sharp and clean picture, good sharpness, easy to handle, lightweight. Widespread and cheap.
Image gallery I-61 L/D
Photo examples
Shot with a Sony A7 mirrorless camera. Basically aperture priority.
On a reflex camera
Since when installed on SLR cameras it turns into a macro lens, here is an example of photographs of how the picture will look when you install the I-61 on a SLR.
Summary

When you pick up this lens and install it on your camera, you should clearly understand that its contemporaries, foreign-made, will give the best image quality. However, if we consider the lens as an option for training, or trying out manual optics, it suddenly turns out that due to its cost, as well as excellent characteristics, this is the most suitable option.




Sometimes I buy photographic equipment from the USSR and not only. You can offer your write me. Help the project: 5469 1200 1062 4624. Comments can be left without registration and SMS