Carl Zeiss AG is the oldest German manufacturer of optics. The company is part of the Karl Zeiss Foundation, who is also the sole shareholder. Together with Zeiss AG, the fund owns shares in Shott AG.
The foundation also owned Zeiss Ikon for as long as the company existed. Zeiss AG was founded in Jena in 1856 under the name Carl Zeiss Jena. Produced microscopes, refractometers (a tool for measuring the refractive index of optical glass, developed by Karl's partner, Ernst Abbe). After Karl's death, Ernst created the Carl Zeiss Foundation and a branch for the production of photographic optics, in which the staff worked 8 hours a day. Otto Schott, whom Abbe met, solved the problem of glass quality, and from that moment a new type of apochromatic lens was introduced to the company.
Scientists Zeiss (Paul Rudolph, for example) created such classic photo lens schemes as Tessar (patent 1902), Planar (1897), Biogon. The company's products were also installed on cruisers and aircraft of the Kriegsmarine and Luftwaffe. Binoculars, rangefinders, photographic lenses, medical optics - all this was produced under the auspices of the Carl Zeiss company. Some of the equipment was exported to the USSR before World War II. The early logo of Zeiss Ikon and Carl Zeiss Jena was the name inscribed in the rear lens design of the Tessar lenses.
The lenses have been licensed by manufacturers such as Suter, Fritsch, Ross and others. Licensing made it possible to avoid an increase in the production capacity of the company itself. In 1902, Zeiss bought the camera manufacturer Palmos AG, and the Carl Zeiss division PalmOS AG was born. In 1909, this subsidiary was merged into the ICA group, which later became Zeiss Ikon. ICA and Zeiss Ikon also had dealerships in Japan and sold Contax and Zeiss ikon cameras there.
Nazification 1933-39
Carl Zeiss was negatively impacted by the Great Depression. However, the effect was less than for other companies, and in itself did not create fertile ground for politics. Moreover, NSDAP support in Jena has been limited since 1932. However, after Hitler came to power in 1933, the importance of politics in the company increased. The NSDAP Jena leadership was multifaceted, especially August Cotthaus, the leader of Zeiss Jena, who advocated a balanced approach in the early 1930s. To deal with local party members trying to gain influence over the company, Zeiss management used their high-level connections with the NSDAP party offices in Berlin, especially with the Interior Minister Wilhelm Frick. Over time, the relationship between the Nazi government and Zeiss expanded without any or restrictions in light of the fact that Zeiss was an important supplier of war-related instruments. However, the relationship remained ambivalent until the end of the war.
For example, the so-called "Führerprinzip", according to which the final authority must belong to one executive head, was not fully implemented. The Zeiss board retained the powers provided for by the company's articles of association, but its decisions had to be submitted externally by one person, August Cotthaus. On the other hand, management provided explicit support to the Nazi government, including by stating in a company notice that it would fire a senior employee who rejected a personal call to run in the 1933 parliamentary elections in Germany (where all non-Nazi parties were banned ). The company also provided direct economic support to national and local Nazi party organizations, including the Hitler Jugend group, named after Carl Zeiss' partner Ernst Abbe. Since 1933, summer camps for Zeiss students have also been coordinated with the Ernst Abbe Hitler Youth group, and students outside the Hitler Youth were excluded from participation.
Civil Engineering and Manufacturing
As the economy improved, the company's independence was limited during the 1930s by a series of laws that, for example, restricted dividends and limited funding through market bonds. German policies also directly or indirectly affected Zeiss's foreign trade during this period, in addition to protectionist measures abroad. Exports to Western Europe and the United States declined, while exports to South / Southwest Europe, Northern Europe, South America and Asia (especially China) rose. In the last half of the 1930s, China and Japan were notable importers. Overall, however, exports fell from about 60% of total revenues in 1932/33 to only about 20% in 1935/36. At the same time, there was a certain space for innovation, which allowed Zeiss to maintain its quasi-monopoly status in the civilian market. This includes the production of a phase contrast microscope in 1936 and the development of both Topogon lenses for wide-angle photogrammetry and T-coatings (T-Belag or T-Schutz in German) in 1935. The Nazi government also had great civil rights. programs to which Zeiss has contributed, such as tools to support the construction of the Autobahn.
Military development and production
At the same time, political projects had solid funding, and the military became Zeiss's best customer after 1933. In contrast to previous acquisitions of competitors in order to consolidate the market, Zeiss Jena began buying firms to create a new portfolio of military-technical products. By dividing the military-oriented but Zeiss-owned companies, Zeiss set out to prevent the impression that it was primarily an arms company and to avoid accusations of monopolization while coordinating orders within the group. Zeiss Jena has also supplied some military equipment to other countries, either directly or under license. For example, Zeiss Jena had a secret 20-year military instrument licensing agreement with Bausch & Lomb from 1921, which provided the company with over 1 million ringgit from 1921 to 1936.
Treatment of Jewish workers
According to Rolf Walter, until 1933, as far as is known, there were no registered employee files that took into account basic personal beliefs about employment. This would be in line with Ernst Abbe's fundamental principle since 1896 that worldview, ideological or confessional beliefs were not allowed to be taken into account when hiring employees at a time when Zeiss had several Jewish scholars and other workers. In the early 1930s, there were Jewish employees at all levels of Carl Zeiss Jena and Zeiss Ikon, including Zeiss Ikon board leader Emanuel Goldberg. However, anti-Semitic sentiment was evident even before Hitler came to power in 1933. Beginning in 1933, being Jewish or having a mixed relationship with a Jewish partner was the basis for the dismissal of employees. By 1937, it seems that only about a dozen Jewish employees were still working at Zeiss Jena, due to work interruptions, transfers to other Zeiss firms, combined with regular or early retirement, without hiring new Jewish workers. There is evidence that at least some of these or formerly Jewish employees were subsequently killed in concentration camps.
One of the Jewish workers was Ernst Wandersleb, the head of the photographic calculations bureau with over 20 German patents (and several US patents) in the field of lenses, filters and lenses. He was interrogated by the Gestapo in 1939 and lost his job. However, he still received ad hoc terms of reference from Cotthaus and others outside of his old office. Wandersleb criticized the Nazi regime and Hitler's "Mein Kampf" and its negative portrayal of other "races". He also got into an argument over race with Dr. Willy Merte (a senior designer, for example Biotar, Orthometar, Biotessar), who was later selected to work at Zeiss Oberkochen), which resulted in Wandersleb receiving a police call and a warning. Both Wandersleb and his wife survived the war, and after the war he again took up a leadership position at Zeiss Jena.
In May 1939, August Cotthaus announced that Dr. Otto Eppenstein, a respected rangefinder scientist with 86 German and 55 US patents, was the only Jew still working at Zeiss Jena, as he worked and worked on important military instruments. Cotthaus argued with the government about his continuation of the work, and Eppenstein received "time-limited" permission to continue work from the Supreme Command of the Armed Forces (OKW). He died, apparently of natural causes, in 1942, having previously worked for Zeiss. However, according to Bogehold and Wandersleb, at that time and long before that, his name was not allowed to be publicly mentioned. At work, he was greeted with silence.
After the Second World War
After World War II Jena is located in the eastern part of Germany and the company split in two. One part was recreated in West Germany and based in Oberkochen, also owned by the Zeiss Foundation. The rest remained in Jena, but the West German Zeiss soon lost the right to use traditional names such as the Zeiss trademark and associated lens names. In Western countries these products were referred to as Aus Jena (from Jena), and obvious abbreviations or other names were used (eg T for Tessar, S for Sonnar). In the Eastern Bloc countries, full names continued to be used.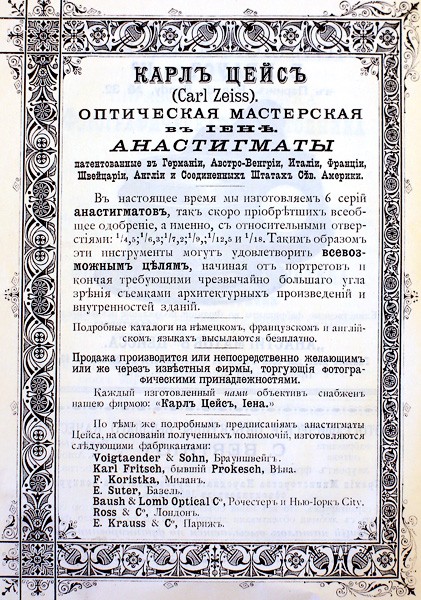 Carl Zeiss Oberkochen made lenses for the Western Zeiss Ikon after the war, and also made special lenses for other brands of cameras. They continue to do this, in particular for Rollei and Hasselblad. At Zeiss, lenses for the Hasselblad Medium Format SLR series are renowned for their high quality, precision, resolution and color tolerances, and have been used and used by many renowned photographers and videographers.
Since 1973 Carl Zeiss have been producing a range of lenses with Yashica mount, Contax, 35mm Japanese SLR cameras... In partnership with Yashica Camera Ltd. the lenses were made in Germany and licensed in Japan and were of excellent quality. Kyocera, which acquired Yashica, later partnered with Zeiss to introduce an additional line of Zeiss T lenses, including rangefinder and autofocus camera models. In 2005, Kyocera stopped making cameras and selling Carl Zeiss lenses. Sony and Nokia also use Zeiss optics for their digital cameras and cell phones.
More recently, Carl Zeiss headquarters revived the Zeiss Ikon name to create a new type of rangefinder camera, with lenses designed by Carl Zeiss and manufactured by Cosina in Japan.
* Carl Zeiss. Die Geschichte eines Unternehmens. Band 2 (2000)
Some of the trademarks used by Carl Zeiss
Gologon
Biogon
Biometar (east only)
Biotar
Distagon (West only)
Fletogon (East only)
Flexon (east only)
Magnar
Pankolar (east only)
Planar
Protar
Sonnar
Tessar
Topogon
Triotar
Lenses marked Novar were three-piece. Zeiss Icarex lenses were named Ultron, Skoparex and Dynarex, which were originally trademarks of Voigtländer.




Sometimes I buy photographic equipment from the USSR and not only. You can offer your write me. Help the project: 5469 1200 1062 4624. Comments can be left without registration and SMS