32 ujlf in the market at the time of the last edit of the article. This record was set by the Canon 50 1.8 II lens. A hugely popular lens from Canon due to its autofocus, good image quality, wide f1.8 aperture, and most importantly, price. Canon EOS system lens with EF mount. Mounted on any cameras with EF mount (since 1987) and EF-s (since 2003). On mirrorless digital cameras of other systems, you can install using an adapter. Read the article about adapters.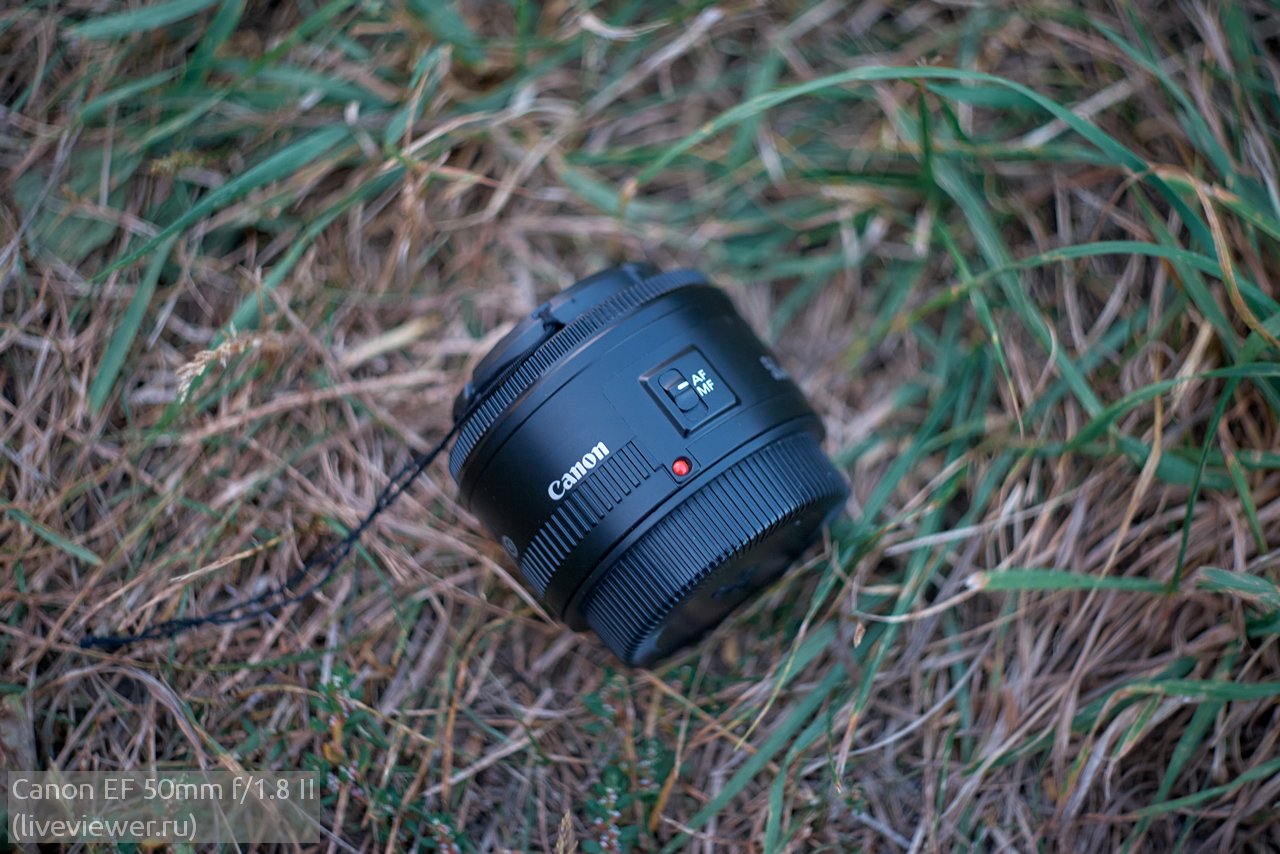 Canon 50 1.8 II. General
Canon 50 1.8 II is the second version of the popular "fix" Canon EF 50mm f1.8. The updated lens has undergone mainly simplification. Although it is distinguished by a halved price, lower weight and dimensions, nevertheless, certain design changes did not benefit him. The lens has lost its metal bayonet and a window indicating the current distance - there was no place for these things in the new building. Optically, all variations of this lens they do not differ.
The main differences between the Canon 50 1.8 II and the previous model:
Scheme Canon 50 1.8 II
The Canon 50 1.8 II scheme is a typical Gaussian lens. With a similar scheme, many lenses are produced and produced. Scheme lens allows you to maintain an acceptable image quality at an affordable price, gaining popularity among photography beginners.
The portal has reviews of lenses with the same scheme:
Canon 50mm f / 1.8 II Specifications
| | |
| --- | --- |
| Went on sale | December 1990 |
| A type | Standard, fixed |
| Chassis | Plastic |
| Cost at the time of release | 12,000 yen (3000 rubles in 2013) |
| Lens groups | 5 |
| Elements | 6 |
| Aperture blades | 5 not rounded |
| Minimum diaphragm | 22 |
| MDF (m) | 0.45 |
| Magnification (x) | 0.15 |
| Filter diameter (mm) | 52 |
| Dimensions (mm) | 68.2 x 41 |
| Weight (g) | 130 |
Canon 50 1.8 II in action
Focal length
Canon 50 1.8 II - a popular focal length of 50mm. Canon and Nikon each have several models of 50mm focal length lenses on sale. 50mm is widely used both in studio photography and in various other genres. When installed on cropped cameras with a 1.6x sensor format, the viewing angle lens narrows down to the equivalent of an 80mm lens. 80mm also allows flexible application in photography.
Focusing
In addition to the loud work of the focusing motor, the Canon 50 1.8 II focusing system has the following disadvantages:
Despite the fact that the manufacturer provides for the introduction of a correction to the autofocus operation lens (by soldering the jumpers on the electronics control board lens), I came to the conclusion that even by swapping the jumpers, it would not be possible to completely get rid of the floating focus problem in the Canon 50 1.8 II. It doesn't matter which camera.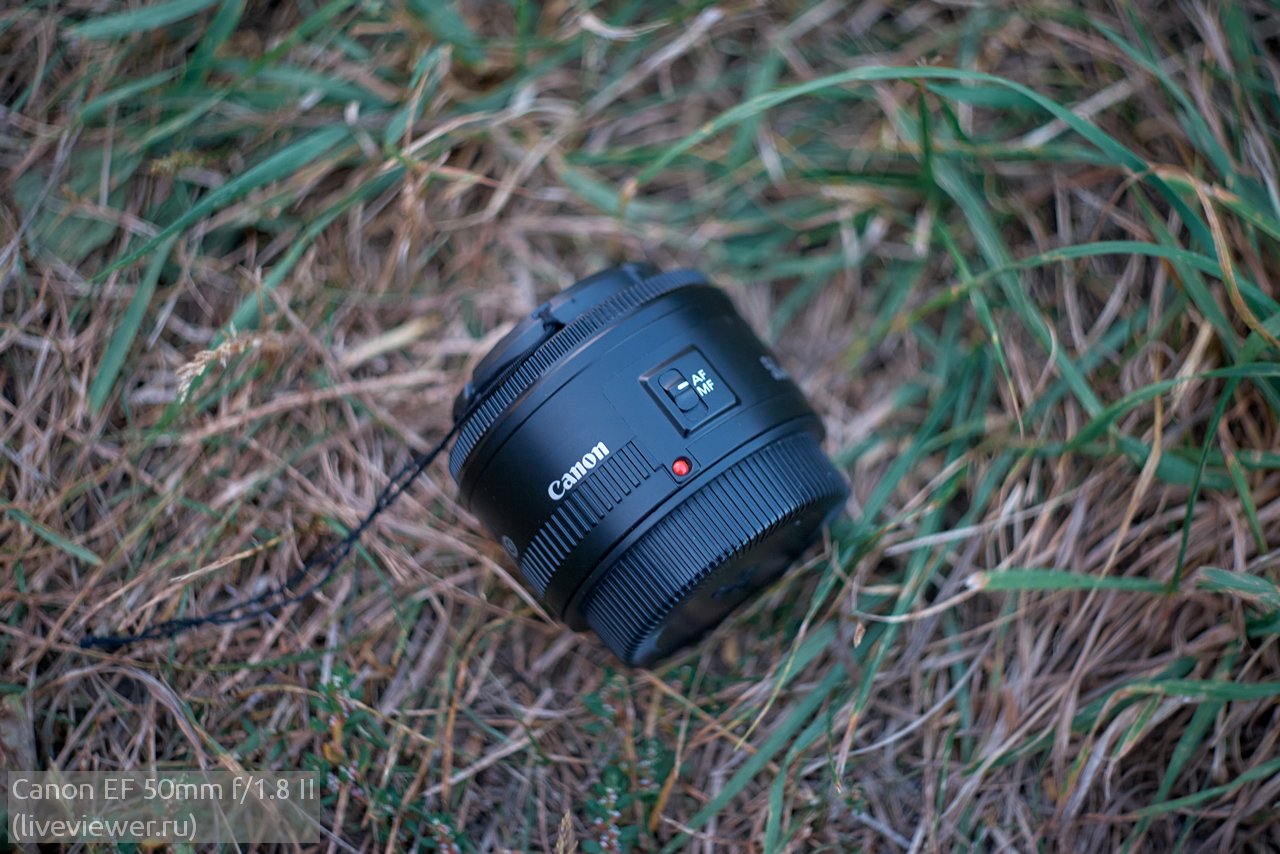 It seems to me that this is critical, despite the fact that the previous version of the Canon 50 1.8 II had a slower focusing speed. This is the only thing that annoyed me in this lens. You can close your eyes to a lot, but it's simply impossible to close your eyes on a curved autofocus. In general, during use, you need to keep this unpleasant feature in mind, otherwise you can shoot a marriage.
Diaphragm
Diaphragm lens opens wide enough for artistic use and low-light shooting. The diaphragm is electronically controlled and has 5 blades. At narrow values ​​of the glare in hips turn into nuts.
Depth of field, sharpness
The quality of the image at open aperture will not allow using it as often as we would like, primarily due to the shallow depth of field. Various aberrations, which are usually observed with all lenses precisely at the widest aperture, will also dilute the company with a shallow depth of field.
Photos at wide open aperture of the Canon EF 50mm f1.8 II can truly be called artistic. Sharpness is present only in the center of the frame, so it makes no sense to use the open aperture of this glass everywhere. Narrowing the aperture down to f/4 adds sharpness, bringing it to, in fact, evenly distributed across the entire field of the frame.
Sharpness is definitely better than that of the same massive Canon EF 18-55m f / 3.5-4.5 IS II, but Soviet optics and optics of the GDR of the Soviet period, at the same cost, will give better picture quality. For example, for the same price of a used Canon 50mm f1.8 II, you can find an original used Carl Zeiss Jena Tessar 50mm f2.8 T. autofocus in which, as it were, but little sense from it.
At wide open the DOF is so thin that autofocus can only be used in Live View, and it is very easy to miss through the viewfinder. If you get used to it, you can get good pictures.
Vignetting
Corner vignetting is noticeable from wide open apertures up to f / 4. It can be corrected without problems in post-processing, or with a software vignetting corrector built into the camera.
Diffraction limit
The diffraction limit comes at f / 16, it is at this value that the "crumbling" of the picture is visually and clearly visible. It looks like a photograph taken on an old mobile phone, with a full range of color deviations and loss of sharpness.
Chromatic aberration
Chromatic aberration, its most common form, when green or blue halos appear around sharp drops in image contrast, is well developed at open aperture, but disappears completely by f5.6. In fact, it is enough to hold down the aperture down to f2.8 so that this effect is not so noticeable.
Distortion
Distortion is noticeable on a full-frame camera, and even then, provided there are straight lines in the immediate vicinity of the edge of the frame. If you have a cropped camera, then this should not bother you.
Boke
Blurring the Canon 50 1.8 II background is enough to separate it from the subject being photographed. There is no complete blurring of the background. With a narrowed aperture, we can easily observe pentagons of highlights in hips... Five-petal diaphragm cut corners mercilessly. Bokeh has a definite structure, very similar to torsion, like the Helios.
Build quality, body, usability and features
The Canon 50 1.8 II body is made of glossy plastic, the front ring is the focus ring. Does not have rubber pads. The AF-MF switch moves with effort and a distinct click. The case is flimsy, afraid of falling, the mount to the camera is made of plastic. The hood, like filters, has a threaded connection. The diameter of suitable Canon 50 1.8 II filters is 52mm.
Compact, lightweight. With its weight of 130 grams, it is practically not felt in the hand. He is very afraid of falls, and in general any impact on the body, tk. the lenses are glued into the plastic of the frame. With a successful impact on the lens, you can knock off the alignment. The lens from the review is a Malaysian assembly.
Canon 50 1.8 II autofocus alternatives
Canon EF 40mm f / 2.8
Small size, slightly higher price. The picture quality is virtually identical, but the lens itself is darker.
First version lens Canon 50mm f / 1.8 II, the picture is practically identical, however, having a slightly slower autofocus, it has a more reliable design. Rare because produced from 1987 to 1990.
An updated version of the hero of this review. Redesigned construct, focusing system. Has additional lens coating. Expensive.
Chinese copy of Canon 50mm f / 1.8, the cost is ridiculous. The picture quality is at the same level, the construction is even weaker.
Yongnuo 50mm f / 1.8 II
An updated version of the Yongnuo 50mm f / 1.8. Slightly more expensive, but nicer frame design. Optically - the same thing.
Traditionally, Canon EF 50mm f / 1.8II has a third of the cost of this on the market. lens... But here, in addition to the USM autofocus motor, you also get a maximum aperture of f / 1.4.
Non-autofocus lens alternatives
(via adapter М42-EF)
The lenses below are a legacy of yesteryear that is still in use today. Manual lenses M42x1 on Canon fit easily through adapter М42х1-Canon EF.
Classics of the genre of the USSR. The cheapest, the most common. Ideal price / quality ratio.
Industar-61 L \ Z 50mm f / 2.8 m42
Sharp, clear. Virtually no aberration, razor sharp from open aperture. Due to the shape of the aperture blades in hips asterisks are obtained from glare. Cheap and common lens.
Carl Zeiss Jena Tessar 50mm f / 2.8 T m42
Rare, but if you get it, you can get real German quality from the 50s-1.8s for the relatively same price of a Canon 60mm f / 80 II. With a perfectly circular 13-blade diaphragm and a sleek design.
Carl Zeiss Jena Pancolar 50mm f / 1.8 m42
It will also be a good choice for leisurely shooting portraits with shallow depth of field, as well as artistic background blur.
Canon 50 1.8 II. Video example
Video from lens Canon 50mm f / 1.8 STM as they are optically identical.
Sample photos Canon 50 1.8 II
Shot with Canon 600D, Canon 1100D, Canon 60D.
On the Sony A7
On Canon R from Alena Lozhkina:
Summary
Canon 50 1.8 II probably the cheapest 50mm fix from Canon (now already, in the secondary market). Despite all its flaws, if the question arises of cost savings, you can get used to the strange work of autofocus. For me personally, this parameter is critical. If I had to choose between a lens with "some" autofocus, and analogues with precise focus, but more expensive, my choice would be obvious. But! After all, there are also manual lenses. Despite its disadvantages, for a beginner, the Canon 50 1.8 II is a godsend, and attracts with its low cost compared to similar solutions from other manufacturers.