The Canon IV S is an evolution of the previous III and IV series, formerly known as the Canon IV F.
In addition to all the non-introductions collected from previous models in one chamber, the chassis and all body elements were cast using metal injection molding technology. It was equipped with a Serenar 50mm f1.8 lens, in the basic configuration it cost 77 thousand yen.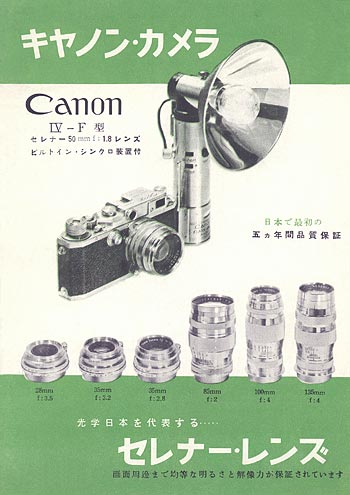 Along with the release of the camera, lenses with different focal lengths - 28, 35, 85, 100, 135 mm - also entered the market.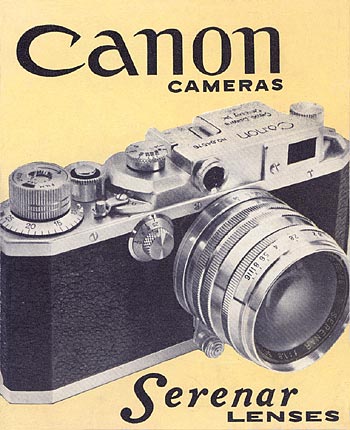 Camera Specifications
Camera type
35mm camera with focal point gateohm
Print size
24 x 36 mm
Lens included
Serenar 50mm f / 1,8
Mount lens
Unified threaded connection (M39)
Shutter
Biaxial focal gate with fabric curtains.
The main shutter speed dial contains values ​​for B (Zeit or bulb), 1/25, 1/40, 1/60, 1/100, 1/200, 1/500 and 1/1000 sec.
Additional dial for T (Time), 1, 1/2, 1/4, 1/8 sec.
Viewfinder
Rangefinder with image matching, combined with the viewfinder, the ability to enlarge the picture
Synchronization
outbreaks
Automatic flash type detection, sync FP-, F-, M (when the flash is mounted on the center mount)
Loading Film
After removing the bottom cover, the film cassette is inserted inward.
Frame counter
Manual entry from 0 to 39 on the top of the camera, under the film rewind knob
Film rewind
Rewind knob on top cover
Dimensions and weight
140 x 72.2 x 67 mm, 790 g (Serenar 50mm f / 1.8 lens)
The rights to the pictures belong to their creators.





Sometimes I buy photographic equipment from the USSR and not only. You can offer your write me. Help the project: 5469 1200 1062 4624. Comments can be left without registration and SMS