Canon IIC camera, which differs from the predecessor model by the added "Time" shutter speed of an additional shutter speed. When using this value gate Canon IIC opened on the first press of the shutter button, and closed on the second. During exposure, the optional command dial excerptwas blocked in order to avoid damage to the mechanism.
The shutter release button has been redesigned for more convenient use of long exposures, and the shutter speeds of the main mechanism have also been changed shutter... These innovations were also used in the following models of devices.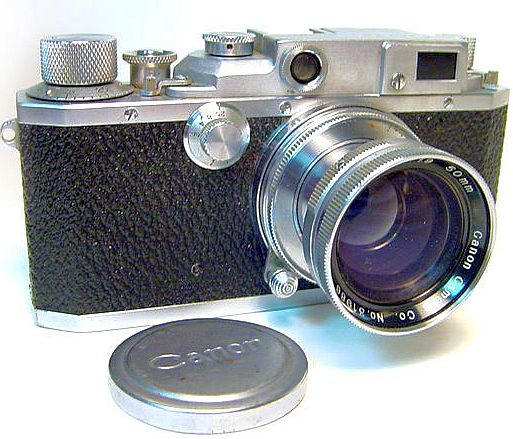 The Serenar 50mm 1,9 lens supplied with the device was quite good, but it had a lot of aberrations at open aperture (a flaw in the Gaussian scheme). Subsequently, the scheme was corrected by one of the young specialists of the company.
Camera Specifications
Camera type
35mm camera with focal point gateohm
Print size
24 x 36 mm
Lens included
Serenar 50mm f / 1,9 (Planar (dual Gaussian lens) with 6 elements in 4 groups)
Mount lens
Unified threaded connection (M39)
Shutter

Biaxial focal gate with fabric curtains.
Main shutter speed dial contains B (Zeit or bulb), 1/25, 1/40, 1/60, 1/100, 1/200, 1/500
Additional dial for T (Time), 1, 1/2, 1/4, 1/8 sec.

Viewfinder
Rangefinder with image coincidence combined with a viewfinder of the type "Galileo return tube" with the possibility of
zoom in on the image
Loading Film
After removing the bottom cover, the film cassette is inserted inward.
Frame counter
Manual entry from 0 to 39 on the top of the camera, under the film rewind knob
Film rewind
Rewind knob on top cover
Dimensions and weight
135.5 x 69.5 x 30.2, 720 g (Serenar 50mm f / 1.9 lens)
The rights to the pictures belong to their creators.





Sometimes I buy photographic equipment from the USSR and not only. You can offer your write me. Help the project: 5469 1200 1062 4624. Comments can be left without registration and SMS