Canon JS - long exposure camera, not equipped with a rangefinder, also had a threaded mount lens.
According to some information, the camera was positioned as a device for close-up photography, photomicrography, night sky photography, and other special areas in which the use of long exposures is required.
According to records in Canon archives, only about 50 units were produced, but the original price, like other information, is unknown.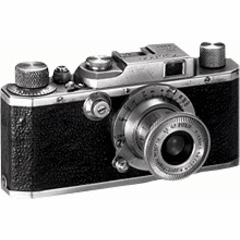 In the same year 1939, the company conceives and begins to develop its own lenses, under the name "Serenar". Several prototypes of the Tessar scheme (4 elements in 3 groups) with a focal length of 50mm and an aperture of f4,5 were made, a Sonnar scheme (4 elements in three groups) with a focal length of 135mm and an aperture of f4.
The name "Serenar" was chosen at the suggestion of one of the company's employees, and, possibly, taken from the correspondence to the name of the eponymous crater (sea) on the Moon. This line of lenses will appear around 1946, coinciding with the refusal of Nippon Kogaku (Nikon) to manufacture lenses for Canon.
Camera Specifications
| | |
| --- | --- |
| Camera type | 35mm camera with focal point gateohm |
| Print size | 24 x 36 mm |
| Lens included | Nikkor 50mm f / 4.5 (Tessar with 4 elements in 3 groups) |
| Mount lens | Threaded fastening lens |
| Shutter | Biaxial focal gate with fabric curtains. The main shutter speed dial contains Z (Zeit or bulb), 1/20, 1/30, 1/40, 1/60, 1/100, 1/200, 1/500 sec. Optional - 1, 1/2, 1/4, and 1/8 seconds |
| Viewfinder | Retractable reverse Galileo viewfinder, focusing distance scale |
| Loading Film | After removing the bottom cover, the film cassette is inserted inward. |
| Frame counter | Manual entry from 0 to 39 on the front cover of the camera. |
| Film rewind | Rewind knob on top cover |
| Dimensions and weight | 136.5 x 69 x 30.5 mm, weight unknown |
The rights to the pictures belong to their creators.