The surviving Canon J and S parts allowed the company to create the Canon JII after World War II.
During WWII, Canon's factories were evacuated, but the company continued to produce small-scale production of its products, based on the inventory accumulated earlier.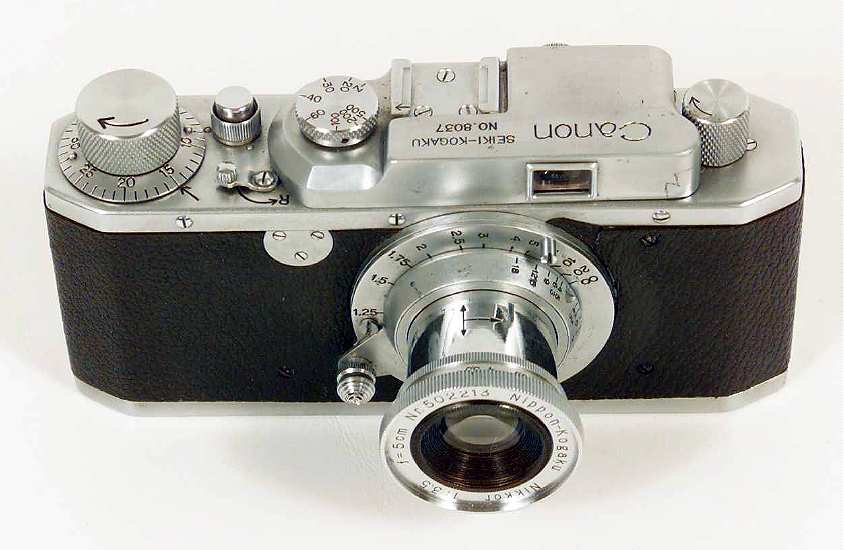 In 1946, Canon Camera JII entered the market, which was sold well by the American military personnel, and traveled the world with them, creating demand for the company's products. Thanks to this, in fact, Canon was able to escape from poverty and continue the business begun in 1934.
At this point, the Seiki-Kogaku laboratory was renamed Canon Camera Inc. In the same time period, with no orders, Nippon-Kogaku set about designing their first film camera. (Japan was banned from any military activity after the war, and Nippon-Kogaku was engaged in the production of optics for the armed forces).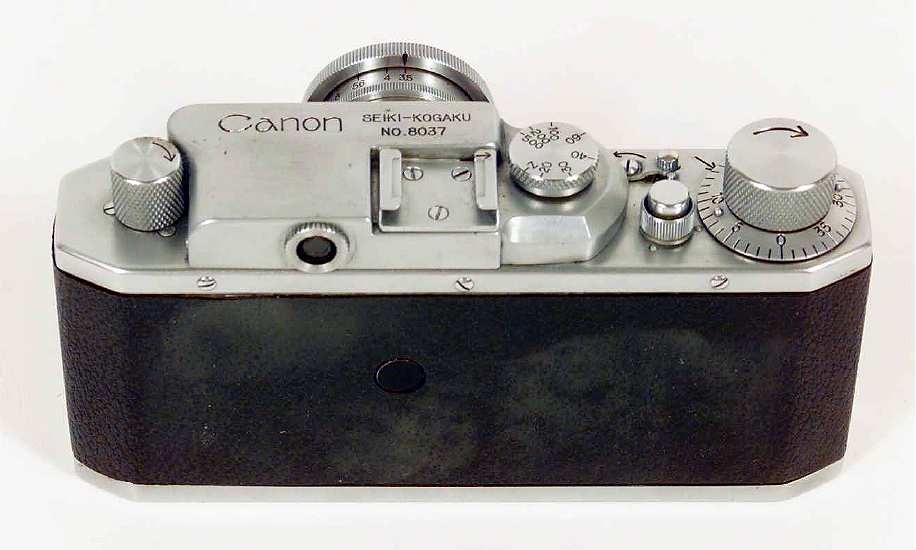 Canon J-II, as stated above, was assembled from various components left over from unassembled camera models of early release. So, for example, in the J-II model, the body chassis was used from Canon S, controls from pre-war J-cameras, partially complemented by dismantled Leica cameras. Due to the shortage of leather products, the decorative finishing was done with blackened cardboard, which eventually rubbed off and fell apart. Cameras that have survived to this day are either with a restored coating or are of a pathetic appearance.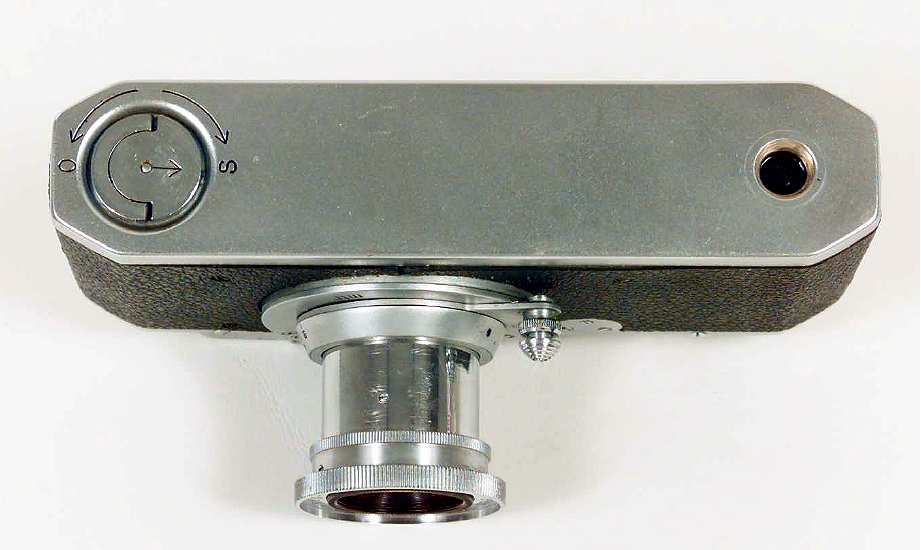 The J-II model did not use the slow shutter speed mechanism due to the complexity of its production, and on some camera models the hole into which the mechanism control dial was inserted shutterwas drowned out by an aluminum plate. There were also models in which the holes were already under the decorative trim.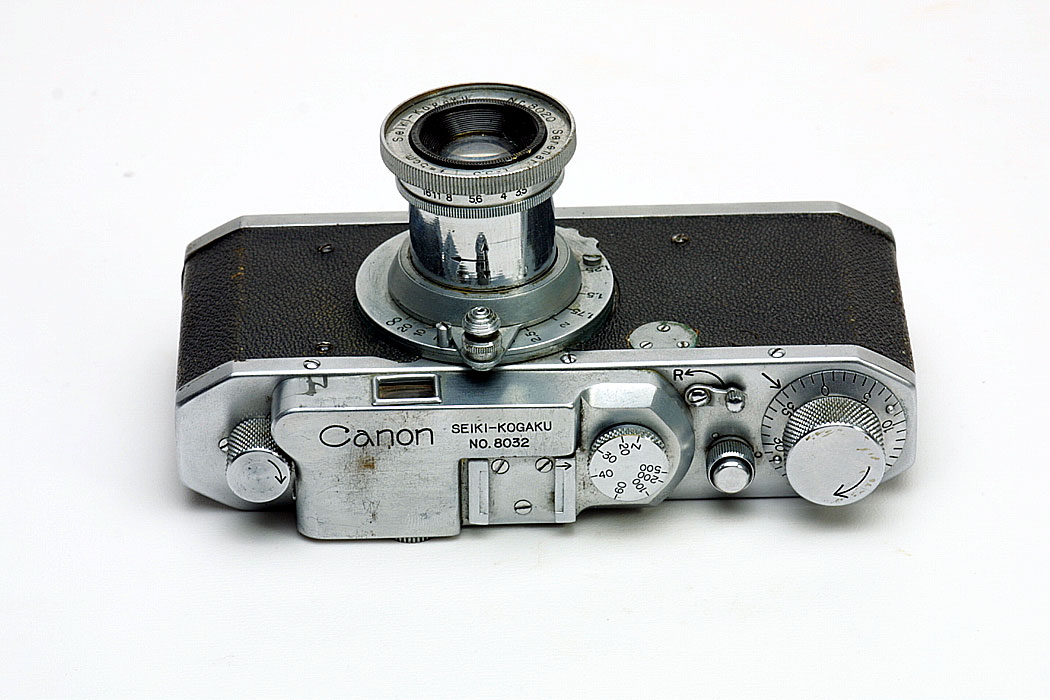 Mount lens was threaded, however, it differed in the pitch of the thread from similar Leica lenses, making them impossible to install. Most of the early J-II cameras were sold with a Nikkor 50mm f3.5 foldable lens. On later versions, the cameras were already supplied with lensCanon's own Serenar 50mm f3,5. There was no rangefinder in the camera, focusing was carried out according to the distance scale.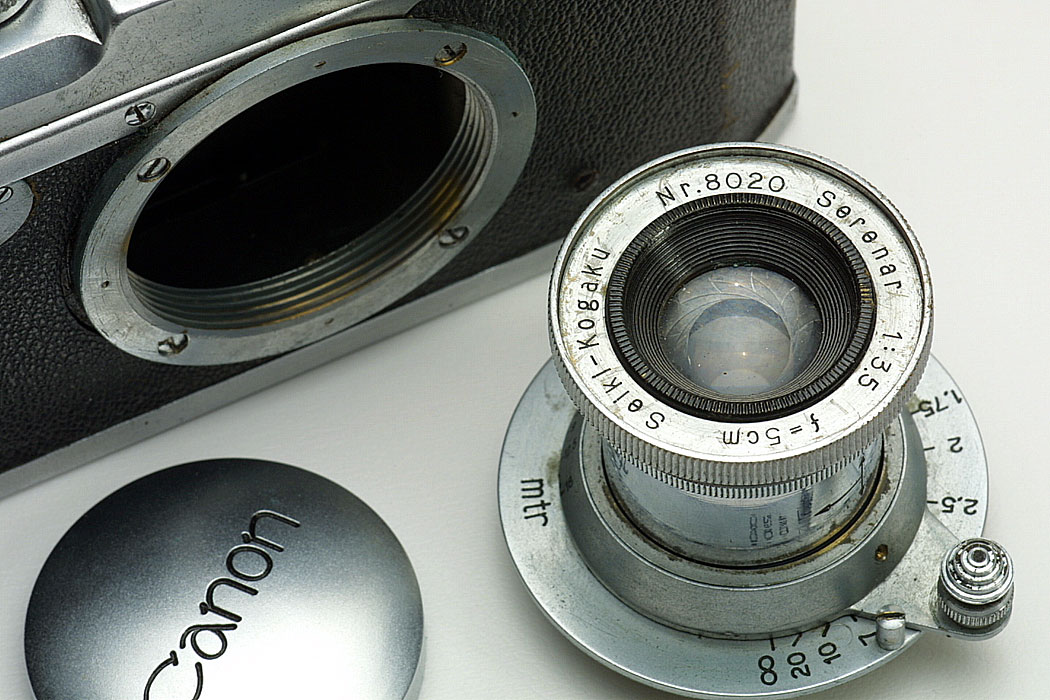 According to various sources, the number of cameras was from 164 to 506 pieces.
Camera Specifications
| | |
| --- | --- |
| Camera type | 35mm camera with focal point gateohm |
| Print size | 24 x 36 mm |
| Lens included | Nikkor 50mm f / 4.5 (Tessar with 4 elements in 3 groups), Serenar 50mm f / 3.5 |
| Mount lens | Threaded non-universal mount lens, J-flange |
| Shutter | Biaxial focal gate with fabric curtains. The main shutter speed dial contains Z (Zeit or bulb), 1/20, 1/30, 1/40, 1/60, 1/100, 1/200, 1/500 sec. |
| Viewfinder | Galileo return tube viewfinder, focusing distance scale |
| Loading Film | After removing the bottom cover, the film cassette is inserted inward. |
| Frame counter | Manual entry from 0 to 39 on the front cover of the camera. |
| Film rewind | Rewind knob on top cover |
| Dimensions and weight | 136.5 x 69 x 30.5 mm, weight unknown |