The abbreviation "J" stands for "Junior". The most inexpensive Canon camera of the pre-war period, in which there was no rangefinder and the optics were threaded. Canon Camera J was released before the war, only about 50 pieces, and not many have survived to this day.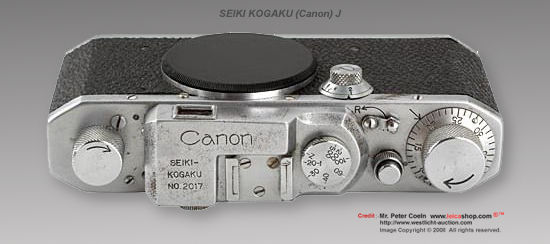 To reduce the cost of the camera bayonet clamping lens was replaced by a threaded one (presumably M39), the rangefinder was abolished. Instead of a rangefinder, the camera used a distance scale. The camera was equipped with a Nikkor 50mm f4.5 lens. At the end of the war, the Canon J II model was produced on the basis of the surviving parts for this device. Due to the rarity of copies, the Canon J camera model is as highly valued by photo collectors as the Kwanon of earlier versions.
The cost of the camera was 195 yen (with Nikkor 50mm f / 4.5, lens cap, 2 film rolls, case)
Canon J Camera Specifications

| | |
| --- | --- |
| Camera type | 35mm camera with focal point gateohm |
| Print size | 24 x 36 mm |
| Lens included | Nikkor 50mm f / 4.5 (Tessar with 4 elements in 3 groups) |
| Mount lens | Threaded fastening lens |
| Shutter | Biaxial focal gate with fabric curtains. The shutter speed dial contains Z (Zeit or bulb), 1/20, 1/30, 1/40, 1/60, 1/100, 1/200, 1/500 sec. |
| Viewfinder | Retractable reverse Galileo viewfinder, focusing distance scale |
| Loading Film | After removing the bottom cover, the film cassette is inserted inward. |
| Frame counter | Manual entry from 0 to 39 on the front cover of the camera. |
| Film rewind | Rewind knob on top cover |
| Dimensions and weight | 136.5 x 69 x 30.5 mm, 620 g (with Nikkor 50mm f / 4.5 lens) |
The rights to the pictures belong to their creators.