"Tair" - a family of telephoto lenses with increased aperture, produced in the USSR for SLR cameras and movie cameras. The optical scheme of the family was developed by a Soviet optician. David Volosov in 1943 for remote photographic reconnaissance in low light conditions. The name "Tair" is the abbreviated name of the star Altair without the Arabic article "al". "Tair" lenses formed the basis of all "Photosniper».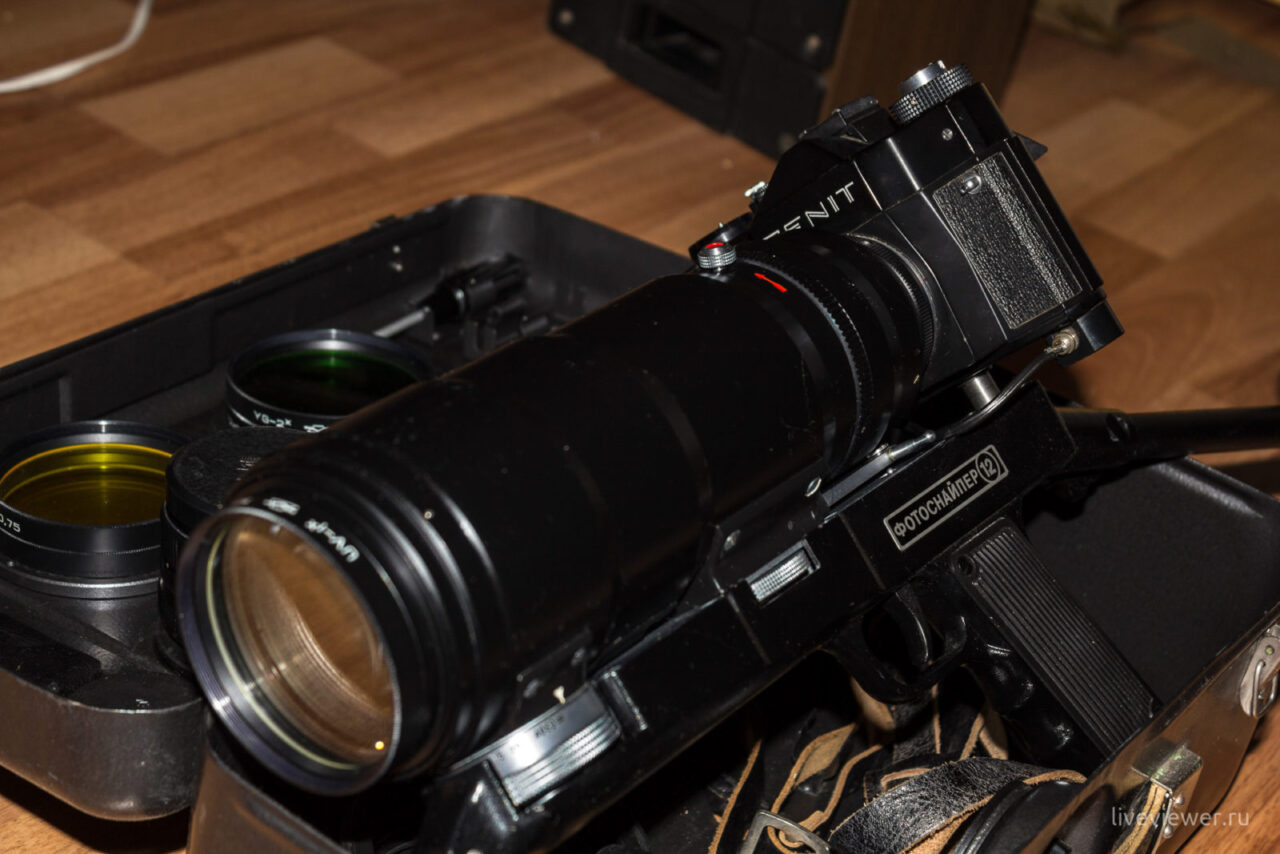 Technical features of Tahir lenses
The original design consists of three lenses, sufficient for small angular fields. If it is necessary to expand the field of view, a fourth lens is added to correct aberrations increasing along the edge of the image field. Regardless of the number of lenses, all Tair telephoto lenses are built according to the classic Galilean telescope design with a strong positive component in the front and negative in the back. The main feature of Tair lenses is the large thickness of the negative meniscus in the back. As a result, the lens serves as a compensator, correcting astigmatism and its inherent curvature of the image surface.
As a result, the fourth Seidel coefficient, which determines astigmatic curvature, is only about 0,1 (0,25 - satisfactory, 0,2 - good, 0,15 - excellent, 0,1 - excellent). Therefore, with a very simple design lens the image quality is uniform across the entire field. However, with only three lenses, there is no parameter that can control the distortion. Distortion, positive in sign, is present in Tair, but due to small angular fields it is small and practically invisible.
Specification
The parameters of the lenses are given in accordance with the GOI catalog of 1963.
Lenses "Tair"

| Model | Framework | Focal length | Aperture | Corner field |
| --- | --- | --- | --- | --- |
| APO Tair-1 | 24 × 36 mm | 298,73 mm | ƒ / 4,5 | 8° |
| Tair-2 | 24 × 36 mm | 300 mm | ƒ / 4,5 | 8° |
| Tair-3 | 24 × 36 mm | 300 mm | ƒ / 4,5 | 8° |
| Tair-4 | 24 × 36 mm | 600 mm | ƒ / 4,5 | 4° |
| Tair-7 | 8 × 8 cm | 300 mm | ƒ / 4,5 | 22° |
| Tair-8 | 8 × 8 cm | 500 mm | ƒ / 4,5 | 13° |
| Tair-10 | 9 × 9 cm | 750 mm | ƒ / 4,5 | 10° |
| Tair-11 | 24 × 36 mm | 133,2 mm | ƒ / 2,8 | 18° |
| Tair-12 | 35-mm | 150 mm | ƒ / 4,0 | 11° |
| Tair-13 | 16-mm | 75 mm | ƒ / 5,6 | 10° |
| Tair-14 | 35-mm | 180 mm | ƒ / 8,0 | 9 ° 30 ′ |
| Tair-15 | 16-mm | 50 mm | ƒ / 4,0 | 15° |
| Tair-16 | 9 × 9 cm | 500 mm | ƒ / 4,5 | 14° |
| Tair-18 | 24 × 36 mm | 300 mm | ƒ / 2,5 | 8° |
| Tair-19 | 24 × 36 mm | 500 mm | ƒ / 3,0 | 5° |
| Tair-30 | 6 × 9 cm | 300 mm | ƒ / 4,5 | 20° |
| Tair-33 | 6 × 6 cm | 302,6 mm | ƒ / 4,5 | 15° |
| Tair-38C | 24 × 36 mm | 135 mm | ƒ / 2,8 | 18° |
| Tair-40 | 16-mm | 111 mm | ƒ / 5,0 | 5° |
| Tair-41 | 16-mm | 50,44 mm | ƒ / 2,2 | 15° |
| Tair-44-T | 24 × 32 mm | 300 mm | ƒ / 4,5 | 7 ° 30 ′ |
| Tair-45-T | 24 × 32 mm | 180 mm | ƒ / 2,8 | 13° |
| Tair-46-T | 24 × 32 mm | 500 mm | ƒ / 5,6 | 5° |
| Tair-47-T | 24 × 32 mm | 400 mm | ƒ / 4,5 | 6° |
| Tair-48-T | 24 × 32 mm | 210 mm | ƒ / 3,5 | 10° |
| Tair-51-T | 24 × 32 mm | 135 mm | ƒ / 3,0 | 17° |
| Tair-52-T | 24 × 32 mm | 1000 mm | ƒ / 8,0 | 2 ° 20 ′ |
| Tair-56 | 24 × 36 mm | 150,1 mm | ƒ / 2,8 | 16° |
Optical design "Tair"Was also used in long-focus lenses of the line of professional film-making optics OKS1-200-1, OKS1-300-1 and OKS2-150-1. Further improvement led to the development of apochromatic lenses of the Apo-Tair series with low-dispersion elements.




Sometimes I buy photographic equipment from the USSR and not only. You can offer your write me. Help the project: 5469 1200 1062 4624. Comments can be left without registration and SMS